Equity Lifestyle Properties, Inc. (NYSE:ELS) is the largest manufactured home community real estate investment trust (REIT). Since going public in 1993, it's expanded from 83 properties to over 380. And with the baby boomers ready to end their working lives and start enjoying retirement, it's in a good position to benefit from the same increased demand that should provide a tailwind to health care REITs.
What about the healthy ones?
In a recent article about competitor Sun Communities Inc (NYSE:SUI) I noted that Brookdale Senior Living, Inc (NYSE:BKD) expects demand for senior care to increase as the U.S. population tilts toward gray because 40% of the 85+ population needs help with at least three activities of daily living and 15% of the 75 to 84 group needs such help. But on Sun and Equity Lifestyle's side is the fact that the people who aren't too ill to live on their own still need a place to call home.
And that's going to mean big numbers. Equity Lifestyle explains that the 55 and older population is expected to grow 26% between 2015 and 2030. Older demographic groups (75 to 84 and 85+) will grow even faster, according to Brookdale. The baby boomers will be the big driving force, with Equity Lifestyle projecting an average of 10,000 boomers hitting 65 every day for the next 15 years or so.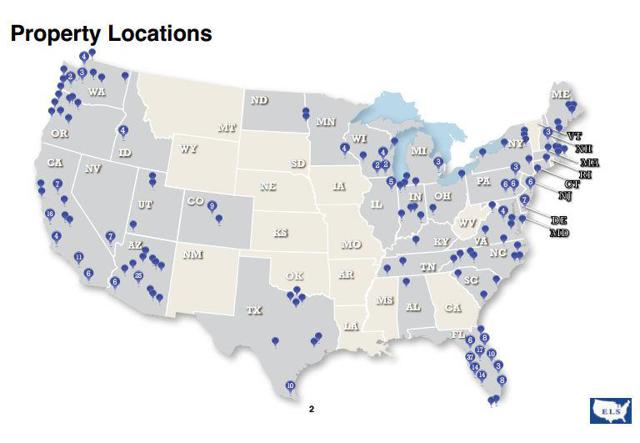 This is a huge opportunity and fits right into Equity Lifestyle's sweet spot. That's because its RV resorts have an average resident age of 55 and its manufactured home communities' average resident age is 62. With about 180 RV resorts and 200 manufactured home communities, Equity Lifestyle should be an early beneficiary as the baby boomers crest into retirement.
The right places
That's particularly true since Equity Lifestyle has made it a point to focus on locations that retirees will like. For example, around 80 of its properties are situated on water of some sort, be it a lake, river, or ocean. Another 100 are within driving distance, meaning 10 miles or less, of a U.S. coast. That's helped keep occupancy fairly stable at around 90% since the turn of the decade.
And, frankly, some of the REIT's properties are pretty nice based on the photos it has in its investor slide deck. My mom and dad live on the west coast of Florida, and well-situated mobile home and RV parks do not look anything like what television and movies would have you believe. So Equity Lifestyle's photos don't lie; heck I'm ready to move into one myself!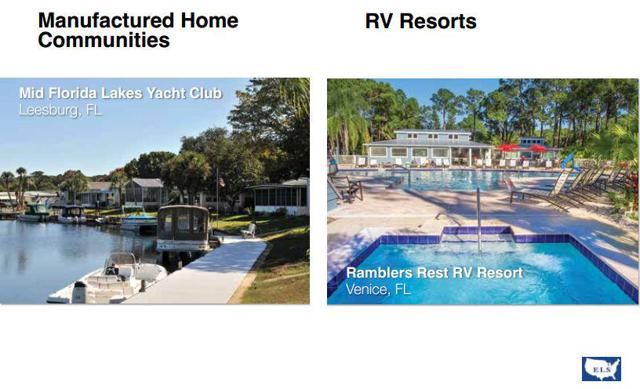 Cost is the problem
And one of the big benefits of the properties that Equity Lifestyle offers is cost. It's relatively cheap to live in a manufactured home community or RV resort compared to buying a home. And as one astute reader of my Sun article pointed out, for many boomers their largest financial asset is their home. (According to Fidelity, boomers have, on average, just $120,000 in their 401k accounts -- not nearly enough to live on in retirement.) Many boomers will have no choice but to downsize to notably cheaper digs if they want to stop working.
So Equity Lifestyle is well-positioned for what should prove to be strong demand. But its shares are fully valued here. The dividend yield of roughly 2.6% is well below Sun Communities' dividend of around 4.3%. In fact, Equity Lifestyle's yield is actually below well-situated apartment REITs like Avalon Bay (NYSE:AVB) and Equity Residential (NYSE:EQR), which sport yields of 2.8% and 2.7%, respectively.
Looking at funds from operations (FFO), Equity Lifestyle is trading at around a price to FFO ratio of almost 19 based on its projected 2014 FFO of about $2.68 a share. Sun, for comparison, is also kind of expensive at a price to FFO ratio of about 17. But that still makes Sun the clearly cheaper option right now, even though it doesn't make either a really good deal at current prices.
Still, Sun has nearly 30% of its portfolio located in Michigan of all places, its largest market. Florida is number two at about 27%, meaning these two markets make up over half of the company's business. And one is kind of a less-than-desirable retirement destination. Equity Lifestyle Communities' largest market is Florida; at nearly 40% of its portfolio, a large exposure, but in the direct line of travel for retirement. The entire northeast (not just one state) is number two at about 17%. Add to this that occupancy has been more stable at Equity Lifestyle than at Sun, and a premium for Equity Lifestyle is probably appropriate.
That said, I would put this on your wish list if you are an income investor and your watch list if you are looking for growth. Anything below a price to FFO of 16 would start to catch my eye. That equates to a price of around $43 and a yield of roughly 3%. Which basically means that this isn't appropriate for income investors unless there is a major market or REIT sell-off to push the yield materially higher.
Disclosure: The author has no positions in any stocks mentioned, and no plans to initiate any positions within the next 72 hours.
The author wrote this article themselves, and it expresses their own opinions. The author is not receiving compensation for it (other than from Seeking Alpha). The author has no business relationship with any company whose stock is mentioned in this article.