The following tables show NAV and market price performances of the majority of equity based high yielding closed-end funds (CEFs) available to investors, where equity based is defined as having at least two-thirds of a fund's portfolio invested in domestic or global stocks and where high yielding is defined as 6% or over annualized market price dividend yields. Together, these funds represent over $38 billion in assets.
The tables are broken down by the three fund strategies which equity based CEFs utilize to achieve their high dividends and yields. They include the Option Income Strategy, the Leveraged Strategy and the Dividend Harvest strategy. If you are unfamiliar with how these strategies work, you can review one of my past articles discussing these three strategies and how they perform in different market environments.
The tables are sorted (red columns) by year-to-date NAV performance or Premium/Discount levels, both of which I consider to be the most important factors in determining CEF valuations along with NAV and market price dividend yields. I also included YTD market price performances since many readers commented that they would like to see that included as well. Note: Year-to-date NAV and Market Performance percentages include YTD dividends added back but not reinvested.
images
Table 1: Option-Income CEFs sorted by NAV performance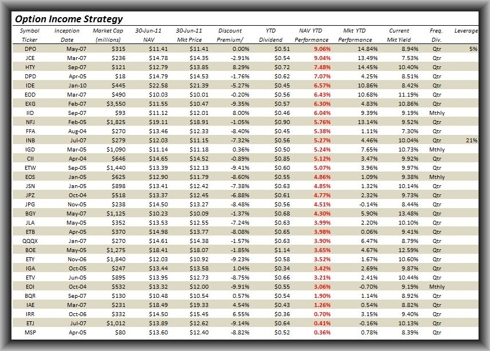 Table 2: Leveraged & Div Harvest CEFs sorted by NAV performance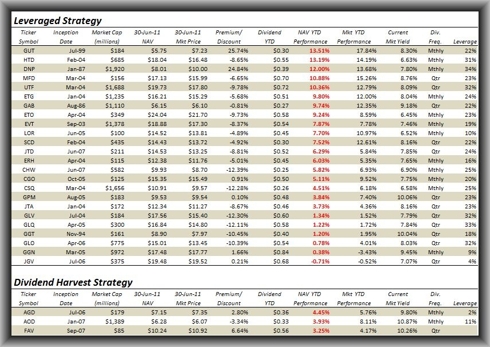 Table 3: Option-Income CEFs sorted by Discount/Premium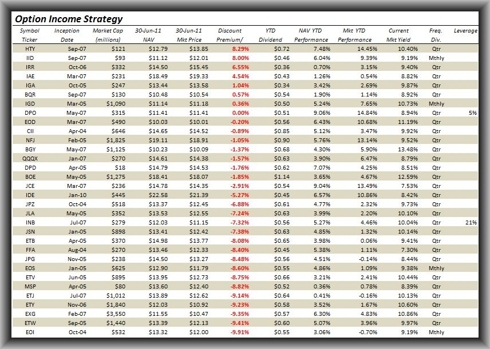 Table 4: Leveraged & Div Harvest CEFs sorted by Disc/Premium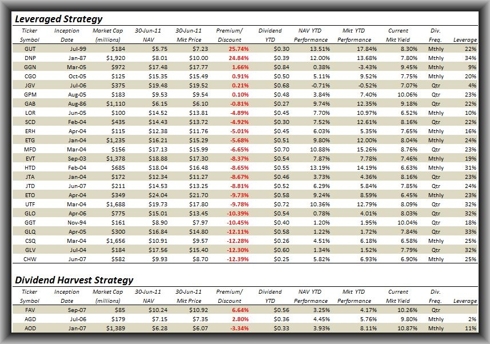 I hope readers find these tables of interest since they do take alot of time and effort to put together! I will be back with some comments regarding some of the more extreme valuation discrepancies but for now, I wanted to get this out for readers to review.
Note: Information shown is from Yahoo Finance and CEFConnect. All data is considered reliable but not guaranteed.
Disclosure: I am long ETW, IGD, ETB, EOI, EOS, EXG, JSN, JLA, EVT, CII.