There might not be a more fascinating investment in the world today than shares of Gilead Sciences (NASDAQ:GILD). This $135 billion biotechnology company has compelling future growth potential, according to industry analysts, but after its recent pullback, trades at approximately 9 times projected 2016 earnings. The stock has fallen nearly 20% so far this week, after AbbVie's (NYSE:ABBV) new hepatitis C treatment Viekira Pak was approved for use in the United States by the FDA on Friday, and almost immediately afterward, Express Scripts (NASDAQ:ESRX) announced that it will cease covering Gilead's Harvoni/Sovaldi for its customers, choosing to proceed with the less expensive Viekira Pak instead.
Seeking Alpha always has plenty of coverage about any breaking news involving Gilead, and several well-written articles were recently published, analyzing the above announcements. They featured phrases such as the following:
These articles were all written by intelligent individuals who seem to have a good understanding of the various issues affecting Gilead at this time. And their optimistic views are echoed by the analyst community, with 23 out of 27 of them having a positive opinion of the company:

(Source: MarketWatch.com)
Personally, I have had a difficult time reaching a conclusion about Gilead. Although the company meets nearly all of my investment criteria, the amount of positive analyst commentary and bullish articles on websites such as this one is somewhat concerning. If everyone views shares of Gilead favorably, why are the shares only trading at 9 times estimated 2016 earnings? If 85% of analysts have a buy rating on the company, why does its forward multiple chart look like this?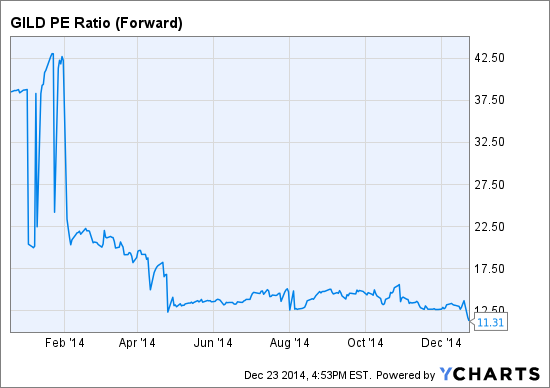 This unease is what previously caused me to look into whether Gilead's elevated earnings volatility could be one of the factors causing its incredibly low forward earnings multiple (that exists despite a stellar growth forecast). Seeking Alpha is full of positive articles about Gilead and numerous bullish comments, and I am concerned that many of the company's shareholders are falling victim to confirmation bias.
Studying biases is a favorite activity of mine, because they exist within all of us, and while it does not seem possible to eliminate biases entirely, being cognizant of them allows you to minimize their impact when making all types of decisions (including investment ones). Confirmation bias suggests that we actively seek out information to confirm our previously held beliefs. It makes us feel good to read an article that agrees with our thoughts, and it creates dissonance when we read something with opposing opinions. But of course, we can gain far more value from reading articles that share a different perspective from our own, as long as we take the time to evaluate the arguments presented. Maybe the author of that article has created an argument using incorrect facts or illogical assumptions, in which case you can become more confident in your original opinion. However, every once in a while, a point is exposed that you had never considered before. Perhaps your previously held view was not as rock-solid as you originally believed.
The point is that we can learn the most from studying views that differ from our own, even if doing so is not an enjoyable experience. If you have a bullish view on a stock, you should understand the bearish case (and vice versa), even if you do not subscribe to it. And in the case of Gilead Sciences, seemingly every author on Seeking Alpha (and nearly everyone who comments about the articles), along with a vast majority of the analyst community has a strongly bullish opinion. Clearly, the market is not as impressed as the analysts or the authors of the articles linked to previously in this piece. If it were, the company's stock price would be trading at well above $90 - at a much higher multiple than it is currently trading at. The lack of a bearish case against Gilead makes it difficult for me to become bullish, because it feels like I am missing something.
Maybe Gilead just happens to be a compelling buy, and the most recent pullback is an overreaction and has created an exciting opportunity for growth investors. But being a successful investor is never easy, and Gilead feels like too obvious a buy trading at its current price. Seeking Alpha acts as a valuable proxy to assess sentiment in the market; one can look at all perspectives and decide which view appears most reasonable. Warren Buffett famously stated that we should "attempt to be fearful when others are greedy and to be greedy only when others are fearful". In the case of Gilead Sciences, despite the recent bad news, nearly everyone around here seems greedy, which is what causes me to be fearful.
Disclosure: The author has no positions in any stocks mentioned, and no plans to initiate any positions within the next 72 hours.
The author wrote this article themselves, and it expresses their own opinions. The author is not receiving compensation for it (other than from Seeking Alpha). The author has no business relationship with any company whose stock is mentioned in this article.