I reiterate my bullish stance on General Mills (NYSE:GIS); the company is making all the right moves to better its financial results, both top-line and bottom-line, in 2015. GIS' efforts to strengthen its business and market share through product innovation efforts are well-headed to growing its sales base. And as far as the company's EBITDA margins are concerned, the prevailing headwinds of input cost inflation will keep its margins under pressure in the near-term, but with its efforts to get a leaner cost base through effective cost cut measures, GIS' margins and earnings will grow in the years ahead. Also, the stock offers an upside price potential of 12%, as per my price target calculation, which supports my buy rating on the stock.
Innovative Product Launches will Grow Top-Line Numbers
In the recent past, the company's top-line growth was adversely affected by a weak consumer spending environment and due to changing consumer preferences. The consumer breakfast eating habits have been changing, and other breakfast alternates like protein shakes, yogurts and peanut butter have been hurting the sales volumes of the company's most-important cereal category. In its efforts to improve its mainstream category, the company recently re-launched its well-known French Toast Crunch cereal. Owing to its huge popularity, GIS will launch French Toast Crunch nationwide in mid-January next month. Also, the company had launched a new brand of "Cheerios"; this new cheerios brand being topped with quinoa and ancient grains is an attempt to capitalize on the growth potentials of emerging demand for ancient grains.
Moreover, the company has introduced many new flavors to its Cheerios Protein line that will enable it to serve the growing demand for protein rich breakfasts. In addition, the company has announced the launch of 50 additional new products in early 2015. The efforts by the company will allow it to improve its top-line numbers in the future. I believe that GIS' sales growth for FY15 will be in the mid-single digits, and will further accelerate in FY'16. The following graph shows GIS' sales growth (in %) for the past three fiscal years, and includes my estimated sales growth figures for FY15 and FY16.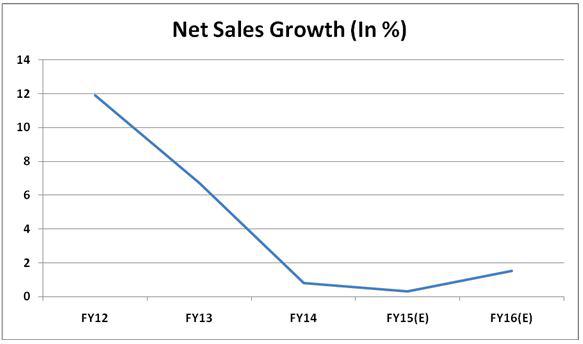 Source: Company's Yearly Earnings Estimates and Equity watch Estimates
Margins and Earnings
The weak top-line growth and input cost inflation have been hurting GIS' earnings and weighing on its margins. In its efforts to offset the input cost inflation through cost-cutting efforts, the company has been undertaking effective cost cutting measures. GIS' Holistic Margin Management (HMM) program is expected to outpace analysts' expected level of $400 million in cost savings in FY15, and the efforts to optimize the North American supply chain process will result in cost savings of $40 million by the end of FY15. I believe that despite the savings from the HMM program and other cost saving measures, the company's weak sales base will keep its FY15 EBITDA margin weak. But in the long-run, as GIS' sales base will start regaining its strength, it will, along with the ongoing cost saving efforts, positively affect margins. GIS is expecting to enjoy annualized cost savings of $260-$280 million in 2016 and more than $350 million in 2017. Due to these effective cost cut plans and sturdy top-line growth initiatives, analysts are anticipating that the company will witness healthy next five-year earnings growth of almost 7.10%, higher than its competitor Kellogg (NYSE:K)'s five-year earnings growth of 5.64%.
The following chart shows GIS' EBITDA margin (in %) for the last three years, and includes my estimated EBITDA margin estimates for FY15 and FY16.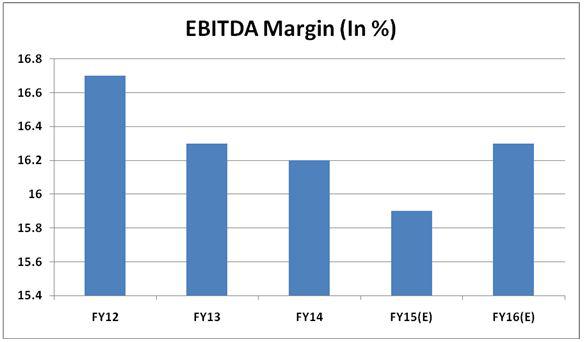 Source: Company's Yearly Earnings Reports & Equity Watch Estimates
Investor Friendly Stock
GIS has a strong history of sharing its success with shareholders through healthy dividend payments and share repurchases. And, dividends have been the bright spot for its dividend-seeking shareholders; GIS currently offers an attractive dividend yield of 3.10%. Moreover, the stock's attractive dividend payments are backed by its cash flows. Owing to the company's strong commitment towards delivering benefits of its success to investors through dividends, I expect that GIS will keep on paying healthy dividends. Also, the company can increase its dividend payout ratio to increase dividends. The following chart shows GIS' dividend payout ratio for the past three fiscal years, and estimates for FY'15 and FY'16.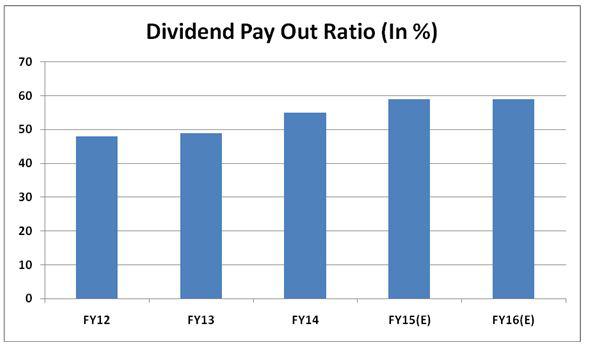 Source: Company's Yearly Earnings Reports & Equity watch's Estimates
Risks
Despite the company's strong strategic initiatives to support its future financial growth, GIS is facing strong competition in the industry from other established consumer staple companies in the U.S. Furthermore, in case the innovative product launches fail to deliver benefits, as per the company's expectations, its sales will remain sluggish in the years ahead. Moreover, the rising input cost inflation for raw materials like corn, cocoa and soybean oil may offset the benefits of cost saving plans, which will weigh on its bottom-line growth.
Price Target
I have calculated a price target of $60 for GIS. In my price target calculations, I have used cost of equity of 5%, cost of debt of 4.5%, nominal growth rate of 1% and WACC of 5%. The stock price is poised to grow by 12% as per my price target calculations, shown below.
| | | | | |
| --- | --- | --- | --- | --- |
| | 2015 | 2016 | 2017 | Terminal Value |
| FCF (In $-Millions) | 1,856 | 1,795 | 1,913 | 48,303 |
| Present Value of FCF (In $-Millions) | 1,767 | 1,628 | 1,653 | 41,734 |
Source: Equity Watch Calculations & Estimates
Total Present Value of Firm = $1,767 + $1,628 + $1,653 + $41,734
= $46,782 million
Market Value of Debt = $10,500 million
Market Value of Equity = $46,782 - $10,500
= $36,282 million
Number of Shares Outstanding = 603.75 million
Price Target = $36,282/603.75
= $60/share
Conclusion
GIS's new product launches are an indication that the company is focused on growing its top-line by capitalizing on changing consumer preferences. Moreover, GIS's well-thought cost control policy is headed to expanding its margins and growing its earnings in the long term. I expect the company's effective growth initiatives will improve its cash flow generation ability, which will portend well for its dividend growth in the years ahead. GIS's strong strategic initiatives are well headed to fueling its future growth. And the stock offers an upside potential of approximately 12%, as per my price target calculations. Due to the aforementioned factors, I am bullish on GIS.
Disclosure: The author has no positions in any stocks mentioned, and no plans to initiate any positions within the next 72 hours.
The author wrote this article themselves, and it expresses their own opinions. The author is not receiving compensation for it (other than from Seeking Alpha). The author has no business relationship with any company whose stock is mentioned in this article.