This is an (admittedly somewhat dated) map showing the likely demands that railroads are going to experience over the coming two decades. It compares current capacity to forecast future capacity.
Lines that are redder and thicker indicate that more infrastructure investment will be required in future.
Green lines indicate less of a need for infrastructure spends.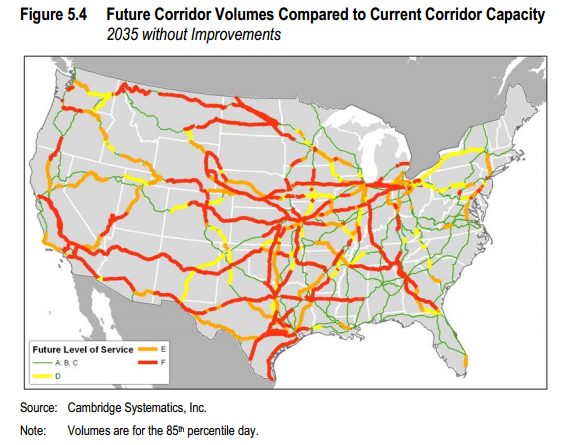 Source: Cambridge Systematics, Inc., 2007
Clearly, a great deal of investment will need to be made in rail over the next 20 years in order to meet increased demographic demands. Companies like Trinity (NYSE:TRN) and Greenbrier (NYSE:GBX) are obvious beneficiaries of that capital investment.
This needed investment in North America's rail system is one of the reasons we are generally bullish on any businesses that benefit from that investment in our Class I Railroads. As I've said in my pieces on Class I Rails, though, it's clear that not all competitors and their support businesses are created equal - so one must go through the work of relative valuation. Today, I'm going to compare Trinity and Greenbrier.
The Numbers
First, the quantitative comparison: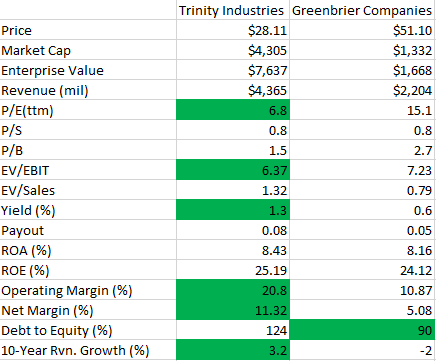 Source: GuruFocus and Author Compilation
Reviewing this chart, it seems that Trinity is a clear winner as compared to Greenbrier.
Trinity sports a P/E of 6.8(!), less than half that of Greenbrier.
In addition, the EV/EBIT at Trinity has an implied cash flow yield of 15.7% (13% higher than Greenbrier's).
Additionally, the dividend yield at Trinity is more than twice that of Greenbrier (1.3% vs. .6%).
Trinity's operating margin is almost twice Greenbrier's (20.8 vs. 10.87) and its net margin is more than twice that of Greenbrier (11.32 as compared to 5.08).
While the return on asset and equity figures are approximately equal at the two companies, reviewing other quantitative screens reveals that Trinity is a better buy.
The one critical area in which Greenbrier outperforms Trinity is in regard to debt. Trinity has a debt-to-equity ratio of 1.24 whereas Greenbrier's debt: equity is only .9.
Looking Beyond the Numbers
As we stated above, the long-term future for rail products is bright. That said, one doesn't get to have a "long game" if they can't survive the "short game", so let's review some of the drivers likely to impact this industry over the coming five years.
The most immediate driver for both companies is the need for a new fleet of oil tankers in North America. The reason for this is that the current oil cars are less safe than they could be, which leads to events like this: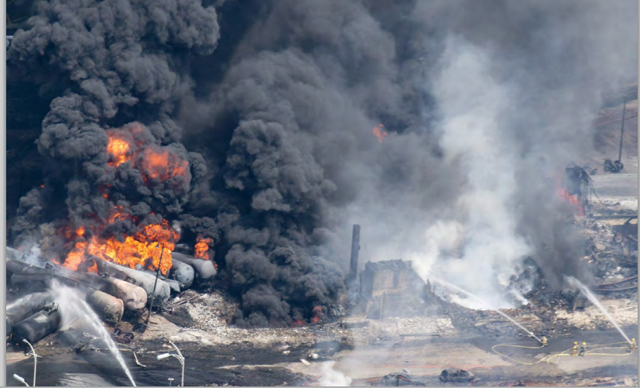 Source: "Image of Lac-Megantic, PQ" Canadian Press, Paul Chiasson
Since the derailment deaths happened in Canada, it's likely that the Canadian government will act with greater vigor than the Obama administration. If Canadian voters believe that the Harper government bowed to pressure from Washington on this issue, Harper will suffer in our upcoming elections. It's possible for both administrations to save face here, though. The Harper government can "play tough to the Americans" (always guaranteed to win political support in Canada) and the Obama administration can simultaneously dither and blame any forced changes on intransigent Canadians. The point is that given the interconnectedness of the North American rail network, either government can effectively dictate policy by banning the older rail cars. Whichever government bans them, the old railcars will be replaced and this will benefit companies like Trinity and Greenbrier. Whether this change happens more or less immediately is of lesser importance.
Trinity has a lawsuit overhanging the stock. I'll be commenting in greater depth on this risk in future articles, but I would note the following immediately:
Trinity is a well-diversified business and the lawsuit does not involve a "core" business.
The financial impact of the lawsuit is, at this point, "contained" and not of sufficient scope to endanger the future of the company. The lawsuit is a strike against Trinity, but it is perhaps one reason why an investor can pick up the shares at such an inexpensive price.
The only thing really peculiar about Greenbrier is the disconnect between its cash flow from operations and its reported net income. To remind our readers, this often suggests a company is stretching payables or not being paid by its customers quickly enough. For instance, when we review CFO and NI on a quarterly basis for Greenbrier since 2008, we see that there's a very low correlation between the two (~26%). There's something peculiar about this that we'll be focusing on in future articles, when we look further into days payables, days receivables and so on. I hope readers look forward to reading it as much as I look forward to writing it.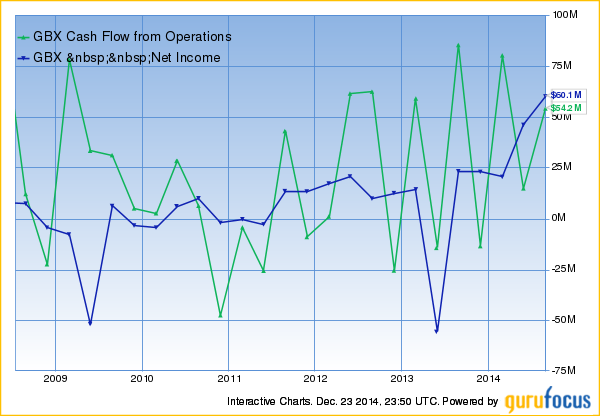 Conclusion
All things considered, we believe that investors are currently better served by switching out of Greenbrier and into Trinity.
Disclosure: The author has no positions in any stocks mentioned, and no plans to initiate any positions within the next 72 hours.
The author wrote this article themselves, and it expresses their own opinions. The author is not receiving compensation for it (other than from Seeking Alpha). The author has no business relationship with any company whose stock is mentioned in this article.