On December 17, President Obama announced a series of steps designed to normalize foreign relations between the US and Cuba for the first time since severing ties in the aftermath of the Communist Revolution of 1960. The surprise announcement sent shock waves through Washington and Wall Street alike.
As traders and investors scrambled to buy up anything that might benefit from the US-Cuban trade, the first hit was a case of mistaken identity. CUBA Beverage Company (OTCPK:CUBV), a tiny San Diego-based juice producer with $1M of market cap and a penny stock previously traded under $0.01 in OTC market, spiked up over 300% before traders started to realize that the name has nothing to do with the country. Still, 4 days later the stock trades around $0.03.
The other, more obvious hit seemed a like screaming buy, because Cuba wasn't its name - it was the ticker.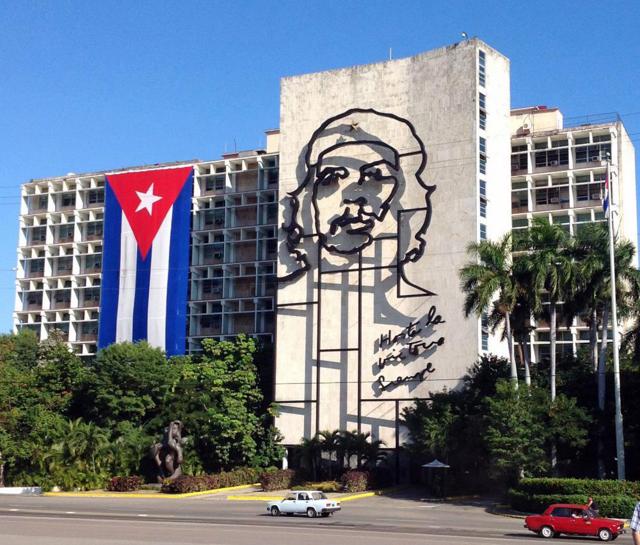 The Little Fund That Could
Herzfeld Caribbean Basin (NASDAQ:CUBA) is a closed-end fund, which, according to the management company's web site, is:
"the first-ever fund formed to invest specifically in the Caribbean region, seeking long-term capital appreciation… The Fund invests in issuers that are likely, in the Advisor's view, to benefit from economic, political, structural and technological developments in the countries in the Caribbean Basin, which consist of Cuba, Jamaica, Trinidad and Tobago, the Bahamas, the Dominican Republic, Barbados, Aruba, Haiti, the Netherlands, Antilles, the Commonwealth of Puerto Rico, Mexico, Honduras, Guatemala, Belize, Costa Rica, Panama, Colombia, and Venezuela. The fund invests at least 80% of its total assets in a broad range of securities of issuers including U.S.-based companies that engage in substantial trade with, and derive substantial revenue from, operations in the Caribbean Basin Countries."
The Fund does not use leverage, has a modest turnover, tiny annual payout, and sports a hefty 2.46% expense ratio. Clearly, it holds securities that may, in its managers' views, benefit Cuba, but it's hardly all about Cuba. A case could be made that some of the Fund's positions may not be beneficial at all, and some in fact have decreased in value since the President's announcement. Below is a pie chart of the top 10 holdings of CUBA from the September quarterly report, which combine for over 55% of market value of the 69 reported holdings.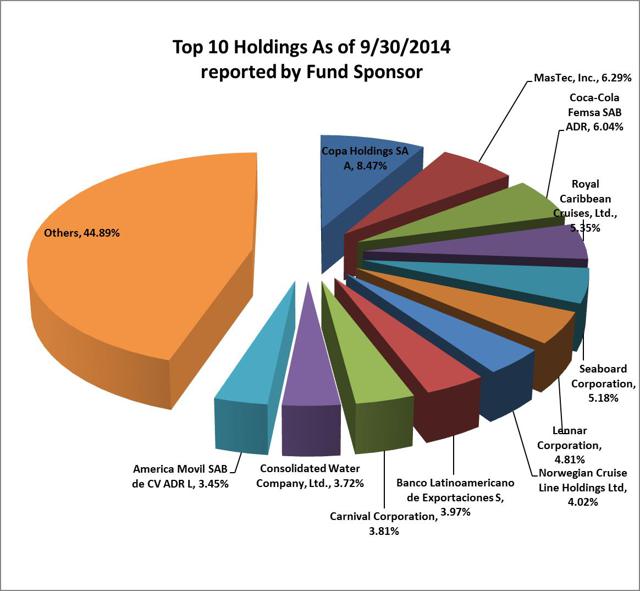 Now, consider the fact that the CUBA fund had around $30M NAV and over the past year has been traded at an average discount to NAV of 10.81%, with the largest discount of 22.29%, with an average daily volume of under 50,000 shares, according to CEF analytics site CEFConnect.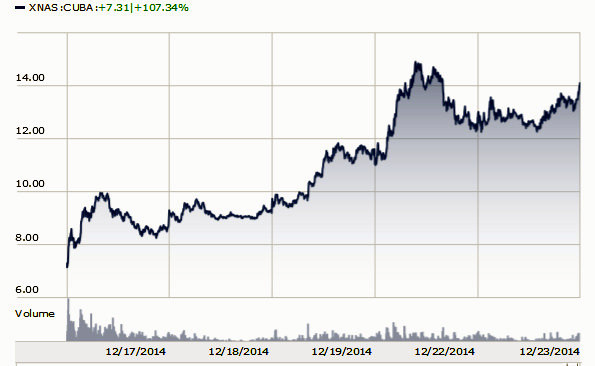 Source: Morningstar
What occurred in the last few days was one of the largest CEF imbalances in recent memory. With a huge demand and volume of over 24 million shares on the announcement day alone, CUBA fund's price has skyrocketed from $6.81 before the President's speech to as high as $14.97 on December 22 before closing the day at $12.34. Then on December 23, another volatile session on big volume ends the day at $14.12. The NAV during that time went up from $7.79 to $8.21, also a nice 5% rise, beating the market easily over the same period. But the giant 107% leap in price means that the fund now trades at an all-CEF-leading 71.99% premium to NAV!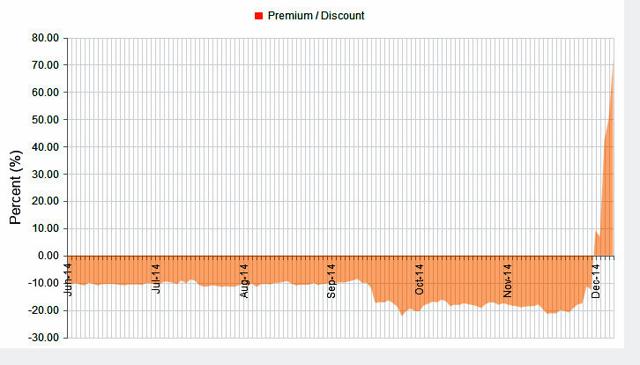 Source: CEFConnect
The graphs above showing the price movement over the past 5 trading days, and another showing premium/discount over 6 months, illustrate the investors' irrational exuberance. Yes, Cuban connections could be exciting and many intriguing opportunities may be considered, but buying CUBA at these levels just makes no sense. The one factor that may have been overlooked and some may consider an ace up CUBA's sleeve is a small position that the fund has in Cuban bonds, which defaulted in 1960 and have been ordered by NYSE to be carried on the books at $0 value. Perhaps there's hope to get some value out of them at some point in the future, but it's highly speculative, and even at full face value of $165,000, it would only account for about 0.5% of current NAV. It is also worth mentioning that the fund will soon be distributing $0.635 per share of taxable mostly long-term capital gains, going ex-dividend on December 26. This will, of course, reduce the NAV by that amount while leaving investors with a tax bill. Shorting CUBA would, in fact, be an interesting idea, but good luck finding shares to borrow!
Where to Invest
So where should investor look for opportunities? A number of articles have come out recently on "Cuban Investing 101." I would argue that, first of all, any Cuban-related investing comes with a number of assumptions and risks that I will describe below. But even then, some opportunities that may seem logical and even obvious now may or may not be the best ones, and many others will undoubtedly be presented in the future.
As it stands right now, opportunities in Cuba can be broken down into roughly seven groups.
Assumptions and Risks
Under the 1996 Helms-Burton Act, the US can't lift its embargo until the Cuban and American governments agree to settle the outstanding claims, so the last group of companies above may have the first round of benefits. However, no one should expect a full value of the claims. The two nations may settle for a small fraction of over $7B of total claims. There's talk of "two cents on the dollar," and negotiations may take many months or perhaps years. There are precedents of settlements of US property seizures from places like Iran and Vietnam, so there's hope that a deal can eventually be worked out.
Assuming that a settlement with all parties is reached, and the Republican Congress approves it, it will pave the way to officially normalizing relations, which may then allow for free travel and trade. Economic embargoes are double-edged swords, and lifting them creates economic opportunities on both sides. However, anyone thinking ahead should be prepared for a potential long wait and a possibility of setbacks or outright failure at several key junctures along the way.
Motif Portfolio
Finally, diversified approach should always be a consideration for risk-averse investor as opposed to trying to pick one or two individual winners. One economical option to invest into a basket of stocks listed above is through Motif Investing. Motif Investing is an up and coming online broker that allows investors to buy "motifs" - a group of up to 30 US listed equities of ETFs combined by a common theme, all for one low commission. Not only the company provides over 100 motifs, it lets investors modify them and even allows members to create their own motifs, complete with weighting methodologies and custom names, and share them on the site. I think of these motifs as a cheap way to create my own custom ETF.
My custom Guantanamera motif is presented below. As you can see, it is comprised of the companies I have discussed above and many that are top holdings of CUBA CEF, with the notable exception of the property claimants. Carnival Corp. (NYSE:CCL) and Royal Caribbean Cruises (NYSE:RCL) have the highest weights, followed by the likes of Copa, Office Depot, America Movil, FMX, ING, Seaboard, BBVA, and Cemex.
| | | | | |
| --- | --- | --- | --- | --- |
| Weight | Segment & Stocks | Symbol | Market Cap | 1 YR Return |
| 25.00% | Travel Services |   |   | 21.80% |
| 8.70% | Carnival Corp. | CCL | 26.6B | 17.30% |
| 6.20% | Royal Caribbean Cruises Ltd. | RCL | 19.0B | 73.60% |
| 5.00% | Copa Holdings S.A. Cl A | CPA | 4.4B | 35.70% |
| 3.10% | Norwegian Cruise Line Holdings Ltd. | NCLH | 9.5B | 34.90% |
| 1.00% | Orbitz Worldwide Inc. | OWW | 929.9M | 13.40% |
| 1.00% | Steiner Leisure Limited | STNR | 607.2M | 6.70% |
| 17.60% | Financial |   |   | 0.10% |
| 4.70% | ING Groep N.V. ADS | ING | 51.1B | 3.10% |
| 4.00% | Banco Bilbao Vizcaya Argentaria S.A. ADS | BBVA | 57.1B | 15.50% |
| 4.00% | Banco Latinoamericano de Comercio Exterior S.A. | BLX | 1.2B | 16.10% |
| 2.90% | Bancolombia S.A. ADS | CIB | 6.3B | 4.10% |
| 1.00% | Royal Bank Of Canada | RY | 98.4B | 7.00% |
| 1.00% | Bank of Nova Scotia | BNS | 68.4B | 5.00% |
| 16.70% | Construction & Materials |   |   | 1.50% |
| 3.90% | Cemex S.A. de C.V. ADS | CX | 12.6B | 8.60% |
| 3.50% | Lennar Corp. (Class A) | LEN | 9.0B | 13.20% |
| 3.50% | MasTec Inc. | MTZ | 1.8B | 32.70% |
| 2.30% | Watsco Inc. | WSO | 3.7B | 14.00% |
| 2.00% | Vulcan Materials Co. | VMC | 8.7B | 16.20% |
| 1.50% | Eagle Materials Inc. | EXP | 3.9B | 8.10% |
| 12.50% | Seized Property |   |   | 19.40% |
| 5.00% | Office Depot Inc. | ODP | 4.6B | 60.80% |
| 3.50% | Starwood Hotel & Resorts Worldwide Inc. | HOT | 14.3B | 6.30% |
| 2.50% | Freeport-McMoRan Inc. | FCX | 23.4B | 32.10% |
| 1.50% | Exxon Mobil Corp. | XOM | 395.2B | 2.30% |
| 7.60% | Consumer Goods |   |   | 15.10% |
| 4.80% | Fomento Economico Mexicano S.A.B. de C.V. ADS | FMX | 31.9B | 9.10% |
| 2.80% | Coca-Cola FEMSA S.A.B. de C.V. ADS | KOF | 18.5B | 25.60% |
| 7.00% | Telecommunications |   |   | 2.70% |
| 5.00% | America Movil S.A.B. de C.V. ADS | AMX | 76.0B | 4.90% |
| 2.00% | Atlantic Tele-Network Inc. | ATNI | 1.1B | 21.90% |
| 6.90% | Transportation |   |   | 30.60% |
| 4.50% | Seaboard Corp. | SEB | 4.6B | 35.50% |
| 2.40% | Norfolk Southern Corp. | NSC | 34.0B | 21.40% |
| 6.80% | Utilities |   |   | 2.40% |
| 3.80% | TECO Energy Inc. | TE | 4.7B | 21.90% |
| 3.00% | Consolidated Water Co. Ltd. | CWCO | 152.6M | 32.80% |
Source: Motif Investing, 12/23/14
Conclusion
The potential opportunities in Cuba may be too exciting to ignore. However, pure hype can lead to the cases of CUBA fund and Cuba Beverage Company; there are certainly better and more sensible investments to consider. Investors will be best served to get their facts straight and use reasonable assumptions to adjust valuations before committing capital. Companies mentioned in this article are a good starting point for research, but many other opportunities may become available in coming months. In any case, investors should consider a fairly long time horizon and stock up on patience.
Disclosure: The author has no positions in any stocks mentioned, and no plans to initiate any positions within the next 72 hours.
The author wrote this article themselves, and it expresses their own opinions. The author is not receiving compensation for it (other than from Seeking Alpha). The author has no business relationship with any company whose stock is mentioned in this article.
Additional disclosure: The article serves informational purpose only and does not constitute individualized investment advice. The opinions offered herein are not personalized recommendations to buy, sell or hold securities. Motif Investing portfolios that may be presented in the article are created by the author, and may receive compensation form Motif Investing if portfolios are purchased through their site.
Editor's Note: This article discusses one or more securities that do not trade on a major U.S. exchange. Please be aware of the risks associated with these stocks.