Annaly Capital Management (NYSE:NLY) declared its second quarter 2011 dividend of $0.65 per common share a few weeks ago. Annaly closed at $18.67 on 6/27/11 and went ex-dividend on 6/28/11. The stock traded down as low as $17.95 on the ex-dividend date, but has since rallied back to a new dividend adjusted high ($18.20).
Click to enlarge: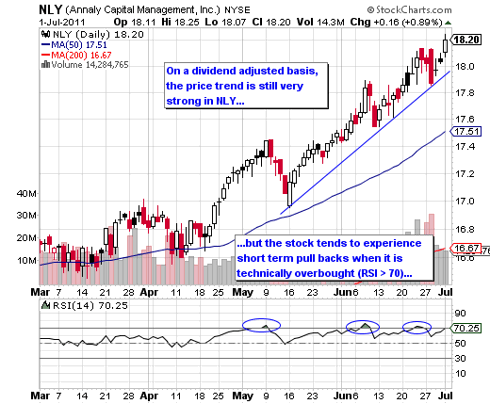 Despite being long-term holders of the stock, we believe Annaly is technically overbought at current levels. We certainly are not sellers of the stock since the trend is still very strong (and we are clipping a 14% dividend), but we caution investors to wait for a near term pullback to put new money to work.
Is Annaly Overvalued?
As shown in the chart below, Annaly appears to be overvalued at current levels. The stock is trading at 1.14x book value, which is the highest of any of its mortgage REIT peers.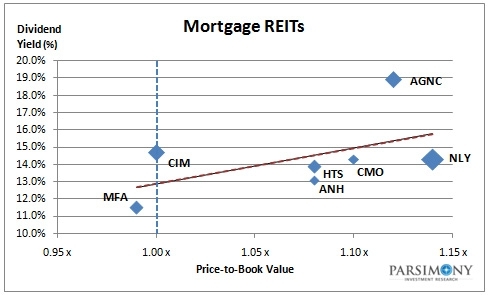 That said, Annaly is by far the largest mortgage REIT (by market cap) and it has a very tenured management team with a proven ability to manage its mortgage portfolio through various interest rate environments. Due to these factors, Annaly has historically traded at a premium to book value. Since 1998, Annaly's average price to book value has been 1.24x (see table below). So at the current level of 1.14x, the stock is actually trading below its historical average.
Click to enlarge: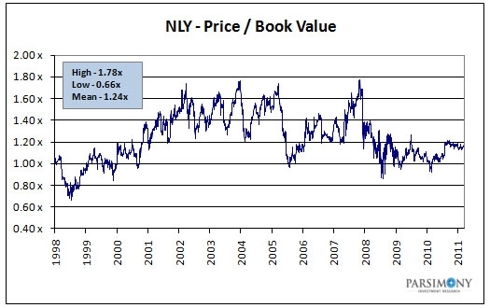 Conclusion
We don't necessary think that Annaly is overvalued at current levels, but we do think that the stock is technically overbought. Given that the third quarter dividend is three months away, we will continue to monitor the situation and wait (hope) for a modest pullback in the price to put new money to work. We encourage investors to do the same.