With most traders focusing on the important things in life this week, things are fairly quiet in the early going on this Christmas Eve. Perhaps the most important aspect of today is that the stock market closes at 1:00 pm eastern. Looking around at the news wires, there isn't much to report. Greece continues to be in focus as the current PM has been unable to gather the votes to form a new government. While it has been a while since traders have cared about Greece, some analysts view this as a possible destabilizing factor going into 2015.
Next up is oil. Although futures are down again this morning, the current action on the charts leaves those seeing the glass as half full hoping that prices are now stabilizing.
US Oil Fund ETF (NYSE: USO) - Daily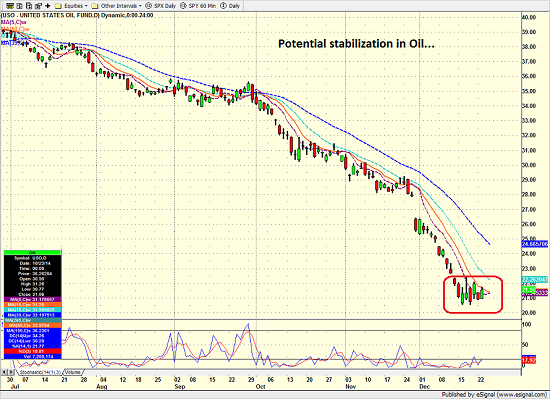 The key takeaway in the market is that the Saudis have made it clear there is no incentive for them to reduce production. The view is that reducing output would only result in lost market share.
And finally there is Russia. Despite Standard & Poor's warning on the country's debt outlook, the central bank's pledge to provide currency to banks is being viewed as evidence that this potential crisis is also in stabilization mode.
Here in the U.S., futures are trading modestly higher as traders continue to implement the seasonality play book. Current Market Environment
With the Dow, S&P, and Midcap indices all at new all-time highs (albeit only by the thinnest of margins) and the Russell 2000 and NASDAQ 100 flirting with new highs, it is hard to argue with the bullish case at the present time. However, it is important to keep in mind that there continues to be cross currents in this market and that the underlying strength of this market remains less than optimal. For example, our market environment models are still struggling to push into the positive zone. And the bottom line is this is unusual when the indices are at all-time highs. As such, this is no time to fall asleep at the switch.
Looking At The Charts
The highlight to the technical picture at the present time is clearly the breakout seen on the charts of the Dow, S&P and Midcap indices. Or perhaps more importantly - especially from the bear camp's perspective - the lack of conviction of this so-called breakout. In other words, while the three indices did break to new highs, they did so in a weak fashion. Therefore, traders may need to brace for another in a very long string of "breakout fake-outs," as this has been a common occurrence in 2014.
S&P 500 - Daily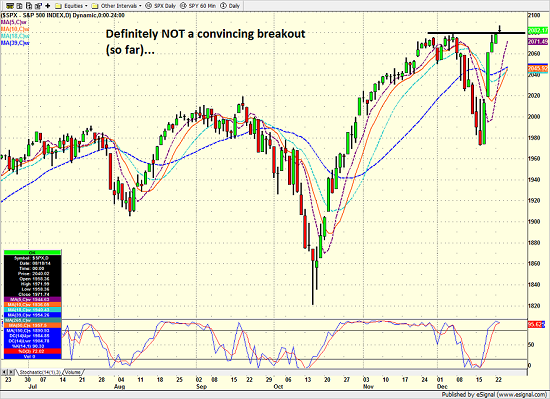 Pre-Game Indicators
Here are the Pre-Market indicators we review each morning before the opening bell...
Major Foreign Markets:
Japan: +1.24%
Hong Kong: +0.07%
Shanghai: -1.97%
London: +0.18%
Germany: closed
France: -0.37%
Italy: +1.46%
Spain: -0.08%
Crude Oil Futures: -$1.30 to $55.82
Gold: -$1.50 at $1176.50
Dollar: lower against the yen and pound, higher vs. euro
10-Year Bond Yield: Currently trading at 2.227%
Stock Indices in U.S. (relative to fair value):
S&P 500: +6.18
Dow Jones Industrial Average: +49
NASDAQ Composite: +10.56 Thought For The Day:
Be kind, for everyone you meet is fighting a hard battle. -Plato Current Market Drivers
We strive to identify the driving forces behind the market action on a daily basis. The thinking is that if we can both identify and understand why stocks are doing what they are doing on a short-term basis; we are not likely to be surprised/blind-sided by a big move. Listed below are what we believe to be the driving forces of the current market (Listed in order of importance).
1. The State of the Oil Crash
2. The State of Fed/ECB/BOJ Policy
3. The State of Russia/Emerging Markets "Crisis"
4. The State of the U.S. Economy
The State of the Trend
We believe it is important to analyze the market using multiple time-frames. We define short-term as 3 days to 3 weeks, intermediate-term as 3 weeks to 3 months, and long-term as 3 months or more. Below are our current ratings of the three primary trends:
Short-Term Trend: Positive
(Chart below is S&P 500 daily over past 1 month)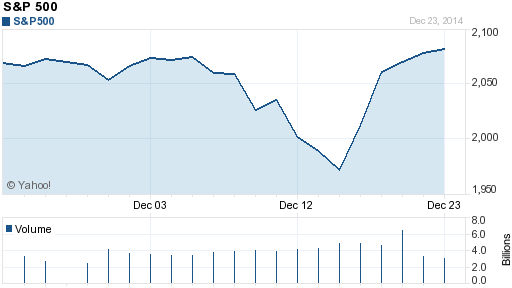 Intermediate-Term Trend: Positive
(Chart below is S&P 500 daily over past 6 months)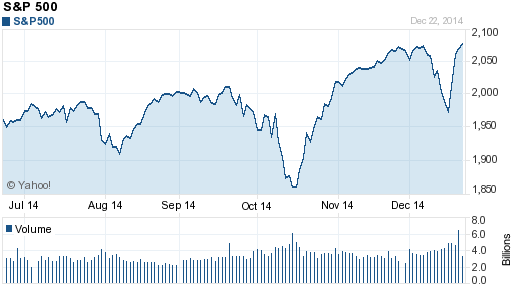 Long-Term Trend: Positive
(Chart below is S&P 500 daily over past 2 years)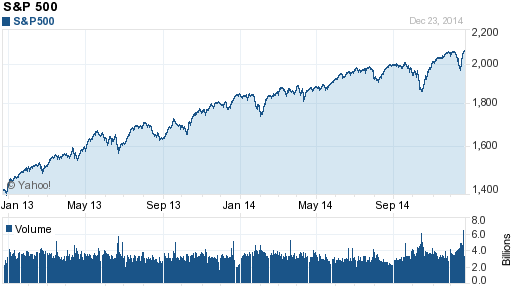 Key Technical Areas:
Traders as well as computerized algorithms are generally keenly aware of the important technical levels on the charts from a short-term basis. Below are the levels we deem important to watch today:
Key Near-Term Support Zone(s) for S&P 500: 2060
Key Near-Term Resistance Zone(s): 2085
The State of the Tape
Momentum indicators are designed to tell us about the technical health of a trend - I.E. if there is any "oomph" behind the move. Below are a handful of our favorite indicators relating to the market's "mo"...
Trend and Breadth Confirmation Indicator (Short-Term): Positive
Price Thrust Indicator: Positive
Volume Thrust Indicator: Neutral
Breadth Thrust Indicator: Neutral
Bull/Bear Volume Relationship: Positive
Technical Health of 100 Industry Groups: High Neutral
The Early Warning Indicators
Markets travel in cycles. Thus we must constantly be on the lookout for changes in the direction of the trend. Looking at market sentiment and the overbought/sold conditions can provide "early warning signs" that a trend change may be near.
S&P 500 Overbought/Oversold Conditions:

- Short-Term: Moderately Overbought

- Intermediate-Term: Neutral

Market Sentiment: Our primary sentiment model is Neutral .
The State of the Market Environment
One of the keys to long-term success in the stock market is stay in tune with the market's "big picture" environment in terms of risk versus reward.
Weekly Market Environment Model Reading: Positive