Smith & Nephew (NYSE:SNN) has seen heavy trading due to speculation that it is about to be taken over by Stryker (NYSE:SYK). While it is impossible to predict the timing of any such event, the company has strong fundamentals and cheap valuations.
The Business
Smith & Nephew is a British company involved in the business of advanced surgical devices and advanced wound management. The company develops, manufactures and markets devices all around the world. It offers orthopedic reconstruction implants for knee, hip and shoulder joints.
SNN also markets sports medicine products which allow the surgeon to treat injuries with minimally invasive procedure for various parts of the body. It also offers bone cement and other mixing systems. A segment wise detail of the company's products can be found here.
Fundamentals
As we can see in table 1 and figure 1, the company has shown a steady growth in revenues and gross profit. Over the last four years, the revenues have grown from $3,962 million (2010) to around $4351 million (2013), a growth of around 9.8%. The net income has fluctuated between $600 and $700 million with 2012 being the best year with $725 million. The company is yet to post annual results for 2014 but using sell side estimates for the 4th quarter we can estimate full year revenues of $4.65 billion; a year over year growth of 6.8%.
| | | | | |
| --- | --- | --- | --- | --- |
| In Millions of U.S. Dollars | 2013 | 2012 | 2011 | 2010 |
| Revenue | 4,351 | 4,137 | 4,270 | 3,962 |
| Gross Profit | 3,251 | 3,067 | 3,130 | 2,931 |
| Operating Income | 810 | 846 | 862 | 920 |
| Net Income | 555 | 725 | 575 | 609 |
Table 1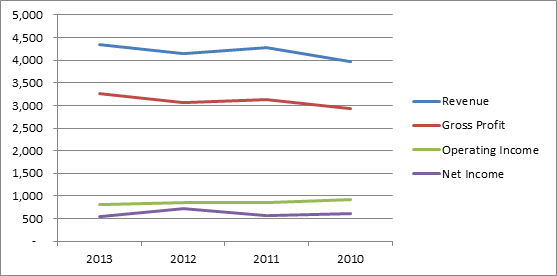 Figure 1
As table 2 and figure 2 shows, the gross profit Margin has been pretty stable in the last four years. The operating margin declined in 2010-2011 but has been stable since then. Net Profit Margin was the highest in 2012 but declined to 13% in 2013. According to the financial statements, it was high in 2012 due to a one-time gain on sale of assets worth $213 million. The steady rise in operating margin can be associated with the steady rise in depreciation and amortization charge. In the last four years, this charge was the highest in 2013 at $152 million.
| | | | | |
| --- | --- | --- | --- | --- |
| % of Revenues | 2013 | 2012 | 2011 | 2010 |
| Gross Profit | 75% | 74% | 73% | 74% |
| Operating Income | 19% | 20% | 20% | 23% |
| Net Income | 13% | 18% | 13% | 15% |
Table 2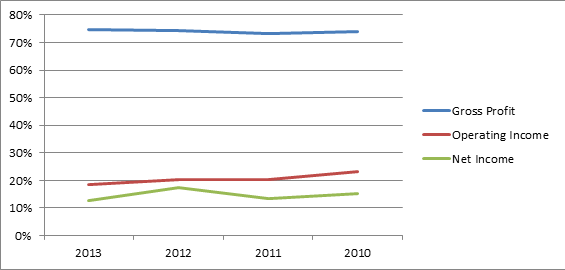 Valuations
In the last 12 months, the shares have traded between $28 and $38. The share prices saw a major hike yesterday on speculation that the company was about to be acquired. SNN rose around 10% on heavy volume. The shares are currently trading at a forward P/e of 20x and P/s of 3.4x. The industry average P/e is around 35x and P/s is 4.75x.
SNN also pays a healthy forward annual dividend yield of 3.3%. This is much higher than the industry average dividend yield of 0.99%. To analyze the sustainability of this yield we must look at the OCF yield. The annualized Operating cash flows of SNN are around $1524 million (using latest quarterly data). This would come down to OCF yield of 9.2%. As the OCF yield is higher than dividend yield, it can be concluded that the operations can finance the dividends and thus dividends can be deemed sustainable.
Using mean sell side EPS estimate of $1.88 for December 2015, we can calculate a target price for SNN:
| | | |
| --- | --- | --- |
| | P/e | Target |
| Industry | 35x | $ 65.80 |
| Sector | 38x | $ 71.44 |
| NYSE P/e | 20x | $ 37.60 |
The mean sell side target price is $39.8, approximately what the stock is worth right now. However, the sector and industry average P/e shows a significant upside to current SNN valuations.
Takeover News
There has been speculation that the Michigan based surgical implants firm Stryker is planning a takeover bid for SNN. The shares have gained around 10% since the speculation started, taking the market capitalization of Smith to above $16.5 billion. The 'sources' for the news are also claiming that the takeover price can be around 30% premium to than prevailing prices. That would bring the speculated takeover price to around $45, a premium of around 20% to current valuations.
Earlier this year, he firm was already trying to plan a takeover bid. However, any such efforts were halted for a six month period due to UK takeover laws. That period of six months will end this week after which the company will be free to accept any viable bid.
Bottom-line
Takeover speculation aside, SNN seems to be a very good dividend investment. The company has a very attractive forward dividend yield of 3.3% which is much higher than industry average and an OCF yield to support this dividend. Moreover, the revenues and net income have been stable over the last few years, barring any amortization expenses.
Smith & Nephew is a very good investment at P/e of 20x if we consider its fundamentals. Investors looking for a quick buck can hope for a takeover premium and enjoy good dividends meanwhile.
Disclosure: The author has no positions in any stocks mentioned, and no plans to initiate any positions within the next 72 hours.
The author wrote this article themselves, and it expresses their own opinions. The author is not receiving compensation for it (other than from Seeking Alpha). The author has no business relationship with any company whose stock is mentioned in this article.
Editor's Note: This article covers one or more stocks trading at less than $1 per share and/or with less than a $100 million market cap. Please be aware of the risks associated with these stocks.