Putting together an investment portfolio, no matter the type, can be one tough challenge. It is an interesting dynamic as one attempts to integrate their personal goals, analytical skills and foresight, and attempts to blend them together into a cohesive money making concept. In that regard, one of the most fascinating types of investing is the formation of an aggressive income portfolio. It is in these portfolios where one's greed for maximum yield collides head on with the appetite for risk. It is at this critical point where a person's analytical skill set and overall knowledge attempts reconcile the two (desire for yield vs risk) and bring a successful balance.
Unlike traditional conservative income investing which might include such items as Certificates of Deposit [CDs], fixed annuities and government/corporate bonds, an aggressive portfolio will go after the higher yields while bearing the burden of the additional risk. One component of the additional risk will include corporate and municipal bonds which are rated below investment grade and have a higher risk of defaulting or failing to make timely interest payments. Add to these bonds a portfolio of diversified high yield income holdings, and one might be able to generate a good cash flow, plus participate in any price appreciation related to the underlying equities. In the end, it is the change in interest rates that will have the most impact upon the income portfolio as a whole. The major focus of this article, though, is not to highlight the below investment grade bonds, but to draw attention to other investment vehicles/sectors that one would need to create a successful aggressive income portfolio. In each section below will be examples of some great companies that may just fit the bill.
Oil/Natural Gas (Non Trusts)
In the hunt for higher yields, one does not have to go far to find them within the oil and natural gas industries. A great aspect about these companies is their ability to provide great yields and also to offer some protection against inflation because of the assets they own. Often these companies will have hedges in place to try to mitigate the risk of price volatility.
Enerplus Corporation (NYSE:ERF): Enerplus is a Canadian company that engages in the acquisition, exploitation and operation of crude oil and natural gas assets in both the United States and Canada. The reserve life for the company is 10.7 years and production outlook is estimated to be 78,000 to 80,000 BOE/day. The production is almost an even break of 53% natural gas 47% crude oil & natural gas liquids. In FY 2011 Enerplus is expected to execute one of the largest capital expenditure programs in the company's history, worth over C$650 million. The company's dividend is paid monthly and looks to be stable for a long time to come, when considering that their payout rate is running at 55%. The yield is 7.1%.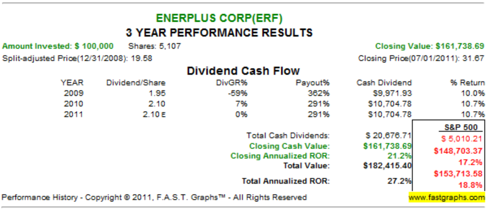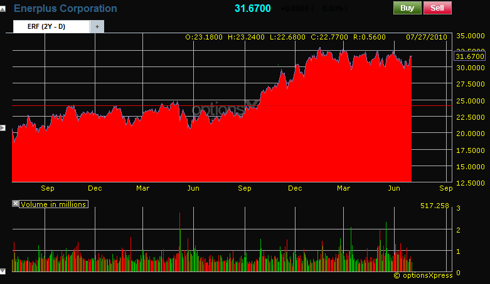 Linn Energy, LLC (LINE): LINE is a limited liability company that deals in the oil and natural gas business. The company has proven reserves of 2,597 billion cubic feet equivalent of oil and gas and natural gas liquids, as well as operating 7,097 gross productive wells. Linn has consistently paid a quarterly distribution to its unitholders since it first went public back in January 2006. The company is focused on paying a consistent, growing dividend even as energy prices make their volatile moves. One reason for such confidence is that Linn has some nice hedges in place to provide the protection they need. LINE pays a quarterly dividend whose annualized distribution for 2011 should be $2.64/unit. With ever-growing revenues, and management's desire to grow its operations even further, Linn should be able to meet and even raise its distribution rate. To illustrate, the average daily production rose to 312 million cubic feet equivalent of gas in the first quarter this year which was an increase of 46%. The yield is 6.8%.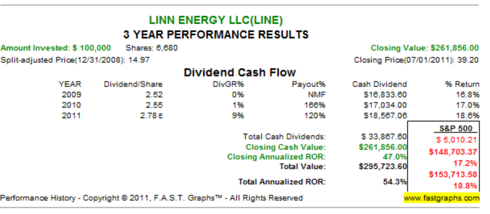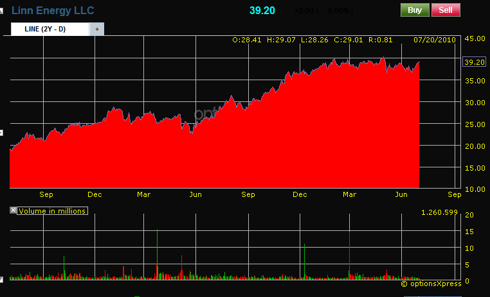 Business Development Company (BDC)
A business development company is an entity created to help small companies grow in the initial stages of their existence. On the surface BDCs are similar to venture capital funds, as they provide funding to these startups. Basically, the BDC will lend to smaller/startup companies at very high interest rates and will also take equity stakes as well. Needless to say, these companies complete very detailed analysis and usually have vast experience in the field where they will be lending. These BDCs are often set up much like closed-end funds and are publicly traded via being listed on major exchanges. Obviously the risk here is if the company the BDC chooses to invest in has the ability to make it financially. Prior to 2008 the BDCs enjoyed stable asset values and the thirst for higher yields had the BDCs leverage themselves to lofty heights. Then along came the recession of 2008-2009, and the loan values plummeted, which turned out to be disastrous for most BDCs. Since then the BDCs have backed off the high leverage, reduced debt by selling off assets and issuing debt and secondaries to shore up the balance sheets. Today, the BDCs once again offer attractive yields, but investors will always remain leery. With the refinancings of holdings and lower interest rate yields, BDCs will be challenged to raise their distributions in the near future, but are in a much better financial position than they were in 2008.
Apollo Investment Corporation (NASDAQ:AINV): Apollo is a great example of a BDC. As of 3/31/2011, the company has 69 holdings, representing $3.1 billion. The company invests in middle market companies and provides direct equity capital, senior secured loans and subordinated debt and loans. It will also invest in PIPES transactions. The company may also invest in public companies that are thinly traded, and may acquire investments in the secondary market. AINV prefers to invest in warrants, makes equity co-investments and may also invest in cash equivalents, U.S. government securities, high-quality debt investments that mature in one year or less, high-yield bonds, distressed debt, non-U.S. investments or securities of public companies that are not thinly traded. The company typically invests in building materials, business services, cable television, chemicals, consumer products, direct marketing, distribution, energy and utilities, financial services, healthcare, manufacturing, media, publishing, retail and transportation. It primarily invests between $20 million and $250 million in its portfolio companies. The company seeks to make investments with stated maturities of five to ten years. The current yield is 10.9% and is paid quarterly. As mentioned in the introduction, Apollo suffered heavily in 2008-2009 during the recession. Since that time the company stock price has rebounded as it has attempted to address its issues.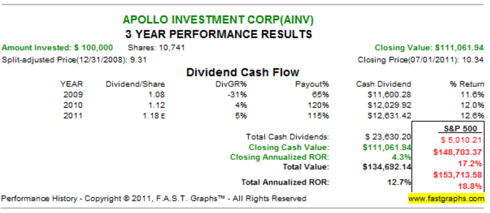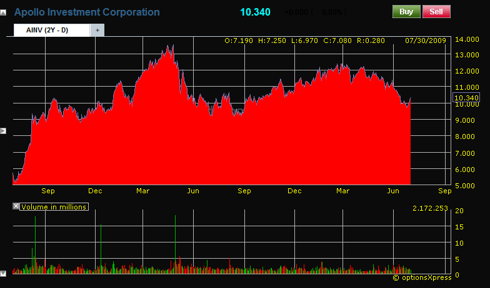 Fifth Street Finance Corp. (FSC): FSC is a business development company specializing in investments in middle market, bridge financing, first and second lien debt financing, expansions, acquisitions, add-on acquisitions, recapitalizations and management buyouts in small and mid-sized companies. The current portfolio is holding 44 positions. It seeks to invest in education services, business services, retail and consumer, manufacturing, food and restaurants, construction and engineering, distribution and logistics, and media and advertising sectors. The fund invests between $5 million to $60 million principally in the form of one-stop, first lien, and second lien debt investments, which may include an equity component in companies with enterprise value between $20 million and $150 million and EBITDA between $3 million and $50 million. Recently, FSC completed a public offering of 5,558,469 shares which raised $65.1 million. FSC plans to use most of the cash to make investments in small and mid-sized companies. A small portion might be used repay its outstanding indebtedness. FSC pays a monthly dividend of $0.1066 a share that adds up to a yield of roughly 11%.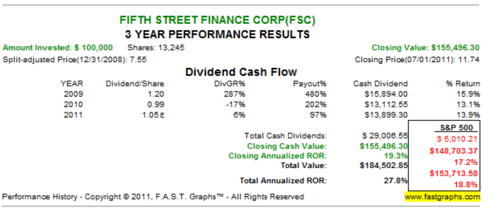 Typically investments in gold and silver are not thought of as part of an income portfolio. Those types of investments are really more likely to be part of the inflation trade as well as storage of wealth and protection. That being the case, if one could find such an investment it would be ideal as part of the diversification of the portfolio as a whole.
The Gabelli Global Gold, Natural Resources & Income Trust (NYSEMKT:GGN): GGN is a non-diversified, closed-end fund that seeks to provide a high level of current income derived from holdings in investment vehicles that deal with precious metals and energy. The fund does not invest directly in precious metals. As of March 31, 2011, the Fund was invested in approximately 39% in stocks and fixed income securities of gold and other precious metals mining companies, 47% in stocks and fixed income securities of energy companies and 14% in stocks and fixed income securities of base metal and other commodity companies. So the fund is not really a 100% gold trade, as about half of the holdings are energy related. The income component is generated by selling covered calls against the holdings. GGN currently pays a monthly dividend of $0.14 which calculates into an annual dividend of $1.68. The current yield is 9.45%. One negative with lots of closed-end funds are the management fees and for GGN they are 1.50%. While investors might not be thrilled with that amount, the diversification offered by having a gold component in an income portfolio with a 9.45% yield is very compelling. The fund usually trades at premium to net asset value and currently that premium is 1.66% which is acceptable. One final note with GGN, is that about half of the current yield is made up of Return of Capital [ROC] which worries investors. The company's response is that to maintain more stable monthly distributions, GGN may from time to time distribute ROC as their option strategies and long term gains come to fruition.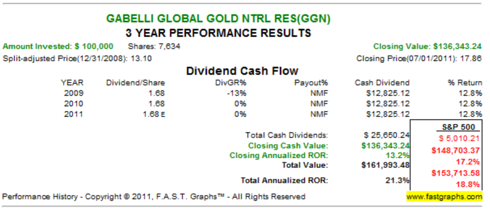 Trusts are some of the most interesting investment vehicles for an aggressive income portfolio. Trusts are a pass-through entity, and its revenues are not taxed to the Trust but are taxed to the unitholders. A unit is typically a beneficial interest of the trusts and is traded on major exchanges. Usually a condition to the Trust not being taxed as a corporation for Federal income tax purposes is the Trust is not permitted to engage in any business other than the collection and distribution of royalties and payment of expenses. That being the case, lots of trusts have expiration timeframes attached to them when they no longer will exist. The timeframes can be based upon a future set date or when some goal is achieved or even missed. Since the characteristics of this kind of investment will change from trust to trust, it is very important to make sure and read all the literature and SEC filings before investing. Having said that, there are some great income yields waiting to be discovered here.
SandRidge Mississippian Trust I (NYSE:SDT): This trust is actually one of the newer ones to come out. The Trust will own royalty interests conveyed to it by SandRidge (NYSE:SD) which will entitle the Trust to a percentage of the proceeds from the production of hydrocarbons from currently producing wells and development wells to be drilled by SandRidge on approximately 42,600 net acres in northern Oklahoma.
At the public offering 7,250,000 common units were sold to the public which represented a 61.6% beneficial interest in the Trust. The Trust also issued to SandRidge (SD) 3,750,000 common units and 7,000,000 subordinated units convertible into common units, together representing an approximately 38.4% beneficial interest in the Trust. As part of the deal, SD is obligated to drill, or cause to be drilled, the equivalent of 123 horizontal oil and natural gas development wells from drill sites between January 1, 2011 and December 31, 2014. In the event of delays, SandRidge will have until December 31, 2015 to fulfill its drilling obligation to the Trust. The Trust is not responsible for any costs related to the drilling of the development wells or any other operating or capital costs and SandRidge will not be permitted to drill and complete any well in the Mississippian formation until it has satisfied its drilling obligation to the Trust. According to the agreement between the Trust and SandRidge, production and revenues attributable to the Royalty Interests have been hedged with a combination of fixed price swaps and collars from April 1, 2011 to December 31, 2015. The Trust's distributable income will include net settlements under these derivative agreements.
The Trust is required to make quarterly cash distributions of substantially all of its cash receipts after deducting administrative expenses. The first distribution, which will cover the first five months of 2011, is expected to be made on or about August 30, 2011 to record unitholders as of August 15, 2011. The Trustee will withhold $1.0 million from the first distribution to establish a cash reserve available for Trust administrative expenses. A closer look shows the Trust has a target for their cash distribution between August 2011 and December 2015 to be $12.82. The current price per share of $26.40 means that 48% of the cost of the initial purchase would be recouped within a 4.5 year time frame. The Trust will dissolve and begin to liquidate on December 31, 2030. At the time, 50% of the Royalty Interests will revert automatically to SandRidge. The remaining 50% of the Royalty Interests will be retained by the Trust sold. The net proceeds of the sale, as well as any remaining cash reserves, will be distributed to the unitholders.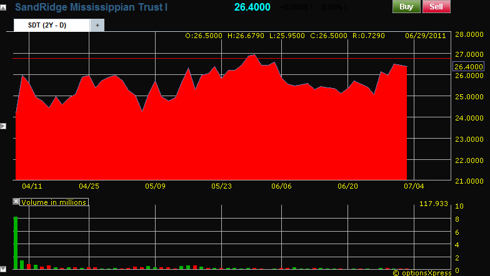 Due to the uniqueness of each trust and the variability one will find, it might be better to list some of the top ones here. If interested, further detailed research should be completed to fully understand the operations and expiration time lines (if any).
Yield: 7.8%
Market Capitalization: $481 Million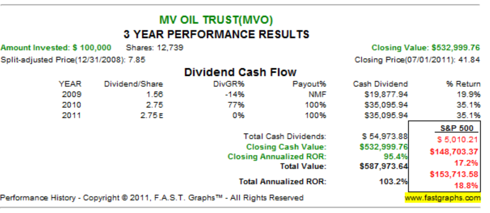 Yield: 7.1%
Market Capitalization: $441 Million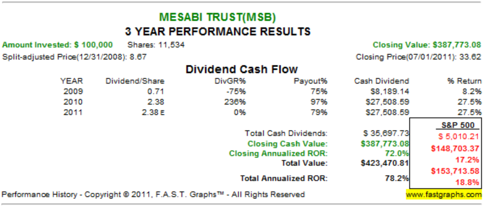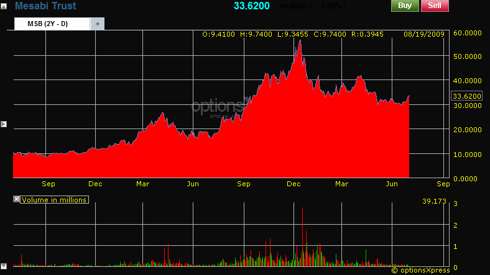 3. BP Prudhoe Bay Royalty Trust (NYSE:BPT)
Yield: 8.5%

Market Capitalization: $2.41 Billion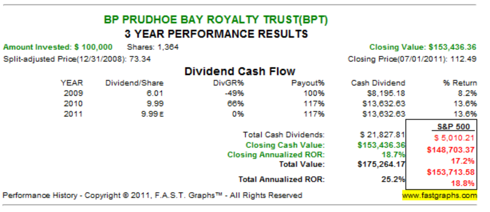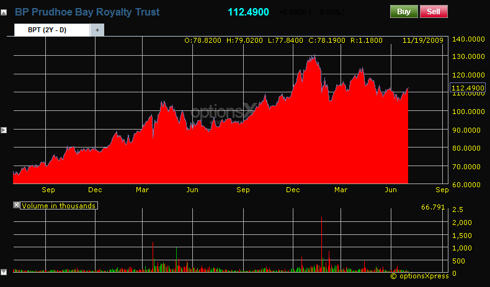 mREITs (Mortgage Real Estate Investment Trust)
Last but not least are the mREITs. This asset is actually one of the most complex and requires a good deal of understanding to comprehend the risks involved. That being the case, it is hard to create an aggressive income portfolio without them, as their yields are so attractive. mREITs are Mortgage Real Estate Investment Trusts, which are entities that specialize in investing in mortgage products and trading mortgage backed securities. mREIT can only deal with mortgages, and 90% of earnings must be paid out to its investors. The principal goal of the mREITs is to generate net income for distribution to stockholders through regular dividends, from the spread between the interest income on their portfolio and the interest costs of their borrowings and hedging activities. Needless to say these companies can really leverage themselves to get extremely high yields. That being the case, these companies will be very sensitive to changes in the interest rates, making them extremely complex investment vehicles to understand and track. The quantitative easing and other Federal Reserve programs have placed mREITS as some of the best income investments. Adding these investments to one's portfolio will certainly juice the yield rates, but one must not take a "buy and forget attitude," as these companies carry a higher risk factor than other types of income investments.
American Capital Agency Corp. (NASDAQ:AGNC): AGNC is a real estate investment trust. It invests in agency pass-through securities and collateralized mortgage obligations for which the principal and interest payments are guaranteed by a U.S. Government agency or a U.S. Government sponsored entities. The company funds its investments primarily through short-term borrowings structured as repurchase agreements. As a form of protection the company has significant amounts of hedging in place. The company pays a quarterly distribution which is currently yielding a 19.3% return. In late June of 2011, AGNC announced a secondary offering which involved the sale of 43,200,000 shares of common stock for gross proceeds of roughly $1.2 billion.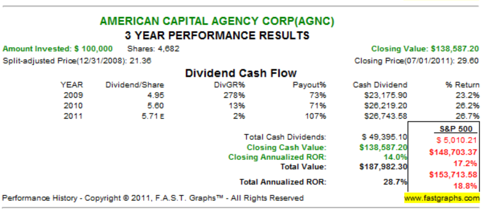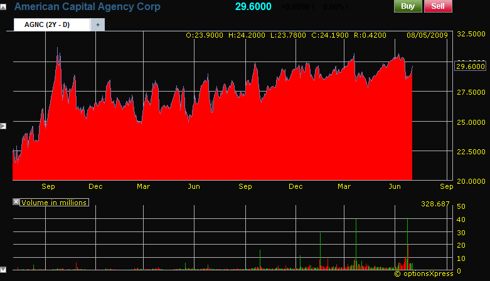 Hatteras Financial Corp (NYSE:HTS): HTS operates as an externally-managed mortgage real estate investment trust [REIT]. It invests in single-family residential mortgage pass-through securities guaranteed by a U.S. Government agency or issued by a U.S. Government-sponsored entity. Like AGNC, Hatteras Financial Corp started in 2008 and has thrived in the current low interest rate environment. The REIT declared a quarterly dividend of $1.00 per common share for the second quarter of 2011 which places the yield at close to 14.3%.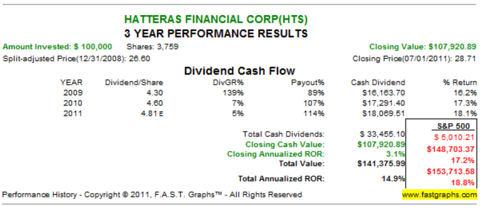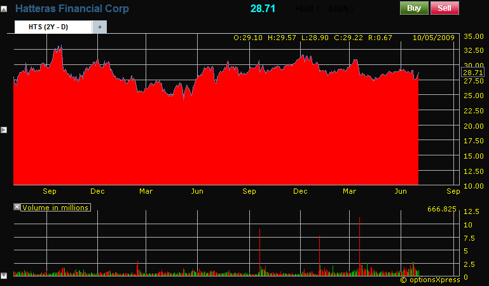 In conclusion, above are some of the investment vehicles and examples of equities that might fit the bill when creating an aggressive income portfolio. All have highly desirable yield rates along with higher risk factors. This is by no means a complete list as there are many other investments to consider as well that will be presented in a future article.