If at first you don't succeed, fail, fail, and fail again. That was the motto for the banking industry in 2008, 2009 and 2010. Pressured by the economy's near collapse, banks folded at an alarming rate. There were 25 bank failures in 2008, 140 in 2009, and 157 in 2010; a drastic change from the single digit failures normally seen. An alarming $634 billion in bank assets were seized during this three year period.
For over three years, the FDIC put teeter-tottering financials out of their misery, staking these so-called "zombie" banks, before turning over their assets and deposits to solvent firms. U.S. Bancorp (NYSE:USB), BB&T Corporation (NYSE:BBT), New York Community Bancorp (NYB), and Home BancShares (NASDAQ:HOMB) grabbed some of these failed banks, for example. This year promised to be yet another sequel to the movie Night Of The Living Dead. In its December report, the FDIC announced that it had a list of 884 problem banks, 182 more than at the start of 2010, a list exceeding that of each of the preceding 17 years. The magnitude of the list potentially heralded a flood of bank failures.
The horror show didn't happen.
The pace of bank failures slowed dramatically. The FDIC closed only 48 financial institutions compared to 86 at this time last year. More importantly, the banks seized were much smaller. By this time last year, 17 banks with over $1 billion in assets had failed. To date, only three banks of this size has been seized. Eighteen billion in assets have been confiscated so far this year, far less than the $69 billion at this time last year.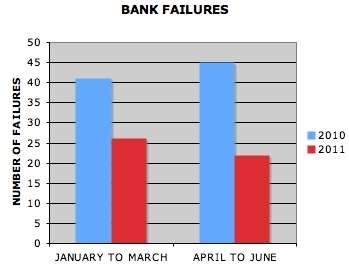 Does the slow down in seizures indicate our banking system is on the mend? Not according to the FDIC, which recently updated its list of problem banks. As of March 31, 2011, there were 888 vulnerable institutions holding $397 billion in assets, roughly 12% of all U.S. banks. It would seem that there is no shortage of zombie banks, plenty to go around for the likes of strong U.S. Bancorp, BB&T Corporation, New York Community Bancorp, and Home BancShares.
With so many near insolvent, why aren't more banks being seized? The answer possibly lies in the exhausted deposit insurance fund, underwater by a billion dollars, despite backing up $6.4 trillion dollars of insured deposits. The fund ran out of money in 2009, briefly remedied when the FDIC had banks prepay three year of premiums, totaling $45 billion. That money is now gone courtesy of mounting losses. Without fresh money, the FDIC doesn't have the cash to back up the deposits of further bank failures. It would likely need to either tap the Treasury or go back to the banks, both of which are already capital constrained. In essence, the deposit insurance fund is running on empty. Until the fund is replenished, expect only a trickle of bank failures and our banking woes slow to resolve.
With Congress still debating whether to raise the debt ceiling, the deposit insurance fund may have to wait. Problem loans at problem banks will not be cured, adding to the already deadlocked mortgage mess, and adding to the woes of the homebuilders (NYSEARCA:XHB) and construction (BATS:ITB). For the time being, the strong banks (U.S. Bancorp, BB&T Corporation, New York Community Bancorp, and Home BancShares) have less opportunity to snap up the assets of zombie firms. It would seem the undead banks will be walking amongst us for the foreseeable future.

This is one long creature feature.

Disclaimer: The opinions in this document are for informational and educational purposes only and should not be construed as a recommendation to buy or sell the stocks mentioned. Past performance of the companies discussed may not continue and the companies may not achieve the earnings growth as predicted. The information in this document is believed to be accurate, but under no circumstances should a person act upon the information contained within. We do not recommend that anyone act upon any investment information without first consulting an investment advisor as to the suitability of such investments for his specific situation.


Disclosure: I am long NYB.