Paychex (NASDAQ:PAYX) is a $17B company that provides human resource and payroll outsourcing solutions for small and mid-sized businesses that spans over 567,000 clients worldwide. On December 19th, they reported Q2 EPS of $0.47 per share vs. the Wall Street consensus estimate of $0.46 per share (9.3% year-over-year increase) and revenue of $676.3M vs. the $673.66M estimate (9.7% year-over-year increase). Both net income and operating income rose 9% to $173M and $270.2M, respectively.
Paychex has two major revenue streams in the payroll service and human resource segments. In Q2 2015, payroll service revenue went up 4% to $411.2M. Revenue growth per check and an increasing client base led to the positive performance. The human resources segment represents just under 2/5th's of the business, but saw a 21% jump in revenues from Q2 FY14. A new health insurance offering for professional employer organization (PEO) clients is now already accounting for 7% of the segment's revenue. Retirement services plans and average fund holdings also helped attribute to the HRS quarterly revenue of $254.7M. Fiscal year to date HRS revenues are up 19% to $498.5M.
On the flip side, expenses for Paychex continue to grow, rising 10% to $406.1M in the second quarter. Higher sales were of course a factor, but medical costs led to a 6% jump in compensation-related expenses. Costs from their new premium health insurance offering within their own PEO accounted for 4% of total expenses.
One of the biggest positives about Paychex is that the company has $0 of short-term or long-term debt, absolutely none. Each quarter they have no problem generating positive free cash, normally in the neighborhood of $100M-$300M per quarter and $500M-$800M annually in recent years. This quarter they saw a 1% pop in cash flow from operations to $404.7M as working capital jumped to $59.9M, but is still relatively low. Cash and corporate investments was a healthy $927.5M at the end of November.
By not having to pay large interest payments on long-term debt, Paychex is able to be a shareholder friendly company. Back in May, the board of directors approved a 3-year, $350M share repurchase program. Through the end of November they have bought back $52.5M worth of stock. This leaves about 6.3M shares left over the next 2.5 years at the current share price. Along with a steady buyback program, Paychex also pays out a nice 3.21% dividend. During July of this year they raised the quarterly payout by 9% to $0.38 from $0.35 per share.
Paychex didn't change their stance on the outlook of FY15 from where they expected the year to play out back in the summer. Human resource revenues are forecasted to increase 16%-19% and +3%-5% on the payroll services side of the business (net increase of 8%-10% for this year). For the year overall net income growth should be slightly lower from Q2 at 6%-8%.
Valuation
Shares of PAYX trade at a P/E ratio of 23.57x (FY16 estimates ending in May 2016) with 8.6% EPS growth, price to sales ratio of 6.63x, and a price to book ratio of 9.56x. Top line growth of 8%+ this year and 7%+ for FY16 are likely to push annual revenue towards the $3B mark over the next two years. Using the mid-point of this year's EPS guidance ($1.87 per share) the stock does trade at a rich P/E ratio of 25.33x with high single/low double earnings growth. Historically the stock has traded at a P/E ratio of 22.69x. In the last five years, the highest valuation Paychex has traded at was 28.41x late last year.
The valuation is a concern for the Wall Street firms that cover the stock too. There are 4 sell ratings, 3 hold ratings, and 3 buy/strong buy ratings with an average analyst price target of $43.10. Following the earnings release, Deutsche Bank (NYSE:DB) kept their hold rating, but raised their price target to $46 from $42 and William Blair reaffirmed their outperform rating.
Technical Analysis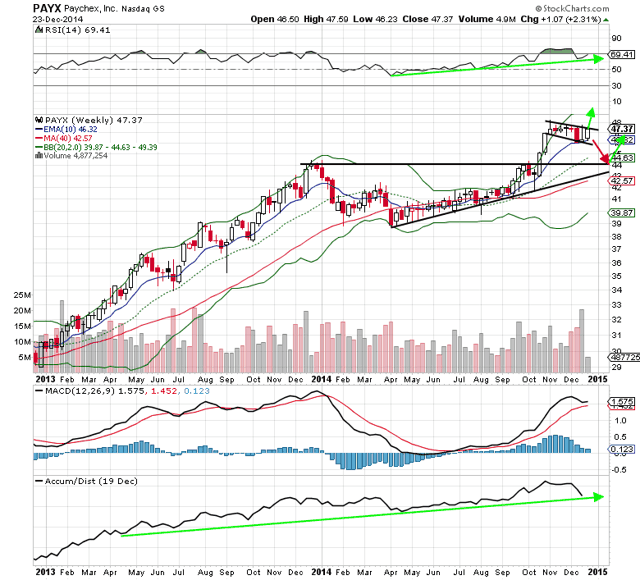 PAYX shares rallied to breakout above the $44 resistance level in October and went on to hit $48.20 in early November. Since then the stock has pulled back some to retest the 10-week exponential moving average and is now poised to resume the rally if the stock can move above the bull flag, setting up for a run to the $50 level. Otherwise, if Paychex shares fail to breakout and instead break below the 10-week EMA, the stock could drop down to the prior resistance level at $44 turned current support.
Unusual Options Activity
On March 20th (data provided by LiveVolPro.com), someone purchased 8,500 Jan 2016 $50 calls for $1.30 each (currently trading at $1.60/$1.65). The $1.1M+ trade is a bullish bet that the stock will be above $51.30 on January 2016 options expiration. This is by far the largest open option position in all Paychex options (total open interest of 12,644 contracts). Total call open interest is 46,798 contracts vs. total put open interest of 17,261 contracts.
Paychex is currently trading at a premium valuation, but solid earnings beats like they've seen in recent years on a quarterly basis could keep the multiple expansion going. The consistent dividend payouts and steady buyback program are also why investors have stuck behind the stock since the 2009 bottom and have been able to push shares above the dot com bubble highs of $42.66 last year. The demand recently for healthcare reform services (via the Affordable Care Act) has allowed Paychex to penetrate a growing market. An increasing labor market is another positive for the company as U.S. monthly non-farm payrolls has averaged +241K per month in 2014. A +5% U.S. GDP print for Q3 also shows the economic growth of the country, which likely leads to further job openings for small to medium sized businesses (where most job growth comes from). The sizable cash position could mean more acquisitions or investments into new services. They launched Paychex Flex, a streamliner of workforce management, in Q2 and bought Nettime Solutions, a time and attendance cloud data provider, early in the year.
As noted above that the stretched valuation could come into play. A string of earnings misses, weak payroll and GDP data, or an overall market correction could result in a sizable drop in the stock, but the two-year weekly chart shows that buyers are likely to step in at the $44 level (not to mention management with their share repurchase program). The enormous holder of 8,500 Jan 2016 $50 calls shouldn't be understated either. They see at least 8% of upside over the next 13 months (11%+ for owners of the stock when factoring in dividends). For those more short-term oriented, you can look to trade the strong Q2 report by looking to trade the bull flag on a technical basis. While longer-term investors can consider a small long position via stock or Jan 2016 calls now and hope to add on a dip to $44 where the forward P/E ratio would be under 22x (below the 5-year average on a P/E ratio basis).
Disclosure: The author has no positions in any stocks mentioned, and no plans to initiate any positions within the next 72 hours.
The author wrote this article themselves, and it expresses their own opinions. The author is not receiving compensation for it (other than from Seeking Alpha). The author has no business relationship with any company whose stock is mentioned in this article.