Investar Holding Corp.(NASDAQ: ISTR) - Sell Recommendation - PT $13.25
The IPO lockup expiration for insiders' restricted shares of Investar Holding Corp. is scheduled to expire on Dec. 29th.
Investar is a Baton Rouge, LA based community bank (see full description below).
At the time of its lockup expiration, major pre-IPO insiders will be able to sell their ~3.9 million shares, which have been barred from public trading, according to SEC guidelines.
The event could at least temporarily depress ISTR's stock price and open a short opportunity in the days surrounding.
Overview of Loan Portfolio
Founded in 2006 as a chartered de novo commercial bank by President and CEO John D'Angelo, ISTR is a bank holding company offering a wide range of commercial banking products tailored to meet the needs of individuals and small to medium-sized businesses. This is accomplished through Investar Bank, their Louisiana-chartered commercial bank subsidiary. ISTR serves their primary markets of Baton Rouge, New Orleans, Lafayette and Hammond, Louisiana through a network of ten branches.
ISTR's primary business is in commercial real estate loans, which comprise 35.1% of their total loans, followed by consumer loans and one-to-four family mortgage loans. Construction and development loans and commercial and industrial loans constituted the remaining components of ISTR's portfolio.
Stagnant Post-IPO Performance
ISTR's IPO, LINK debuted on July 1st, priced at $14 per share with 2.9 million shares. Sandler O'Neill and Partners and Sterne, Agee, and Leach were the co underwriters.
Stock trading volume on opening IPO day nearly reached 800,000 shares and rapidly trickled down in subsequent sessions to an anemically thin 2,500 shares a day on average, with some sessions registering zero trades, such as on Oct. 8th, 15th and 30th. On 12/23 ISTR closed at 14.00.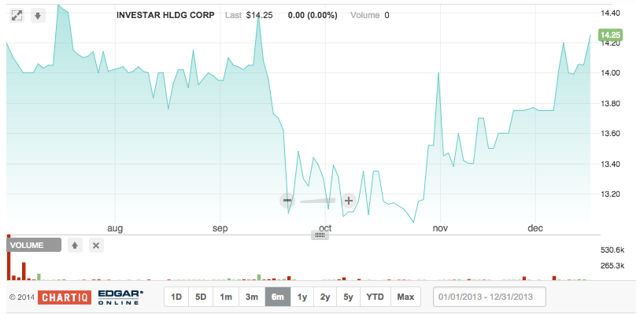 (Nasdaq.com)
Although the stock did make a dividend payment, albeit a tiny one, of $0.0068 a share on Oct. 8th, ISTR does not appear to have many followers touting the stock apart from 2 "Buy" recommendations.
Financial Overview: Strong Increases
At the end of October, ISTR released their 3rd quarter 10-Q. Among the highlights cited:
Increase in net income of $1.4 million ($0.20/diluted share), which is nearly double that of the 2013 figure.
Total assets grew to $784.6 million, an increase of 23.6%, while gross loans expanded $125.6 million, or 24.7%,
On August 1, 2014, the firm announced the opening of its eleventh branch in Baton Rouge.
Conclusion: Short Opportunity
ISTR is a strong candidate for a short play, given that its insiders, including fourteen directors and three executive officers, could be ready to cash out and move on to other projects - as ISTR stock has proven less than popular. Long-term, ISTR could be limited by its ability to compete with larger banks, such as JP Morgan Chase (NYSE:JPM) and Bank of America (NYSE:BAC), in the same LA markets.
On the flip side, ISTR is demonstrating and maintaining an enviable growth rate. For a community bank to double its net income in a difficult economic climate, working with a demographic customer base that has a history of impoverishment in a number of areas, is a laudable accomplishment. Some may also want to take modest profits.
Given supporting studies, conducted by NYU, Harvard and Duke Universities, as well as those of our own firm-all of which support the phenomenon of price declines around the time of a firm's IPO lockup expiration, we suggest ISTR shareholders consider selling.
We invite readers wishing to join the discussion on IPOs and their lockup expirations to click the +FOLLOW button above the title of this article--and those looking for the latest development to click +Get real time alerts.
Disclosure: The author has no positions in any stocks mentioned, and no plans to initiate any positions within the next 72 hours.
The author wrote this article themselves, and it expresses their own opinions. The author is not receiving compensation for it (other than from Seeking Alpha). The author has no business relationship with any company whose stock is mentioned in this article.