To begin with, I wish you a very Happy Christmas and a prosperous and peaceful New Year.
Earlier in December, I was expecting higher gold prices mainly because I did not see selling pressures in the short term. Indeed, I expected gold ETFs to be broadly stable and I forecasted more buying pressures due to short-covering as the market had been positioned on the downside. In December, gold prices have increased marginally by $6/toz or 0.5% from $1,169/toz to $1,175/toz after reaching an intraday high of $1,238/toz on 9 December (Exhibit 3).
Exhibit 1: Gold prices in 2014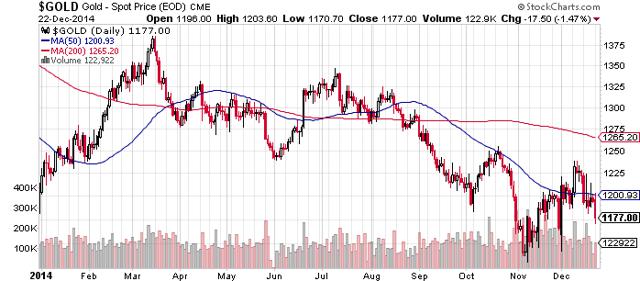 Source: StockCharts
As a matter of fact, my bullish thesis has been invalidated by the market, as I expected a sharp move to the upside for at least one month. However, it seems that the gold market ran out of steam and began declining on 10 December.
Exhibit 2: Gold ETF holdings broadly stable in December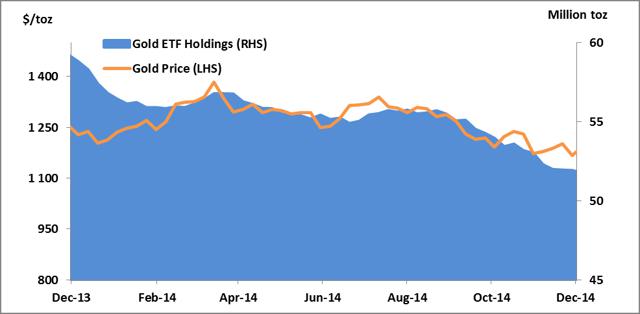 Source: Bloomberg, Mikz Economics
Surprisingly, the fundamentals I put forward in my previous analysis have been proven correct. As seen in Exhibit 2, gold ETF holdings have been broadly stable, down by 0.3% from 51.93 million ounces to 51.80 million ounces at present.
Exhibit 2: The net-speculative length has increased in December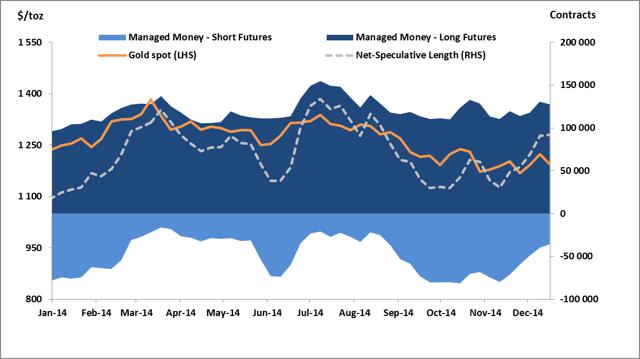 Source: CFTC, Mikz Economics
Moreover, we have seen more short-covering as the net-speculative length rose by nearly 70% from 54,450 contracts to 91,825 contracts in the week to 16 December. The CFTC statistics suggest that the rise in the net-speculative length is due more to the unwinding of short positions (-23,803 contracts in December) rather than the accumulation of long positions (+9,767 contracts in December). However, despite the fact that speculators have expanded their long positions, the gold price failed to rise on a sustainable basis.
Exhibit 3: The strength of the U.S. dollar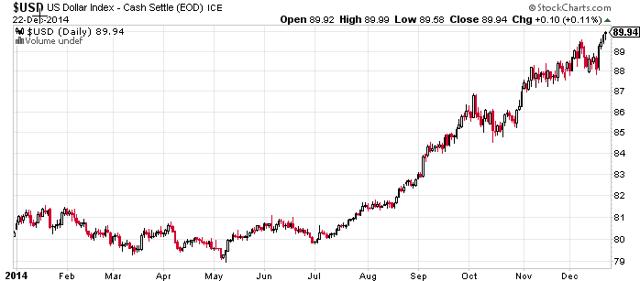 Source: StockCharts
In my view, the poor performance of gold is mainly attributable to the strength of the dollar. As seen in Exhibit 3, even though the financial markets have been shaken recently as equities took a severe hit in the first two weeks of December while the dollar was consolidating, market participants are again optimistic and jumped back in the dollar and global equities. This is why, it seems to me, that gold is stuck near its low. The renewed strength in the dollar and global equities was provoked by the FOMC Meeting on December 17. The message was quite similar as the one at the October FOMC Meeting, namely that "the economic activity is expanding at a moderate pace" and "it likely will be appropriate to maintain the 0 to 1/4 percent target range for the federal funds rate for a considerable time following the end of its asset purchase program in October". However, the stance was slightly more dovish than market participants had expected as the Committee made it clear that "based on its current assessment, the Committee judges that it can be patient in beginning to normalize the stance of monetary policy". Following the statement, equities sharply bounced back and gold prices continued to trend lower.
At this stage, we can argue that these trends are likely to continue, namely that the dollar and equities are likely to keep going up, whereas gold is likely to be pushed lower. While it may be the case, I would be careful with this hypothesis as I see a short-term potential catalyst that could destabilize the financial markets while pushing the gold price up: a failure by Greece's parliament to elect a president by the end of the month. As a reminder, Greek President Samaras has brought forward the presidential election by two months in order to end the political crisis. The presidential vote is held over three rounds (17 December, 23 December and 29 December). If Samaras fails to get his candidate for president elected, early elections could be triggered. The government lost the first round since it needed the support of 200 lawmakers to secure victory while it got only 160 votes. It also is certain to fail the second round as it is expected to get 169 votes. For the first round held on 29 December, the government needs the support of 180 lawmakers so it may have a chance to win.
Interestingly, according to a recent opinion poll conducted on 8-9 December, if parliamentary elections were held now, Greece's radical leftist opposition Syriza party would win with a 31% share of the vote. This party is promising to abandon any cooperation with Greece's EU/IMF lenders and reverse austerity cuts. While Samaras is warning that the country risks a catastrophic return to the depths of its sovereign debt crisis if Syriza wins an early parliamentary election, Syriza leader Tsipras is confident that Greece's EU partners would change their stance once his party would take office.
While market participants do not seem to pay a lot of attention to this political crisis in Greece, the situation could become rapidly unstable. Indeed, if the country fails to elect a president, Finance Minister Hardouvelis warned "that the deficit is manageable until February, and not easily afterwards, since from March onwards our needs will increase." Furthermore, Greece needs to repay IMF loans worth about 2.8 billion euros by the end of March. Its next major funding hurdle comes in July and August when it has to repay over 5 billion euros in maturing debt.
If Greeks vote the "wrong way" as EU Juncker put it, a new Greek debt crisis episode could occur, which is likely to have spillover effects to other weak EZ countries. In this case, liquidity in market could dry up rapidly, equities could fall severely, while gold could rise sharply on safe-haven buying.
From a trading perspective, gold seems to have bottomed on 7 November at $1,130/toz and reached a higher low of $1,142/toz on 1 December. Consequently, as long as gold does not fail to trade above that level, I am bullish and I am ready to build long positions as the risk/reward profile is greatly skewed in my favor and Greece's political crisis may be the catalyst for higher gold prices. However, if gold fails to trade below these levels, I would turn bearish again and I would expect a final low in 2015.
Disclosure: The author has no positions in any stocks mentioned, and no plans to initiate any positions within the next 72 hours.
The author wrote this article themselves, and it expresses their own opinions. The author is not receiving compensation for it (other than from Seeking Alpha). The author has no business relationship with any company whose stock is mentioned in this article.