Commodity prices are relatively stable right now, although all of the prices which we update daily are down. The one that really stands out is WTI Crude, which once again is dragging down the oil and oil services stocks, but with many trading desks thinly staffed during the holidays we do not want to read too much into this price action. Just as momentum in the stock market should carry us higher into the new year, the momentum in the commodity markets could very well take us lower.
Chart of the Day:
With stocks having rebounded and fears of a debt market shock caused by falling oil prices impacting the high yield market and Russia, the US Treasury is seeing selling which has pushed rates back up to the 2.30% area. While we think that rates will trend higher, it appears that the Fed might be running into some headwinds on that front which could delay rate hikes by a few months.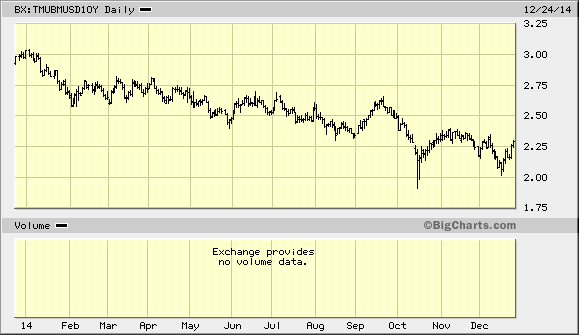 Source: BigCharts
Commodity prices are as follows (at time of submission):
Gold: $1,174.70/ounce, down by $3.30/ounce
Silver: $15.765/ounce, down by $0.002/ounce
Oil: $55.33/barrel, down by $1.79/barrel
RBOB Gas: $1.5154/gallon, down by $0.055/gallon
Natural Gas: $3.098/MMbtu, down by $0.073/MMbtu
Copper: $2.8525/pound, down by $0.0145/pound
Platinum: $1,189.70/ounce, down by $2.00/ounce
Oil's Impact Upon The Fed
With falling oil prices beginning to take a toll on various sized E&Ps' capital expenditure plans, we are wondering how long it will take for some of these high paying drilling jobs to disappear. With companies such as Anadarko Petroleum (NYSE:APC) and Continental Resources (NYSE:CLR) cutting back, the possibility exists that the current rate of growth in the economy could hold without overheating as the job market adjusts.
If one looks at the map and the various Fed Presidents, we could see the hawkish bias disappear as the states which led us out of the recession due to shale exploration could be the anchor which prevents the Federal Reserve from raising rates next year. It would be an interesting turn of events, but ultimately a short-term blip.
Looking to 2015
As we look to 2015 and plan some moves in the portfolio, we recognize the need to minimize risk in areas where we want to make some long-term contrarian plays. The area which interests us the most is oil and oil infrastructure plays. If one is also of the mindset that oil prices will recover over the next 2-3 years, then some of the oil companies and MLPs with hedged production in place are worth a look. Much attention has already been paid to Linn Energy (LINE) and LinnCo (LNCO), but we think that investors should manage risk by using names such as Kinder Morgan (NYSE:KMI), Enterprise Products Partners, LP (NYSE:EPD) and Exxon Mobil (NYSE:XOM) as well as ETFs such as the Energy Select Sector SPDR ETF (NYSEARCA:XLE) to anchor portfolios.
Regarding names we want to speculate on, our attention is focused on shale plays such as the Bakken, Eagle Ford, Utica and Tuscaloosa Marine. We know at this time that we want to keep Halcon Resources (NYSE:HK) in our portfolio, but have not yet arrived at any other conclusions at this time. We will obviously update readers with our 2015 picks in early January once our due diligence is complete.
Disclosure: The author is long HK.
The author wrote this article themselves, and it expresses their own opinions. The author is not receiving compensation for it (other than from Seeking Alpha). The author has no business relationship with any company whose stock is mentioned in this article.
Additional disclosure: HK, KMI LINE & LNCO have all previously been recommended.