If you're unfamiliar with Medley Management (NYSE:MDLY) you should subscribe to the PRO platform, go read my previous article about how MDLY prints money, buy shares, and just wait for the news of it being acquired to be announced. MDLY just went public in September and I realize the idea of saying it should be acquired three months into public trading is not traditional. But the fact is we're in a new world heading into 2015 from an M&A environment standpoint and from an asset manager reality standpoint. I'll clarify what both of those mean in the body of this article. This article will also discuss the outstanding profitability of the business at MDLY and the fact that it's in possession of funds using senior secured loans to generate 9.4% and 18.2% yields for investors.
CHART: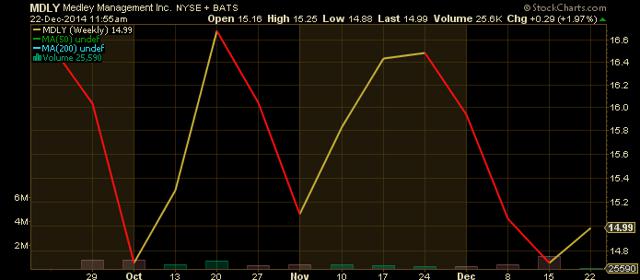 STOCK DATA: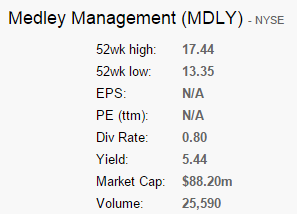 Medley and The Monopoly Money
Let's Get Vertical:
MDLY's operations are driven by its ability to operate vertically, which is rare in this niche of financial services. MDLY being able to do this gives it several competitive advantages that are helping its underlying funds outperform benchmarks and this should continue to garner cash inflow interest.
Simply put MDLY is able to do a better job than the rest of the market currently and it's because it's vertical. I think MDLY shares could trade at a massive premium over time as it can continue to outperform comparable publicly-traded benchmarks - speaking specifically about other publicly-listed BDC peers and the Credit Suisse Leveraged Loan index (which MDLY has outperformed since 2011 by 370 and 730 basis points on an average annualized return basis).
MDLY's underlying funds have the following annualized total net returns1 OR gross internal rate of returns2 over the following specific periods (the superscript indicates which of the sub-categories the percentage figures belong to):
Sierra Income Corporation (SIC)1 - 04/2012-09/2014: 9.4%
Medley Capital Corporation (NYSE:MCC)1 - 01/2011 - 09/2014: 11.9%
Medley SBIC LP (Medley SBIC)2 - 03/2013 - 09/2014: 18.2%
Medley Opportunity Fund II (MOF II)2 - 12/2010 - 09/2014: 16.3%
Separately Managed Accounts (OTC:SMAS)2 : 15.4%
Now, you're probably saying to yourself, "sure, these figures look good but how do they perform against peers and against other fixed income outlets?". The answer is: who cares?. Seriously, if you're asking that question you're not thinking in the right channels to properly value MDLY. I would recommend a subscription to The Economist or some outdated dinosaur how-to book on investing and finding shares that are going to move.
The sheer demand for fixed income investments, of all ratings, that is coming from a wide spectrum of buyers creates demand for all participants who can outperform UST.10 and pass the underlying investment vehicle off as anything that isn't completely at risk of default. The list of buy-side, high-yield debt fiends is full of the usual suspects:
Pension funds with small stated percentages of overall portfolios but huge actual dollars that comprise those small stated percentages that they can allocate to BDC's and investments of the "higher risk" categories like Senior Secured Loans for private and public companies
Defined benefit plans like the grossly underfunded Texas-based TRS that have what seem to be limitless buying power but no high-enough yielding investment vehicles that it can pass off to risk managers as "suitable" for the fund
The entire debt securitization chain
The entire investing public who needs yield and isn't getting it and can't get it because of monetary policy
I mean really, if you think anybody is comparing debt yield to multiple sources I recommend you just move on to another article. This article isn't going to validate your misplaced belief that these buy-side, yield parched institutions are doing due diligence; they just aren't. What they are doing is looking at their books, seeing a yield close to zero, seeing if the overall yield of the investment in front of them is higher, and buying. So, in summary of this thought you've now learned two things: 1) get over the idea that MDLY doesn't have a limitless source of buyers begging to allocate it assets and 2) the debt buying, yield reaching, powers that be have zero care for comparative returns when presented with something that is performing better than what they already have. Both of these learnings position MDLY for looking better to an outright buyer.
Now to get back to the vertical story, it's because MDLY originates, structures, and underwrites all of its investments that I believe it is able to achieve these returns in its funds and by way of that charge the fees it charges. For the record, it's the fee income that is driving the income statement and cash flow at MDLY that should soon be driving the share price and what MDLY can bring to a buyers income statement. I'll break down MDLY's income statement shortly but just know that it all stems from the verticality the firm possesses.
Why does being vertical matter so much and how has it allowed net revenue and net income expansion? MLDY is able to properly risk price, choose to lend or not to lend based on risk management principles, and actively manage the overall risk profile of its investments (overwhelmingly debt based with ~89% of investments in North American based Senior Secured Loans) and AUM because it has had a personal look at every single piece of debt (read: risk) on its books. It isn't buying debt (read: risk) from third parties in bulk in the hopes that the seller priced the debt correctly and has accurately marked the debt's risk. It isn't guessing as to the debt's performance in unlike environments, where debt becomes stressed usually, and it isn't paying over cost to purchase this debt because it's originating in-house. The fact that MDLY is straight up and down in operations is a huge benefit that is going unnoticed by the market currently.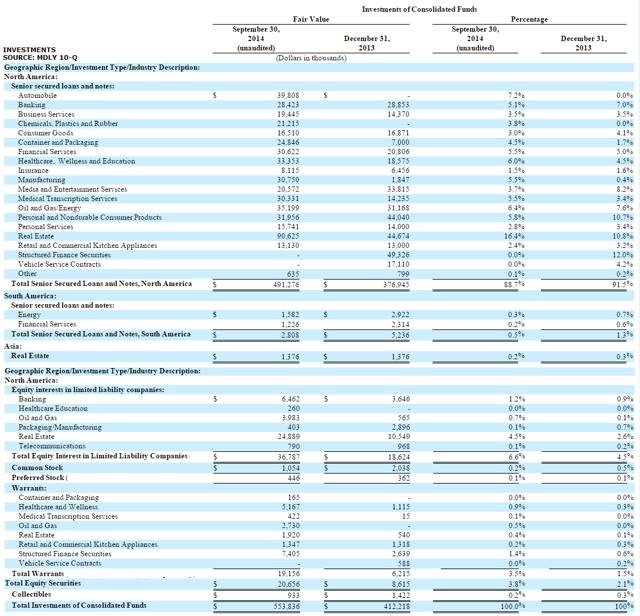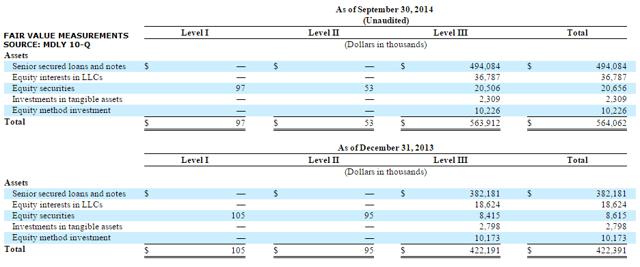 It's ALL about the Benjamins:
Because of its ability to operate vertically, and to achieve significant outperformance of benchmarks and peers, MDLY has been able to charge high fees for its services and has excellent inflows of cash to its funds Y/Y. MDLY has also been able to run a very expense-light operation (speaking of the income statement) as it has effectively cut out all the "middlemen" normally involved in acquiring necessary investments for capital deployment. This has created a very quickly growing company that is absurdly profitable.
To put MDLY's peer-shaming AUM growth in perspective, at the time of its IPO - again keep in mind the M&A environment has changed significantly since then - it had $3.3 billion in AUM between its two permanent capital vehicles, its long-dated private funds, and its SMA's. Its CAGR for AUM from 2010-2013 was 31% which smoked its peers in the Wells Fargo Business Development Company Index which averaged 18%. To put it simply, MDLY's institutional investor base has been a constant buyer since MDLY allowed them a seat at the printing press. I think that's pretty clear cut-and-dried by MDLY's ability to nearly double peers in terms of CAGR of AUM. You don't think that matters to a buyer? Think about if a buyer wanted to make MDLY a focus of a particular AUM sleeve and give it a blank check for expenses and a golden ticket to bigger institutional buyers and allocation flow. Think AMG or BEN or IVZ or TROW aren't aware of this?
Because of this "as soon as you can put it together we'll buy it" demand MDLY's revenue growth has been obscene. Revenue has grown 82% Y/Y for Q3 and has grown 89% Y/Y for the 9M. I could end this section right there but I'll go on. MDLY's expense light model has held total operating expenses to just 7.9% growth for Q3 Y/Y and to just 19% Y/Y for the 9M - this is inclusive of fees associated with its IPO and associated with its loans payable refinancing. What this has done is drive net income 71% for the Q3 Y/Y and 130% Y/Y for the 9M.
MDLY has been able to grow margins across the board for the 9M, as should be obvious from the previous figures:
MARGIN EXPANSION Y/Y

Q3/13

Q3/14

EXPANSION

9M/13

9M/14

EXPANSION

GROSS MARGIN

31%

59%

28%

8%

73%

65%

OPERATING MARGIN

122%

115%

(7%)

71%

103%

32%

NET MARGIN

118%

111%

(7%)

67%

99%

22%
MDLY has been able to grow every single key metric including the all-important metrics of AUM and Fee Earning AUM. Why wouldn't MDLY be able to grow key metrics? Its funds are performing to levels that I haven't seen elsewhere in the market, especially for senior secured loans, and its funds are currently small enough to still generate huge pricing competition from bidders (in the way of MDLY being able to charge a high fee). I mention this because the fees are what is driving the non-AUM key metrics.
I would love to see MDLY get to a larger scale and be able to continue to size up its income statement performance over larger and large bases of assets. I think its growth will easily continue along its current trajectory, fueled by pensions and other defined benefit plans with massive liabilities that need funding or at least something resembling a plan that can close the funding gap. Sure, that would require these plans to take on some risk but longer term MDLY has a hard to believe track record of risk management. MDLY detailed in its S-1 that, since inception, it has invested in 242 borrowers and experienced partial losses in just 12 of these investments (as of 6/30/2014). I think this gives MDLY an easy story to tell and one that will position it for substantial growth going forward.
I would spend more time here on financial analysis but what else needs to be said? Everything that should have gone up went up a lot more than expenses. This dynamic is in zero risk of changing as well with a constant flow of AUM growth that impressively outpaces peers. Just take those two thoughts with you when you're considering if you should by MDLY or not. It's growing fast, growing more profitable, and it has no risk of this slowing. That sounds like a pretty good equation for share price growth to me.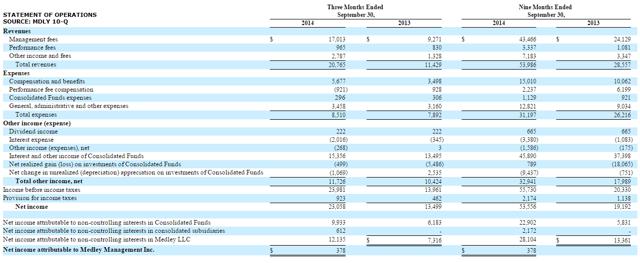 Making the MLDY M&A Case:
MDLY can easily be an acquisition target in a heated M&A market where larger players are looking to purchase growth or create cost synergies.
I just finished an article on Moelis & Company (NYSE:MC) where I detailed the prospects of the M&A market and some of the driving factors behind it. Mostly that PE was ready to get back in the game in a big way in big size now that they're comfortable they're going to continue to get new allocations from outside institutions; that sellers are now comfortable that they can sell their companies for fair value and into a bidding, competitive market; and that generally there is no real GDP growth and that corporations have tons of cash and no ways to generate organic growth.
If you look at a company like MDLY and you see just how expense- light it operates, and what it's able to do on the scale it's able to do it I could very easily envision a massive asset manager closing a deal for MDLY to add a few points to growth and subtract a few points from expenses. I'm thinking the names I listed above: AMG, BEN, IVZ, TROW, etc. If you're already involved in this business, say like AMG - who is also in the business of acquiring "Affiliate (asset) Managers" and funneling funds to these managers - why wouldn't you want to buy MDLY trading at just 6X sales (using a EFY14 of ~$75 million for sales)? For some perspective, AMG has traded at a PSR of between 10 and 13 since Q2/12 and I think AMG is absurdly undervalued.
MDLY would make or add to a bigger player's verticality and at the very least could be purchased and left alone to do what it is already doing. This would add ~$70 million in net income to a purchaser's bottom line (annualizing MDLY's net income - adding $17 million for Q4 net income). I think MDLY's biggest "problem" right now is size. If it had a capacity to monetize funds coming to it or the infrastructure, mostly talent, to upsize into the next few levels of scale I think it could easily double or triple its production of revenue and net income; those net margins are absurd with its interest income trickle down.
I just look at MDLY and think that at the time it went public it knew it needed cash and liquidity to reach the next level of scale up; it also tapped some loans to be able to do this, but would have much rather preferred to stay private. Running a business like MDLY's is easier to do on the private side because it can take quite a bit more risk without hearing about it from shareholders. I think at the time there wasn't a buyer that wanted to value MDLY where it wanted valued and so it went public. It should also be noted that despite outperforming peers in two widely traded and held indexes (name dropped in the body of the article) that MDLY couldn't even price its IPO at target, coming in at $18 when it wanted $21.
Why couldn't this dream scenario price at target if it's such a dream scenario? Again, we were dealing with a different M&A market back then and the fear that markets were in for some really rough trading because of higher interest rates coming from the Fed. Markets closed today at an all-time high and UST.10 closed at 2.16% - down 29% YTD with the UST.2 ramping into recession risk. The UST.2 yield of 0.70% just gave us the flattest yield curve of 2014 which is just about as damning to GDP growth and inflation as there can be. Speaking of GDP, with it getting smoked Y/Y, and there being zero growth, the M&A market has been forced into "search and destroy" mode. Also note that when the rate of change in US GDP peaked so did UST.10 yield. As such, consider the following when thinking about how desirable MDLY looks right about now as a buyout target:
GDP for 2014 is tracking to 2% Y/Y
Durable goods orders were soft in November, down 0.7% with Core orders flat after falling 1.9% previously
Inflation has crashed: the CRB index was down 1.5% today alone and has hit YTD lows, down 15.4% YTD and down 25% since its June 1 print.
If you think the Fed is raising rates into that nightmare that subscription to The Economist I recommended in the beginning of this article is your only salvation, friends.
I happen to think that with the M&A market getting hotter and hotter and with the realization that higher rates might not be coming that MDLY would now be valued at a premium price to its current pricing if it went public again. I also happen to think that it wouldn't have had a chance to go public because it would have been purchased on the private side prior.
I'm hopeful that MDLY is either acquired or given the opportunity to leverage somebody's balance sheet because that would open the doors to much larger levels of growth for the firm. I'm really excited about the future.
FINAL TRADE RECOMMENDATION: I continue to recommend a long position in MDLY. If you disagree with any portion of this article I recommend a visit to Ed Jones where an advisor can recommend a nice corporate bond. I look forward to providing continuing coverage in the future. Good luck to all.
Disclosure: The author is long MDLY.
The author wrote this article themselves, and it expresses their own opinions. The author is not receiving compensation for it (other than from Seeking Alpha). The author has no business relationship with any company whose stock is mentioned in this article.