US Gold (NYSE:UXG) is a promising junior mining company engaged in exploration of gold and silver in Nevada and Mexico. This company is one of my favorite gold stocks and has exceptional growth potential. It also has excellent management that has a large ownership stake in the company and a proven track record.
Strategy
UXG is the only gold exploration company that is listed on the NYSE; it has a goal of being added to the S&P 500 by 2015. Being listed on in the S&P 500 provides a number of benefits; for example, the shares will be included in a number of other indexes and bought by institutional investors. As a result, the volume will increase and the shares will trade at much higher multiples. Currently, Newmont Mining (NEM) is the only other gold mining company listed on the S&P 500.
To be listed, UXG still needs to grow its market cap to over $5 billion and produce four quarters of positive earnings. As an exploration company, US Gold does not yet have a revenue stream since production is not set to begin until 2014. In light of this, CEO Rob McEwen proposed in a shareholders meeting to combine US Gold with Minera Andes (OTC:MNEAF), a silver-producing company in Argentina, in which McEwen is also CEO and the largest shareholder. He has already combined the staff of both companies and feels that this merger will add value to shareholders. The merger is expected to take place in late October.
Mines and properties
US gold's properties in US and Mexico together 41.09 million ounces of proven and probable reserves of silver and 3.33 million ounces proven and probable reserves of gold. The chart compares UXG's market cap to its proven and probable reserves at different price points of gold and silver. The estimated life of the mine is over six years, assuming no additional discoveries are made, so production should be expected to carry into 2020.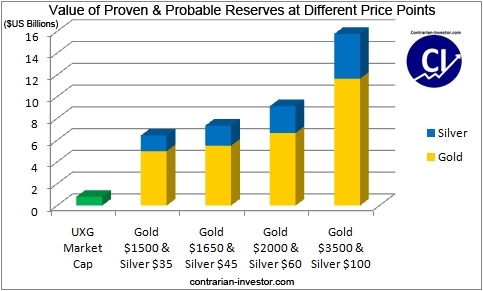 Production
The company currently has 12 drills operating in its properties as it gets closer to production. The El Gallo mine in Mexico is estimated to yield 50,000 ounces of gold and 5 million ounces of silver annually, while the Nevada project is estimated to generate over 60,000 ounces of gold per year. With an estimated production cost of $694 per ounce of gold, including $137 of capital cost and $557 of operating cash cost, the company should be very profitable with gold at current price levels. The chart show UXG's estimated revenue stream at different price points of gold and silver.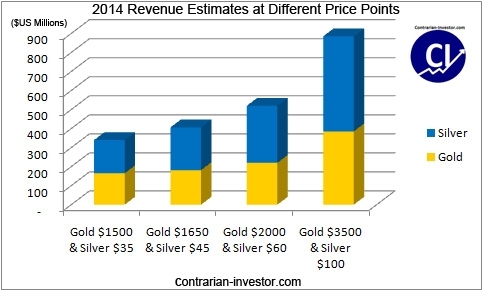 Risk
US Gold is an exploration company and is therefore much more volatile than other mining companies that have steady production. However, the company has no debt and a large cash reserve of $110 million that it will use to fund operations until it is ready for production. The risk reward is certainly in favor of UXG, as it estimates annual revenues to start at $340 million, based on gold and silver at today's price levels. Any increase in the gold and silver price will be an added bonus for the company. In addition, merging with Minera Andes will add an already existing stream of cash flow. Minera Andes already produces 2.65 million ounces of silver and 42,000 ounces of gold annually.
Management
The company has an impressive management team headed by McEwen, who has a long and impressive track record in the industry; he is perhaps best known as the former chairman and CEO of Goldcorp (GG), which he grew from a penny stock into the major mining company that it is today. While leading Goldcorp, McEwen averaged a 31% annual return for shareholders and grew the company's market cap from $50 million to $8 billion.
In addition, any potential investors should feel comfortable knowing that McEwen has a 22% ownership stake in US Gold and a 33% stake in Minera Andes. He does not take a salary as the CEO, and plans to make all his money from stock appreciation just like all other investors.
Conclusion
UXG offers a lot of value and upside potential for investors, which should be reflected in the share price when company moves closer to production. As the prices of gold (GLD) and silver (SLV) have historically been weak during the summer months, UXG has undergone a correction; the company is currently trading at very attractive price levels.