Value investors like to look for good stocks that have fallen out of fashion with the market, and there is one such company today whose business is to remain very much in fashion. American Eagle Outfitters (NYSE:AEO) is a clothing retailer that targets the 15-25 year old demographic of image-conscious young men and women in the United States. They currently operate three brands: heritage American Eagle, Aerie, which sells dormwear and intimates for women, and 77kids, a new concept designed for children 14 and under.
Along with Aeropostale (NYSE:ARO) and Abercrombie & Fitch (NYSE:ANF), American Eagle is one of the three players that form the triumvirate of so-called "teen apparel retail" in America, a label more apt perhaps for Aeropostale, who markets to teenagers exclusively than the other two, who also target older and more sophisticated consumers in their twenties.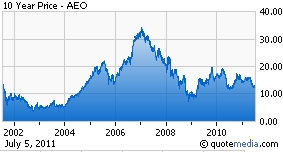 Since its IPO in 1994, American Eagle's stock has been on a tear, reaching all-time heights in the $30s in 2007. Its story took a turn for the worse when the recession hit, consumer discretionary spending fell, and the company's profits followed suit, as it was forced to resort to heavy markdowns to clear its inventories. The stock dropped like a knife and never recovered, closing last week at a price of $12.99, a shadow of its former valuation. I believe that at this price point, American Eagle trades at a significant discount to its underlying value, and offers by far the best buying opportunity compared to its competitors today.
When looking for bargains in a depressed economy, we must first make sure that a company's decline in earnings can be attributed mostly to the cyclical downturn and not to any game-changing deterioration in the fundamentals. I believe this to be the case with American Eagle.
By evaluating its performance in contrast with that of its competitors, a clear pattern emerges. According to the average price points of their assortments, the big three teen retailers are ranked like so: Aeropostale at the bottom, with the cheapest clothes, American Eagle sandwiched in the middle, and Abercrombie at the top, with the most expensive threads. Since the economy's collapse in 2008, their respective financial performances inverted in relation to their prices as the consumer budget tightened. Abercrombie saw its same store sales decline by a whopping 28% over the next three years, American Eagle's fell 15%, and Aeropostale, as a countercyclical performer due to its low cost assortment, saw its comparables actually rise 23%.
More comparisons: Gap's (NYSE:GPS) comps dropped 19%, Macy's (NYSE:M) fell 5%, and Hot Topic's (NASDAQ:HOTT) fell 9%. As a medium to high-priced retailer, American Eagle's decline was to be expected, and not outsized compared to the setbacks the industry as a whole experienced during the economic downturn. Though consumers have spent less money at its stores over the past few years, American Eagle's brand equity has not suffered materially: user reviews at social media site viewpoints.com awarded the American Eagle brand 4.39 out of 5 stars, and its denim business received an even higher score at 4.46. Reviews of individual stores at yelp.com generally range from 3 to 4.5 stars for American Eagle locations in the country's most populated cities. Its flagship store at Times Square received 4.5 stars, compared with 2 stars for rival Abercrombie & Fitch's Fifth Avenue flagship.
The three apparel retailers are similar in size as well as product offering: all three operate about a thousand stores in the US. However, their market caps are vastly different: Aeropostale trades for 1.4 B, American Eagle for 2.5 B, and Abercrombie for 6 B. Though it has the lowest market cap compared to the number of stores it owns, Aeropostale also operates much smaller stores, and on a per square foot basis, you're getting Aeropostale's 3.7 million gross square feet of retail space for roughly the same price as American Eagle's 6.4 million. Abercrombie is the odd man out here: though it has slightly more selling space, clocking in at around 7.7 million square feet, its market cap is more than double American Eagle's and more than quadruple Aeropostale's.
From the standpoint of trailing P/E, Aeropostale trades at slightly less than 8, American Eagle at about 16, and Abercrombie at over 33. During the course of my research, I've found no justification for the premium investors are being asked to pay for Abercrombie compared to American Eagle and Aeropostale, but I also don't believe the stock to be overpriced. As a cyclical company, Abercrombie's current earnings aren't reflective of its average expected earnings power, and in a rational market, it should trade for a higher P/E during a trough in the business cycle such as the one we're experiencing now. Instead of Abercrombie being overpriced, it seems that American Eagle and Aeropostale are bargains right now.
However, Aeropostale's seemingly good value is deceptive: as a countercyclical player, it will not benefit from an economic upturn nearly as much as its competitors (indeed, its earnings may even fall as the economy improves and consumers start buying up). Another concern: the company recently lost Mindy Meads, one of its co-CEOs who was responsible for a lot of the merchandising. Not one quarter later, Aeropostale's earnings got cut in half due to poor merchandising decisions, leaving investors with doubts about whether or not the company can stay on top of fashion trends without Ms. Meads. So that leaves American Eagle.
American Eagle's trailing P/E of 16 is misleading - last year's GAAP earnings were reduced due to one-time charges related to discontinued operations and a non-cash loss from the sale of its investments in auction-rated securities at a discount. Smoothing out these adjustments to account for the company's true earnings power, American Eagle actually trades for a trailing P/E of around 13. For a cyclical company that's been beaten down by the recession, and consequently is perfectly positioned to benefit enormously from an economic upswing, this stock is ridiculously cheap. Peter Lynch has said that he likes to buy cyclical stocks at high P/Es during a down cycle and sell at low P/Es during an up cycle - American Eagle, at the price it's trading for today, represents the rare opportunity to buy a cyclical stock at a low P/E during a down cycle.
There's no reason for a company to sell for so cheap unless its fundamentals have deteriorated, and American Eagle remains a fundamentally strong company. It has a fortress balance sheet, with over $600 million in cash (25% of its market cap) and practically no debt. The strength of its financials is particularly impressive considering the company's conservative accounting practices - for example, it depreciates its buildings over 25 years instead of 30-40 years like many of its competitors, and equipment over 5 years instead of 10 years. This may be one of the reasons why the company's total free cash flow over the past three years is 40% higher than their total earnings over the same time period.
American Eagle's strong financial position gives it the freedom and resources to capitalize on its growth opportunities, of which it has several. Though its main brand is reaching maturity in the US and 77kids is still being run through the preliminary trials, Aerie has proven to be a successful concept that can stand on its own, and with only 150 stores across the country, it has a lot of space to grow into. American Eagle is also beginning an aggressive international expansion program, with five successful stores in Dubai, Kuwait City, and Hong Kong and more to come.
Unlike its stores at home, its international stores operate under a franchise model, which requires no capital investment for the company and supplies a continuous revenue stream with much higher margins than their domestic business. These signs all point to one conclusion: American Eagle is poised to make a significant turnaround when economic conditions improve, and as such, its shares are remarkably underpriced today.
Company insiders agree - in the past six months, insiders have acquired more than half a million shares, and sold only forty thousand. Two of the biggest buy orders year to date came from director Jay Schottenstein, who bought 500,000 shares last September, and director Michael Jesselson, who bought over 100,000 shares at around the same time. These weren't option exercises - these two insiders spent a combined $8 million of their own money on open market purchases.
What's more interesting is that these guys aren't your typical insiders. Schottenstein, who previously served as CEO of American Eagle for ten consecutive years, knows much more about the company's operations than your run-of-the-mill director. Jesselson is a seasoned investor himself, and runs New York investment company Jesselson Capital Corporation. All their shares, as well as shares bought by a number of other insiders, were acquired at a price higher than the price American Eagle is trading for today.
Charlie Munger has said that it's important to always invert, or to look for reasons why you shouldn't buy a stock when you're analyzing it. No investment opportunity is perfect, and American Eagle is no exception. Its management, though more than adequate, isn't stellar. While the company never posted a quarterly loss during the recession, which is admirable in its own right, competitor Gap actually managed to increase its earnings every year during the economic downturn, in the face of declining revenues. However, Gap is the exception, not the rule, and it has its own set of problems to deal with, though inefficient management isn't one of them.
American Eagle's management has since recognized the drag their bloated SG&A is taking on their bottom line and has begun to initiate cost-cutting initiatives. Though some weight has been shed from their operating expenses in the last few quarters, only time will tell how effectively they can execute on this strategy in the longer term. Another thing to watch for: management has recently indicated that they're monitoring about 100 underperforming stores across the country and evaluating the possibility of closing some of them down over the next five years in order to clean up the company's operations. The impact this move will have on the company's bottom line remains to be seen.
When performing an equity analysis, the conservative investor should make cautiously optimistic projections for the upside and forecast the downside as pessimistically as possible in order to retain a margin of safety. Even under such a scenario, I believe American Eagle Outfitters to be a prime buying opportunity for value investors at today's prices. With an unassailable balance sheet, great brand name, and profitable opportunities for expansion both at home and abroad, the company is poised to witness a massive rally in its shares when the broader economy picks up. And with a 3.4% dividend yield, investors can afford to wait until it does.
Disclosure: I am long AEO.