Although the U.S. market fears a looming interest rate hike in 2015, the prospects for long-term low rates remain intact. As the market continues to digest and react to this probability, however, the real estate ownership segment of the economy may suffer as investors begin to question the valuation of REITs in a rising rate environment.
Looking At Healthcare REITs
Healthcare is one segment of the U.S. economy that has both long-term demographic growth and political backing intact. As such, this area of the economy should be a proxy for long-term growth and could be considered a best-of-breed subsector of the REIT arena.
According to the most recent S&P 500 Index earnings and growth estimates by Standard & Poor's, as of December 18, 2014, the healthcare sector of the index was expected to grow at 12.57% annually over the next five years. This rate is higher than the index average and ranks third of the nine economic sectors (when excluding the regulated utility sector).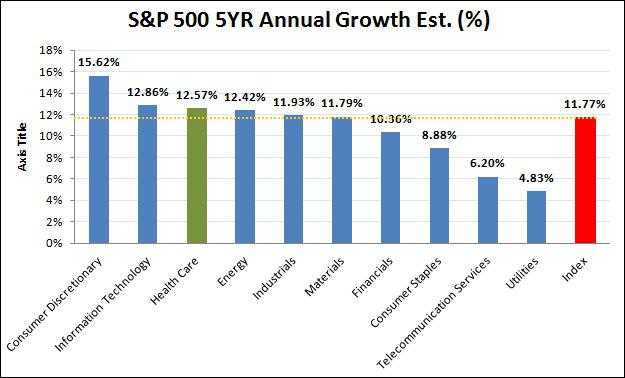 In other words, when looking at real estate income investing, healthcare REITs should be one a top candidate for long-term growth as the sector looks to expand rapidly in the U.S.
In reviewing the healthcare REIT arena, there are three large-cap, diversified heavyweight players and several small-cap niche landlords that trade in the U.S. market.
(Data as of December 19, 2014 unless noted)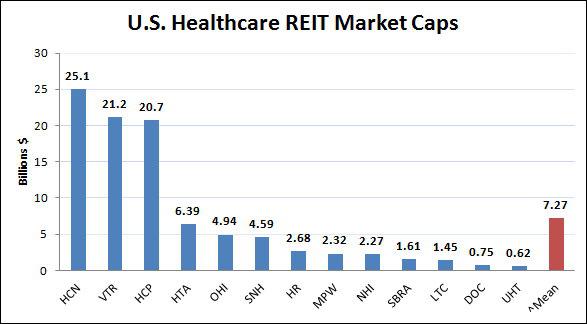 The three largest healthcare REITs (based in the U.S.) today are Health Care REIT, Inc. (HCN), Ventas, Inc. (NYSE:VTR) and HCP Inc. (NYSE:HCP), all valued at over $20 billion in terms of market capitalization.
In terms of yield, however, the smaller companies offer more bang for the buck as the three heavyweights all hold below-average dividend yields versus the peer group. The argument goes that with diversification and size on the plates of HCN, VTR and HCP, a lower cost of business and risk profile equates to higher valuations.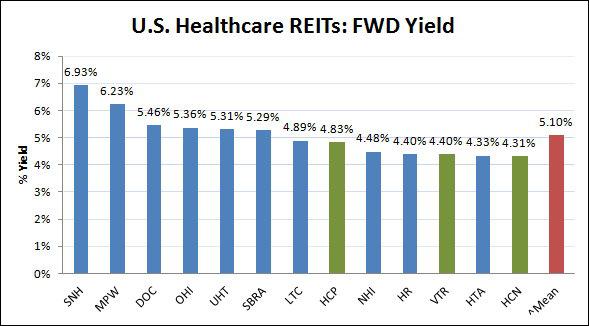 Selecting The Best REITs For Your Buck: Big Or Small?
Investors looking for ownership in this asset class should immediately heed caution, as the class has been on fire this year after a disastrous year in 2013.
In looking at the performance of HCN, VTR and HCP YTD versus the S&P 500 Index, as measured by the iShares S&P 500 Index ETF (NYSEARCA:SPY), the results speak for themselves.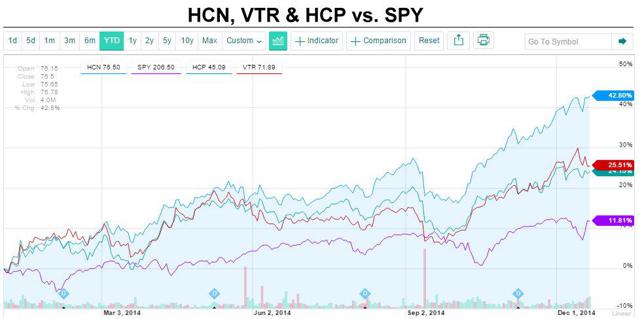 Any time a large-cap stock group has a great run versus the S&P 500 Index, caution is to be had. In terms of this sector, however, the stocks were so cheap at the end of 2013 that this run can be deemed merited.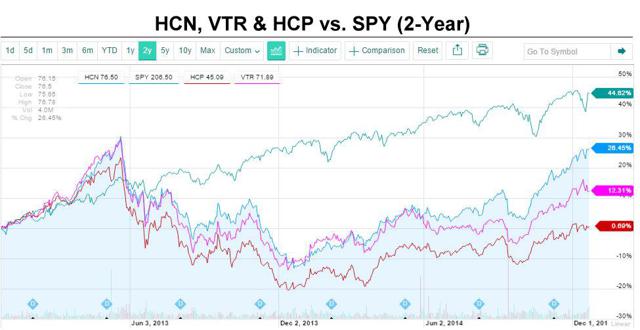 As seen above, the healthcare heavyweights still have some catching up to do versus the S&P 500.
Yield Risk Premium
REITs offer both growth and income, however, in terms of income many use the risk premium versus the 10-year U.S. Treasury Bond as a valuation proxy. When aligning the 10-year against the dividend yields of HCN, VTR and HCP, one may think this sector is a high-risk given that rates are due to rise in 2015 and the fact that these companies trade close to the 10-year in terms of yield.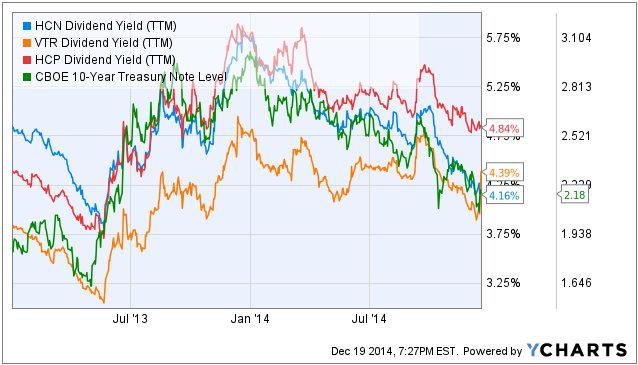 In terms of yield, for every 100 basis point increase in the 10-year the REITs must also increase their yield 100 basis points to maintain their current risk premium. While these REITs have historically increased their yield on a yearly basis, it is nowhere near enough to account for a 100 point basis point rise in the 10-year.
Using the large-cap healthcare REITs as a proxy, the following chart showcases the risk of the 10-year rising 100 and 200 basis points in yield (assuming a constant forward yield rate).

As noted above, to keep the current risk premium intact, a rise of 100 bps in the 10-year would create declines of 17.1 to 18.8% among the big three U.S. healthcare REITs.
To hedge against this risk, HCN and HCP are due for an increase in quarterly dividends starting in Q1 2015, however VTR just raised the dividend and using history as a guide, it will not raise the dividend again until Q4 2015.
Where Do We Go From Here?
Janet Yellen may be seen as a dove, however, her mandate to keep inflation at bay while promoting stable employment may prove too much to keep rates too low.
The Fed's dual-mandate of low unemployment and inflation works like this:
1) Keep unemployment near "full-employment," which is open to interpretation. Most economists rate this level at sub-6%, which is where we are now. The most recent measurement of unemployment by the BLS was 5.8% for the month of November, the third sub-6%month in a row.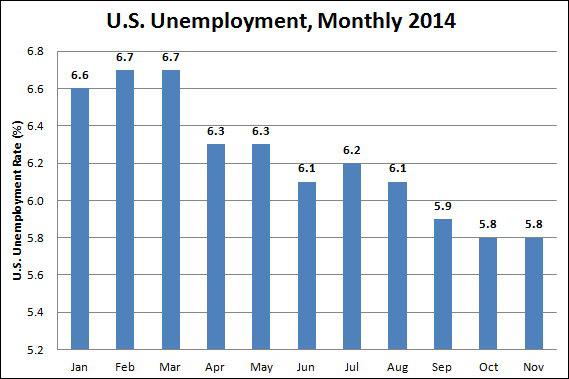 2) Keep inflation at bay, which translates to maintaining the Core-PCE inflation index at or below 2% on an annual basis (or no more than half a percent above 2% according to the Fed). Today Core-PCE inflation is 1.41%, which is well below the Fed's target.
Moving forward, however, the Fed range of Core-PCI inflation expectations for 2015-2017 range as high as 2.2%, 2.1% and 2.2% (as of December 2014).

Wrapping The Fed Words Into Reality
According to the Fed minutes of December 12, 2012,
"the Committee decided to keep the target range for the federal funds rate at 0 to 1/4 percent and currently anticipates that this exceptionally low range for the federal funds rate will be appropriate at least as long as the unemployment rate remains above 6-1/2 percent, inflation between one and two years ahead is projected to be no more than a half percentage point above the Committee's 2 percent longer-run goal, and longer-term inflation expectations continue to be well anchored."
With low gasoline prices lining consumers' pockets with excess disposable income, the Fed reality of Core-PCE expectations is likely to move upward as more dollars are chasing the same amount of goods.
In this regard, long-term inflation expectations should be raised in 2015 due to higher durable and non-durable goods pricing. When this happens, the Fed will no longer be able to keep rates at extraordinary low levels as full employment has already been achieved and Core-PCI and long-term inflation expectations will need to be put in check.
This Affects Healthcare REITs
Healthcare REITs, as well as all REIT pricing in general, is a function of the risk premium to treasuries, among other things. Although healthcare is a rapidly-growing sector in the U.S. economy, when interest rates rise, these investments can fall quite quickly.
Exactly one year ago, I called investors to buy HCP and VTR as well as Realty Income (NYSE:O) and Camden Property Trust (NYSE:CPT) in the December 23, 2013 article The Year-End REIT Clearance Sale Of 2013. As seen, the returns have been quite stellar.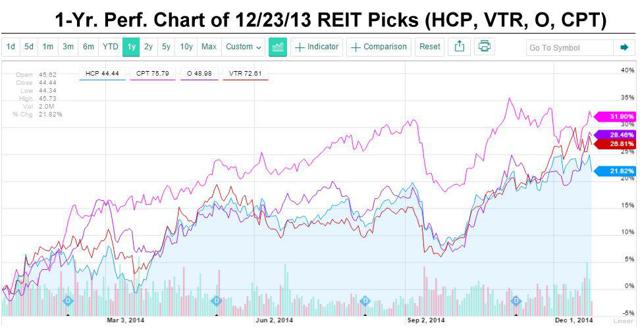 Using the iShares U.S. Real Estate ETF (NYSEARCA:IYR) as a proxy, the four REIT picks from 2013 returned an additional 292 basis points on average before dividends (which in this basket were also higher than the IYR fund).
It was a great year for REITs in general, where they outpaced the S&P 500 by quite a margin, as measured by the iShares S&P 500 Index ETF.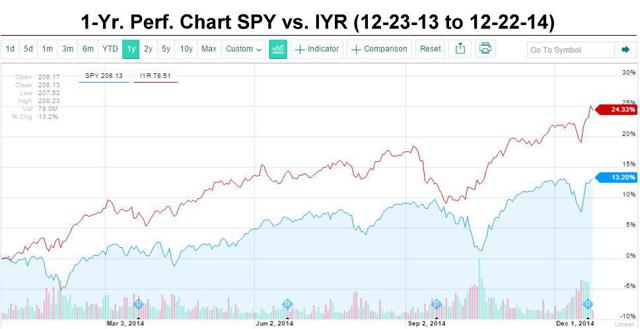 Conclusion
While I was bullish on REITS in general at the end of 2013, this year looks to be quite a different picture. Regarding the giant healthcare REITs, while long-term growth looks to be generous in the industry, the heightened risk of rising rates and related investor flight moves me to recommend against holding these stocks at current valuations. SELL
I advise investors to look at REITs that may benefit with higher inflation, which does not include the healthcare sector as they generally operate with longer-term net-lease agreements.
Higher inflation will benefit both apartment landlords and the lodging trusts, as these REITs are superior in their ability to raise prices at a faster rate.
Inflation-friendly REITs I would recommend are as follows:
1. Camden Property Trust, CPT (also 2014 pick, see above)
2. Mid-America Apartment Communities, Inc. (NYSE:MAA)
3. Preferred Apartment Communities, Inc.* (NYSEMKT:APTS)
4. Chatham Lodging Trust* (NYSE:CLDT)
*These are small-cap REITs valued at under $1 billion
Disclosure: The author has no positions in any stocks mentioned, and no plans to initiate any positions within the next 72 hours.
The author wrote this article themselves, and it expresses their own opinions. The author is not receiving compensation for it (other than from Seeking Alpha). The author has no business relationship with any company whose stock is mentioned in this article.