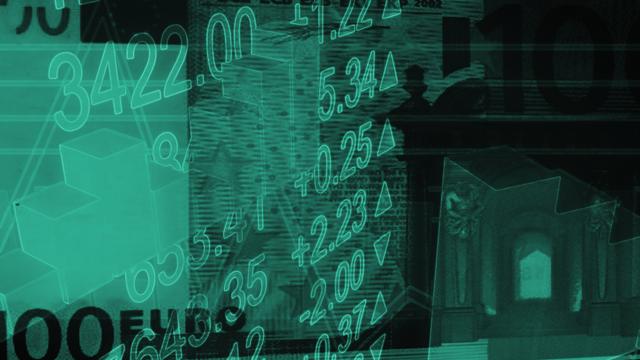 Trying to get an edge in the stock market is a daunting task. You'll need to spend your time pouring over charts, corporate earnings statements, financial statements, and the macroeconomic environment if you want to stay on target.
Many investors though simply rely on the upgrade, downgrade, or hold rating given by analysts that cover the stock they're looking at. On the surface, it makes sense to do that. Wall Street analysts cover a select group of stocks and give a report on what they believe the company will do. They pay attention to every contingency and give comprehensive analysis that takes into account a plethora of details. Of course, deriving all of your information based on an analyst in order to gain an edge in the market is inherently flawed.
Here's why: you aren't the only one reading that analyst's reviews. There are plenty of other investors who are looking at it and trying to find any flaw that can be exploited and it becomes far more complicated when you have multiple analysts covering the same stock. Trying to cipher through the noise can be counterproductive and lead to poor decision making.
A study done by a San Diego State University professor showed that an analyst's recommendation on a stock has no bearing on its actual performance. Taking a look at calls made between 1998 and 2005 revealed that stocks with a hold or sell recommendation returned 8.3% versus just 4.4% on stocks with buy rating.
Each financial firm's rating varies as well. A buy from one firm may translate as an expected gain of 25% or more in the next 12 months while another firm's buy rating may mean just 10%. A guide to what each companies recommendations mean can be found here.
Before you get discouraged though, it is possible to get an edge on Wall Street. It's just not likely to happen on stocks that analysts are actively following. Companies that are small or out-of-favor are often skipped by analysts who are looking to cover companies that have a bigger impact on the overall market. Investors can succeed by looking at stocks that no one else is paying much attention to.
The best way to find these under-appreciated stocks is by looking for smaller cap speculative companies with little or no analyst coverage. A positive report or trend is much more likely to be missed or just ignored by the big Wall Street analysts, which translates into big opportunities for savvy investors.
To find these companies, we screened for stocks with a market cap of less than $2 billion, a price-to-earnings-to-growth ratio of around 1, and minimal analyst activity to come up with 4 top picks investors should be looking at.
Bona Film Group (NASDAQ:BONA)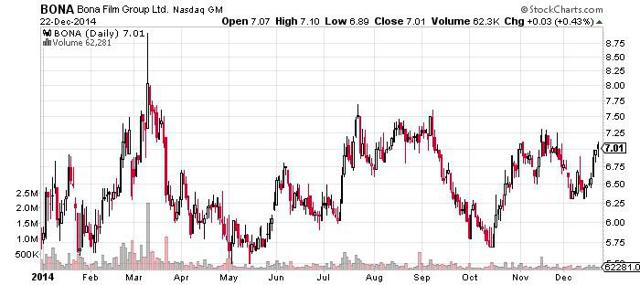 While some overseas companies are closely followed by Wall Street like Baidu (NASDAQ:BIDU) and Alibaba (NYSE:BABA), others are quietly racking up big gains. Bona Film Group is a $400 million Chinese entertainment company that's been putting up impressive numbers so far this year. According to the company's 3rd quarter results, net revenue is up 186% year-over-year. Its one year EPS growth rate is over 92% and over the past 5 years has averaged 61.5%. Despite such remarkable results, no analysts currently cover the stock, although that could quickly change as Wall Street begins to take an interest in the Chinese film industry.
It's the second largest film market in the world, behind the U.S industry which is triple its size and ahead of India's famous Bollywood. In 2013, Chinese box office revenue grew 27% to $3.6 billion while Bona's revenue has grown from $50 million in 2010 to $150 million in 2013. The fast growing middle class is responsible for the sudden growth in entertainment demand and the trend should continue going into the future.
Bona's fundamentals look strong as well. It has a PEG ratio of .4006 and a long term debt-to-equity ratio of 0.25. With earnings growing at such a rapid rate, the stock could be worth as much as $9 by next year - a 40% gain from its current price.
Destination Maternity Corporation (NASDAQ:DEST)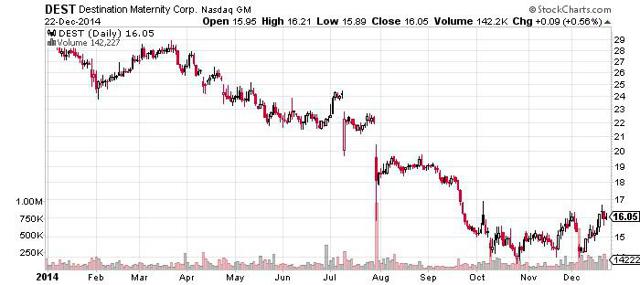 Niche companies can be great speculative plays because they generally face little direct competition. Take for example $210 million maternity clothing retailer Destination Maternity Corporation. The stock has taken a hit this year, down 47%, thanks to a combination of mixed earnings reports and a failed takeover of British rival Mothercare. However, this speculative stock could be in value territory.
Fundamentally, the stock looks cheap. It has a one year EPS growth rate of 46% and a P/E of just 11.5 giving it a PEG ratio of well under 1. It also carries zero debt and pays a hefty dividend yield of 5.4%. The last analyst update was in July of 2013 that reiterated a buy rating but hasn't had any further activity since.
Just this month, the CEO bought 24,183 shares of stock which is generally received as a positive sign that management believes that the stock price will increase. The stock has been trading at about $15 a share since October and looks to have bottomed out around that level. The recent insider buying could be seen as a precursor to a future gain.
Interested investors may consider hedging any purchases before the next earnings report. Another miss could be indicative of a downtrend, but it looks as if all the negatives have already been priced into the stock. An earnings beat could be the catalyst to send Destination Maternity higher.
Global Power Equipment Group (GLPW)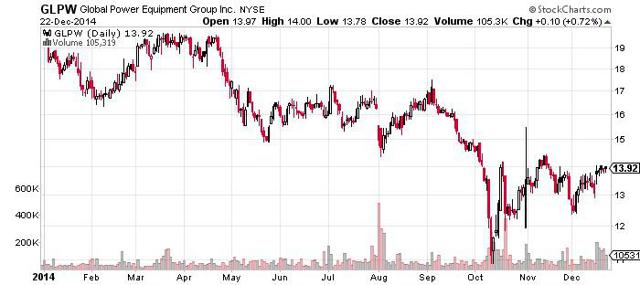 The recent decline in oil prices have dragged down energy stocks but could also have presented a value opportunity for investors. The roughly $240 million energy related machinery manufacturer Global Power Equipment Group has fallen almost 30% year-to-date but shows signs of strength.
The company reported a 3rd quarter earnings beat of 67% at $0.26 per share as opposed to the expected $0.16. Very few analysts cover the stock with the last action being a market "perform" rating in March of 2012. The recent beat amidst the difficulty in the energy sector could attract attention though.
The stock trades at just over 14 times earnings with a one year EPS growth rate of 13% giving the stock a PEG ratio of close to 1. The company carries very few liabilities with a long term debt-to-equity ratio of 0.16 while also paying out a dividend yield of 2.65%.
Considering that the company missed earnings by a wide margin in the 2nd quarter and then beat them by an even wider margin in the 3rd quarter, investors will want to keep an eye on how the company performs for the 4th quarter especially considering how oil has been performing to analyze any positive or negative trends.
Iridium Communications (NASDAQ:IRDM)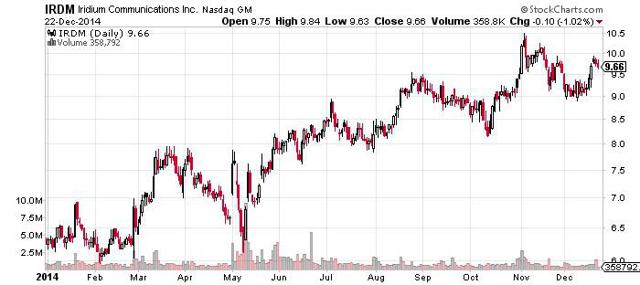 The final stock on our list is the $900 million satellite communications company Iridium Communications. This stock has just begun attracting analyst attention, but still holds relative obscurity for the moment. The most recent action was an upgrade to buy rating in August of this year.
Iridium offers full global communications coverage through 66 low-orbit satellites with a planned launch in 2015 of the NEXT program, a next-generation satellite network that will help expand the companies reach and capabilities.
The stock has been outstanding this year - up 55% year-to-date and 70% in the past 12 months. It has a PEG ratio of about 1.25 but trades well under its book value of $12.91 at its current price of $9.66. The stock has high operating margins of 29% as well.
After a full year of missed earnings in 2013, the company has beaten earnings in the 1st and 3rd quarter of this year. Although the stock is beginning to attract institutional investor attention, the positive affect on the stock should help propel it higher.
Taking Analysts with a Grain of Salt
Upgrades and downgrades are usually met with a positive or negative stock price immediately upon announcement of the change. As an investor, you should always perform due diligence when choosing an investment and be wary of such changes.
If you see an upgrade or downgrade in a stock, it's worthwhile to check and see why the change was warranted. It could be a temporary thing or it could be the beginning of a negative trend. Analysts aren't perfect, but the research they've already done can still be used to formulate your own opinions and theories.
As a general rule, downgrades are usually more severe than upgrades. A stock can be upgraded for a number of reasons, not all of them necessarily powerful, but downgrades are generally reserved for serious concerns. Be skeptical of positive statements, but heed negative ones.
Ultimately, getting an edge on Wall Street by focusing on what the analysts aren't looking at can be an effective strategy. The sooner you can spot a growing company or a discounted stock before anyone else, the more confident you'll be as an investor and the more profits you'll be able to reap.
Fariba Ronnasi
CEO, Elite Wealth Management
Full Disclosures: http://elitewm.com/disclosures/
This article is not intended as investment advice. Elite Wealth Management or its subsidiaries may hold long or short positions in the companies mentioned through stocks, options or other securities.
Disclosure: The author has no positions in any stocks mentioned, and no plans to initiate any positions within the next 72 hours.
The author wrote this article themselves, and it expresses their own opinions. The author is not receiving compensation for it (other than from Seeking Alpha). The author has no business relationship with any company whose stock is mentioned in this article.