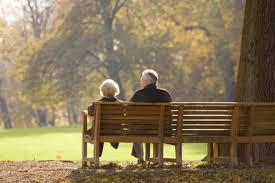 The percentage of workers covered by a traditional defined benefit [DB] pension plan that pays a lifetime annuity, often based on years of service and final salary, has been steadily declining over the past 25 years. From 1980 through 2008, the proportion of private wage and salary workers participating in DB pension plans fell from 38% to 20% (Bureau of Labor Statistics 2008; Department of Labor 2002).
Defined Benefit, Defined Contribution, What's the Difference?
DB pensions are tied to employers who, consequently, bear the responsibility for ensuring that employees receive pension benefits. In contrast, Defined contribution retirement assets such as 401ks and IRAs are owned by employees who, therefore, bear the responsibility for their own financial security. This might sound scary, but it doesn't have to be.
From 1940 to 1960, the number of people covered by private pensions increased from 3.7 million to 19 million, or to nearly 30% of the labor force, according to the Employee Benefit Research Institute, or EBRI, and by 1975, 103,346 plans covered 40 million people, or close to 60% of the labor force.
Thanks to New Deal policies and companies' initiatives in the '30s to ensure that workers' pensions were safe, at least two generations grew up under the assumption that if they had a job with an established company, a retirement plan would help pay future bills. Many of today's workers' parents and grandparents left the workforce with some type of employer-provided income-from the time they retired until their death.
Pension plans have been declining since 1984: In 1983 there were 175,143 plans, but in 2008 there were only 46,926 plans. And so today, very few of us have our father's retirement plan and the security that came with it.
Why save for retirement? I'd rather buy a shiny new car.
Keeping up with the Joneses in our consumer-driven economy compelled many folks to spend on things geared to wants rather than needs. Many people allowed themselves to spend more than they earned. Credit card companies aided and abetted such behaviors.
In the 2000s, banks gave mortgages to families with no down payments which allowed people to stretch beyond their means once again. Second mortgages and home equity lines of credit allowed people to take equity out of their homes to spend, and spend some more on shiny new things. We all know how that ended.
While all this spending was going on, many people procrastinated on planning for their retirements. Spending felt so good, providing instant gratification. Saving for retirement felt so old school. Putting off instant gratification for distant satisfaction and comfort thirty to forty years later just wasn't as sexy.
Chickens Come Home to Roost
Well, the piper's gotta get paid, and baby boomers no longer have a choice. They must face the music and learn how to dance quickly.
Approximately 10,000 boomers are retiring daily for the next 20 years.
Social Security will provide an average of $1200 per month per person. For a retired couple, both of whom worked, that would mean an annual income of about $28,800.
The average retired couple requires about $50,000 to live in some semblance of comfort today. For most of us, without a defined benefit pension plan, that leaves us with an annual gap of $21,200 that needs to be filled.
The Fill-The-Gap portfolio has been constructed to offer a way out of this hole that many have dug for themselves. It assumes a working couple, near or just starting in retirement, even after all the spending, has managed to squirrel away around $400,000 over their working lives.
Folks with less available funding may feel free to simply divide any of the following numbers in this presentation by a factor of 2 or 4, or whatever number applies to their savings. Folks with more, feel free to multiply by the appropriate factor.
This portfolio construction focuses on the annual dividend income produced. If this entire portfolio was purchased today, it would immediately close the gap and produce the total income the average retired couple requires right now.
Dividend Growth Floats Us Above the Inflation Wave
Because most of the companies in this portfolio have long histories of increasing their dividends and distributions on an annual basis, and because they do so at a level higher than inflation, this portfolio is projected to keep our income growing above most projections of inflation into the future.
Diversification Helps Mitigate Risk to the Entire Portfolio
To reduce the risk that any one company could severely damage the enterprise by cutting or eliminating the dividend, we have begun this portfolio with 15 names, diversified as to both number and industry. To illustrate, if one company completely eliminated its dividend, and the income derived represented 1/15th of the total income, or 6.6%, it would represent a pay cut of about $1400.
On the other hand, if we experienced 6.6% growth in the portfolio's overall income that year by virtue of dividend increases by the 14 other companies, we might come out even that year and suffer no perceptible pay cut.
As dividends accrue, additional names will be added to this portfolio to add additional diversification. When the portfolio reaches about thirty to forty names, additional dividends accrued will be reinvested into the existing names of the portfolio on an opportunistic basis.
What Types of Events Will Constitute An Opportunistic Basis?
1.Secondary issues often create investor fears that their positions are being diluted, which often lead to temporary price reductions of 5% to 10%.
2.Stock splits activate psychological behaviors that can be exploited for price gains. Investors sitting on the sidelines, because a price has gone too high, rejoice when a split occurs and buy because the stock is now "cheap". Buying on the announcement and before the split can bring additional capital gains as new investors push the price up upon the split, even though there has been no intrinsic change to the value of the company or its shares.
3.Issues that only temporarily affect a stock's price negatively, but do not impact the original fundamental reason for buying, often present excellent buying opportunities. They will push down the P/E ratio, often pushing a stock into fair value territory and result in a much improved yield and increased income for the portfolio if new shares are bought.
4.Industry specific panics, such as that occurring in the oil patch in the last several months can present a wonderful opportunistic basis to buy, or increase a position. As an example of this, just this morning, Carl Surran, SA News Editor reported that "Goldman Sachs' David Kostin thinks it's time for patient investors with at least a 12-month time horizon to begin loading up on energy companies."
You'll notice that ConocoPhillips (COP) has been included in this portfolio. COP is off 21% from its 52-week high and is offering an accidentally high yield of 4.24% in this panic and a P/E of only 9, only half of the current S&P's P/E of about 18.
Sector Diversification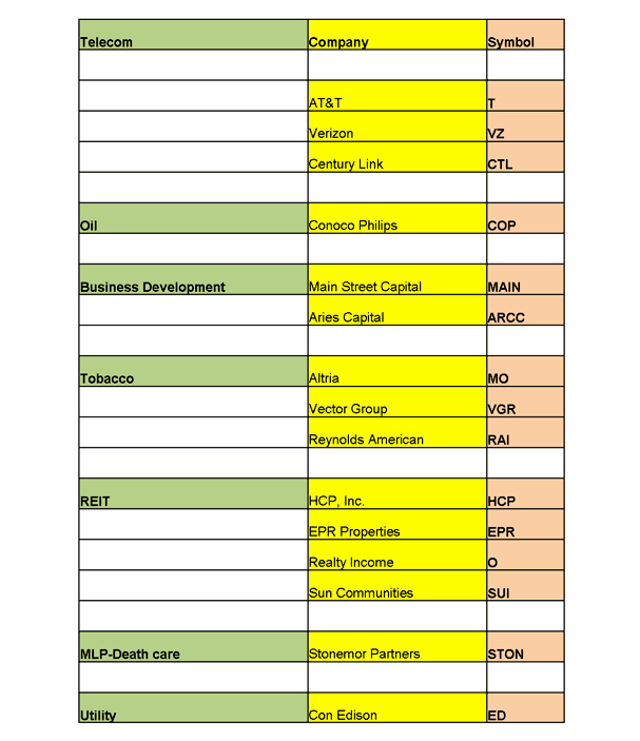 Table #1
The Fill-The-Gap Portfolio
The Fill-The-Gap portfolio begins with 15 companies, diversified into 7 industry sectors. They include some Dividend Aristocrats that have paid increased dividends for 25 years or more, such as AT&T, Inc. (T), HCP, Inc. (HCP), Altria Group Inc. (MO) and Consolidated Edison, Inc. (ED).
Also represented are many companies that have long histories of five years or longer that have paid increased dividends. These include, in the telecom space, Verizon Communications Inc. (VZ) and CenturyLink, Inc. (CTL).
Previously mentioned, ConocoPhillips is our sole representative in the oil sector so far, as I believe it represents compelling value and is suitable for any conservative, retired investor with a long-term time frame of 12-18 months.
Business development companies are represented by Main Street Capital Corporation (MAIN) and the grand daddy of them all, Ares Capital Corporation (ARCC).
Tobacco companies, in addition to Altria, are puffed up with Reynolds American Inc. (RAI) and Vector Group Ltd. (VGR). Giving us exposure to the real estate market, real estate investment trusts (REITs) include HCP, Inc., EPR Properties (EPR), Realty Income Corporation (O) and Sun Communities Inc. (SUI).
Taking care of baby boomers in more ways than one, the lone MLP in the portfolio is Stonemor Partners LP (STON) in the death-care industry. And the only electric utility to spark our income begins with Consolidated Edison, Inc.
This is the starting point for construction of this portfolio. Future articles will follow developments, including addition of new companies, dividend increases and growth of total income in the portfolio.
This Fill-The-Gap portfolio contains a mixture of companies that have low yields that grow quickly and high yields that grow slowly. It is my belief that combining such a mixture can give investors added income without much additional risk to the overall portfolio. This higher income gives the new or near-retiree the ability to set up this portfolio today, if desired, and reach their income goals for retirement today.
The portfolio has been balanced and weighted to produce essentially equal amounts of income from each position. This is a method that may protect essentially most of the income of the overall portfolio, in case one or two companies reduces or eliminates the dividend. Going forward, dividends accrued by this portfolio will be reinvested opportunistically as discussed above.
The Fill-The-Gap Portfolio, Enumerated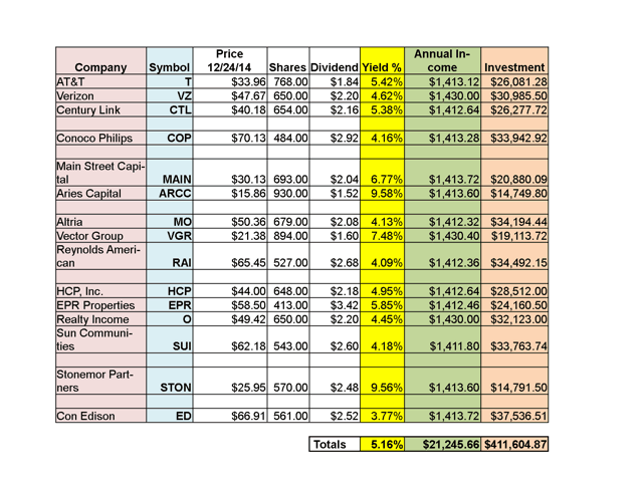 Table #2
Final Thoughts
Many retirees and near-retirees wrestle with the problem of how they will fill the gap in their income picture in order to afford a safe and comfortable retirement. Some are coming from having squirreled all their money away into passbook savings all their working lives, or CDs, or money market funds. In this ZIRP world we have lived in over the past many years, these investments continue to yield essentially zero and can never fill the gap in income that we need to fill.
Some have invested in bonds, most of which today don't yield even as much as the inflation rate, leaving them behind and losing purchasing power by the day.
Some have invested in mutual funds and have discovered, as I've written before, that as much as 85% of fund managers do not beat their benchmark indexes, and for that lack of performance, charge 1 ½% to 2% of assets under management, leaving these investors even further behind inflation. Mutual funds also leave their investors on the hook for large capital gains taxes, growing more onerous the longer they are invested in the fund. You can read more on this in this article I recently wrote.
The Fill-The-Gap portfolio for 2015 presents a new beginning, an opportunity for retirees and near retirees to start the process of making their transition to dividend growth investing in some of the safest, most predictable, long-paying, high-payout companies in America.
Happy holidays, and here's wishing everyone a healthy, happy, and profitable New Year!
If you found this article, the concept and investment results interesting and intriguing, I invite you to read the other articles in this series. Stay tuned for further articles that will introduce additional sectors and names to further diversify a portfolio for continued ballast and mitigation of risks to any one sector.
Should you be interested in reading any of my other articles detailing various strategies to enhance your returns on a dividend growth portfolio, please feel free to find them here.
As always, your comments, discussion and questions are eagerly awaited.
Disclaimer: This article is intended to provide information to interested parties. As I have no knowledge of individual investor circumstances, goals, and/or portfolio concentration or diversification, readers are expected to complete their own due diligence before purchasing any stocks mentioned or recommended.