I have this sneaking suspicion that while Google's (NASDAQ:GOOG) next earnings release may meet analyst expectations, the headline numbers won't matter and the stock will still sell off after the conference call.
TMT Analyst makes some excellent points on why Google should be considered undervalued, but I don't think "the Street" is going to see it that way. Why? Because while Google's core search business may be okay, analysts will be focusing on plenty of other issues.
Google is an advertising company – or at least that's how it makes the lion's share of its money. But if you review some of the past earnings transcripts on Seeking Alpha, you'll see that perhaps a third of the questions posed by analysts on the last few calls focus on issues such as Android adoption, number of Chrome browser users, mobile and local search trends
You can also bet that analysts will be grilling the company on how it's addressing the growing use of social media as a replacement for traditional search. In fact, Facebook and sites like it are now competing more fiercely for the same advertising dollars that represent much of Google's revenues.
Battle lines being drawn
The recent TechCrunch article on Google's "Six-Front War" does a good job laying out all the various territories the company is fighting for. And those fronts align to what I think analysts and investors are going to be asking the company and themselves:
What's Chrome really worth? How much money could the company make from sales of applications to enterprises? Is Google+ really going to gain an edge on Facebook?
To be fair, the company doesn't have to win all these battles. Any one of them could very well be "the next big thing" worth billions of dollars. But will it happen this quarter? No. Will the company be able to provide any metrics that demonstrate much progress on these fronts this quarter? I doubt it. Will traders find a compelling reason to buy the stock? I say unlikely.
So I think the stock will get pummeled – even if it may seem unfair. But hey, that gives you a chance to buy more shares if you like the long-term prospects.
"What are you doing with your money?"
In the past several quarters analysts have been asking company executives to explain why the company's expenses have been creeping up – especially sales and marketing costs – as this chart shows.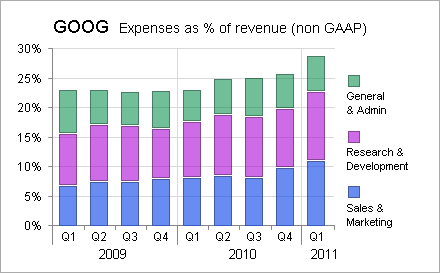 Here's one exchange from the January conference call:
Benjamin Schachter - Macquarie Research … Patrick, if you could address the sales and marketing line, which I think was somewhat unexpectedly high.

Patrick Pichette (CFO) … We just don't kind of like streamline our lines in terms of expenses, but we go opportunistically and in a smart move, I think sales and marketing is a great example of that. And if you think of the last 12 months, what we've clearly shown is how much in high gear is the digital economy. And when that opportunity shows up, right, we just needed to jump on it and decide to fuel it. And on the marketing side … when you have big platforms like Chrome and Chrome OS, that can and will be incredibly successful if promoted. Why wouldn't you do it now? I hear from the financial community, the other side, which is what are you doing with your money? Well, we have great opportunities, why wouldn't we jump on it with this kind of market?
That's a good point Patrick, but your investors probably need a lot more context on what "incredibly successful" really means. You see, while Google was once a fairly easy investment to understand, now it's getting a lot more complicated.
Undervalued or "Wait and see"?
In the article I linked to above, Media Tech Analysts see an undervalued stock:
We do see a grossly undervalued stock. Our model shows the company delivering $45 in EPS in 2012. Applying a 15x multiple, we get a value of $675, up 30% from current levels. Applying an 18x multiple, we see an $810 stock, up 55%. Applying a 20x multiple, we see a $900 stock, up 75%. The proper multiple is somewhere in between. Good luck investing.
That all may be true, but I don't think that plays out after this quarter – and maybe not after the next quarter. I think there are still too many unanswered questions about the company's goals and its progress to consider this a stock a buy right now. I think the market will agree with me – and if GOOG is not worth buying, traders will probably sell it – and hard.
On the other side, Adam Hartung at Forbes says "wait and see":
While its historical business slowly starts losing its growth, the company is entering into 3 very expensive gladiator wars. First is the ongoing battle for smartphone users against Apple (NASDAQ:AAPL) , where it is spending money on Android that largely benefits handset manufacturers. Secondly it is now facing a battle for enterprise and personal productivity apps based in cloud computing where it has not yet succeeded in taking the lead position, yet faces increasing competition from Apple's iCloud and Microsoft's (NASDAQ:MSFT) new round of cloud apps.

And on top of that Google now tells investors it is going to go toe-to-toe with the fastest growing software companies out there – Facebook, Linked-in (LNKD), Twitter and a host of other entrants. And to fund this they are abandoning market investments where they were practically the only game changing solution.

There's a lot yet to happen in the fast-moving tech markets. But now is the time for investors to wait and see. Google's engineers are very talented. But it's strategy may well be very costly, and unable to compete on all fronts. You may not want to sell Google shares today, but it's hard to find a reason to buy them.
I've got to go with Adam on this one. It's wait and see at best. At worst, the stock sees a deep sell-off after earnings, perhaps below its recent 473 low. That may indeed be a really good value. But stocks that are undervalued do have this tendency to become even more undervalued – at least in the short term.
I could be wrong and the stock soars. I don't own GOOG, but if I were to buy it, this is one that I'd rather buy it at a higher price once the "battle fronts" have been clearly defined then try to pick a bottom when the battles are still raging.
Disclosure: I have no positions in any stocks mentioned, and no plans to initiate any positions within the next 72 hours.