The dynamics around gold are changing here at the end of 2014, and I expect the factors that support gold to gain greater weight in 2015 against the factors that have driven it downward through 2013 and 2014. Risks remain for further downside, but they are less pronounced, so long-term investors should again consider buying and holding gold here. I have held a short opinion against gold since September 5 of this past year, but this report should serve as formal notice of a shift in my view. I see gold okay to hold here for the long term, and see the precious metal carrying the potential to spike higher at any moment.
How We Got Here
The key catalyst for lower gold prices in 2013 was anticipation about the Fed's transition from expansionary monetary policy to tightening. The market began to consider that the Fed would look to end quantitative easing and eventually raise interest rates. Tightening policy strengthens the dollar and lowers the price of commodities priced in dollar terms, so gold began dropping from its highs. Also, as confidence grew in the U.S. economy, capital flowed into risky investment sectors including equities, and out of other investment sectors, including the safe haven presented in precious metals.
2014 presented conflicting catalysts that swung the price of gold higher and lower, before settling on a downtrend. At the start of the year, beaten down gold saw benefit of capital flows out of richly valued and greatly appreciated stocks. I foresaw the event and wrote about it at the very start of 2014, calling for stocks to be stymied in January and for gold to rally (and this gold piece). Then we were surprised by Russia's aggressive actions in Crimea, which further supported gold into the start of spring. A dramatic engagement ensued between Russia and the U.S. and Europe, but until it became absolutely clear the U.S. would not importantly and directly engage Russia and put the dollar at immediate risk, gold remained supported. Then at the start of September, with the signing of a rather loosely followed ceasefire agreement between Ukraine and rebels in the east of the country, gold lost its last support and we presciently soured on the metal. We have held to a short opinion since, save for our Thanksgiving Day warning that terrorism in the U.S. could serve gold, which was a short-term hedge against risk. That same risk exists through the Christmas holiday in my view.
It has been a tough year for gold and silver relative securities, as evidenced by the table here, but I see that situation changing now. I view all of these securities, save for the leveraged 3X vehicles, as worthy of long-term holder stakes. The leveraged vehicles in the NUGT and DUST burn cash over the long term as they leverage risk. That should be evident by the fact that both the long and short vehicles are deeply in the red for the year-to-date. They are for very short-term investment and hedge use only.
| | |
| --- | --- |
| Gold Relative Security | YTD 2014 |
| SPDR Gold Trust (NYSE: GLD) | -4.5% |
| iShares Silver Trust (NYSE: SLV) | -19.6% |
| Market Vectors Gold Miners (NYSE: GDX) | -17.6% |
| Direxion Daily Gold Miners Bull 3X (NYSE: NUGT) | -69.5% |
| Direxion Daily Gold Miners Bear 3X (NYSE: DUST) | -21.8% |
| Sprott Physical Gold Trust ETV (NYSE: PHYS) | -4.3% |
| Goldcorp (NYSE: GG) | -20.2% |
| Newmont Mining (NYSE: NEM) | -24.0% |
Gold in 2015
In 2015, I expect we will find that much of the news has been priced into gold regarding Federal Reserve interest rate hikes. When the Fed finally does act to begin raising interest rates, we could see one last drive for the dollar, but I expect dollar strength will come under question for other reasons during the year.
Capital flows could turn in gold's favor currently and into the beginning of 2015, due to its depreciation in value in 2014 versus equities' gain through the year. Similarly to what happened in 2014's start, we could see capital that was protected from sales before year-end by those who wished to push forward tax consequences into the 2015 tax year, find safe haven in investments where such selling is less likely, like in gold.
Short-term short traders of gold may still find opportunity in 2015 around a potential ECB extraordinary monetary policy action, which I've written about extensively. If the ECB were to move in a somewhat similar manner to the Bank of Japan's plans, it could further sink the euro currency against the dollar and lift gold. However, I expect the catalyst that could inspire such ECB action might also cause concern about the dollar and so might not support gold. One potential catalyst for ECB action would be a Russian block of energy flow into Europe; that would strengthen the dollar against the euro. Another potential catalyst would be a significant terrorism event in Europe causing broad reaching economic and currency concern. This is a serious and real possibility that needs to be incorporated in analysis and should not be ignored. Again in this case, if Europe were struck in isolation, the euro would weaken versus the dollar and gold could theoretically find support.
However, I see very significant and real threat to the U.S. as well from adversaries in the Islamic State and other terrorist organizations, and also in the recently disturbed North Korea and the greatly harmed Russian Federation. Russia's leader has publicly shared his belief that the U.S. has a hidden agenda and that its sanctions against Russia are not due to the role it has played in Ukraine. I believe it should be clear that the Russian leader is more likely to act destructively against the west than to comply with western wishes. Given the threat against his hold on power, his former career experiences, and his ego, I see him likely to act against western interests in both public and covert manner. That is a serious opposing force to the future value of the dollar that should not be ignored.
The dollar has in modern times been rightly seen as a safe haven for wealth, sovereign, institutional and personal. However, increasingly over time I expect that safe haven status to change. It is evident, given the global news wire that the enemies of America are increasing in numbers and in courage. At some point, their will to do harm to America will be realized through actions against our great nation.
In a world where no currency or economy is safe, mankind will revert to its default currency, gold. Increasing sovereign interest in applying gold as a reserve currency to replace American sovereign debt is an early indicator of the path we will follow. The recent failure of the Swiss referendum to back currency with gold will eventually be followed by passed legislation across sovereigns in my view. Russia is one nation that is today looking to gold out of its own necessity. But if the status of the dollar changes, it will be in every nation's interest to revert to the gold standard. I see the beginnings of this transition today.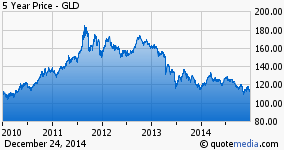 5-Year Chart of GLD at Seeking Alpha
So despite the still present factors weighing against gold and the possibility for continued drift, I see the catalysts for gold gaining in influence starting now. Recent technical support for gold seems to be evident in the five-year chart of the GLD here. It shows the gold decline has leveled off of late around a level where it did the same roughly five years ago. This is just one more reason to believe we have or are marking a bottom for gold somewhat near current intrinsic value, which is very difficult to estimate for this dynamic investment. Given the already greatly priced-in expectation for the U.S. Federal Reserve, the risk to the dollar posed by adversaries to America, tax driven capital flow factors, and the increasing demand for physical gold by sovereign states, I see gold okay to hold now and too risky to short. Long-term investors who have refrained from buying gold until now should begin taking stakes in my view. And all portfolios exposed to America and the dollar should own gold now as a hedge against risk to our stability. As I cover gold and its factor catalysts regularly, readers may find value in following this column.
Disclosure: The author has no positions in any stocks mentioned, and no plans to initiate any positions within the next 72 hours.
The author wrote this article themselves, and it expresses their own opinions. The author is not receiving compensation for it (other than from Seeking Alpha). The author has no business relationship with any company whose stock is mentioned in this article.