Chesapeake Energy (NYSE:CHK) closed the deal of selling its assets in Southern Marcellus Shale and a portion of its assets in Eastern Utica Shale to Southwestern Energy (NYSE:SWN) for a lower amount than previously stated before by $400 million so that the total sale price was $4.975 billion. The company also made several other decisions that could impact its direction. Let's review them.
The main difference in this final agreement, besides the change in the sticker price, is that Southwestern Energy will grant Chesapeake Energy a "waiver of any future claims related to title defects and environmental liabilities". As I pointed out in the past, this sale is expected to cut down Chesapeake Energy's natural gas and natural gas liquids output - roughly 55% of the output of these assets came from natural gas and 92% came from natural gas and NGL. This shift towards increasing oil's stake in the total production mix is becoming, at the current low price levels, less appealing than earlier this year.
One of the main announcements that came recently from the company was that it will repurchase $1 billion worth of its shares. This could mean it will absorb roughly 7%-8% of its shares. This also means that the buyback yield is, at current market cap of $13.45 billion, 7.4%. Following this news, shares of the company's stock spiked by nearly 10%. But for a company that just received nearly $5 billion and already gives it back to its shares suggest that it doesn't see too many opportunities to invest in new ventures and that it's better to buyback its stock, which may be relatively low for the industry, than to keep the cash and invest in new projects.
The company may use some of these new funds towards increasing its capex next year and finding new oil and NGL opportunities. But the initial step of buying back shares doesn't bode well for the management's ability to do so. Time will tell.
The company also recently decided to close on a new $4 billion senior unsecured credit facility that will expire at the end of 2019 and not in December next year. This may suggest Chesapeake Energy doesn't see it plans to cut further down its debt burden anytime soon. Albeit the company's debt burden has gone down in the past year: Its debt-to-equity ratio is 0.71 as of the end of third quarter of 2014; back in the same quarter last year this ratio was 0.78.
So the company cut down its debt burden and the recent cash injection from the asset sale could bring it further down. This debt level is inline with other oil and gas producers' debt level. In comparison, Anadarko Petroleum (NYSE:APC) has a debt-to-equity ratio of 0.71.
The rise in oil's share from Chesapeake Energy's revenue could also result in improving its profitability, which is still relatively low compared to other mid-range oil and natural gas producers such as Anadarko Petroleum and Devon Energy (NYSE:DVN).
The chart below shows the changes in these companies' operating profitability in the past several quarters.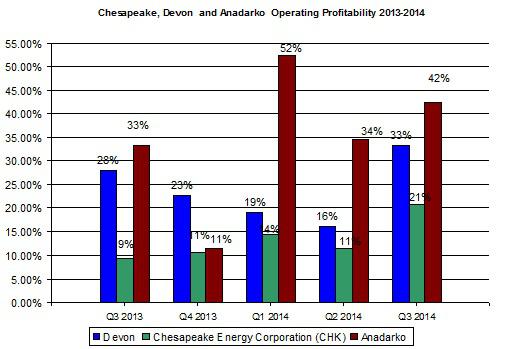 Source of data: Google finance
The drop in the price of oil is likely to take its toll on Chesapeake Energy in the last quarter of 2014. Bear in mind, the price of natural gas also declined in recent weeks. This is likely to be reflected in lower profitability in the last quarter of the year. Also note that Chesapeake Energy tends to present much lower realized prices of both oil and natural gas due to discount at delivery points and the hedging structure of oil and natural gas. During the year the most discrepancy in prices was in natural gas, as you can see in the table below.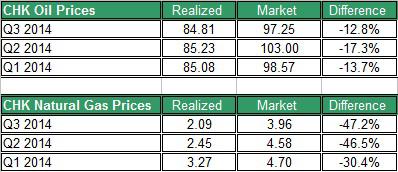 Source of data: Chesapeake Energy
The recent sale is part of the company's ongoing change in its asset structure and sell off, which could improve its profit margin (even at current low oil prices). This sale is likely to provide much more breathing room for the company and considering the current climate of oil and natural gas prices, having cash on hand seems like the way to go and stay afloat. Finally, Chesapeake Energy may use these funds to seek new ventures or increase its capex, but for now it seems that it plays it rather safe by repurchasing its stocks and keeping the cash on hand. For more see: Is Chesapeake Energy's NGL Strategy Right?
Disclosure: The author has no positions in any stocks mentioned, and no plans to initiate any positions within the next 72 hours.
The author wrote this article themselves, and it expresses their own opinions. The author is not receiving compensation for it (other than from Seeking Alpha). The author has no business relationship with any company whose stock is mentioned in this article.