A growing and aging U.S. population and healthcare expenditures will positively affect U.S. drug retailers in the future. As far as Rite Aid (NYSE:RAD) is concerned, due to its strong strategic alliance with RediClinic, along with rapid remodeling of stores to the wellness store format, the company is on track to decently grow its top-line numbers in 2015. On the margins side, despite ongoing reimbursement pressure, RAD's partnership with McKesson (NYSE:MCK) and constant cost-cutting initiatives will keep growing its margins in the coming quarters. Moreover, the company's earnings will be uplifted in the long run, due to healthy revenue growth and reduced cost burden.
RAD Is Good To Grow in 2015 with Strong Strategic Initiatives
RAD's well thought out strategic initiatives have strongly positioned it among its competitors, like Walgreen (WAG) and Caremark Pharmacy (NYSE:CVS), to cater to the growth potential of the industry. As part of its plan to grow customer traffic through the extended network of its improved healthcare offerings, the company made an alliance with RediClinic. RAD's initiative to integrate RediClinic with its stores has received a positive customer response. These stores have enhanced customer traffic at the company's stores, due to which RAD plans to increase the number of RediClinic stores to serve larger audiences. In addition to this, the company has revamped its efforts to convert its stores to the wellness format. So far, RAD has renovated 33% of its stores countrywide, and these refurbished wellness stores have been continuously outperforming non-wellness format stores. I believe with the aggressive store shifts to the wellness format, RAD will continue to witness more customer traffic at its stores, which will fuel its future top-line growth.
The company is also trying to augment the portfolio of its health service offerings at its stores. RAD is working to bring walk-in health-spot stations at select stores in Ohio; these health-spot stations will be equipped with devices to allow interactive video conferences between patients and professional doctors. I believe these health-spot stations, which offer an advanced level of healthcare services to the populace of Ohio, will receive a positive response from customers. Also, RAD has announced a smoking cessation plan, "Quit for You", at these health-spot stations, which will help address the concerns that the company has been facing in response to CVS' decision to cut tobacco sales to cater to increasing health concerns. I believe RAD's enriched healthcare service offerings portfolio will remain attractive for customers, and will deliver more upside for its top-line numbers by improving customer traffic at its stores.
Furthermore, the ongoing expansion of Medicaid plans and the increase in insurance enrollees under the Affordable Care Act (ACA) will remain an important sales growth driver for the company. Based on its confidence in its growth prospects, the company has uplifted its revenue guidance from the previous $26-$26.3 billion, to $26.25-$26.4 billion for fiscal year 2015. Owing to the strong growth potential of the company's intelligent strategic initiatives, I believe its revenue for FY15 will be at the high-end of the management's guidance. Moreover, I believe due to its healthy growth potential, RAD will continue to carry on its sales growth momentum in fiscal year 2016. The following graph shows RAD's sales growth trends in the last two fiscal years, and my estimated sales growth figures for FY15 and FY16.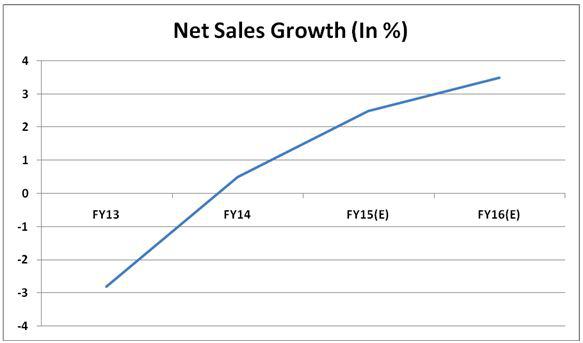 Source: Company's Yearly Earnings Reports & Equity Watch Estimates
As far as the company's profitability margins are concerned, despite the ongoing reimbursement cost pressure, RAD's efficient cost control efforts and the recent partnership with MAK to improve buying power is keeping its cost burden down, thereby helping its margins grow. I believe the improved buying power of the company through the agreement with MCK will keep its cost burden under control, which will portend well to improve its margins in the years ahead. Moreover, RAD is expecting the Nexium launch in FY16, and I believe with the Nexium launch the company will witness a gradual pick up in its generic drug sales, which will portend well for RAD's profitability margins in FY16. The following chart shows RAD's margins in the last two years and figures for the company's profitability margins for FY15 and FY16, based on my estimates.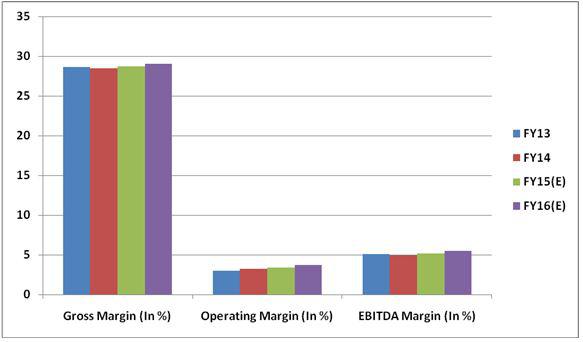 Source: Company's Yearly Earnings Reports & Equity Watch Estimates
Moreover, I believe the company's improvement in revenues and ongoing cost reductions will fuel its EPS growth. Analysts are also anticipating healthy earnings growth rates for RAD in the years ahead, as shown in the graph below.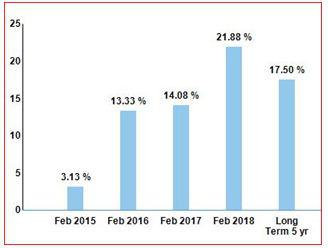 Source: Nasdaq.com
Risks
Since the ongoing Medicaid expansion and ACA enrollments are expected to add more towards RAD's top-line trajectory, if enrollments fell short of expectations, the company's revenue growth will be weak in the coming years. Moreover, the increasing reimbursement pressure is unlikely to ease in the near term, so if cost savings fail to combat this reimbursement burden, the company's margins would contract in the years ahead. Furthermore, RAD's high leverage ratio of 156% will remain a concern for investors, and can negatively affect its credit outlook.
Conclusion
RAD remains on track to succeeding in the growing Retail Drug Store Industry with the ongoing expansion and enhancement of healthcare offerings at its stores. The company's strong strategic initiatives to grow top-line will strengthen its position among large cap competitors. Also, RAD will continue to benefit from its improved buying power due to the MCK partnership, which, combined with effective cost cuts, will grow its profitability margins in the years ahead. Also, analysts are expecting a healthy next five years growth rate of 17.5% for RAD. Due to the aforementioned factors, I remain bullish on RAD.
Disclosure: The author has no positions in any stocks mentioned, and no plans to initiate any positions within the next 72 hours.
The author wrote this article themselves, and it expresses their own opinions. The author is not receiving compensation for it (other than from Seeking Alpha). The author has no business relationship with any company whose stock is mentioned in this article.