I reiterate my bullish thesis on CVS Health (NYSE:CVS); the company is strongly positioned among its large cap peers to benefit from the rapidly changing and favorable dynamics of the U.S. Drug Store Industry. CVS is on track to growing its top line, with acceleration in specialty drug sales and Medicaid expansion. Moreover, the increase in high-margin generic drug sale will remain a tailwind for the company's profitability margins. While CVS's healthy growth prospects will improve its free cash flow productivity, shareholders should remain confident about the company's healthy returns. Its well-defined strategic initiatives will help the company deliver a healthy financial performance in the coming years.
Growth Prospects Will Uplift Future Financial Performance
An aging U.S. population will positively affect the industry's future performance. CVS, like all other drug retailers, has been trying hard to cater to the growth potentials of the industry with its well thought-out strategic initiatives. The industry has witnessed demand growth for specialty drugs, due to the aging U.S. population. CVS benefited from this growing specialty demand, due to its acquisition of Coram in early 2014. In fact, with the Coram acquisition, the company is now able to serve the open specialty market in a better way by increasing convenience and care for patients, due to which it stands as the largest specialty service provider in the market. The acquisition helped CVS grow its specialty revenue by 53% year-over-year in Q314. Amid the increase in the aging population, CVS's ability to further expand its formulary management activities will portend well for specialty revenue growth in the years ahead. The specialty infusion service and Medicaid expansion are key growth drivers for the company's PBM segment sales. So far, with its Medicaid extension efforts, CVS is well-positioned in the Medicaid market, with a 30% share. And owing to the company's commitment towards growth of its Medicaid-managed organization, it is well headed to growing its Medicaid market share to approximately 40% in 2016. The acceleration in specialty drugs demand and the company's Medicaid expansion efforts make me believe that CVS will be able to grow its PBM segment's sales in high-single digits in 2015. The following graph shows CVS's sales growth figures for the last three years, and sales growth data for 2014 and 2015, based on my estimates.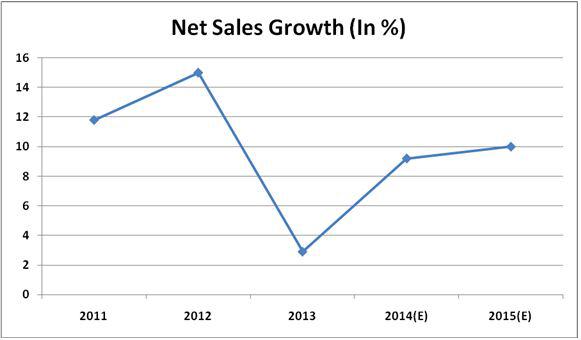 (Source: CVS Yearly Earnings Reports & Equity Watch Estimates)
Moreover, the company's initiative to serve the aging population with its extended network of walk-in clinics, called "MinuteClinic", is also strengthening its position among other drug retailers. So far, CVS's 960 MinuteClinics in more than 900 locations are serving patients for both chronic and routine illnesses. Also, the company is planning to expand the network of these walk-in clinics by opening more than 1,700 clinics in more than 1,500 locations by 2017. I believe this extended, low-cost, convenient and well-staffed clinic network will add a lot to the growth of the company's top line numbers in the long run. As far as the company's decision to cut tobacco sales is concerned, I believe this decision won't hurt its sales base - instead, it offers CVS an opportunity to add more products to empty shelf spaces and keep up with customers' health-conscious preferences. The company is expected to add more snacks to these empty shelf spaces to meet the growing snacking demand of customers, which will mean more upside for its sales base in the years ahead.
As far as CVS's profitability margins are concerned, high-margin generic drug launches have been helping it grow margins at a decent pace. Going forward, with the launch of Nexium, the company's generic drug sales for 2015 will be uplifted, which will help grow its margins. Furthermore, the healthy sales base and margins will portend well to grow its EPS. Analysts are expecting a healthy five-year earnings growth rate of 13.79% for CVS.
Increasing Shareholder Wealth
CVS has been sharing its success with dividend-seeking investors through constant increases in dividend payments and through aggressive share repurchases. The company's healthy and impressive free cash flows have strongly backed its impressive cash return policy. Going forward, as the company feels confident about its cash flow growth in 2015 due to its healthy growth prospects, it will keep on repurchasing shares and continue to grow its dividends. CVS recently made an announcement that it will increase its quarterly dividend payment by 27%. The following chart shows CVS's healthy dividend payout ratios for the last three years and for 2014 and 2015, based on my estimates.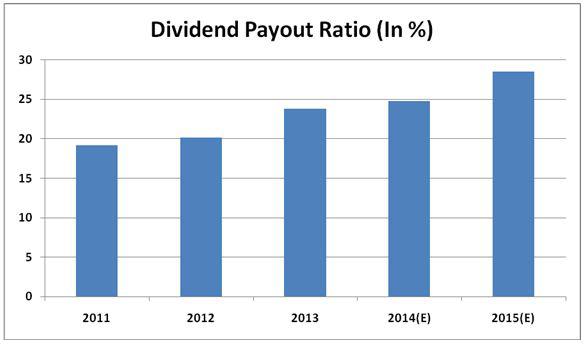 (Source: CVS Annual Earnings Reports & Equity Watch Estimates)
Along with dividend payments, the company's share repurchase program is on track to create value for shareholders in the long run. CVS recently combined its ongoing share repurchase plan with a new plan to repurchase $10 billion worth of shares. I believe the ongoing repurchases will keep on growing its EPS and will also portend well for its ROE in the long run.
Risks
The company's top line performance is exposed to competition from other established drug retailers in the industry. Furthermore, a possible slowdown in generic drug launches will keep its profitability margins pressurized. In addition, the likely underperformance of newly opened stores, mis-execution of merchandising, reimbursement pressure, momentous cost inflation pressure and supply chain disruptions are key risks to my bullish thesis for the stock.
Conclusion
CVS's ongoing efforts for Medicaid expansion and an increase in specialty drug sales will continue to grow the company's sales base. Moreover, with the launch of the much-awaited generic drug, Nexium, in 2015, the momentum gained by the company's high-margin generic drug sales will add towards growing its top line numbers and will also positively affect its profitability margins. Furthermore, CVS's healthy growth prospects will grow its free cash flows, which will support its value creation efforts, through dividend payments and share repurchases. Due to these aforementioned factors, I am bullish on CVS.
Disclosure: The author has no positions in any stocks mentioned, and no plans to initiate any positions within the next 72 hours.
The author wrote this article themselves, and it expresses their own opinions. The author is not receiving compensation for it (other than from Seeking Alpha). The author has no business relationship with any company whose stock is mentioned in this article.