* All data are as of the close of Tuesday, December 23, 2014. Emphasis is on company fundamentals and financial data rather than commentary.
As the methods of delivering entertainment span multiple delivery systems, broadcasters of entertainment have been forced to diversify into those new delivery methods just to survive. Gone are the days of just radio and television. Here are the days of satellite channels, web-streams, and pod-casts. If that's not high-tech enough for you, cranial fasteners and implants are currently under development.
It should not surprise us, then, that the TV Broadcasting industry is no longer limited to just television entertainment. Take a look at how the top three U.S.-based companies in the space are now reaching their audiences:
Liberty Media Corporation (LMCA), headquartered in Englewood, Colorado, is engaged in a range of media, communications, and entertainment businesses that broadcasts music, sports, entertainment, comedy, talk, news, traffic, and weather channels. It delivers satellite radio to vehicles, streams music and non-music channels over the Internet, sells satellite and Internet radios to consumers, and offers other ancillary services, such as weather, traffic, data, and Backseat television services. It also owns and operates the Atlanta Braves Major League Baseball franchise, five minor league baseball clubs, including the Gwinnett Braves, the Mississippi Braves, the Rome Braves, the Danville Braves, and the GCL Braves, as well as a baseball academy in the Dominican Republic. The company also develops and markets technology for locating wireless phones and devices for wireless carriers, governments, and enterprises.
Scripps Networks Interactive, Inc. (NYSE:SNI), headquartered in Knoxville, Tennessee, develops lifestyle-oriented content for television and the Internet, owning such TV networks as Food Network, Home and Garden Television (HGTV), Travel Channel, DIY Network (DIY), Cooking Channel, and Great American Country (GAC), as well as Web networks including FoodNetwork.com, HGTV.com, TravelChannel.com, DIYNetwork.com, CookingChanneltv.com, and GACTV.com.
News Corporation (NASDAQ:NWSA), headquartered in New York, creates and distributes news and information programming through various means, including publications such as The Wall Street Journal, Barron's, Marketwatch.com, Factiva, Dow Jones Risk & Compliance, Dow Jones Newswires, Dow Jones Private Markets, and DJX, as well as television programming through cable, satellite and web delivery, which includes sports coverage in Australia. The company also provides advertising services to the real estate industry through numerous real estate websites around the world, in addition to book publishing services in the fiction, nonfiction, children's and religious categories, which includes a digital education division.
While branching off into multiple forms of programming delivery has helped the three companies reach larger audiences, including demographics they have never reached before, the broadcasting industry is riddled with small, micro and nano cap companies that are stealing larger and larger portions of the viewing public for substantially less cost than the larger companies are having to pay to keep their larger operations running. The small rodents are finding food much more easily than the huge dinosaurs are, which could drastically reshape the broadcasting landscape over the coming decades.
The potential demise of the larger broadcasting behemoths is clearly evident in their stocks' performance graphed below, as investors look for better returns elsewhere.
During the economic recovery, where the broader market S&P 500 index [black] has gained 207% for an annual average of 36.00% and the Consumer Discretionary Select Sector SPDR ETF (NYSE: XLY) [blue], which the TV Broadcasting industry belongs to, has gained 345% for an annual average of 60.00%, all three of our largest U.S. TV broadcasters have failed to keep up with the sector, while two have failed to keep up with even the broader market.
The oldest of the three, Scripps [purple], has risen 315% for an annual average of 54.78%, where Liberty [beige] has risen 20% for an annual average of 10.43% over its 2-year public life, while News Corp. [orange] has shrunk 1% for an annual average of -0.66% across its 1.5-year history as a public company.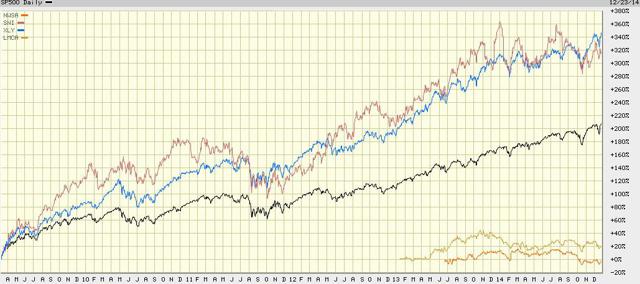 Source: BigCharts.com
Though Scripps has provided investors with quite impressive returns during the whole of the nearly six-year recovery, over the past 12 months, Scripps and its two peers have posted negative returns ranging from -8% to -12.5%, while S&P is up 14% and XLY is up 9%, as graphed below.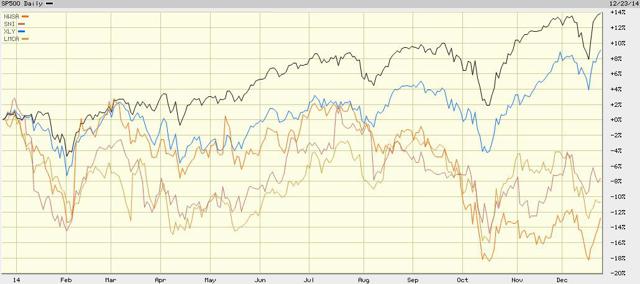 Source: BigCharts.com
Looking forward, the TV Broadcasting industry as a whole is expected to outperform the broader market's earnings growth rather entertainingly, as tabled below, where green indicates outperformance while yellow denotes underperformance.
Over the next quarter, the industry is seen growing its earnings at some 5.12 times S&P's average earnings growth rate, calming to a more sustainable but still robust 3.28 times in 2015, before settling into a comfortable 1.77 times growth outperformance annually over the next five years.

Zooming in a little closer, however, the earnings growth rates of the three largest U.S. companies in the space are expected to tune investors out, as tabled below, especially over the near term.
Over the next two quarters, all three TV broadcasters here compared are expected to under-grow their earnings relative to the broader market's average, with Liberty and News Corp. shrinking rather considerably, while Scripps seems to hang on a little closer to the market.
Yet, their fortunes are seen improving in 2015, with Liberty, which had previously shrunk the most, growing the most, outperforming the broader market along with Scripps, while News Corp. still lags behind.
Reception switches again over the longer term, as Liberty reverts to underperforming its peers and the market, while News Corp. outgrows it slightly, and Scripps simply market-performs.
Yet, there is more than earnings growth to consider when sizing up a company as a potential investment. How do the three compare against one another in other metrics, and which makes the best investment?
Let's answer that by comparing their company fundamentals, using the following format: a) financial comparisons, b) estimates and analyst recommendations, and c) rankings with accompanying data table. As we compare each metric, the best-performing company will be shaded green, while the worst-performing will be shaded yellow, which will later be tallied for the final ranking.
A) Financial Comparisons
Market Capitalization: While company size does not necessarily imply an advantage and is thus not ranked, it is important as a denominator against which other financial data will be compared for ranking.

Growth: Since revenues and expenses can vary greatly from one season to another, growth is measured on a year-over-year quarterly basis, where Q1 of this year is compared to Q1 of the previous year, for example.
In the most recently reported quarter, Liberty broadcasted the greatest revenue growth year-over-year, while News Corp. transmitted the greatest earnings growth by a substantial degree. The two companies reciprocated the worst performances, with Liberty suffering earnings shrinkage.

Profitability: A company's margins are important in determining how much profit it generates from its sales. Operating margin indicates the percentage earned after operating costs, such as labor, materials, and overhead. Profit margin indicates the profit left over after operating costs plus all other costs, including debt, interest, taxes, and depreciation.
Of our three contestants, Scripps operated with the widest profit and operating margins, while News Corp. contended with the narrowest.

Management Effectiveness: Shareholders are keenly interested in management's ability to do more with what has been given to it. Management's effectiveness is measured by the returns generated from the assets under its control, and from the equity invested into the company by shareholders.
For their managerial performance, Scripps' management team delivered the greatest returns on assets and equity, while News Corp.'s team delivered the least.

Earnings Per Share: Of all the metrics measuring a company's income, earnings per share is probably the most meaningful to shareholders, as this represents the value that the company is adding to each share outstanding. Since the number of shares outstanding varies from company to company, I prefer to convert EPS into a percentage of the current stock price to better determine where an investment could gain the most value.
Of the three companies here compared, Liberty provides common stockholders with the greatest diluted earnings per share gain as a percentage of its current share price, while News Corp.'s DEPS over current stock price is the lowest.

Share Price Value: Even if a company outperforms its peers on all the above metrics, however, investors may still shy away from its stock if its price is already trading too high. This is where the stock price relative to forward earnings and company book value come under scrutiny, as well as the stock price relative to earnings relative to earnings growth, known as the PEG ratio. Lower ratios indicate the stock price is currently trading at a cheaper price than its peers, and might thus be a bargain.
Among our three combatants, Scripps stock is cheapest relative to forward earnings and 5-year PEG, while News Corp.'s is the cheapest relative to company book value. At the overpriced end of the scale, Liberty stock is the most overvalued relative to earnings and PEG, where Scripps' is the most overpriced relative to company book.

B) Estimates and Analyst Recommendations
Of course, no matter how skilled we perceive ourselves to be at gauging a stock's prospects as an investment, we'd be wise to at least consider what professional analysts and the companies themselves are projecting - including estimated future earnings per share and the growth rate of those earnings, stock price targets, and buy/sell recommendations.
Earnings Estimates: To properly compare estimated future earnings per share across multiple companies, we would need to convert them into a percentage of their stocks' current prices.
Of our three specimens, News Corp. offers the highest percentage of earnings over current stock price for the current quarter, while Scripps offers it the rest of the way. At the low-end of the scale, Liberty offers the lowest percentages throughout.
Earnings Growth: For long-term investors, this metric is one of the most important to consider, as it denotes the percentage by which earnings are expected to grow or shrink as compared to earnings from corresponding periods a year prior.
For earnings growth, Scripps offers the greatest growth over the near term, while Liberty offers it in 2015 and News Corp. offers it beyond. At the low end of the spectrum, Liberty offers the slowest earnings growth in the current quarter (even shrinkage), as well as over the next five years, while News Corp. offers the slowest next quarter and in 2015 (also with shrinkage in the current quarter).

Price Targets: Like earnings estimates above, a company's stock price targets must also be converted into a percentage of its current price to properly compare multiple companies.
For their high, mean, and low price targets over the coming 12 months, analysts believe Liberty stock offers the greatest upside potential and least downside risk, while Scripps stock offers the least upside and greatest downside.
It must be noted, however, that the Liberty and News Corp. stocks are already trading below their low targets. While this may mean increased potential for sharp moves upward, it may warrant reassessment of future expectations.

Buy/Sell Recommendations: After all is said and done, perhaps the one gauge that sums it all up are analyst recommendations. These have been converted into the percentage of analysts recommending each level. However, I factor only the strong buy and buy recommendations into the ranking. Hold, underperform, and sell recommendations are not ranked, since they are determined after determining the winners of the strong buy and buy categories, and would only be negating those winners of their duly earned titles.
Of our three contenders, Liberty is best recommended with 2 strong buys and 6 buys representing a combined 88.89% of its 9 analysts, followed by News Corp. with 2 strong buy and 2 buy ratings representing 40% of its 10 analysts, and lastly by Scripps with 1 strong buy and 5 buy recommendations representing 27.28% of its 22 analysts.

C) Rankings
Having crunched all the numbers and compared all the projections, the time has come to tally up the wins and losses and rank our three competitors against one another.
In the table below, you will find all of the data considered above, plus a few others not reviewed. Here is where using a company's market cap as a denominator comes into play, as much of the data in the table has been converted into a percentage of market cap for a fair comparison.
The first- and last-placed companies are shaded. We then add together each company's finishes to determine its overall ranking, with first-place finishes counting as merits, while last-place finishes count as demerits.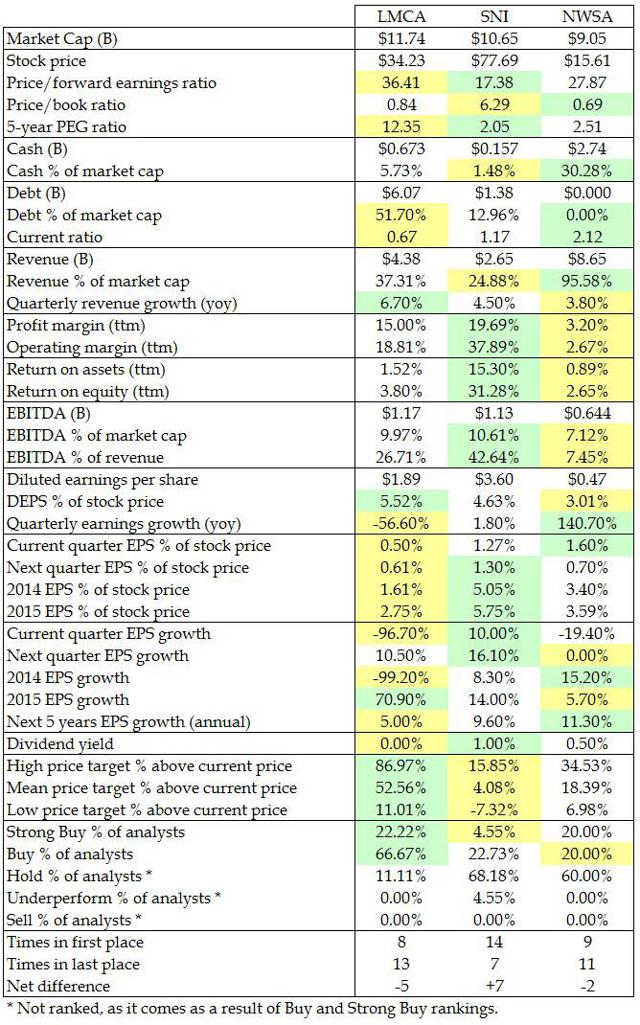 And the winner is... Scripps, with a broader casting lead, outperforming in 14 metrics and underperforming in 7 for a net score of +7, followed very far behind by News Corp., outperforming in 9 metrics and underperforming in 11 for a net score of -2, and even further behind by Liberty in a cloud of static, outperforming in 8 metrics and underperforming in 13 for a net score of -5.
Where the TV Broadcasting industry is expected to outperform the S&P broader market substantially next quarter, significantly in 2015, and moderately beyond, the three largest U.S. companies in the space are expected to considerably under-grow their earnings relative to the broader market over the near term with a horrible reception that will make investors cringe, before finally improving their earnings growth longer-term.
Yet, after taking all company fundamentals into account, Scripps Networks Interactive Inc. broadcasts the clearer fundamentals, given its lowest stock price-to-forward earnings and 5-year PEG, widest profit and operating margins, highest returns on assets and equity, highest EBITDA over market cap and revenue, highest future earnings over current stock price overall, highest future earnings growth near-term, and highest dividend yield - decisively winning the TV Broadcasting industry competition.