Vale S.A. (NYSE:VALE)
Incorporated in 1942 and privatized by the Brazilian government in 1997, Vale S.A. (formerly Companhia Vale do Rio Doce) is the world's largest producer of iron ore fines and pellets for use in steelmaking. They are the world's second largest producer of manganese as well. The company also has production in nickel, copper, coal, fertilizers, cobalt and platinum.
VALE's grade on Vuru is among the best of the large cap holdings in the metals and mining sector. The company's DCF growth price is 80.43% above its current market price, indicating the company is trading at a deep discount to its intrinsic value. This target price is based off of a discount rate of 15% and a future free cash flow growth rate of 3.3% (using a historical 10 year average). On a side note, the stability price is negative because of the competitive nature of the industry and the high costs of extraction.

On the surface it appears as if there is potential for investors in VALE, however there may be more to be considered. The company's five-year price to volume performance can be seen below.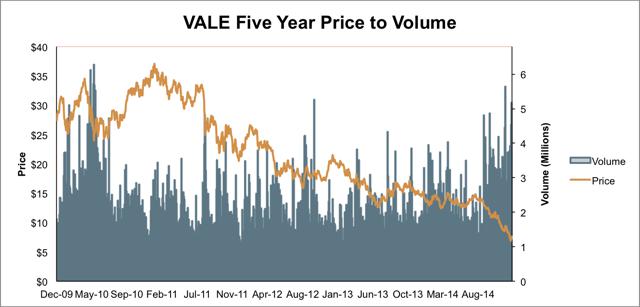 Recent Fundamental Highlights (FY end Dec)
3Q EPS

Loss of $0.28
Adjusted EPS of $0.13 below consensus

EBITDA

$3B below company expectation of 3.4B
Outlook
The company had missed expectations in terms of both gross and net margins in the 3Q and has been struggling as a company since early 2011. Weakening iron ore margins and slowing demand have been the main catalyst. To remedy the situations, VALE has announced expansion plans including an enormous 90 metric ton per year S11D project in Carajas that should help boost iron ore production 50% by 2018.
VALE is looking towards India to help pick up the demand for this increased production. Analysts expect the country to import about 10M tons of high quality iron ore per year in 2015. However, on the other hand, the company is dealing with stalling demand in China - the main source of demand in recent years. As well, Chinese privately held mines are closing at a slower rate than previously expected.
Due to the recent struggles of the company, VALE has been using free cash to create growth and have been neglecting capital expenditures. Without a shift back to a focus on maintaining current assets the company and investors should expect an increased level of depletion. A key focus for investors coming up should be the company's ability to acquire a license to deliver significant iron ore production growth in 2015/2016. The operating license to expand N4WS will enable Vale to increase iron ore production to 350Mt.
Economic Moat
Analysts are questioning VALE's ability to maintain dividends, retain an investment grade credit rating and continue with its current capital investment program. Without continuing to generate free cash to fund these things, the company's margins and competitive advantage in the industry are in jeopardy.

The company's consolidated balance sheet can be seen above and investors should take notice of the relatively small cash position in recent years in comparison to highs in 2008-2010.
VALE does occupy the low end of the iron ore cost curve and has high quality iron ore. Due to these reasons the company will likely be able to persevere and sustain profits through periods of decreased prices and demand.
Major Risks
China reduces iron ore imports, and decides to ramp up domestic production. Many of the company's exports are to China and any decrease in demand will negatively affect the company.
The company also has significant exposure to Europe, and any further economic toil in the area could negatively harm the company because of lower steel production and iron ore demand.
VALE's investments in nonferrous business lines such as coal, copper, and fertilizers may drag down cash flow generation and these projects do not escalate according to management's expectations.
Investment Rationale
VALE is the world's largest iron ore miner and a key supplier to the global steel industry. The company is highly leveraged to Chinese raw material demand, which is expected to decelerate as the country's infrastructure led investment boom comes to an end. The consoling factor for Vale is that it operates lucrative mines at the low end of the cost curve, and hence expect the company to be profitable even in lower price environments.
The company currently trades at $8.03 (price as of Dec 24th) and only provides upside over the long term. Uncertainty in iron-ore prices resulting from a slowdown in China and slow economic recovery in Europe will restrict VALE's ability to generate FCF over the near term.
Disclosure: The author has no positions in any stocks mentioned, and no plans to initiate any positions within the next 72 hours.
The author wrote this article themselves, and it expresses their own opinions. The author is not receiving compensation for it. The author has no business relationship with any company whose stock is mentioned in this article.