Summary:
Following the recent sharp downturn in Mattel's (NASDAQ:MAT) share price, fundamental analysis was conducted to evaluate whether or not the market response was warranted. Currently, Mattel is down nearly 35% YTD, while Hasbro is relatively unchanged over the same period. This analysis includes Mattel, Inc. and Hasbro, Inc (NASDAQ:HAS). Neither Mattel nor Hasbro merits serious value investment consideration at current prices. With that said, Mattel is more conservatively valued than Hasbro, and could be a longer-term value pick in the $25-$28/share range, should its revenues stabilize.
Mattel, Inc. summary:
Much has been printed about the dismal year Mattel has had so far. The magnitude can be summed up by the combined $505M decline in sales from Mattel Brands (primarily Barbie) and Fisher-Price through the first three quarters. This huge revenue contraction of 7% has occurred during an overall increase in the U.S. toy industry of 4%. Beyond the struggles in the US and Canada, the LATAM business has seen an 11% decline that was attributed to "high retail inventories in markets like Brazil."
COGS' share of revenue has risen to over 48%, which, prior to 2014, was steadily declining from 50% to 45% over the previous 4 years. This appears to be an opportunity for Mattel to drive value, especially when directly comparing its cost structure with its two competitors. For instance, Hasbro has maintained its COGS between 41% and 44% over the past 5 years.
In terms of SG&A expenses, the company has done a good job of reducing costs by $18M in the last quarter, even after the costs for bringing MEGA Brands under the umbrella in Q2.
Other red flags:
Inventories are 2.4% higher YoY, and the Inventory/Trailing 12-month sales ratio has crept higher to 13.5% from 12.4% last year. This could partially be attributed to the MEGA Brands acquisition, but the issue traces back to 2013: Mattel has seen an increase in its days of inventory outstanding over the last few years, and has been consistently holding 10 or more days in excess of Hasbro (Figure 1).
Unfortunately, the austerity measures we saw in SG&A expenses also impacted advertising spending. This certainly will add to the headwinds against reversing the decline in Barbie sales. YTD, advertising and promotion expenses were cut by 0.5% points of sales, or $58M.
Figure 1: Days Inventory Outstanding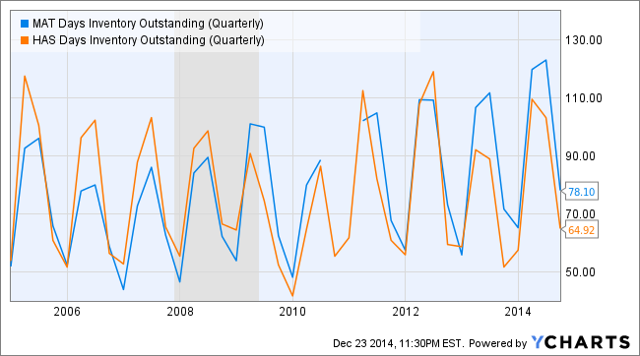 Hasbro, Inc. summary:
In the first 9 months of 2014, Hasbro increased revenues 6.4% and operating income by 9% YoY, respectively. Interestingly, the growth is attributed to success primarily in international and emerging markets - where Mattel has faltered. Operating margins improved versus the prior year, but still lag Mattel by 50 bps.
In 2014, the business grew its top line, yet it needed to do better at cost control to drive net income and ultimately catch up with Mattel. This is not a new problem. Over the previous 5 years, Hasbro consistently delivered average operating margins 2.3% points below Mattel. But for the first 9 months of 2014, the gap narrowed to 0.5%.
Operating Income Analysis:
Mattel's lead in operating profitability versus Hasbro has diminished. This can primarily be attributed to its lackluster sales performance. However, looking at prior years' data, Mattel should continue to focus on operating efficiency (which it is doing). In the previous 12 months, Mattel's COGS are 7 percentage points and 21 percentage points worse than Hasbro and Lego, respectively (Figure 2).
The analysis also highlights how Hasbro should scrutinize its overhead and other selling costs. The company is 8 percentage points worse than Mattel in SG&A spending.
In total, when compared against Lego, both public companies have something to learn. With a much lower cost structure, Lego can focus on re-investing in its brands, hiring top talent, advertising & marketing, etc.
Note, despite having similar operating margins with Hasbro, Mattel has a stronger net profit margin, due to its lower effective tax rates.
Figure 2: Operating Income Breakdown 2013Q4-2014Q3
| | | | |
| --- | --- | --- | --- |
| Share of Total Revenue | Mattel Inc. | Hasbro Inc. | Lego* |
| Cost of Revenue, Total | 48.8% | 41.5% | 29.9% |
| Selling/Gen/Admin Expense | 19.9% | 28.0% | 32.4% |
| Advertising Expense | 11.3% | 9.8% | in SG&A |
| Research & Development | 4.9% | 4.9% | 1.8% |
| Depreciation/Amortization | 0.5% | 1.9% | 3.0% |
| Operating Margin | 14.5% | 14.0% | 32.8% |
| Net Profit Margin | 11.6% | 8.8% | 24.1% |
*Lego 2013 Financial Report
Key fundamental comparison:
From a valuation standpoint, neither company offers a great value opportunity at current price levels (Figure 4). Both are currently trading significantly above book value: over 10x trailing 12-month EBITDA, and in Hasbro's case, 75% above its Graham Number. While the Graham Number is traditionally a conservative estimate of value, this example really shows the magnitude of how much investors are willing to pay for future earnings growth in Hasbro. Mattel's price is closer to its Graham Number of $22/share.
Mattel's 36% price drop was warranted, and interestingly, both companies now trade at similar EV/EBITDA ratios above 10. Historically, the average ratio is 10.0 for Mattel and 9.1 for Hasbro. If Mattel's price continues to decline, a buying target with EV/EBITDA below 10.0 would make sense, based on historical valuations (Figure 5). This equates to approximately $28/share.
Figure 4: Valuation
| | | |
| --- | --- | --- |
| Valuation | Mattel Inc. | Hasbro Inc. |
| Book-to-Price Ratio | 30% | 22% |
| Tangible Book-to-Price Ratio | 16% | 8% |
| EV/ EBITDA T12 | 10.7 | 10.6 |
| Graham Number | 22 | 31 |
Figure 5: EV-to-EBITDA History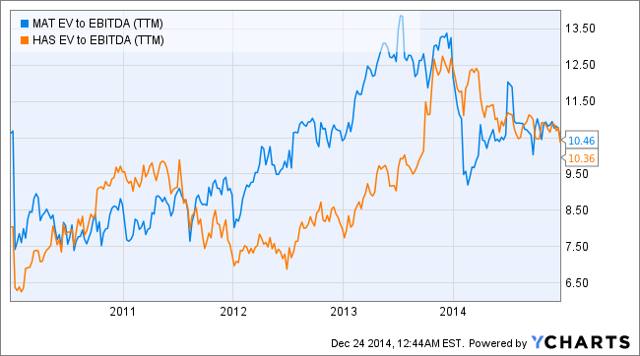 Looking at other statistics (Figure 6), Mattel offers higher earnings yields using all 4 yield figures (current, forecast, 5-year, and 10-year averages). Should earnings rebound in 2015, its current price offers an 8.4% earnings yield, which is decent. For Hasbro, current and next year forecasts are below 8% and below 6% on 5- and 10-year average bases. Mattel's equity is less leveraged, accounting for nearly 50% of total assets, whereas Hasbro's accounts for 1/3rd.
Finally, Mattel offers a free cash flow yield above 6% versus Hasbro's 3.9%, even after investing more than 100 bps above Hasbro in CAPEX (Figure 7). With lower net margins, Hasbro has maintained anemic CAPEX investments in order to facilitate its dividend payments, which still are not as good as Mattel's.
Figure 6: Statistical Comparison
Leisure Goods - Toys

Mattel Inc.

Hasbro Inc.

Price

$30

$55

% above 52-week Low

6%

16%

% below 52-week High

-36%

-7%

Sales Trailing 12-months, $M

$6,142

$4,260

Enterprise Value, $M

$12,181

$8,188

Diluted Market Cap, $M

$10,291

$6,958

Common Equity-to-Total Assets, $M

45%

33%

Current Ratio

2.7

2.6

ROE T12

23%

25%

Inventory/Sales

13.5%

11.7%

Earnings Yield

Current Year Estimate (S&P Capital IQ)

7.3%

6.7%

2015 Forecast (S&P Capital IQ)

8.4%

7.5%

5-year average

7.4%

5.8%

10-year average

6.3%

5.0%

FCF Yield

6.1%

3.9%

Dividend Yield

5.0%

3.1%
Figure 7: CAPEX/Revenue History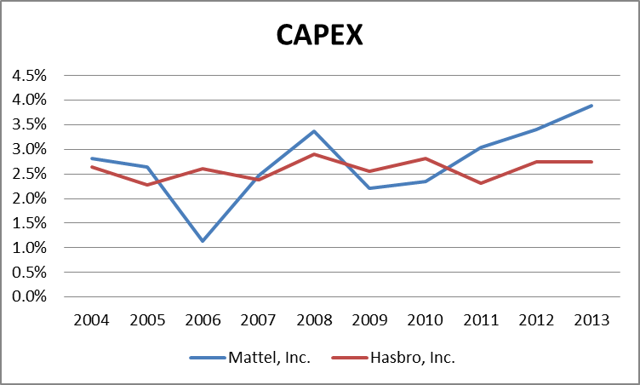 Disclosure: The author is long MAT.
The author wrote this article themselves, and it expresses their own opinions. The author is not receiving compensation for it (other than from Seeking Alpha). The author has no business relationship with any company whose stock is mentioned in this article.