A lot of attention has been paid to dry bulk shippers, yet the seaborne shipping industry is comprised of a lot more than just very large ore carriers hauling pellets to China. There are other segments, including containerized shipping and tankers.
The latter includes both dirty (think unrefined crude) and clean (think refined) tankers. They very in size from 250k+ DTW Very Large Crude Carriers (VLCC) down to <30k Handy size product tankers. The largest of these are typically the dirty carriers, while the smallest are the clean. With respect to both, and in stark contrast with the dry bulk carriers, rates have been steadily rising over the last quarter. See the below graphic.
(Data from Allied Research)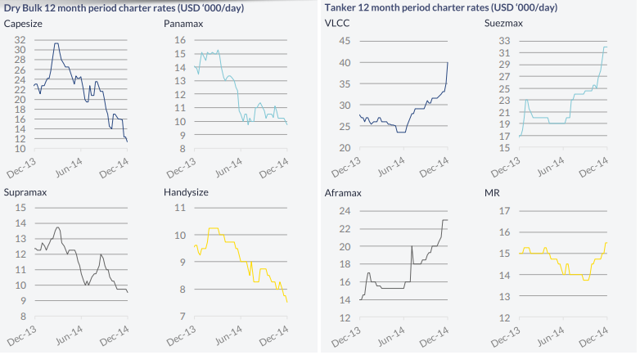 And, there are a number of positives that suggest continued strengthening in the segment. For example, whispers had begun to circulate earlier this month that some inquiries were being made about the feasibility of floating storage. Crude prices and the contango that existed earlier in the month meant that it was not economically profitable, but now, Reuters reports that some are taking this serious as the contango in Brent oil has turned profitable.
So, who should investors be looking at if the market continues to prosper? Here is my list to perform due diligence on:
This is of course, not an all inclusive list of companies in the segment. I have purposely left some off my list because I personally do not have an interest in researching them. Those reasons are my own, and I choose not to share. However that should not prevent readers from adding their favorites to a list to watch and research. I have been carefully following and commenting on Teekay Tankers and Navios Maritime Acquisition on Seeking Alpha Stock Talks, and encourage readers to follow me if you are interested in these companies.
Disclosure: The author is long TNK, NNA.
The author wrote this article themselves, and it expresses their own opinions. The author is not receiving compensation for it (other than from Seeking Alpha). The author has no business relationship with any company whose stock is mentioned in this article.