Since my last avoid article on Bon-Ton Stores (NASDAQ:BONT), shares have declined more than 30%. I did state that short sellers could however face risk through a squeeze which occurred not but two months later. Irrespective of this matter, the operating business fails to show any sign of recovery given its ultra-thin moat as an apparel retailer.
Quarterly Results
In the 3rd quarter, traffic continued its rather anemic pace where sales only increased by 1% over the prior year's results. Earnings per share came in sharply below analyst estimates at $0.56 loss rather than an expected $0.15 profit. This was extremely shocking to the broader market as profit margins continue to slide despite lower interest expenses and tax outflows. To make things worse, management believes that a recovery will be much more sluggish than previously anticipated. They decided to reduce their full-year guidance forecast from a lofty 40-70 cent range to a low end of 25-55 cents. So even if we take the high end of guidance, the company is still trading at a rather high p/e ratio of ~14x.
Valuation
Some hedge fund managers have stated they like to purchase companies with the following criteria (given standardized growth relative to the industry):
| | |
| --- | --- |
| Strength of Business | Desired Multiple |
| Outstanding/Excellent | 14-16x |
| Moderate | 9-11x |
| Mediocre | 5-6x |
If we had to classify BONT, I would certainly rank it within the mediocre area given its poor performance. Perhaps if management can offer better margin control for FY of 2015 it may deserve something toward moderate, but the decline in equity reflects this overwhelming weakness.
The Cash
Bon-Ton Stores have held a ridiculous cash burn over the last few years. Executives have implemented cost cutting initiatives and implemented record capex measures, yet no real benefits have been realized. It would be prudent for management to suspend the dividend all together in order to preserve it's financial flexibility for an extended period of time for successful execution. With dividends eating up more than 13% of total cash, they are not doing shareholders a favor in the long term.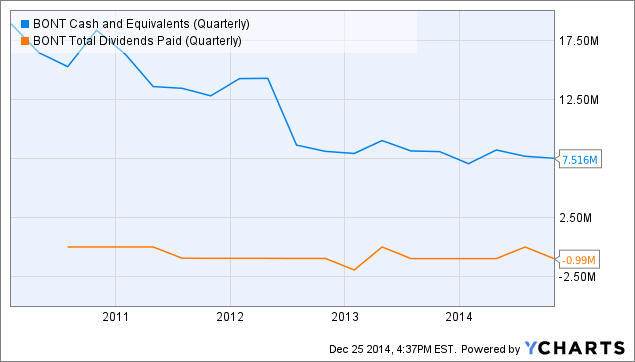 BONT Cash and Equivalents (Quarterly) data by YCharts
Technicals
At $7.52 the share price remains below all moving averages which is bearish. It seems to have shown stability but is now resembling a bearish flag continuation pattern.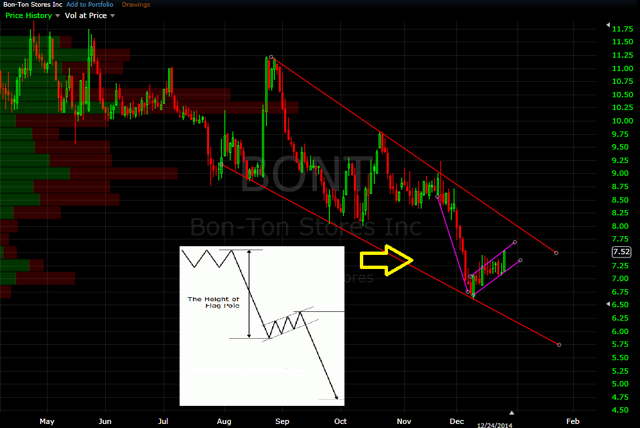 I think the current move could top at $8 pps as that appears to be a significant resistance level. The next leg will strictly depend on the next earnings report expected in March, which will drive out short sellers or simply confirm their thesis. Either way, this is a technical avoid.
Bottom Line
While the company is still profitable through its 4th-quarter sales, it seems that competition continues to weigh on its overall market share as the other quarters remain deep in the red. Operational improvements have yet to materialize and with sentiment still in the tank, investors are looking to dump shares on any possible rip. Simply put, do not buy this dip as overarching risks still remain.
Disclosure: The author has no positions in any stocks mentioned, and no plans to initiate any positions within the next 72 hours.
The author wrote this article themselves, and it expresses their own opinions. The author is not receiving compensation for it (other than from Seeking Alpha). The author has no business relationship with any company whose stock is mentioned in this article.