Kennady Diamonds (OTC:KDIAF) is a Canadian diamond exploration company focused on its Kennady North diamond project in the Northwest Territories, Canada. Kennady North hosts four diamondiferous kimberlites that the company thinks hold economically viable resources to mine. Kennady Diamonds recently announced the diamond recovery results from the Kelvin mini-bulk sample. Diamond grades came in 45% higher than the bulk sample processed in October.
Testing for high-grade continuity
Kennady Diamonds has undertaken a mini-bulk program to better define the continuity of high-grade diamond grades at the Kelvin kimberlite. High-grade diamonds is highly sought-after in the industry as it increases the valuation of the mineral resource.
Diamond results to date (excluding the most recent) have returned high-grade diamonds, with an average sample grade of 2.16 carats per tonne ("cpt"). Poor results from a 25 tonne mini-bulk sample back in October grading 1.79 carats per tonne pulled down the average grade from 4.32 cpt to 2.16 cpt (see Figure 1).

Figure 1: Average sample grade at the Kelvin kimberlite, excluding the most recent results. Source: Company report
Kennady Diamonds reported (Dec. 24) strong diamond recovery from the Kelvin summer/fall mini-bulk sample program. The sample returned a diamond grade of 2.59 cpt, and 40% higher than the 25 tonne bulk sample recovered last winter/spring (see Figure 2). These results renewed investor confidence in Kelvin's potential to return high-grade diamonds.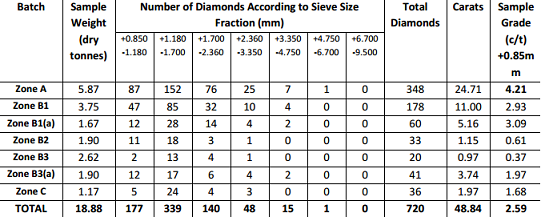 Figure 2: Recent mini-bulk sample results at the Kelvin kimberlite processed by dense media separation. Source: Company report
Catalysts to look forward to in 2015
Kennady Diamonds anticipates diamond results from two mini-bulk samples processed by caustic fusion by mid-January. Good results, where the diamond grade comes in higher than the previous 1.79 cpt and should lift the share price higher.
Kennady Diamonds has drilled approximately 27,200 meters at the Kelvin and Faraday kimberlite complex this year, including the recovery of approximately 55 tonnes of kimberlite. Faraday is located adjacent to Kelvin, and like Kelvin, has undergone extensive drilling and sampling.
The Kelvin-Faraday complex has the potential to host a mineral resource of between 9 to 12 million tonnes at a grade over 2.00 cpt based on drilling and sampling to date. Kennady Diamonds expects to release the first NI 43-101 pre-feasibility report next year that will provide a maiden resource estimate.
Kennady Diamonds CEO Patrick Evans said:
Our [Kennady North] project has developed rapidly since the listing of Kennady in 2012. Results to date confirm that our 100 percent controlled Kennady North project is Canada's most exciting new diamond discovery.

We are currently preparing to take a 500 to 700 tonne bulk sample from Kelvin in early 2015 while we continue delineation drilling at the Kelvin and Faraday kimberlites. We also look forward to commencing our exploration drill program at the diamond-bearing MZ and Doyle kimberlites as well as a number of new exploration targets.
We have no position in Kennady Diamonds. We rate the stock high risk and speculative, but a core long-term holding in a diamond portfolio.
Disclosure: The author has no positions in any stocks mentioned, and no plans to initiate any positions within the next 72 hours.
The author wrote this article themselves, and it expresses their own opinions. The author is not receiving compensation for it (other than from Seeking Alpha). The author has no business relationship with any company whose stock is mentioned in this article.