* All data are as of the close of Wednesday, December 24, 2014. Emphasis is on company fundamentals and financial data rather than commentary.
The Processing Systems & Products industry is a very small, rather miscellaneous collection of companies offering varied technology-based products and services. There are only 6 publicly traded companies categorized into the grouping, the largest two of which, and only billion dollar market caps, are:
• CoreLogic, Inc. (NYSE: CLGX), headquartered in Irvine, California, provides property, financial and consumer information, analytics, and services, including tax monitoring, flood zone certification and monitoring, credit services, mortgage loan administration and production services, lending solutions, and mortgage-related business process outsourcing. The company also owns or licenses data assets, such as loan information, criminal and eviction records, employment verification, property characteristic information, and information on mortgage-backed securities, providing analytical products for risk management, collateral assessment, loan quality reviews, and fraud assessment, as well as geospatial proprietary software and databases with geographic mapping and data, in addition to consumer screening and risk management for the multifamily housing and under-banked credit services industries. Its primary clients include mortgage originators, financial institutions, investment banks, fixed-income investors, title insurance companies, commercial banks, government agencies and government-sponsored enterprises, property and casualty insurers, credit unions, real estate agents, and other real estate professionals.
• Plantronics, Inc. (NYSE: PLT), headquartered in Santa Cruz, California, designs, manufactures, and markets lightweight communications headsets, telephone headset systems, other communication endpoints, and accessories for businesses and consumers, which products include specialty telephones, corded and cordless communication headsets, audio processors, telephone systems, Bluetooth and corded products, personal computer and gaming headsets, speakerphones, amplified captioned phones, amplified corded phones, personal listeners, and alarm clocks for the hearing impaired. The company's primary markets are enterprise and home offices, contact centers, the mobile phone and smartphone segments, and the computer gaming segment.
Knowing the rather specialized markets of our two contestants explains their stocks' performance during the almost 6-year long economic recovery. Where CoreLogic is more of a business services provider, Plantronics is more of a consumer discretionary-technology products producer and marketer. Given the huge run in the consumer discretionary sector during the course of the recovery, we can understand that we are not going to get the same capital appreciation from both companies, as graphed below.
Since the recovery began in early March of 2009, where the broader market S&P 500 index [black] has gained 209%, the SPDR Technology Sector ETF (NYSE: XLK) [blue] which sector (not fund) both of our contenders belong to has gained 220%, our business services provider CoreLogic [beige] has underperformed both benchmarks, rising only 187%, while our consumer discretionary-focused Plantronics [purple] has not only beaten the broader market and technology sector it belongs to, but has also dramatically beaten even the consumer discretionary sector, rising 570% as compared to the SPDR Consumer Discretionary ETF (NYSE: XLY) [orange] which has risen only 345%.
On an annualized basis, where the S&P has averaged 36.35%, the XLK has averaged 38.26%, and the XLY has averaged 60.00%, CoreLogic has averaged the least of them all at 32.52% where Plantronics has averaged the most of them all at 99.13% per year!
This gives us a clearer idea of what to expect from the two companies' stocks going forward, with consumer discretionaries continuing to have the advantage as the economic recovery puts more money in consumers' pockets. Consumers are a force to contend with; or better yet, to harness.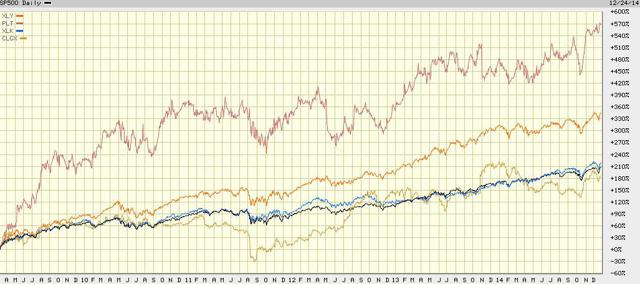 Source: BigCharts.com
Looking at future earnings growth, the Processing Systems & Products industry as a whole looks poised to outperform the broader market's average growth rate quite comfortably, as tabled below where green indicates outperformance while yellow denotes underperformance.
Over the current and next quarters, the industry's earnings are expected to outgrow the S&P's growth at some 1.22 to 1.85 times its rate, averaging some 1.62 times throughout 2015, and improving to 2.02 times annually over the next five years.

Zooming-in a little closer, the two largest Processing Systems & Products companies are expected to deviate from their norms over the near term, as tabled below.
Over the next two quarters, where discretionary-focused Plantronics is set to under-grow the broader market significantly at less than half its rate, CoreLogic is expected to grow its earnings at some 1.75 to 6.23 times the market's average. 2015 looks a little better for Plantronics, though it still only barely outperforms the market at 1.06 times, while CoreLogic continues to grow strong at 3.33 times.
But over the longer term, Plantronics is once again expected to outperform both the market and CoreLogic, growing at some 1.63 times the market annually over the next five years compared to CoreLogic's 1.34 times growth rate.

Yet there is more than earnings growth to consider when sizing up a company as a potential investment. How do the two compare against one another in other metrics, and which makes the best investment?
Let's answer that by comparing their company fundamentals using the following format: a) financial comparisons, b) estimates and analyst recommendations, and c) rankings with accompanying data table. As we compare each metric, the best performing company will be shaded green while the worst performing will be shaded yellow, which will later be tallied for the final ranking.
A) Financial Comparisons
• Market Capitalization: While company size does not necessarily imply an advantage and is thus not ranked, it is important as a denominator against which other financial data will be compared for ranking.

• Growth: Since revenues and expenses can vary greatly from one season to another, growth is measured on a year-over-year quarterly basis, where Q1 of this year is compared to Q1 of the previous year, for example.
In the most recently reported quarter, Plantronics generated the greater revenue and earnings growth year-over-year by a large degree, while CoreLogic generated the least.

• Profitability: A company's margins are important in determining how much profit the company generates from its sales. Operating margin indicates the percentage earned after operating costs, such as labor, materials, and overhead. Profit margin indicates the profit left over after operating costs plus all other costs, including debt, interest, taxes and depreciation.
Of our two contestants, Plantronics operated with the wider profit and operating margins, while CoreLogic contended with the narrower.

• Management Effectiveness: Shareholders are keenly interested in management's ability to do more with what has been given to it. Management's effectiveness is measured by the returns generated from the assets under its control, and from the equity invested into the company by shareholders.
For their managerial performance, Plantronics' management team delivered the greater returns on assets and equity, while CoreLogic's team delivered the lesser.
• Earnings Per Share: Of all the metrics measuring a company's income, earnings per share is probably the most meaningful to shareholders, as this represents the value that the company is adding to each share outstanding. Since the number of shares outstanding varies from company to company, I prefer to convert EPS into a percentage of the current stock price to better determine where an investment could gain the most value.
Of the two companies here compared, Plantronics provides common stock holders with the greater diluted earnings per share gain as a percentage of its current share price, while CoreLogic's DEPS over current stock price is lower.

• Share Price Value: Even if a company outperforms its peers on all the above metrics, however, investors may still shy away from its stock if its price is already trading too high. This is where the stock price relative to forward earnings and company book value come under scrutiny, as well as the stock price relative to earnings relative to earnings growth, known as the PEG ratio. Lower ratios indicate the stock price is currently trading at a cheaper price than its peers, and might thus be a bargain.
Among our two combatants, Plantronics' stock is cheaper relative to forward earnings and 5-year PEG, where CoreLogic's represents the better value relative to company book.
B) Estimates and Analyst Recommendations
Of course, no matter how skilled we perceive ourselves to be at gauging a stock's prospects as an investment, we'd be wise to at least consider what professional analysts and the companies themselves are projecting - including estimated future earnings per share and the growth rate of those earnings, stock price targets, and buy/sell recommendations.
• Earnings Estimates: To properly compare estimated future earnings per share across multiple companies, we would need to convert them into a percentage of their stocks' current prices.
Of our two specimens, Plantronics offers the higher percentages of earnings over current stock price for all time periods, where CoreLogic offers the lower percentages.

• Earnings Growth: For long-term investors this metric is one of the most important to consider, as it denotes the percentage by which earnings are expected to grow or shrink as compared to earnings from corresponding periods a year prior.
For earnings growth, CoreLogic offers the greater earnings growth over the near term and in 2015 by a substantial degree, where Plantronics offers it over the next five years.

• Price Targets: Like earnings estimates above, a company's stock price targets must also be converted into a percentage of its current price to properly compare multiple companies.
For their high, mean and low price targets over the coming 12 months, analysts believe CoreLogic's stock offers the greater upside potential and lesser downside risk, where Plantronics' stock offers the lesser upside and greater downside.

• Buy/Sell Recommendations: After all is said and done, perhaps the one gauge that sums it all up are analyst recommendations. These have been converted into the percentage of analysts recommending each level. However, I factor only the strong buy and buy recommendations into the ranking. Hold, underperform and sell recommendations are not ranked since they are determined after determining the winners of the strong buy and buy categories, and would only be negating those winners of their duly earned titles.
Of our two contenders, Plantronics is better recommended with 1 strong buy and 5 buy ratings representing 75% of its 8 analysts, while CoreLogic garners 5 strong buy and 2 buy ratings representing 70% of its 10 analysts.

C) Rankings
Having crunched all the numbers and compared all the projections, the time has come to tally up the wins and losses and rank our three competitors against one another.
In the table below you will find all of the data considered above plus a few others not reviewed. Here is where using a company's market cap as a denominator comes into play, as much of the data in the table has been converted into a percentage of market cap for a fair comparison.
The first and last placed companies are shaded. We then add together each company's finishes to determine its overall ranking, with first place finishes counting as merits while last place finishes count as demerits.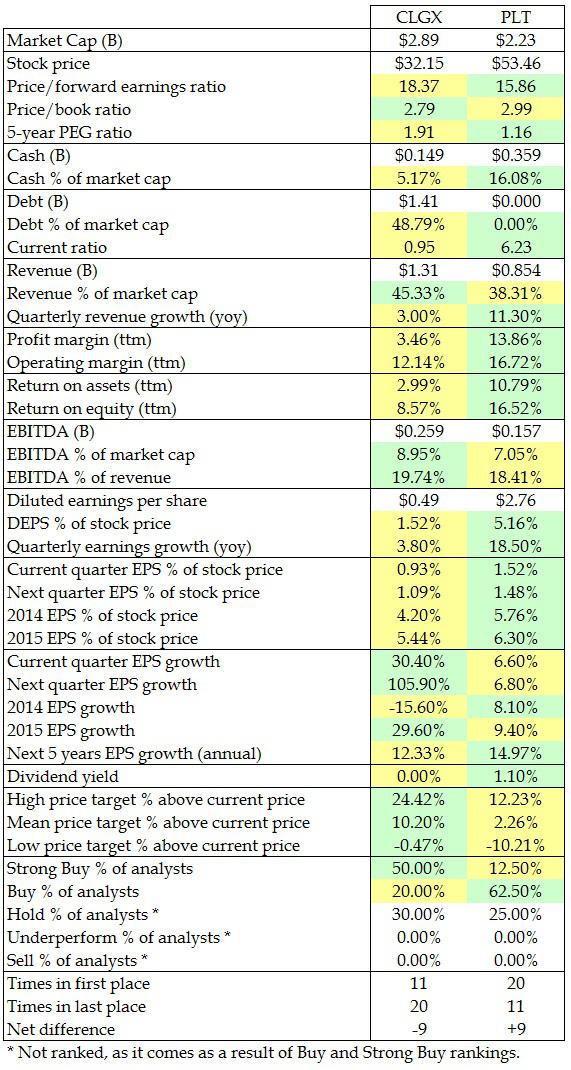 And the winner is… Plantronics by the sound of things, outperforming in 20 metrics and underperforming in 11 for a net score of +9, leaving CoreLogic with little logic in its core fundamentals, outperforming in 11 metrics and underperforming in 20 for a net score of -9.
Where the Processing Systems & Products industry is expected to outperform the S&P broader market significantly this and next quarters, meaningfully in 2015, and significantly beyond, the two largest companies in the space are expected to reverse-perform over the near term (at least in earnings growth) with CoreLogic growing the most, before reverting back to their normal positioning with Plantronics outgrowing over the longer term.
After taking all company fundamentals into account, Plantronics connects together the superior financial figures, given its lower stock price to forward earnings and 5-year PEG, higher cash and lower debt over market cap, higher current ratio, higher trailing revenue and earnings growth, wider profit and operating margins, higher returns on assets and equity, higher diluted earnings over current stock price, higher future earnings over current stock price throughout, higher future earnings growth over the longer term, higher dividend ratio, and more analyst buy recommendations - clearly winning the Processing Systems & Products industry competition.