It is a shame how politics can ruin one of the best, best managed and structured, and most environmentally sound mining projects in the Western Hemisphere by deciding against the approval of the Environmental Impact Assessment (EIA) for the Salave Gold project, based on opaque grounds last week. The company in question here is Astur Gold (OTC:ATRGF), a Vancouver junior mining outfit which was in the difficult process of developing its 100% owned flagship Salave Gold Project in Asturias (northern Spain).

Salave project; location map
Salave is one of the largest undeveloped and most profitable gold deposits (2M oz gold) in Western Europe at a relatively high average grade (3.1g/t). As a matter of fact, the main issue of this project for the last 2 years was the long awaited approval of the EIA, necessary for the subsequent granting of the full mining permit by the government of Asturias.
The company released its Preliminary Economic Assessment (PEA) on Salave on February 12, 2011, and had almost completed its Feasibility Study, some final adjustments were depending on the outcome of the final verdict on the EIA. The numbers were impressive on all scenario's for a gold price of $1100/oz, ranging from an after tax NPV5 of $357M to $553M, and an IRR from 30.0% to 47.7%. I recalculated the project extensively in my last article after integrating all adjustments the company would make for the upcoming FS, and this resulted in an after tax NPV6 of $95M and an IRR of 32.2%. A discount of 5% would result in an after tax NPV5 of $101M.
The final verdict turned out to be negative, which wasn't a large surprise as I estimated the chances for this at 70% in my last article on Astur Gold, but the motivation for it didn't satisfy anyone who was a stakeholder in the project of any kind. Not only management, staff, directors, lenders like RMB or investors like Pat Sheridan were disappointed, also thousands of local people who were looking for a job were left in the dark here by government. Not to mention the amount of taxes the local governments will be missing, probably being replaced by a very large claim by lender RMB anytime soon. Astur management is convinced this is a political decision, not based on any facts related to meeting environmental laws as the Principality appears to present in the media. Speaking volumes in this case is this statement of Astur Gold in its news release:
"The Government of Asturias based its decision on a non-binding negative report by the Cantabrian Hydrographic Confederation ("CHC"). The CHC's reports on Salave have been repeatedly questioned for their lack of rigor and analysis, not only by the company and specialized independent consultants, but also by the Geological Survey of Spain, who did not find any significant objections to the project that could not be remedied with appropriate corrective measures."
Investors acted rigorously on the bad news, dumping a lot of shares instantly: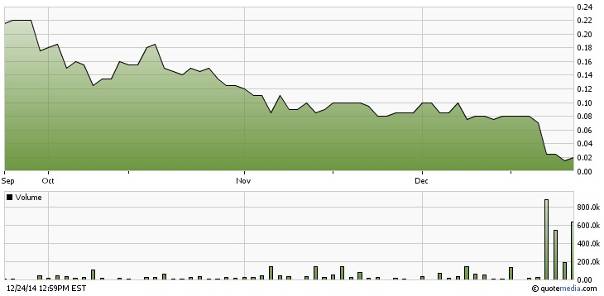 Astur Gold; share price 3 month period (Canadian listing AST.V, in C$)
This case brings back memories of Edgewater, being denied to develop its Corcoesto project in nearby Galicia, based on similar questionable decisions by government.
To illustrate the background of the Salave project, here is a recap of the story in hindsight.
The high grade Salave deposit, located in the province of Asturias, had a long history of mining companies trying to get the project permitted for mining. The last company trying in vain before Astur failed recently was Rio Narcea Mining (2005). Before the financial crisis struck in Spain, mining projects met a lot of resistance in Asturias, existing coal mines had to deal frequently with strikes and there were a lot of issues with tailings and spills. Lundin Mining (who acquired Rio Narcea in 2006) sold the project to Astur Gold during the financial crisis of 2009. This company came to Spain with the strategy in mind that people would recognize the importance of jobs again as it probably would soften sentiments regarding mining in politics and among inhabitants, look for the highest possible grade for best returns, and with a Canadian style environmental and community approach.
As the Environmental Impact Assessment was filed for review, it turned out not only environmental party APT had a lot of complaints, but also the important institution regarding water management, the CHC, which the Principality of Asturias (regional government) took very seriously. This resulted in just a part approval of the mining permit (the underground mine including underground crushing plant, concrete plant, waste dumps, surface stockpiles, 2.7 km decline,etc. was approved, but unfortunately not the mill and tailings facility), so Astur Gold couldn't start with construction, and had to change plans.
The mine plan became a different underground operation, the ore wouldn't go through a full recovery process but just milling and flotation, and a concentrate would be shipped to foreign smelters. The use of reagents like cyanide would be completely avoided at the Salave location, and any waste would be as clear as purified water according to extensive studies. The tailings area became smaller again as the tailings would be dry, and most tailings would be processed by cut and fill methods. This new approach had the potential to satisfy CHC, as the tailings will be dry stacked, and can't present a threat for water pollution anymore. Another important institution that advises the Principality is the IGME, which is the Mining Institute of Spain.
When the first mine plan was turned down in 2006, the predecessor of Astur Gold and owner of Salave, EMC, initiated a lawsuit against the Principality. By then, the mining plan was open pit, and this particular variant was out of the question. Underground was too expensive at the price of gold at that time and therefore no option, but the ruling of the supreme court stated EMC wasn't to be compensated for the discarded open pit operation, as the company still had the option to go underground at higher gold prices, so there still was value. When the Principality would rule out an underground operation as well this time, especially one which is so profitable and technically and environmentally sound, they could be in for another, much more problematic lawsuit.
IGME had approved the Salave project in the meantime, after Astur Gold spent most of their time and resources this year on optimizing their underground mining plan, having numerous reports to show for its environmental qualities. Unfortunately, CHC isn't that easy to persuade. CHC declared the location wasn't eligible for mining at all in 2012, as it would endanger the water table by tailing leakages etc. For them, an amended mining plan wouldn't be meaningful enough or even possible to overturn their negative advise. As a matter of fact, as recent as September 12, 2014 they confirmed discarding the entire possibility of a mine on the current location, based on any adjustment, like the recent ones the company submitted.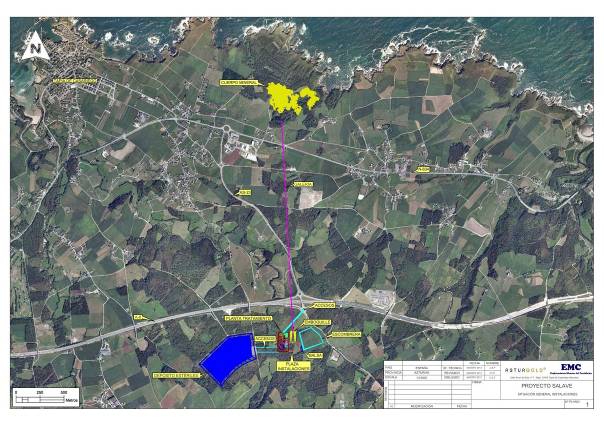 Salave project; location map (company material)
However, CHC isn't in any position to make such statements according to their mandate, so they are overplaying their hand here. I have checked this in the meantime with the Principality myself, and this has been confirmed. To make their actions even less credible, CHC suggested to Astur Gold to move the mine location into areas which are illegal for mining in the first place, and to submit an entirely new plan based on these new location options, effectively turning their "co-operation to a good process" into a charade.
CHC also prepared their own "report", showing all problems of the project according to them, without derailing any of the factual research being done by IGME or the engineering firms hired by Astur Gold. At the same time they are showing gross negligence in overlooking serious pollution from other past and current coal mining projects in the region. It is assumed they don't want to endanger the Spanish and European subsidies for these non profitable coal mines, and look the other way. Why CHC is so vehemently opposed to Salave is unclear to me and many others.
After all, it seems CHC succeeded in its opposition towards Salave, sending a clear message to the industrial mining industry that Spain isn't really interested in new mining projects anymore, despite the deteriorating economic situation and sky high unemployment figures. Where to go from here for Astur Gold? Lender RMB will probably take the lead in this, and initiate a compensation lawsuit as it has no interest in operating mining assets, and it is nearly impossible to sell Salave for their $10M now.
As RMB belongs to a very powerful financial institution and has many more resources to its disposal, chances are far greater to reach success compared to Astur Gold itself. How everything will be structured from now on isn't clear yet, as Astur Gold is waiting to receive the official documents and motivation of the Principality, and is planning on deciding what to do exactly based on the forwarded information. Big time royalty owner Pat Sheridan can't be overlooked either here, as he negotiated some interesting terms in the past as a former owner of Salave.
My best guess would be the development of some kind of vehicle around EMC, the subsidiary of Astur Gold as it still owns the Salave project which is its only asset. This vehicle will probably try to get compensation through a lawsuit as mentioned for $20M in costs, and probably some theoretical $450M in lost profits according to underground scenarios described in the 2011 PEA. As the PEA project wasn't compatible with existing laws, the current NPV (which I see as compatible despite the negative decision) is probably much lower and a PEA has a high margin of error (25-35%), I consider this amount to be unrealistic, but one has to aim high in these kind of lawsuits in general, it's just a negotiation.
RMB would probably be a major shareholder in the vehicle as first lien creditor, possibly Sheridan the other large shareholder in return for his royalties, and possibly Astur Gold could ride along on the back seat a minority shareholder. In case of just a $20M compensation, RMB would like to see their $10Mb back at least, Sheridan and Astur will get what's left. In the case of RMB succeeding in fetching $100M or more, the earlier investments of all parties can be deemed very successful, but I am convinced this will be difficult, and probably will take a very long time to pan out, at least 3-5 years.
It is not that the project isn't sound in any way thinkable, Salave is capable of withstanding the fiercest scrutiny available. It will be Spanish machinations behind the scenes that will decide about this case, and any decision will most likely be politically motivated, therefore incorporating lots of additional risks regarding the outcome. I am not sure what Astur Gold will do when RMB and possibly Sheridan would overtake EMC, as Astur will have no asset and not much cash left. It could delist itself, but also wait for eventual compensation for years as a dormant company, paying 20-30k annual listing fees as a nano cap with not much personnel left and a share price of $0.005-$0.03 for years. Or they could start all over again, doing a roll back, raising cash, buy another property and change its name and ticker, as a new listing and its listing fee (about $200k) would be more expensive. Time will tell.
I hope you will find this article interesting and useful, and will have further interest in my upcoming articles on mining. To never miss a thing, please click on the bold link labeled "Follow" above the title at the top of this article to get an email notice of my new articles soon after they are published.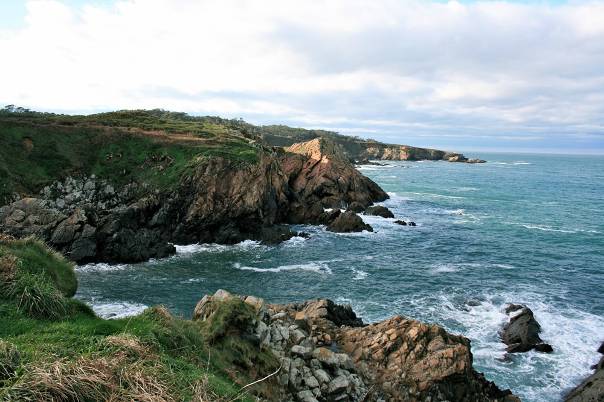 Asturias, coast of Salave
Disclosure: The author has no positions in any stocks mentioned, and no plans to initiate any positions within the next 72 hours.
The author wrote this article themselves, and it expresses their own opinions. The author is not receiving compensation for it (other than from Seeking Alpha). The author has no business relationship with any company whose stock is mentioned in this article.
Editor's Note: This article covers one or more stocks trading at less than $1 per share and/or with less than a $100 million market cap. Please be aware of the risks associated with these stocks.