Situation overview
Civeo (NYSE:CVEO) is one of the largest providers of permanent and temporary workforce accommodations, catering, facility management and logistic services. Historically, it was a division of Oil States International (NYSE:OIS) but being spun-off after pressure from activist investors. Over the last 3 months, Civeo faced, consecutively, 2 significant and unexpected issues that led to 70% plunge in its shares. In light of the Street projections, CVEO currently trades at 5.4x 2015E EBITDA and 72% of book value, which is highly undervalued according to pretty much any valuation method.
Sources of the severe undervaluation
Firstly, option of REIT conversion was turned down by the management. Management believes converting to a REIT would do little to reduce most of the company's taxes, since nearly 96% of adjusted EBITDA came from camps located outside of US - in Canada and Australia. It was estimated that purging of undistributed earnings, depreciation recapture and repatriation tax related to REIT conversion would lead to $720mil worth of expenses making conversion option economically not viable. But long Civeo trade to profit from increasing EV/EBITDA multiple on the back of REIT status expectations appeared to be very crowded, which led to over 45% drop on the "non-conversion" plan release since many investors rushed for exit at the same time.
Secondly, oil price nearly halved during the last 3 months, which created poor sentiment regarding Civeo's camp occupancy rates and long-term growth prospects. Additionally, the company reported difficulty with finding tenants for certain locations with contracts that are set to expire during 2015. This led to even the more patient investors, who anticipated strong industry fundamentals headed for the exit. As a result, there were very few people willing to step in and buy the stock, which led to the collapse of excessive magnitude with valuations indicating this.
Long-term nature of the business to support revenues
Civeo's customers are making multi-billion dollar investments to develop their prospects with projects' length of 10-20 years. Consequently, capex and demand for workforce camps are dependent on those customers' longer-term view of commodity demand and prices.
Oil needs to stay at $40 mark for prolonged period of time to cause large scale cancellations of the existing projects, particularly in light of significant decline in breakeven price over the past 4 years for big Canadian producers who account for majority of Civeo's customers. There is typical production cost of $35-45 per barrel for the large scale Canadian oil sand projects and $50-60 for the smaller and remote ones.
Cenovus's (NYSE:CVE) major projects' supply cost: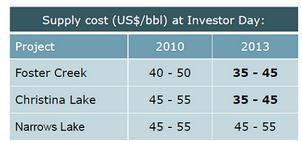 Source: Cenovus company data
For example, Cenovus has $35-45 per barrel supply cost, according to company data. Suncor (NYSE:SU) announced plans to spend between $7-8bn next year on Alberta's oil sands despite lower prices, and according to company data, has oil sand cost at $31 per barrel. Canadian Natural Resources' (NYSE:CNQ) reported cost of production in the $40 range for its major Horizon project, but those costs are projected to decline to $25-35 range over the project's life.
Additionally, oil companies typically hedge 70-80% of their next year's output, which provides them with at least 1 year of waiting time in case oil price rebounds and before announcing project cancellations.
In the longer term, demand for accommodation camps should get support from development of Canadian LNG export facilities aimed at moving excess gas output to Asia. Currently, there are 4 proposed LNG liquefaction projects with Shell, KOGAS, Mitsubishi (OTCPK:MSBHY) and PetroChina (OTCPK:PCCYF) working together on the largest LNG Canada project in British Columbia.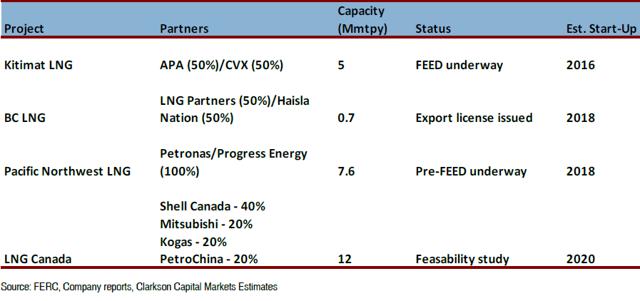 The contract structure for Civeo's workforce camps offers significant recurring revenue and limits exposure to commodity price fluctuations. According to the company data, the typical contract structure is such that it should support occupancy and RevPar rates from rapid decline, and offering revenue cushion for at least 2 years.
The typical contract has take-or-pay terms with two to five year period and minimum occupancy requirement. Terms generally provide for a rental rate for a reserved room and an occupied room rate that compensates for services, including meals, utilities and maintenance for workers staying in the lodges and villages. In case of drop in occupancy, Civeo can still collect the rental rate from the reserved rooms. Furthermore, there are annual contractual escalation provisions to cover increases in labor and consumables costs. Majority of contracts have termination provisions but customers incur a material termination fee, which makes additional case for Civeo's business being sticky and less volatile.
Activist involvement to help closing the discount
Following the initial sell-off Greenlight Capital doubled its stake to 9.9% of the company. Following this, Einhorn then disclosed in a filing that he was having discussions with Civeo's board and management, and wanted the company to remove CEO on the basis of him "losing shareholder trust". Additionally, he required levering the balance sheet and instituting high dividend payout ratio. Two weeks later, JANA Partners (11.5% activist shareholder) reached agreement with Civeo, where three of its nominees were added to the company's board as independent directors. As part of the pact, JANA supported the firm's re-domiciliation to Canada. Civeo's management announced that its key priority is "high payout ratio and return to shareholders of a substantial majority of the company's after-tax free cash flow".
On the back of a major hike in dividends, I believe the undervaluation would become more evident and this should act as strong catalyst to close the discount. Company has a very strong balance sheet with 1.6x Net Debt/EBITDA, which can be used to take on more debt and institute share buyback, hence optimizing the capital structure of the company.
Valuation
Accommodation capacity should increase around 10% at the end of 2014 on the back of capex program adding ~2,000 new rooms. At the same time, assume a low case scenario with occupancy dropping to 65% and EBITDA margin declining to 30% on the back of sharply falling demand vs. recent figures of 88% and 35%, respectively.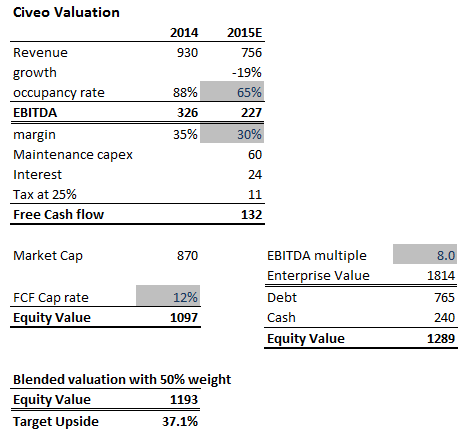 Source: Author's estimates
Civeo has no direct public comparables, and hotel REITs may be the closest alternative. Both have cyclical business nature - Civeo is dependent on global commodities, and hotel lodging is tied to GDP growth and business travel. I would assign discount to Civeo's target EV/EBITDA multiple and cash flow capitalization rate applying 8.0x EBITDA multiple and 12% cap rate respectively based on its higher industry volatility and lifetime of camps limited to 20 years. Hotel REITs currently trade at average 12-14x EV/EBITDA and 6-8% cap rate. On the back of the discounted multiples and low case earnings for 2015, we still arrive with 37% upside on the basis of the blend of target cap rate and EBITDA multiple valuations. This implies great margin of safety and opportunity for much greater upside in the likely case of earnings being higher than projected.
Disclosure: The author has no positions in any stocks mentioned, and no plans to initiate any positions within the next 72 hours.
The author wrote this article themselves, and it expresses their own opinions. The author is not receiving compensation for it (other than from Seeking Alpha). The author has no business relationship with any company whose stock is mentioned in this article.