Community Health Systems (NYSE:CYH) is a network of general acute care facilities operating 207 hospitals in 29 states. Their unique business model along with their recent acquisition of Health Management Associates (NYSE:HMA) creates a significant competitive advantage in the space. The company is set to double EBITDA between 2013 and 2016 and we think the company is set to grow its share price accordingly. In addition to the HMA acquisition, they have added upside drivers stemming from the Affordable Care Act, which should ramp materially this year, cost synergies, and additional acquisitions- though these will likely be of the prior variety purchasing one-off or small hospital systems.
Business Overview
Community Health Systems provides general and specialized hospital functions to patients across 29 states in the US. The company provides basic inpatient and outpatient medical and surgical services with emergency room services, rehab centers, and skilled nursing and home care. They also have an urgent care network, imaging centers, and cancer centers. The network sees over 1 million annual admissions and 5 million annual ED visits. Community has over 22,000 physicians and medical staff.
Recent Consolidation And Synergies With HMA Lend to Future Growth
The company is an acquisition machine acquiring approximately 120 hospitals since 1997. On average they acquire about 5 hospitals per year. Management focuses on integrating these new hospitals quickly and realizing synergies from cost leverage and their strong scale in the market.
In 2007, Community acquired Triad Hospitals for $5.1 billion ($6.8 billion including debt), in a deal that created the largest public hospital network in the country. Triad had been struggling with higher costs and lower adjusted EBITDA margins which fell from 14.5% to less than 12%. Community was able to come in and using their experienced acquisition team, leverage the operation and reduce expenses. Adjusted EBITDA margins expanded back out to their prior highs and more recently to 16%.
The Health Management Associates acquisition was slightly larger at $7.6 billion including the outstanding debt. HMA had also been struggling with weaker margins as well as very public management execution issues. Glenview Capital, a well-known hedge fund, owned a large stake in HMA shares amounting to 11% of the company's total. Prior to the purchase offer from Community, Glenview proposed ousting the board and management team while nominating eight directors. Clearly the hedge fund had zero trust in the company's management.
The acquisition added 71 hospitals into the Community portfolio with what we think is a complementary geographic fit. HMA's adjusted EBITDA margins were 15% to 16% from 2010 to 2012 but fell due to execution and poor employee morale to between 12% and 13% more recently. Management originally forecasted $150 to $180 million of annual synergies within the first two years. More recently, they've increased that forecast to $250 million. We like when management gets into the weeds of an acquisition and feels confident enough to boost their synergy forecast. We've found that in many of these cases, it turns out to be too low even after the update.
We think this acquisition was a screaming buy and increased the size of Community by nearly 35%. The physician and patient satisfaction rates at HMA were considerably below that of Community, thus, if they can boost those figures, we could see at least 300 bps of margin growth in two years. They were able to see breakeven EPS in the first year following the purchase and we are now forecasting meaningfully accretive earnings for 2015 and 2016 (and thereafter), excluding amortization. The acquisition levered up the company's pro forma balance sheet to approximately 6.0x EBITDA by the end of 2014. Management has indicated that they will attempt to delever quickly over the next year. This should significantly increase free cash flow on the back of lower interest expense.
ACA Should Benefit the Company With Less Uninsured Visits
We think Community offers a unique business model and a competitive advantage given its geographic makeup. Hospital financial performance is predicated on several factors including facility size and location, ownership structure, payor mix, and the ability to participate in group purchasing organizations.
Their focus is on the non-urban population, which the US census pegs at 19.3% of the total population, where hospitals tend to be the primary source of healthcare. In many cases, a single hospital will typically be the only provider of general healthcare services in the community. This offers unique positioning for Community in regards to health care reform that recently took shape.
We think the organization will be able to use their power within the communities as the sole provider of health care services when negotiating with the state or federal exchanges. Community should be able to bargain favorable reimbursement rates with the insurers and state payors. Their hospitals are located in nine of the top highest states for uninsured and 26 of the top 30 highest uninsured states in the country. They are participating in the lowest cost health care exchange plans in their markets which tends to attract the most uninsured patients.
We estimate that the company is generating approximately $90 million of EBITDA benefit from health care reform in 2014 solely based on Medicaid expansion and these newly insured patients. This is simply derived from the number of uninsured in their markets, which management estimates at 55%, that are Medicaid eligible and are likely to sign up. By shifting the non-paying uninsured to Medicaid and exchanges, they can see a significant increase in paid services.
For 2015, the added tailwind from the ACA should increase to approximately $100-$125 million incrementally as the reduction in uninsured continues to increase. Our model forecasts a 15% reduction in 2014 and another 10% reduction in 2015. We think 75% of those uninsured get onto the state Medicaid program while the rest go to the exchanges.
Acquisition Strategy Should Keep Adding Incremental EBITDA while Deleveraging Benefits Shareholders
The company has an acquisitions-based growth strategy that has worked extremely well for them over the past decade. The enormously successful integration team at Community has been able to augment organic revenue growth through these acquisitions, but more so, significantly improve EBITDA generation. As the slide below from their recent Credit Suisse Investor Conference indicates, while revenue growth has increased 15.7% through the acquisitions, EBITDA production has grown by 91%!
In 2014, they conducted four additional acquisitions, in addition to the HMA purchase which closed in January. The four regional health systems produce an $80 million EBITDA run-rate. The company typically undertakes between three and six small hospital acquisitions per year and incorporates that into their guidance. Given the ACA challenges for some small, and especially rural, health systems, the company may increase the number in order to take advantage of those dislocations.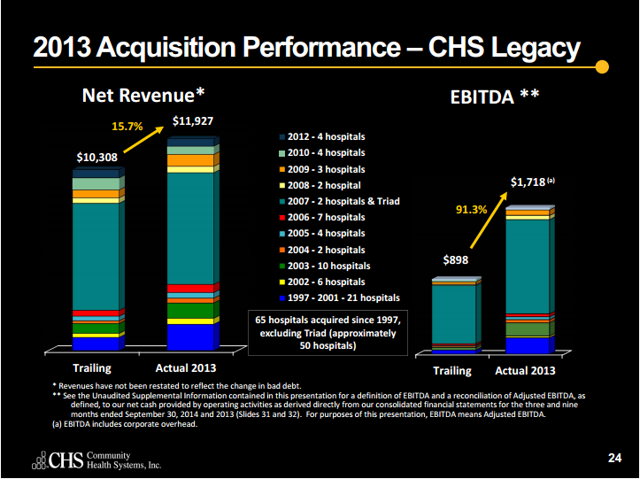 (Source: Investor Presentation Nov 2014)
However, in order to undertake more acquisitions, the company will need to get its balance sheet in better order. The HMA acquisition added a significant amount of debt to the books, with total debt going from $9.4 billion to over $17 billion after closure. The net debt to EBITDA ratio, already high prior to the acquisition, soared from 5.5x in the fourth quarter of last year to over 10.0x in the first quarter following the closing of the deal (pro-forma, the figure is closer to 7.0x today and likely 6.0x by year-end).
Management has stated that a primary goal is to delever the balance sheet in order to improve their credit and financial flexibility. They have already begun doing so and expect to push down the leverage to the mid-4.0x area over the next 24 months. We think the majority of the leverage reduction will come in the form of EBITDA growth rather than debt pay down. As we will detail below, EBITDA should double between 2013 and 2016, greatly improving that leverage picture.
Valuation
In 2013, prior to the HMA acquisition, EBITDA totaled $1.68 billion and the shares traded at approximately 8.0x that total. We think the company could, with the HMA financials consolidated, plus synergies, ACA ramp, and likely further accretive acquisitions, achieve $3.2 billion of EBITDA in 2015 and possibly $3.5 billion in 2016. The core business is likely growing in the low-to-mid single-digits but the true conduit to that doubling of the EBITDA over a three-year time period are the items laid out above, primarily the HMA acquisition and synergies within.
2015 will have the first full year benefit from the HMA acquisition. We believe management is low-balling the potential synergies from the transaction. This was the case with the previous Triad acquisition where management initially pegged synergies at $275 million but increased that figure in every subsequent quarter until the integration was completed. We think the $250 million (an incremental $125 million over 2014) that management has outlined for 2015 is likely low by at least $50 million. Synergy forecasts by management have already increased twice since the acquisition.
As the company delevers, we think the free cash flow of the business should increase materially. Last year, free cash flow was $474 million which should grow to $570 million this year and then jump to $725 million in 2015 and nearly $800 million in 2016. The increase is on the backs of the synergies and ACA traction that is expected over 2015. That equates to nearly a 5% free cash flow yield based on current debt levels. As that debt is paid down, the free cash flow yield should move much higher.
We estimate that the shares are worth approximately $67 a piece with that target 12 months out. That represents upside of 27% from the current trading price. Our thesis on valuation remains conservative with pro-forma EBITDA 2016 rising to $3.45 billion and a multiple of 7.3x on that figure.
| | |
| --- | --- |
| Pro-Forma 2016 |   |
| EBITDA | 3,450 |
| Multiple | 7.3 |
| EV | 25,185 |
| Net Debt | 17,574 |
| Equity | 7,611 |
| Shares | 113.5 |
| Intrinsic Value | $ 67.06 |
| Upside | 27% |
(Source: Author's Calculation)
The multiple is likely low, in our opinion, as it incorporates some of the potential synergy risk, as well as the leverage risk. We think those risks will subside when the company reports their fourth quarter results and adds in updated guidance figures for both the year and synergy expectations. The peer group mean for EV/EBITDA is 8.3x, currently.
Conclusion
As the risks from the ACA subside and the visibility from its benefits become more apparent, we think Community is poised to see significant tailwinds over 2015 and 2016. The integration of HMA and the potential synergies within, are likely conservative, setting the state for meaningful upside surprises. We think the first of which will come in early February, during their fourth quarter conference call, when management will give out guidance for the upcoming year. The company is in transition into a rural health system powerhouse which we think lends significant competitive advantages over urban systems, especially when it comes to healthcare reform. We think many of those benefits are not embedded into the financial results.
Disclosure: The author has no positions in any stocks mentioned, and no plans to initiate any positions within the next 72 hours. The author wrote this article themselves, and it expresses their own opinions. The author is not receiving compensation for it (other than from Seeking Alpha). The author has no business relationship with any company whose stock is mentioned in this article.