Small cap company Civeo(CVEO), is a recent spin off from its parent, Oil States International(OIS). It provides accommodation services globally in the oil and gas sector. As I was looking for contrarian play in the oil and gas sector, I came across Civeo which is not doing well in my existing portfolio. I committed additional capital to Civeo to dollar cost average for the following 5 reasons.
1. Small Cap companies provide higher returns once the bear market is over
Small cap companies fall sharply during the bear market. Companies that survive bear markets tend to provide great returns once normalcy is back in the sector.
Like other small caps in the oil and gas sector, Civeo fell sharply over the last 3 months and is attractively priced now as evident from its key financial ratios.
Civeo trades at a very low P/E ratio of 7.3 for a services company
Civeo is currently trading at 31% discount to book value with P/BV of 0.69
Market cap of Civeo is currently at 41% discount to its enterprise value. (Market cap of $854.9 millions vs Enterprise value of $1450m)
2. Civeo is not a highly leveraged company
Companies with a high debt load find it difficult to survive in a downturn. Civeo has healthy debt ratios and is not a high leverage company.
Long term Debt / Equity (62.6%)
Total Debt / Equity (38.12%)
Current Ratio ( 4.47)
The current ratio of Civeo is high and can easily meet its obligations even with some deterioration in the conditions.
3. Civeo has a good dividend yield with a low payout ratio
Civeo is currently paying a dividend of $0.13 per quarter with a low payout ratio of 44%. If oil prices decline further, the company can conserve cash by either cutting down or canceling dividend to weather adverse conditions in the energy sector. In case of a severe bear market situation, investors need to be prepared to forgo dividend for some time and can expect the management to put the cash for better use.
4. Expect operational efficiency improvement with redomicile to Canada
Civeo initially considered conversion to REIT and instead decided to redomicile to Canada for tax savings. Share price declined sharply on this company's decision. However, the current management strongly believes that redomicile is a better option for value creation.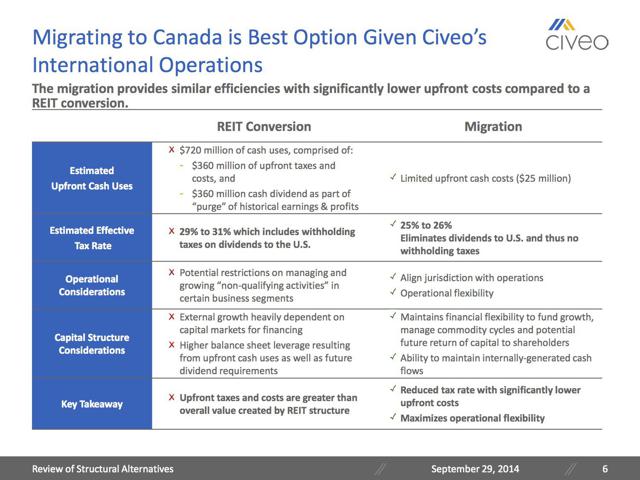 (Source: Company Presentation)
Here is what Company's President and CEO, Bradley J. Dodson said in the latest earnings press release:
At the end of the quarter, we were pleased to complete our thorough analysis of our structural alternatives and have begun our efforts to redomicile to Canada. Moving the company to Canada will provide operational and financial efficiencies as well as an optimal tax position. We expect to complete the migration to Canada in the second or third quarter of 2015.
The management is currently under tremendous pressure to improve share holder value as the market punished the stock in disagreement with their decision. With committed management and lower tax rate, investors can expect higher return after the redomicile to Canada.
5. Big hedge funds are on your side
Two well known hedge funds, Jana Partners and Greenlight Capital invested in this company.
Jana Partners currently holds around 11% of the company stock and has 3 independent board representatives. Jana agreed to support the management in their decision to redomicile to Canada with the emphasis on yield as core value proposition. Here is what the company said in its press release about the appointment of new board members:
Separately, Civeo today announced its commitment to emphasize yield as the core component of the Company's value proposition, including a high payout ratio and return to shareholders of a substantial majority of the Company's after-tax free cash flow (after maintenance capital expenditures). JANA has also agreed to support Civeo's plan to redomicile in Canada through a "self-directed redomiciling" under U.S. tax laws to provide superior operational and financial flexibility coupled with a lower tax rate.
In last October, David Einhorn of Greenlight Capital increased his stake in the company to around 10% at a price of around $12 following the sharp price decline after the decision against the REIT conversion. David Einhorn still believes the company should consider the REIT conversion and is in disagreement with the current management. In his 13D filing, the purpose of the transaction is stated as below:
Since the announcement, the Reporting Persons have had conversations with the board and management of the Issuer, and expect to continue having such conversations. During these constructive conversations with the board, the Reporting Persons made the following suggestions as to what the Issuer should do:
the Issuer should take on leverage to make its capital structure more appropriate for a real estate company;
the Issuer should implement an aggressive program of returning capital to shareholders through a well-communicated dividend policy; and
the Issuer should replace the CEO, Bradley Dodson, who the Reporting Persons believe has lost the support and confidence of the Issuer's shareholders.
Even though these hedge funds differ in their approach to increase share holder value, they have a common goal of getting great return on their investment. As their acquisition cost is higher than the current price of the stock, they will work towards the increasing of share price.
It is also worth noting that three insiders purchased stock at a price of around $12 on September 30.
Conclusion
As I started analyzing small cap energy companies as a contrarian investment idea for 2015, I came across Civeo in my existing portfolio that is currently trading at much lower price than my original acquisition price. Based on the strong fundamentals of Civeo and its ability to weather the current storm, I decided to put part of my capital in this company to lower down my acquisition cost for a long term return.
Disclaimer: The author is not a registered financial advisor and does not purport to provide investment advice regarding decisions to buy, sell or hold any security. Before making any decision to buy, sell or hold any security mentioned in this article, investors should consult with their financial adviser. The author has relied upon publicly available information and the author provides no guarantee on the reliability of that public information. The author undertakes no obligation to update this report based on any future events or information.
Disclosure: The author is long CVEO.
The author wrote this article themselves, and it expresses their own opinions. The author is not receiving compensation for it (other than from Seeking Alpha). The author has no business relationship with any company whose stock is mentioned in this article.