The Brazilian Real continues to fall as a weak economic backdrop alongside fear of potential U.S. policy tightening in 2015 deters investors from buying the currency. WisdomTree Brazilian Real (NYSEARCA:BZF) is down around 15% since December, as is seen in the chart below.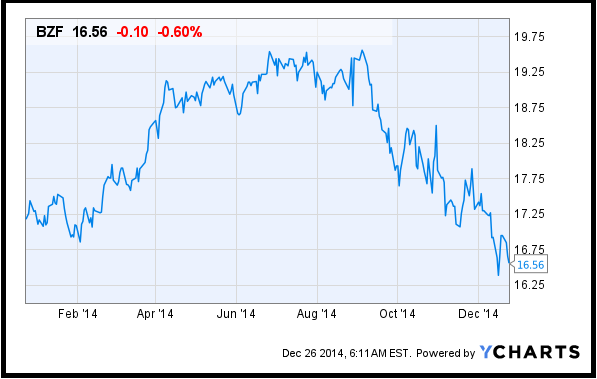 One of the more prominent reasons Brazil's currency is falling right now is because of U.S. dollar strength. With strong economic growth and labor market data over the last few weeks in the U.S., investors are now almost certain the Federal Reserve will begin raising interest rates in 2015. This move adversely affects the real as higher interest rates will cut off capital flows to foreign currencies and lead to a strengthening U.S. dollar. Already, PowerShares DB US Dollar Index Bullish (NYSEARCA:UUP) is up over 12% since July, as is seen in the chart below.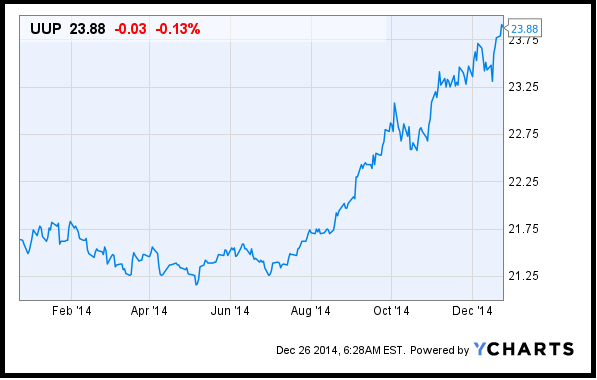 Meanwhile, Brazil's economy remains in a state of recovery as inflation measures are elevated, alongside declining economic growth. In November, the annual pace of inflation was 6.56%, slightly below the previous month's reading of 6.59% but above forecasts for 6.44%. Although President of Brazil Dilma Rousseff promised change after being re-elected, there is still a long way to go from near 7% inflation growth to a more stable sub-5%.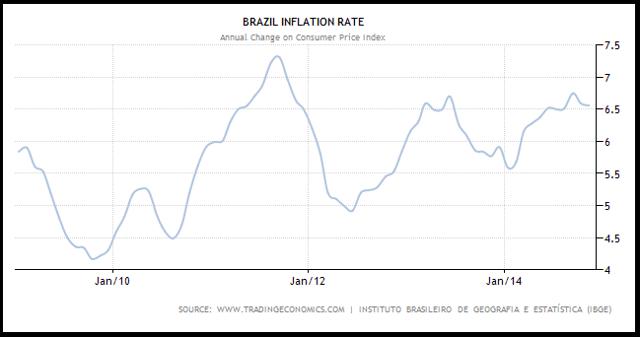 Data provided by Trading Economics
Moreover, Brazil's economy contracted the last few quarters. In the third quarter, Brazilian economic growth was an annual -0.2%, above the previous quarter's reading for -0.9% and in line with estimates for -0.2%. Under Rousseff's tenure as president, economic growth in Brazil has fallen from near 10% to now contraction levels, as is seen in the chart below. Economic weakness was blamed on "a drop in investment and slowing consumption," according to Trading Economics.
"In the third quarter, gross fixed capital formation contracted for a third straight period, falling 8.5%, while consumer spending rose a meager 0.1%. Meanwhile, the industrial sector shrank by 1.5%, its second consecutive quarter of decline. Construction recorded the highest drop (-5.3%), followed by manufacturing (-3.6%)," according to a report by Trading Economics.
Brazil is struggling as domestic factors, such as falling growth and rising inflation, are paired with external factors, like higher U.S. interest rates. The country is in a bind, and is being adversely affected by many different sources. Investors have chosen to avoid the mess and wait for Rousseff to correct the situation before more investor dollars go to waste. For this reason, expect the Brazilian real to continue to decline.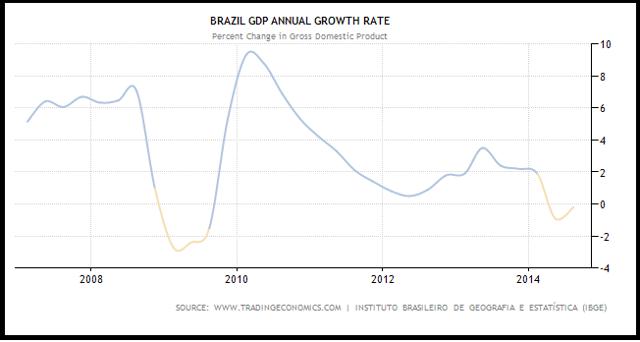 Data provided by Trading Economics
Disclosure: The author has no positions in any stocks mentioned, and no plans to initiate any positions within the next 72 hours.
The author wrote this article themselves, and it expresses their own opinions. The author is not receiving compensation for it (other than from Seeking Alpha). The author has no business relationship with any company whose stock is mentioned in this article.