Cheetah Mobile (NYSE:CMCM) is one of the victims of a vicious selloff in Chinese internet stocks. Most of them are down significantly from 52-week highs, and one of the reasons for the selloff is the increasing competition which is having a negative impact on profit margins. No one can be certain for how long the weakness in the sector will persist, but I believe that Cheetah is well positioned for continued growth and that the current price should prove to be a bargain in two to three years. I'm initiating coverage on Cheetah with a buy rating and a $32 price target. Further downside is possible, but the stock is currently trading at just 21x its 2015 EPS, which is quite low given the growth potential, and the stock is trading at a significant discount to its expected growth rates.
Q3 highlights
Cheetah's third quarter was the third consecutive quarter of accelerating top line growth. The acceleration in growth rates was driven mainly by mobile growth, but PC related revenue growth also has accelerated. Q3 revenue increased 158% Y/Y and 25% Q/Q to $78 million. Revenue in Q1 and Q2 was up 131% and 139%, respectively. Mobile revenue increased 627% Y/Y and 48% Q/Q to $18.4 million, led by a significant ramp-up in mobile advertising revenues in the overseas market. Mobile accounted for 24% of total revenues in Q3 compared to 8.4% in the same quarter last year. Non-GAAP net income rose 360% Y/Y to $9.8 million.
Gross margin decreased 290 bps Y/Y to 77%, and management expects the gross margin to continue to trend down by 100 to 200 bps a quarter in the following quarters on changes in the revenue mix. On the other hand, we are seeing some operating leverage in the business model as the non-GAAP operating margin and net margin rose 370 bps and 400 bps Y/Y, respectively, to 10.8% and 12.6%. This is a solid achievement given the fact that the company is in a stage of rapid growth and expansion which is characterized by higher spending. That is especially true for sales and marketing expenses, as they increased 251% Y/Y in Q3, much higher than the top line increase. The increase in spending was mainly due to promotional expenses related to expansion of the mobile business and on global penetration. R&D expenses ramped up too, mostly on increased headcount as Q3 is a seasonally strong quarter for R&D hiring, which is the time when graduates land a job.
Although the operating performance in Q3 was exceptional, management warned that their near-term focus is not margin expansion, and that the company will continue to invest aggressively to expand its global reach and to increase its user base.
PC growth is strong but there are warning signs
PC revenue growth has been consistently strong over the last couple of years. The quarterly growth has been mostly in triple digits since Q1 2012, with just three quarters of growth between 95% and 99% (see table below). In fact, PC revenue growth has accelerated in the last two quarters, from 95% in Q1 to 99% in Q2 and 115% in Q3. On the other hand, user metrics are pointing to lower growth going forward. Monthly active users of the Duba.com Personal Start Page increased 54.5% Y/Y to 61.6 million, which represents a slowdown from a 70% increase in Q2, and MAUs are down 9% from 67.7 million in Q2. Management stated on the Q3 conference call that the sequential decline is due to seasonality since September is the back-to-school month which is characterized by lower user engagement. Cheetah's CEO Sheng Fu also said that "if you look at the average for the whole quarter, which is including July and August and September, you'll actually see a mid-teen increase in terms of our monthly active users." So, the numbers are distorted by the beginning of the school year, which has a negative impact on user traffic.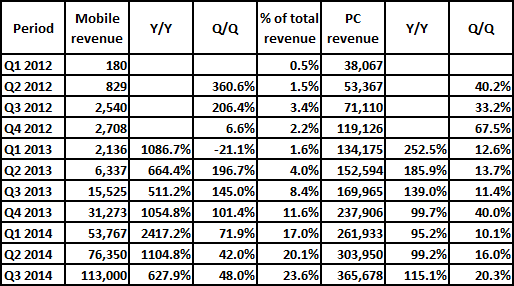 Source: Cheetah earnings reports
On the other hand, it is normal for the growth to slow down, and that is what we should expect going forward, at least for PC growth. That is what Cheetah's management also is expecting - more moderate growth rates going forward. They also see opportunities for improvements in monetization of PC user traffic, which should have a positive impact on the company's operating model and should improve margins going forward. I believe that there are significant growth opportunities in the PC segment but that the triple digit MAU and revenue growth are most likely behind us.
Mobile growth picking up, especially in overseas markets
What I believe is most exciting about Cheetah is the significant improvement in mobile monetization. Mobile revenues have grown from just over $300K in Q1 2013 to $18.4 million in the third quarter. A look at Cheetah's mobile user and revenue metrics reveals that the company is firing on all cylinders:
- Mobile MAUs increased 184% Y/Y to 340 million.
- Mobile revenue increased 628% Y/Y and 48% Q/Q to $18.4 million and accounted for 24% of total revenues, up from just 8.4% of total revenues in Q3 2013.
- The company's flagship app Clean Master remained number one in the tool category on Google Play, and more than 16 million users rated it 4.7 out of 5, which is the highest rating among the major apps.
- Clean Master and CM Security were once again rewarded the top spot on AV-Test in September.
Cheetah also has made significant progress in overseas markets. Overseas mobile revenues accounted for more than 10% of the total revenue in Q3. The company now has relationships with hundreds of mobile advertisers overseas, thanks to its new business development center in San Francisco. Cheetah also has started testing a number of mobile games in different overseas markets, which should also help with the long-term efforts in overseas markets. The beginning of significant monetization in overseas markets is quite important as most people are skeptical about the success of a Chinese company abroad. As a consequence, the management team has focused a lot of attention on the U.S. and other overseas markets, and they see very strong momentum in mobile monetization. Management pointed out that the mobile overseas ad business has achieved more than $200K per day in revenues in Q4, which amounts to over $18 million for the quarter, compared to just $7.8 million in Q3. The addressable market is very large, and this is just the beginning phase of the ramp up in the overseas markets, which holds a lot of promise for the company.
New partnership with Kingsoft and OEM partnerships to help with mobile monetization
Cheetah and its Kingsoft (which has a 48% stake in Cheetah) have announced on October 15 that they have entered into a joint operation framework agreement. According to Cheetah's statement: "Cheetah and Kingsoft will jointly operate games developed and owned by Kingsoft on Cheetah's products and platforms. Kingsoft will provide game content and relevant updates while Cheetah will be responsible for the operation, promotion and distribution of those games." Cheetah will retain 50% to 80% of the generated revenues and pay licensing fees to Kingsoft, ranging from RMB2 million to RMB15 million per game. The partnership puts Cheetah in a favorable position to grow its mobile business going forward. Kingsoft has a strong presence in the online games market, and its Q3 online games revenue was $49.5 million. Kingsoft has 13 mobile games in the pipeline and two are scheduled to be released in Q4. Both Kingsoft and Cheetah are going through a "mobile transformation" in 2014, and the early results are quite encouraging. The combined mobile user base of 410 million gives them a great opportunity to rapidly expand in the mobile games segment and significantly increase mobile monetization in the following years. I do not expect a meaningful contribution to Cheetah's revenue in the near-term, but the results should be visible in the second half of 2015 as the partnership ramps up.
Another likely growth driver for the mobile segment is the expanding partnership network with OEMs which should act as a supplementary distribution channel. Recent partnerships include India-based Karbonn and Lava and Taiwan-based HTC, which should grow with user base expansion and increased mobile monetization. The company has gained a lot of experience with pre-installations in recent quarters and it should manage the channel more effectively going forward. Deeper integration with OEMs and exclusivity are the key strengths of this strategy and the negative side is the potential decline in user engagement. I believe that this strategy is net-positive for Cheetah and that it should help the company's growth efforts.
Conservative Q4 revenue guidance
Cheetah guided Q4 revenue growth between 108% and 112%, which would represent a slowdown over Q3. Management has proved to be conservative with its revenue forecast, at least if we look at the previous two quarters. In the table below, you can compare the revenue guidance with the reported numbers. Given management's remarks about the success of mobile monetization in overseas markets, the overall momentum in the business and the low guidance in the previous two quarters, I believe that the Q4 revenue guidance is once again conservative and that management has set the bar low in order to provide a solid revenue beat. I expect Q4 revenue to increase between 120% and 130% or perhaps more, which should be a significant catalyst for Cheetah's share price.

Source: Cheetah SEC filings
High short interest - a double positive
Cheetah's short interest has steadily increased since the company went public in early May, but has recently stabilized around 6.5 million shares. At the same time, the average volume is declining, and the days-to-cover ratio has risen to above 14 days. I consider the current level of short interest as very positive for Cheetah over the next couple of months. I believe that the shorts are becoming increasingly satisfied with their gains in the last couple of weeks and that they might start covering on the way down, which should help protect the downside and cause a bottom in Cheetah's share price. I say this because one of the likely reasons for being short Cheetah, its high valuation, is not so much of a concern now, since the company is trading at 4x its 2015 revenue and at 21x its 2015 EPS, which seems very low considering the substantial growth potential over the next couple of years. The second positive for the high short interest is that when we get good news (whether it is sector-related or company-related) the shorts might start covering their positions at higher prices, leading to a minor or major short squeeze, depending on the impact of the potential catalyst. If we add the diminishing volume to the equation, the likelihood of a major short-squeeze increases.
IPO price should serve as support
If we look at Cheetah's price and volume chart, we can see that the stock is near its post-IPO lows, which might serve as a strong level of support. Institutional investors might step in to buy more shares at a strong discount to growth, and the before mentioned shorts might also see that level as satisfactory and cover their positions. The largest short-interest increase happened in the June-September period, and Cheetah was trading between $20 and $30 most of that time, which means that the gains on those positions are already quite substantial.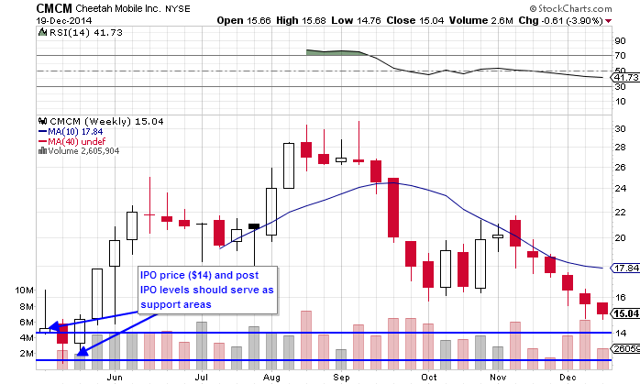 Source: Stockcharts.com
Increasing competition and (potential) margin pressure are the two main risks
Cheetah is doing business in increasingly competitive markets. Global competition is evident, and peers in China are increasing their efforts to catch up. Qihoo 360 (NYSE:QIHU) is one of the toughest competitors for Cheetah in China, along with Baidu (NASDAQ:BIDU) and Tencent (OTCPK:TCEHY). They are investing heavily to keep and expand market share, and they are certainly not going to stand by and watch Cheetah take their share of the pie. I have read the previous articles here on Seeking Alpha and the bearish ones (mostly by fellow author Westend511, you can see his articles on Cheetah here) argue that mobile monetization will be hard for Cheetah and that Qihoo, Baidu and Tencent are better positioned in China. However, Cheetah has proved to be very successful in this early stage of mobile monetization. The numbers in the two recent quarters are outstanding, and mobile revenues have grown from just $300K in Q1 2013 to over $18 million in Q3 2014, with a large part of the growth coming from overseas markets. This points to Cheetah being less dependent on China, and the company aims to globalize its user base rather than being limited to China.
The other part of the bearish story was the dependence on PC revenues and the expected decline in the PC segment. The company is still delivering strong growth in the PC segment, but the growth will most likely slow down going forward, which is what the management is expecting too. The dependence on the PC segment also is proving to be less of an issue as mobile growth has been outstanding in recent quarters, and the strong momentum is expected to continue in the following quarters, with the overseas markets contributing almost $20 million in revenues in Q4 as opposed to just $7.8 million in Q3.
Given the execution in previous quarters, I expect Cheetah can manage the competitive pressure and deliver strong growth going forward. That said, we should expect the high spending to continue going forward, which might pressure the bottom line in the following quarters. The company has managed to expand its operating and net margin in the previous quarters, but management stated that profitability is not the short-term goal and that we might see some margin pressure going forward. I think there are risks for EPS expectations for 2015 and 2016, and that negative estimate revisions might hurt Cheetah's short-term share price performance.
Conclusion
Cheetah is benefiting from the strong momentum in its business and the company should continue to deliver triple digit revenue growth in the next couple of quarters. Mobile growth has been outstanding, and the progress in overseas markets is quite encouraging. PC growth will inevitably slow down going forward, but should keep growing at a continuously strong pace. My $32 price target is based on a forward 2015 P/E of 45, as I expect Cheetah to trade in a forward P/E ratio range between 40 and 50, which represents a significant discount to the valuation trends since the company went public (see table below). This might turn out to be a conservative target as Cheetah would still trade at a significant discount to growth, and the upside potential could be even higher. The mean analyst consensus price target is $29.5, which is just $2.5 below my price target, and I am not the most aggressive in the bull camp, as the highest price target is $35.8. The potential upside to the analyst mean is 96% while the upside to my price target is 113%. Further downside is possible, but should be limited to a forward 2015 P/E of 15, which translates into approximately 25% to 30% downside from the current price. The IPO price might also serve as a strong level of support and a point of accumulation for institutional investors and the shorts are more likely to cover at current or slightly lower prices. The risk/reward ratio is highly skewed to the long side and I believe that Cheetah is well positioned to deliver significant long-term gains to its shareholders.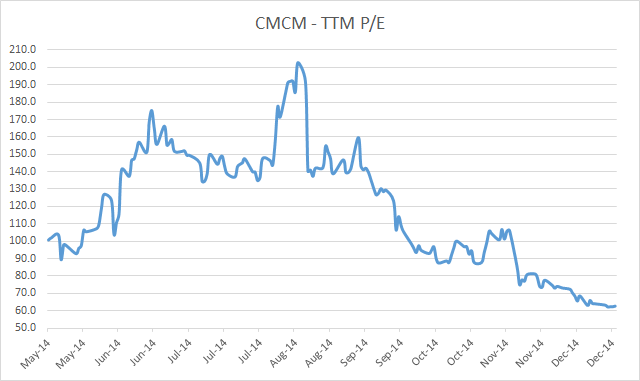 Source: Cheetah earnings reports, Cheetah SEC filings, Yahoo! Finance
Disclosure: The author has no positions in any stocks mentioned, and no plans to initiate any positions within the next 72 hours.
The author wrote this article themselves, and it expresses their own opinions. The author is not receiving compensation for it (other than from Seeking Alpha). The author has no business relationship with any company whose stock is mentioned in this article.
Additional disclosure: This article reflects the author's personal opinion and should not be regarded as a buy or sell recommendation or investment advice in any way.