* All data are as of the close of Wednesday, December 24, 2014. Emphasis is on company fundamentals and financial data rather than commentary.
The Specialty Retail industry is an extremely broad and varied collection of companies which includes such activities as online retail, stationary retail, pet supplies, farm equipment and livestock supplies, auto parts and auctions, and pretty much any other kind of retailer that does not fall into other categories. Hence, in the interest of fair play, I will attempt to compare companies in this industry in as closely related groupings as possible.
The three largest U.S. companies in the Specialty Retail industry are already closely related enough to compare them to one another, they being:
• eBay Inc. (NASDAQ: EBAY), eBay Inc, headquartered in San Jose, California, provides online platforms enabling individuals and merchants to sell their merchandise to consumers and other businesses online. It offers vertical shopping sites, such as StubHub, Fashion, Motors, and Half.com, as well as classifieds websites, including Den Blå Avis, BilBasen, Gumtree, Kijiji, LoQUo, Marktplaats.nl, mobile.de, Alamaula, eBay Anuncios, eBay Kleinanzeigen, and eBay Annunci, including an ecatalog of motor parts and accessories. The company also operates PayPal, which enables individuals and businesses to send and receive payments online and through mobile devices, Bill Me Later which enables merchants to offer credit to their shoppers at the point of sale, and BillSAFE that enables customers to pay for purchases upon receipt of an invoice.
• Genuine Parts Company (NYSE: GPC), headquartered in Atlanta, Georgia, distributes automotive replacement parts, industrial replacement parts, office products, and electrical/electronic materials. Its auto parts span multiple vehicle segments, including imported vehicles, trucks, SUVs, buses, motorcycles, recreational vehicles, farm vehicles, small engines, farm equipment, and heavy duty equipment, including accessory items used by the automotive aftermarket, repair shops, service stations, fleet operators, automobile and truck dealers, leasing companies, bus and truck lines, mass merchandisers, farms, industrial concerns, and individuals. The company also distributes computer supplies, imaging products, office furniture, office machines, general office products, school supplies, cleaning, janitorial, sanitation and break room supplies, safety and security items, healthcare products, and disposable food service products to business product resellers through 41 distribution centers. It also offers wire and cables, insulating and conductive materials, assembly tools, test equipment, and custom fabricated parts to original equipment manufacturers, motor repair shops, specialty wire and cable users, and various industrial assembly markets.
• Tractor Supply Company (NASDAQ: TSCO), headquartered in Brentwood, Tennessee, operates retail farm and ranch stores offering equine, livestock, pet, and animal products for their health, care, growth, and containment, in addition to hardware, truck, towing, and tool products, seasonal products including lawn and garden items, power equipment, gifts, and toys, as well as work and recreational clothing and footwear.
While there is a great deal of overlap among the three companies in terms of the products they offer, each has enough uniqueness to distinctly separate its performance from the others over time.
During the economic recovery, for instance, TSCO has enjoyed stellar gains as the agriculture industry has grown. Genuine has also performed well given the growth of the auto vehicles sector, which has enjoyed increasing industrial transportation and consumer vehicle purchases along with increased demand for parts.
eBay, for its part, has benefited from increasing consumer spending during the recovery, though the company has been flatlining over the past two years due to increased competition from the likes of Amazon (which belongs to the Catalog & Mail Order Houses industry on which I have already run a comparison) and Alibaba (which belongs to the Specialty Retail industry, but was bypassed for today's comparison due to its short trading history and still limited financial data).
As graphed below, since the economic recovery began in March of 2009, where the broader market S&P 500 index [black] has gained 207% and the SPDR Consumer Discretionary Sector ETF (NYSE: XLY) [blue] which the Specialty Retail industry belongs to has gained 345%, all of our three contenders have beaten the broader market by varying degrees - with Genuine [purple] rising 330%, eBay [beige] rising 458%, and TSCO [orange] rising 970%.
On an annualized basis, where the S&P has averaged 36.00% and XLY has averaged 60.00%, Genuine has averaged 57.39%, eBay has averaged 79.65%, and TSCO has averaged 168.70% per year!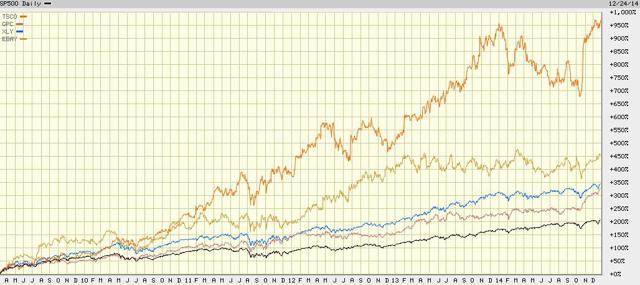 Source: BigCharts.com
Looking at future earnings growth, the Specialty Retail industry as a whole is expected to outperform the broader market's earnings rather strongly, as tabled below where green indicates outperformance while yellow denotes underperformance.
Over the current and next quarters, the industry is seen growing its earnings at some 2.16 to 3.34 times the S&P's average earnings growth rate, calming to a more sustainable but still robust 2.33 times in 2015, before settling into a comfortable 1.65 times annually over the next five years.

Zooming-in a little closer, however, the earnings growth rates of the three largest U.S. companies in the space are expected to straddle the market's average this way and that, as tabled below.
Over the current quarter, all three companies are expected to under-grow their earnings considerably relative to the S&P's average, while only one outgrows next quarter - it being TSCO, though not by much at all.
2015 begins to look a little more promising for the contenders, as all outgrow the broader market at rates ranging from 1.07 to 1.76 times, with two of them - eBay and TSCO - continuing to outgrow the market over the next five years, TSCO leading the way with a grow rate of 1.76 times the market's.

Yet there is more than earnings growth to consider when sizing up a company as a potential investment. How do the three compare against one another in other metrics, and which makes the best investment?
Let's answer that by comparing their company fundamentals using the following format: a) financial comparisons, b) estimates and analyst recommendations, and c) rankings with accompanying data table. As we compare each metric, the best performing company will be shaded green while the worst performing will be shaded yellow, which will later be tallied for the final ranking.
A) Financial Comparisons
• Market Capitalization: While company size does not necessarily imply an advantage and is thus not ranked, it is important as a denominator against which other financial data will be compared for ranking.

• Growth: Since revenues and expenses can vary greatly from one season to another, growth is measured on a year-over-year quarterly basis, where Q1 of this year is compared to Q1 of the previous year, for example.
In the most recently reported quarter, TSCO delivered the greatest revenue and earnings growth year-over-year, while Genuine and eBay split the worst growth between them, with eBay suffering earnings shrinkage.

• Profitability: A company's margins are important in determining how much profit the company generates from its sales. Operating margin indicates the percentage earned after operating costs, such as labor, materials, and overhead. Profit margin indicates the profit left over after operating costs plus all other costs, including debt, interest, taxes and depreciation.
Of our three contestants, TSCO operated with the widest profit margin while eBay enjoyed the widest operating margins. At the narrow end of the scale, eBay and Genuine split the worst margins between them, with eBay contending with negative profit margins denoting loss.

• Management Effectiveness: Shareholders are keenly interested in management's ability to do more with what has been given to it. Management's effectiveness is measured by the returns generated from the assets under its control, and from the equity invested into the company by shareholders.
For their managerial performance, TSCO's management team delivered the greatest returns on assets and equity, while eBay's team delivered the least, even losing some equity.
• Earnings Per Share: Of all the metrics measuring a company's income, earnings per share is probably the most meaningful to shareholders, as this represents the value that the company is adding to each share outstanding. Since the number of shares outstanding varies from company to company, I prefer to convert EPS into a percentage of the current stock price to better determine where an investment could gain the most value.
Of the three companies here compared, Genuine provides common stock holders with the greatest diluted earnings per share gain as a percentage of its current share price, while eBay's DEPS over current stock price is lowest, even negative denoting loss.

• Share Price Value: Even if a company outperforms its peers on all the above metrics, however, investors may still shy away from its stock if its price is already trading too high. This is where the stock price relative to forward earnings and company book value come under scrutiny, as well as the stock price relative to earnings relative to earnings growth, known as the PEG ratio. Lower ratios indicate the stock price is currently trading at a cheaper price than its peers, and might thus be a bargain.
Among our three combatants, eBay's stock is cheapest relative to forward earnings, company book value and 5-year PEG. At the overpriced end of the scale, TSCO's stock is the most overvalued relative to earnings and company book, where Genuine's is the most overpriced relative to PEG.

B) Estimates and Analyst Recommendations
Of course, no matter how skilled we perceive ourselves to be at gauging a stock's prospects as an investment, we'd be wise to at least consider what professional analysts and the companies themselves are projecting - including estimated future earnings per share and the growth rate of those earnings, stock price targets, and buy/sell recommendations.
• Earnings Estimates: To properly compare estimated future earnings per share across multiple companies, we would need to convert them into a percentage of their stocks' current prices.
Of our three specimens, eBay offers the highest percentage of earnings over current stock price for all time periods, while TSCO offers the lowest percentages for all periods.

• Earnings Growth: For long-term investors this metric is one of the most important to consider, as it denotes the percentage by which earnings are expected to grow or shrink as compared to earnings from corresponding periods a year prior.
For earnings growth, TSCO offers the greatest growth for all time periods. At the low end of the spectrum, eBay offers the slowest growth prospects in the current quarter, while Genuine delivers them the rest of the way.

• Price Targets: Like earnings estimates above, a company's stock price targets must also be converted into a percentage of its current price to properly compare multiple companies.
For their high, mean and low price targets over the coming 12 months, analysts believe Genuine's stock offers the least upside potential and least downside risk, while TSCO's stock reciprocates with the greatest upside and greatest downside.

• Buy/Sell Recommendations: After all is said and done, perhaps the one gauge that sums it all up are analyst recommendations. These have been converted into the percentage of analysts recommending each level. However, I factor only the strong buy and buy recommendations into the ranking. Hold, underperform and sell recommendations are not ranked since they are determined after determining the winners of the strong buy and buy categories, and would only be negating those winners of their duly earned titles.
Of our three contenders, TSCO is best recommended with 7 strong buys and 9 buys representing a combined 53.33% of its 30 analysts, followed by eBay with 10 strong buy and 9 buy ratings representing 46.34% of its 41 analysts, and lastly by Genuine with 1 strong buy and 1 buy recommendations representing 15.38% of its 13 analysts.

C) Rankings
Having crunched all the numbers and compared all the projections, the time has come to tally up the wins and losses and rank our three competitors against one another.
In the table below you will find all of the data considered above plus a few others not reviewed. Here is where using a company's market cap as a denominator comes into play, as much of the data in the table has been converted into a percentage of market cap for a fair comparison.
The first and last placed companies are shaded. We then add together each company's finishes to determine its overall ranking, with first place finishes counting as merits while last place finishes count as demerits.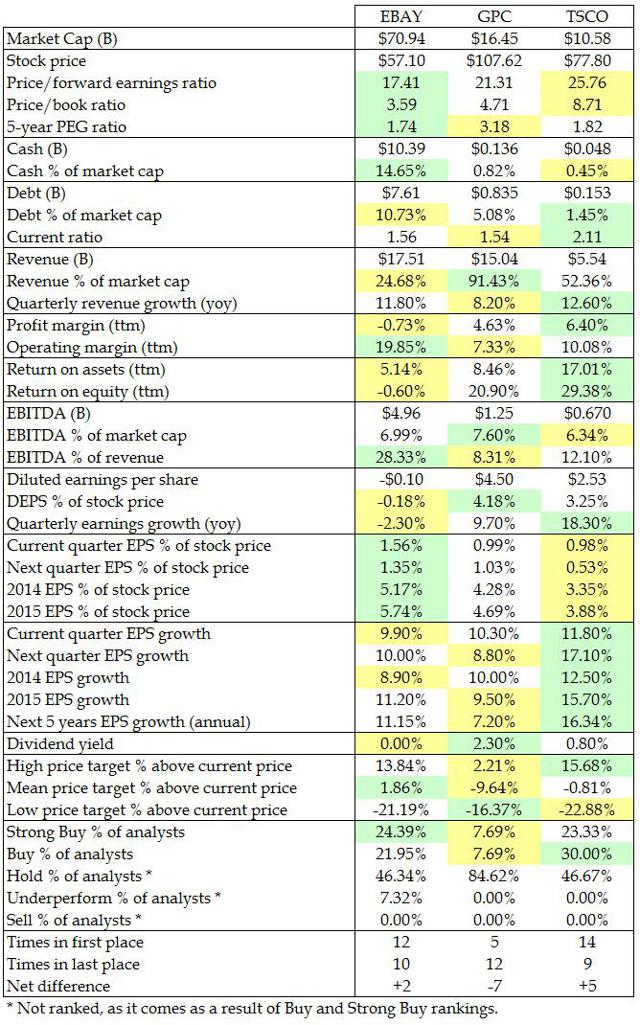 And the winner is… TSCO with a comfortable lead, outperforming in 14 metrics and underperforming in 9 for a net score of +5, followed not far behind by eBay, outperforming in 12 metrics and underperforming in 10 for a net score of +2, with Genuine feeling genuinely lost at a distant third, outperforming in 5 metrics and underperforming in 12 for a net score of -7.
Where the Specialty Retail industry is expected to outperform the S&P broader market substantially this and next quarters, significantly in 2015, and meaningfully beyond, the three largest U.S. companies in the space are expected to struggle in earnings growth versus the broader market near term before slowly inching upward over the longer term, with TSCO leading the way.
After taking all company fundamentals into account, Tractor Supply Company pulls up the strongest financials, given its lowest debt over market cap, highest current ratio, highest trailing revenue and earnings growth, widest profit margin, greatest returns on assets and equity, highest future earnings growth in all periods, best high price target, and most analyst buy recommendations - handily winning the Specialty Retail industry competition.