Kohl's Corp. (NYSE:KSS) is a family-oriented department store offering exclusive brand apparel, shoes, accessories, beauty products, footwear, and other various items through is nationwide in-store presence as well as online through its website. Kohl's operates over 1900 retail stores targeting middle-income families and value focused customers. Approximately 50% of Kohl's sales are generated through its various private-label brands.
In recent years, retailers have been forced to lower margins slightly to compete with online stores. During the holiday season, retailers have been forced by value oriented consumers to offer special promotions such as Black Friday deals. In addition to offering more steep discounts through deals, customers have demanded that these deals start earlier and last longer.
Kohl's has a great loyalty program. One of Kohl's year-round discounts for customers is "Kohl's Cash." Kohl's Cash works like a gift card and a customer receives Kohl's Cash after spending X amount of dollars. The "cash" can then be redeemed at their next purchase. Kohl's Cash is not redeemable for a few weeks after purchase and is only usable during a short time window. In the past, Kohl's has been able to create brand loyalty from this program which has motivated customers to do their holiday shopping at Kohl's, seeking great deals while receiving a little something for themselves.
Kohl's has oversaturated its stores with its private labels, deterring customers who are loyal to certain name brands. Kohl's has identified this as an issue, and has implemented an initiative to reduce the percentage of private label goods in its stores. Kohl's has implemented another initiative to increase its online sales, which should increase margins (mainly reducing the effects of discount programs).
Below I use a capitalization of free cash flow and a comparable analysis to calculate a value for Kohl's. Prices in both valuation models are as of close December 23, 2014.
Capitalization of Free Cash Flow
WACC was determined to be 7.7%, confirmed using the Build-Up method. Long-term free cash flow growth rate is determined to be 2.3%, reflective of economic and inflationary growth in the US. The capitalization of free cash flow determines that implied share value of Kohl's is $73.15 (19% upside), using the mid-year convention method.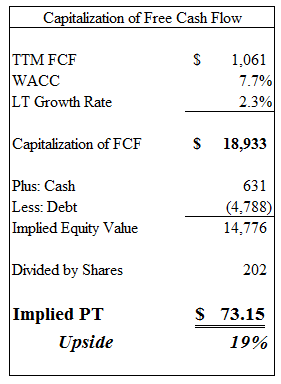 Comparable Company Analysis
Below I have selected several retailers similar in size, growth, margins, and product & customer base. Several retailers have been excluded from this analysis, including Nordstrom Rack (NYSE:JWN), Target (NYSE:TGT), Wal-Mart (NYSE:WMT), L Brands (NYSE:LB), and TJX (NYSE:TJX), to name a few. These retailers were removed from the analysis as profitability, industry growth, and multiples were not deemed comparable to Kohl's. Applying the lower of the mean or median of the sample to the respective Kohl's metric, an implied price per multiple was determined. The implied price target from the comparable analysis was determined by averaging the implied price calculated from the P/FCF and EV/EBIT multiples. Kohl's has a higher dividend yield and higher net income margins than competitors. Kohl's is trading at a discount to the industry, which is unjust when considering its strong dividend and profitability. The implied share price from the comparable company analysis is $72.41 (18% upside).

Conclusion
The implied price target for Kohl's is $72.78 (18% upside). Kohl's will see capital appreciation as it is able to further reduce the percentage of private label products, revitalizing customer sentiment by offering name brand goods at reasonable prices. Although Kohl's has significant debt, its strategy of returning value to shareholders through its strong dividend yield (2.56%) and capital appreciation (as it switches from footprint expansion to improving margins) should allow it to capitalize on increased consumer spending.
Disclosure: The author has no positions in any stocks mentioned, and no plans to initiate any positions within the next 72 hours.
The author wrote this article themselves, and it expresses their own opinions. The author is not receiving compensation for it (other than from Seeking Alpha). The author has no business relationship with any company whose stock is mentioned in this article.