In this article, we compare the reigning champion, Union Pacific (NYSE:UNP) to CSX Corp. (NYSE:CSX). As usual, we apply our initial quantitative screen to both companies. These are the results: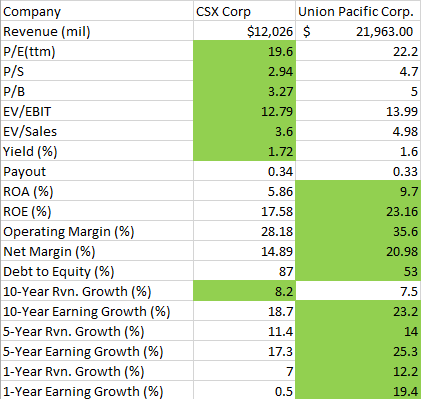 Source: GuruFocus and Author Compilation
At first blush, the results of the quantitative screen appear obvious.
UNP is a more expensive railroad than CSX. For example, UNP's P/E is 13.25% more rich than CSX's.
UNP is 60% more expensive on a price-to-sales basis.
CSX has an obviously higher operating cash yield at 7.81% compared to UNP's 7.14%, but the spread isn't material in our view.
So CSX is cheaper by most traditional metrics, but the ratio of its operating cash to the value of its enterprise (which sports more debt) isn't significantly better.
Also, CSX's cheapness comes at a cost, as its return numbers are markedly lower than UNP's.
Return on assets at UNP is 65% higher than CSX.
UNP's return on equity is ~32% higher at UNP.
Given the lower spread between their ROE figures, it stands to reason that CSX has more debt in the capital structure, sporting a debt: equity of 87 vs. UNP's 53.
The review of the quantitative screen is difficult in this case. When it comes to Class I railroads, we like cheap and we have to acknowledge that on some level, CSX is cheap. We prefer inexpensive rails because we have long memories where inexpensive Class I railroads are concerned. The investor who buys cheap railroads is subsequently rewarded (see our work on Canadian National Railway (NYSE:CNI) vs. Canadian Pacific Railway (NYSE:CP) mean reversion). We also remember when Kansas City Southern (NYSE:KSU) and CP were relative laggards and their shareholders have since been rewarded for buying inexpensive. The difficulty here is that the story is ambiguous. CSX is cheap based on certain measures (P/E, P/B, P/S) but comparing the operating cash flow to the enterprise value suggests that UNP is not much more expensive than CSX.
Conclusion
When we review the return figures, it's obvious that UNP is a more well-run railroad, with higher ROA and higher ROE (in spite of having less debt embedded in the capital structure) and profitability figures. If each had a similar price-value relationship (and it's not obvious that they don't), UNP would be the clear winner. To that point, if CSX dropped 32-25% in price from here or if UNP rose 15%+ in price, we would change our tune, but at the moment this contest goes to Union Pacific. This is the smallest margin "win" yet for UNP, but nevertheless, UNP still remains our champion.
Disclosure: The author has no positions in any stocks mentioned, and no plans to initiate any positions within the next 72 hours.
The author wrote this article themselves, and it expresses their own opinions. The author is not receiving compensation for it (other than from Seeking Alpha). The author has no business relationship with any company whose stock is mentioned in this article.