Why I Like Gold Miners For 2015
The past few years have been lousy for gold miners with very few exceptions. The sector has been hit by more than falling gold prices. Production costs have risen. Political risks have become palpable for several of these companies--especially in parts of South America and Africa. Capital has been much more difficult to come by as investors expect the gold price to fall further and feasibility studies have become more suspect and subject to criticism.
Nevertheless there are several companies that have gotten these issues under control, and yet their share prices have declined with the rest of the sector. These companies are going to be extremely well prepared for the next up-leg in the gold bull market.
Why Gold?
I've addressed the bull case for gold elsewhere and so I'll be brief here: I want to focus on my favorite mining stocks in this article. Nevertheless I think it is important to be familiar with the basic reasons to be long of gold in the longer term even if the cyclical downtrend may not have ended. In fact in a detailed piece in which I discussed my strategy for investing in precious metals earlier this year I suggested that we could see gold test the $1,000/oz. level and maybe even breach it. I still think this could happen, especially since the $1,180/oz. support level has failed to hold.
But even with gold languishing it remains in a clear long-term uptrend and trades at multiples of its bear market trough of $255/oz.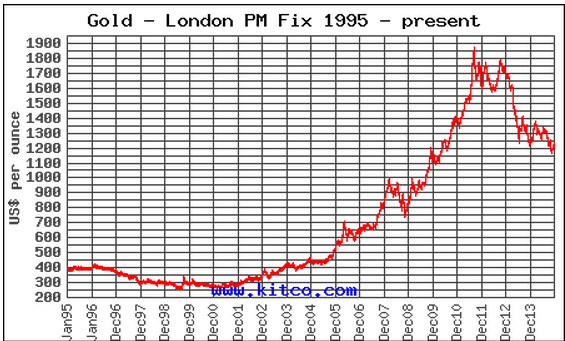 Furthermore, in spite of the fact that gold has performed so well over the past several years we are only beginning to see a rise in demand from the biggest palpable source, namely central banks, which became net buyers in 2009 after the financial crisis (the fallout from which is still being felt).
We have also only just begun to see market-driving demand for the first time from China and other emerging markets with burgeoning middle classes. Currency instability in many of these regions drives these people into the gold market as a way to protect their savings from high/hyper-inflation. Meanwhile demand in the U. S. is essentially nonexistent given that our middle class is enamored of the stock market and the fact that we are constantly fed the stock/bond paradigm of investing. As a result stocks offer investors near-record low dividend yields and earnings yields (unless these earnings are "normalized"). Gold is seen as a dead asset that has failed to respond to bullish catalysts and as a result we have seen tremendous outflows of late out of U. S. gold funds such as the SPDR Gold Trust (NYSEARCA:GLD).
But the biggest driving factor going forward is money creation. The recent quantitative easing program generated an unprecedented amount of money, although this money has not found its way into the gold market because it has been sitting on commercial banks' balance sheets. We can see this in a comparison of a chart of commercial bank cash reserves and the monetary base. Both charts are courtesy of the St. Louis Fed.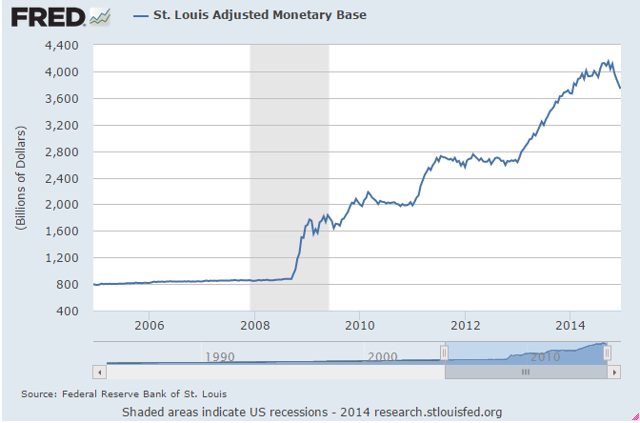 This buildup in cash reserves has the potential to enter the market and drive the gold price substantially higher, and this will happen as interest rates rise and banks and investors abandon their low yielding assets.
We've seen this in the recent past, as for the first part of the 21st century the gold price rose in line with the monetary base with the correlation mysteriously diverging upon the announcement of QE3.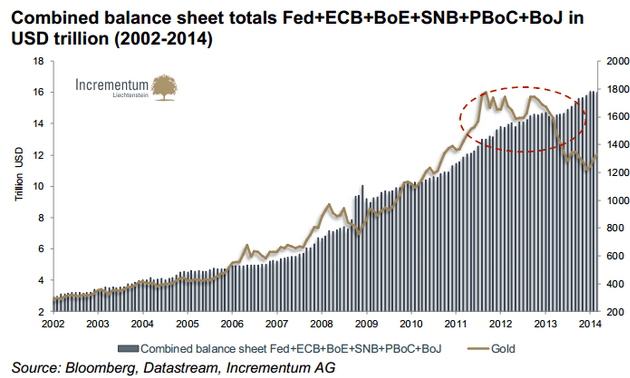 The potential to drive gold prices substantially higher is unparalleled looking at nearly 100 years of history if gold is to keep pace with the monetary base--the ratio between the two is at an all-time low!
(Source: Strategicgold.com)
Now there's more than one way to measure gold's value, but this is a fairly good one for those who are buying gold as protection against fiat money creation. Even if we factor in such things as foreign demand for U. S. Dollars and gold supply inflation the fact that this chart is at an all-time low is very telling.
So will we see a bottom in 2015? I don't know, but I think the risk/reward is heavily skewed towards gold bulls and against the bears.
With that being the case I think investors need to own some gold.
Why Gold Miners?
Gold and gold miners are not the same thing but if you pick the right gold miners and you buy them prior to a rise in the gold price you can generate returns that far exceed those of gold. Gold miners, like any company, can generate cash-flow and growth, and these will be correlated to a rising gold market which enhances your exposure.
Of course you have to pick the right ones.
Picking the Right Gold Miners
Every investor is different with respect to their risk tolerances and preferences more generally. Nevertheless I've come up with a few general principles that will increase the odds that you pick the right ones. You can deviate from these principles so long as you understand the risks and do so with a small part of your portfolio.
1--Avoid Majors
I've decided that it doesn't make much sense to own majors for a couple of reasons. First, majors are generally priced on current operating cash-flow and sales, and this means that investors in majors often ignore the cost of reserve replacement and mine development. These companies often have dwindling reserves and high administrative costs. They are also much more difficult to analyze--it is easier to analyze one project than 10. So while I think a couple of majors are okay none have made my top 5.
2--Avoid Political Risk
This is probably the most tempting rule to break because there are so many cheap mining companies in Africa and in risky South American countries. But you can really get burned on these. Just look at the performance of, for instance, True Gold (OTCQX:RVREF), which is a favorite among several Seeking Alpha mine analysts. Problems in West Africa with Ebola and more specific issues within Burkina Faso have sent shares tumbling in spite of the fact that the numbers point to a valuation that is 2-4 times higher than the current price. So stick to North American and European companies for most of your holdings. You can fool around with some of your portfolio and I'm certainly guilty of this. But know what you're getting yourself into and don't buy into the "well actually South Africa really isn't so bad" nonsense. Trust me, it's bad, or as another mining executive has put it "it's fine until it isn't."
3--Look For Short Term Catalysts
The easiest to shoot for is organic growth. Companies that are going from development-stage to being low-cost producers make for excellent trades that can often levitate their stocks in a lousy gold market environment and light a fire under them if the gold market is rising.
4--High Cost Producers Don't Necessarily Offer More Leverage
Simple arithmetic says that a higher cost producer will give you more leverage. But before ascribing to that principle you need to know why costs are high. Often times poor management is a factor, and that means that we can see costs rise in the face of rising gold prices (which often accompanies inflation), meaning that the apparent leverage is a facade. Stick with low cost producers except in specific circumstances. Don't worry--you'll generate plenty of leverage.
Which Miners Will Be Winners Going Forward
Any list is going to be incomplete but below I have come up with a list of 3 gold miners that investors should consider that meet these criteria, or at worst are iffy regarding one of them.
1--Guyana Goldfields
Guyana Goldfields (OTCPK:GUYFF)--owner and developer of the Aurora Project in Guyana--announced over the summer that it has received a credit facility that is sufficiently large enough to fund it through construction. With financing in place Guyana Goldfields has clarity, and a simple analysis of the Aurora Project reveals that it has substantial value, a long mine life, and low production costs. The company is valued at ~$330 million with approximately $21 million in the bank as of October 31st. It has another $106 million worth of expenses to go in order to finish constructing the open pit segment of its Aurora Project, although with a $185 million credit facility ($116 million not yet drawn down) the company can easily withstand an unexpected increase in its initial capex.
As the company begins producing gold in the middle of next year it will have nearly all of the cash-flow it needs to finance the development of the second phase of the project--underground operation--which will commence in 2017.
As investors come to see the value of the Aurora Project with financing in place I think they will bid shares up substantially from here. If the gold price remains flat or rises Guyana Goldfields will be incredibly inexpensive relative to its operating cash-flow, and it will be one of the few gold miners that can generate cash-flow at lower gold prices. In fact one of the great things about Guyana Goldfields is that it offers good value even if the price of gold falls, and given the recent weakness we've seen in the gold market this is especially good news.
Aurora Project Overview
The Aurora Project, which is Guyana Goldfields' primary asset, is located in northern Guyana, right off of the Cuyuni River.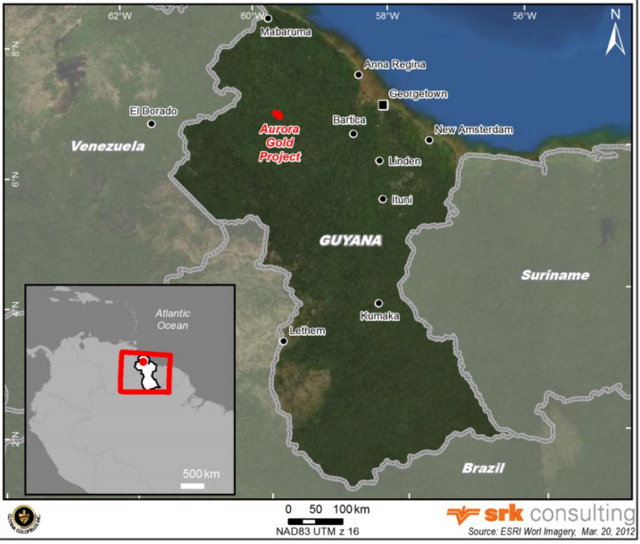 (Source: Aurora Feasibility Study)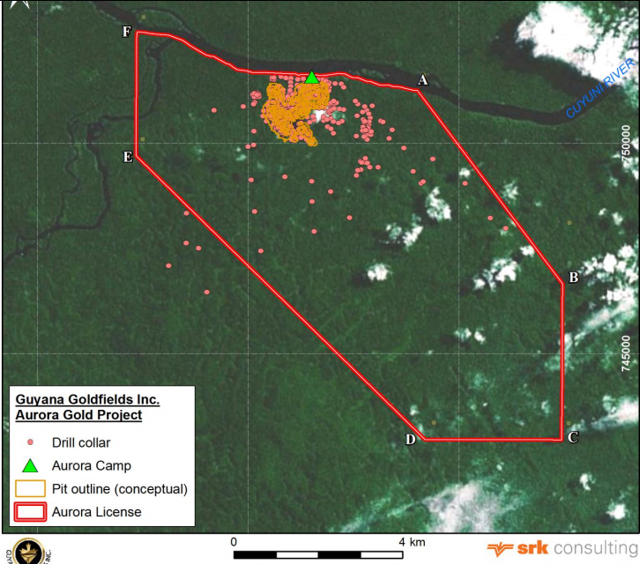 (Source: Ibid.)
The mine's location--geographically speaking--is one of the few risks investors face, as it is located in the proverbial "middle of nowhere." The project is fully accessible by an approximate 175-km long, all-weather access road and an airstrip; equipment and supplies are transported by road and personnel are flown in and out of the Aurora camp. The remote location has been responsible for some increases in initial capex estimates in the past although the company has been operating on budget since its latest estimate which indicates that management fully appreciates the challenges and costs of getting this mine into production.
Resource and Operating Metrics
The mine has a little over 8 million ounces of gold: about 3 million ounces are part of the open pit mine and 5 million ounces are underground.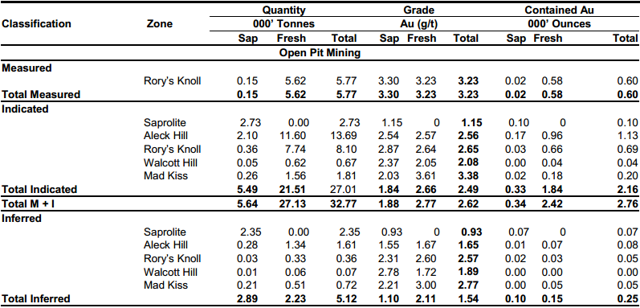 (Source: Ibid.)
(Source: Ibid.)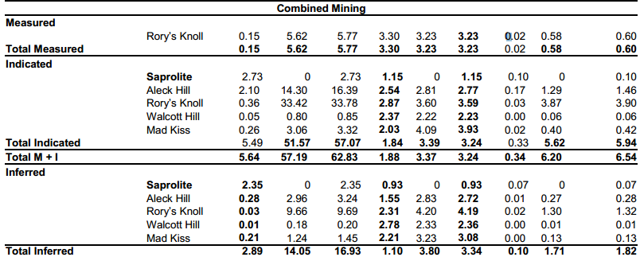 (Source: Ibid.)
Of these 8 million ounces about 3.5 million have been classified as mineral reserves, which means that the company has deemed them economical to mine and has included them in the mine plan outlined in its feasibility study.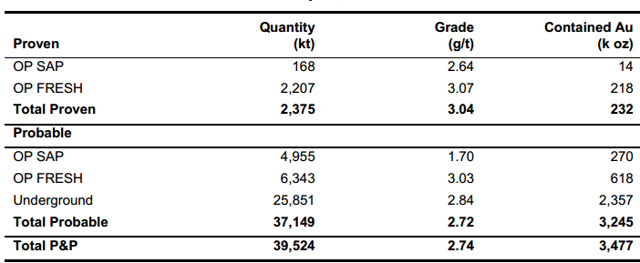 According to this plan the mine will operate for 17 years. The open pit operation will run from years 1-9 (2015 - 2023) and the underground operation will run from year 3 (2017) through year 17 (2031). Details

(Source: Guyana Goldfields' December 2014 Presentation)
It
It will cost the company ~$106 million to get from today until commercial production: the details are broken down below. This is in addition to $143 million already spent. Expansion capital is spread over 2-3 years and totals ~$152 million.
Production costs are going to be relatively low. The open pit operation is expected to have operating costs of $31.30/tonne of ore mined and processed. With the average grade of the open pit ore being roughly 2.5 gpt this means that it will cost $12.52 to mine a gram of gold, or $390/oz. With recovery rates at about 95% this comes to $411/oz. Other expenses include:
The royalty is 8% or $88/oz. at $1,100/oz. gold.
Sustaining capital, which is small--about $10 million--for the open pit mine for its entire life or about $9/oz.
Exploration and G&A, which is $44/oz.
This brings the total to $552/oz.
The underground operation is expected to have costs of $36.89/tonne. Ore grade is 2.84 gpt. so mining costs come in at $12.99/gram or $404/oz. This comes to $425/oz. assuming 95% recovery rates.
Other expenses include:
The royalty, which adds $88/oz.
Sustaining capital, which adds $134/oz.
G&A, which adds $44/oz.
This brings the total to $691/oz.
Year-By-Year Mining
The following table lists the amount of gold mined by open pit and underground methods on a year by year basis and production costs given the above assumptions.
| | | | | |
| --- | --- | --- | --- | --- |
| Year | Open Pit | U/G | Total | Cost |
| 2015 | 131,000 | 0 | 131,000 | $552/oz. |
| 2016 | 164,000 | 0 | 164,000 | $552/oz. |
| 2017 | 170,000 | 5,000 | 175,000 | $556/oz. |
| 2018 | 92,000 | 142,000 | 234,000 | $637/oz. |
| 2019 | 112,000 | 192,000 | 304,000 | $640/oz. |
| 2020 | 147,000 | 208,000 | 355,000 | $634/oz. |
| 2021 | 96,000 | 220,000 | 316,000 | $649/oz. |
| 2022 | 126,000 | 186,000 | 312,000 | $635/oz. |
| 2023 | 86,000 | 184,000 | 269,000 | $650/oz. |
| 2024 | 0 | 181,000 | 181,000 | $692/oz. |
| 2025 | 0 | 179,000 | 179,000 | $692/oz. |
| 2026 | 0 | 181,000 | 181,000 | $692/oz. |
| 2027 | 0 | 187,000 | 187,000 | $692/oz. |
| 2028 | 0 | 165,000 | 165,000 | $692/oz. |
| 2029 | 0 | 133,000 | 133,000 | $692/oz. |
| 2030 | 0 | 145,000 | 145,000 | $692/oz. |
| 2031 | 0 | 48,000 | 48,000 | $692/oz. |
Valuing The Aurora Project
With the recent financing agreement in place the company has access to $185 million in 2 traunches. The first is $160 million at 6.3%. This rate rises and falls with the 3-month LIBOR rate. The second, assuming that the company needs more capital than it has, is another $25 million at 6.8% (also 3-month LIBOR dependent).
We saw earlier that the company will need roughly $106 million (as of the end of October). At that time it also had ~$21 million in cash. Thus the company's additional $85 million capital need prior to commercial production is easily covered by the first tranche of the financing facility. Since LIBOR is variable we should be conservative and assume that it will be 7% for the duration of the facility, which is capped at 8 years. This will add a $5.9 million interest expense to the effective annual operating cost of Aurora, although note that this is not tax-deductible.
In calculating the project's NPV I will use 5%, 8% and 12% discount rates and $1,100/ounce gold price. Given the recent weakness in the gold price it is prudent to use a lower-than-market price when making investment decisions in order to cushion the blow should the price fall further. Expansion capital costs will be spread over 10 quarters at $15.2 million per quarter from Q1 2015 through Q2 2017, but keep in mind that Q1 2015 in the Aurora calendar is equivalent to Q3 of 2015 in the normal calendar. Taxes are included and consist of 30% of earnings with mine development expenses (est. $400 million) assumed to be tax deductible. Mine closure costs are $9 million and are added as an expense at the end of the mine's life. All figures are in millions of dollars.
| | | | | |
| --- | --- | --- | --- | --- |
| Year | Cash-Flow | 5% | 8% | 12% |
| 2014 | ($21) | ($21) | ($21) | (21) |
| 2015 | $5.1 | $4.9 | $4.7 | $4.6 |
| 2016 | $23.2 | $21 | $19.9 | $18.5 |
| 2017 | $58.9 | $50.9 | $46.8 | $41.9 |
| 2018 | $102.4 | $84.3 | $75.3 | $65.1 |
| 2019 | $133.9 | $104.9 | $91.1 | $76 |
| 2020 | $142.6 | $106.1 | $89.9 | $72.2 |
| 2021 | $93.9 | $66.7 | $54.8 | $42.5 |
| 2022 | $11.7 | $7.9 | $6.3 | $4.7 |
| 2023 | $84.7 | $54.6 | $42.4 | $30.5 |
| 2024 | $51.7 | $31.7 | $23.9 | $16.6 |
| 2025 | $51.1 | $29.9 | $21.9 | $14.7 |
| 2026 | $51.7 | $28.8 | $20.5 | $13.3 |
| 2027 | $53.4 | $28.3 | $19.6 | $12.2 |
| 2028 | $47.1 | $23.8 | $16 | $9.6 |
| 2029 | $38 | $18.3 | $12 | $6.9 |
| 2030 | $41.4 | $19 | $12.1 | $6.8 |
| 2031 | $13.7 | $6 | $3.7 | $2 |
| Total | $983.5 | $666.1 | $539.9 | $419.1 |
With Guyana Goldfields currently valued at $330 million we can see that the Aurora Project's valuation at $1,100/oz. gold--7% lower than the current price--exceeds the company's market valuation in each of these scenarios. The company currently has working capital of ~$0 and debt of ~$40 million as of the end of October giving the stock upside based on the current mine plan of ~10% at $1,100/oz. gold using a conservative 12% discount rate.
Also keep in mind that the above mine plan calls for just 3.5 million ounces of gold production whereas the company has over 8 million ounces.
Near-Term Catalyst
As production approaches and as more investors come to realize the amount of cash-flow that the company is going to generate I suspect that the stock will begin to rise sharply barring a construction delay or a precipitous drop in the gold price. An improvement in investor confidence will increase the value of future cash-flow, which means that investors will reassign a lower discount rate to the Aurora Project. Right now the discount rate is well above 12%. As production commences 12% should be the absolute bare minimum.
Investors should finally note that Guyana is not a heavily explored part of the world, and being on the north-east coast of South America it, at one point, was connected to the north-western part of Africa, which boasts some of the largest and highest grade gold deposits in the world. We can see the past connection on a map provided by Luna Gold (LCGUF)--another South American mining company that believes it has incredible exploration potential given the past proximity to the West African Belt.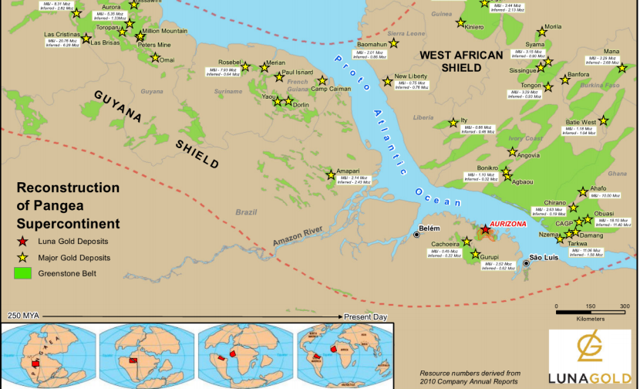 Guyana Goldfields is extremely well positioned to explore land that is in close proximity to existing gold deposits. With this in mind the Aurora Project could wind up being much larger and much more valuable than it stands right now. This gives more impetus to the longer-term thesis.
The Bottom Line
The stock meets the four criteria put forth above. It is not a major--it has essentially one project that has been analyzed extensively and which is cash-flow positive and undervalued even in a low gold price environment. It avoids political risk. The primary risk of mining in Guyana that has investors concerned is its lack of infrastructure, although this is an issue that management has addressed and factored into its cost-structure analysis. It has a near term catalyst as the Aurora Mine is about to go into production. Finally it is going to be a low-cost producer.
Given these points I see Guyana Goldfields as a winner that can generate substantial returns leveraged to the gold price over the next several years.
2--Klondex Mines
Klondex Mines (OTCQX:KLNDF) is a new gold producer in Nevada, having just commenced production at its Fire Creek and Midas Mines earlier this year.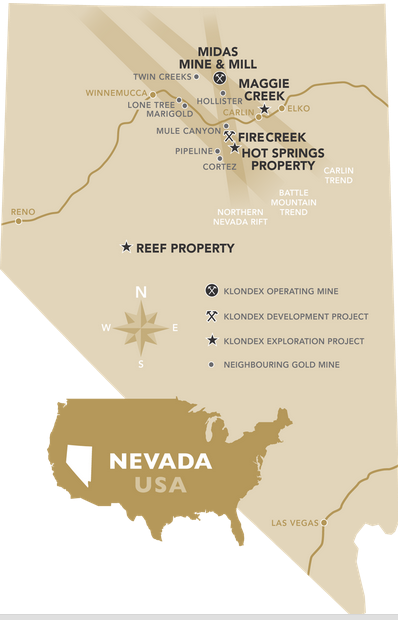 (Source: Klondex Mines)
The company owns and has been developing a high grade underground deposit at Fire Creek for several years, and late last year it purchased the nearby Midas Mine and Mill from Newmont Mining (NYSE:NEM). The primary asset of interest was the mill--which is currently processing ore mined at Fire Creek--but Klondex is profitably processing ore from the Midas Mine and exploring there aggressively and successfully. As a result it recently put out an improvement on Newmont's resource estimate that demonstrates that this is a large, high grade deposit comparable to Fire Creek.
The Fire Creek Project
In April Klondex released a PEA in which it outlines a preliminary mine plan for its Fire Creek Project, which is one of the highest grade gold deposits in the world.
A look at the PEA vs. management's long-term goals and the Fire Creek resource indicate that the mine plan presented is just the beginning and has significant potential beyond the 5-year mine life, detailed below.
| | | | |
| --- | --- | --- | --- |
| Year | Gold Production | Gold Due To Franco Nevada | Net Attributable Gold Production |
| 2014 | 45.3k | 6,750 | 38,550 |
| 2015 | 64.7k | 7,500 | 57.2k |
| 2016 | 79.7k | 8,000 | 71.7k |
| 2017 | 87.9 | 8,000 | 79.9k |
| 2018 | 27.6 | 8,000 | 19.6k |
Note that this chart shows production rising year over year for the first several years until it drops off sharply in year 5. This reflects the "end" of the mine's life which I don't see any time soon. So the PEA, in spite of its promising economics, appears to be more of a start-up plan.
This is extremely promising given the metrics that follow. According to the plan the company will have cash costs of $459/ounce net of silver by-products and AISC averaging $636/ounce. In May I calculated the estimated AISC for each of the first five years of production, and as you can see the figures are very low relative to the current gold price.
| | | | | |
| --- | --- | --- | --- | --- |
| Year | Production Attributable to Klondex | Total Cash Costs ($459*Total Fire Creek Production) In Millions | Total Sustaining Costs In Millions | Effective Total Production Cost For Attributable Ounces |
| 2014 | 38,550 | $20.8 | $12.7 | $869/oz. |
| 2015 | 57.2k | $29.7 | $13.1 | $748/oz. |
| 2016 | 71.7k | $36.6 | $14.4 | $711/oz. |
| 2017 | 79.9k | $40.3 | $9.4 | $622/oz. |
| 2018 | 19.6k | $12.7 | $0 | $648/oz. |
Note that the attributable costs take into consideration gold owed to Franco Nevada (NYSE:FNV), which partially financed the development of the Fire Creek Project in exchange for a royalty. This royalty becomes much smaller after a few years meaning costs can come down considerably from these already low levels.
Investors should further note that these figures hardly reflect what Klondex is actually producing, which is closer to an annualized rate of 150,000 ounces of gold per year given its recent ramp-up. This is a level of production that can be maintained given the size of the Fire Creek resource. Data is from the company's Sept. 2013 resource estimate.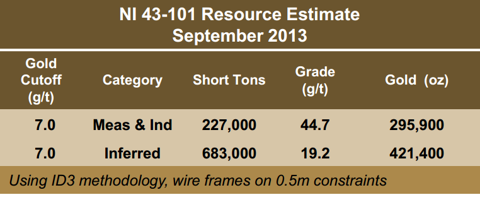 The Midas Touch
The company has also surprised the market by rapidly expanding the Midas resource which can further support this higher-than-expected production rate. Its recent resource estimate at Midas is so significant that I devoted an article to it in spite of the fact that the market has hardly reacted to this big news.
When Klondex bought Midas from Newmont it was a decaying asset with minimal gold resources. The primary asset of value appeared to be the mill. However over the past year Klondex has been exploring it aggressively and this has paid off tremendously.
It turns out that the Midas deposit is much richer than the old estimates from Newmont. We recently saw the fruit of Klondex's exploration work when it released an updated resource estimate. The new estimate shows nearly 800,000 oz. of gold with ~420,000 oz. of measured and indicated gold at 16 gpt. and ~240,000 oz. of inferred resources at 11 gpt.

(Source: Klondex's Sept. 30th Press Release)
In essence I think the company has found an asset that is similar to Fire Creek, except that this ore doesn't have to be shipped 112 miles in order to be processed. The resource is roughly the same size and it is only of a slightly lower grade. Furthermore, the company has the milling capacity at the Midas Mill to significantly ramp up production from Midas. It is currently operating at 50% capacity at 600 tpd., and this is processing the ore necessary to meet the mine plan criteria at Fire Creek while at the same time selling some of its milling capacity.
Management has been smart about selling this capacity by keeping its duration limited in case it wants to expand its own production. In October I calculated that even a minor increase in production of ore from Midas can have a significant impact on the company's total gold output. For instance if the company utilizes just 200 tpd. (leaving 400 tpd. for further expansion) and processes 16 gpt. ore this adds ~37,000 ounces of gold equivalent production per year. Considering that the company is already producing at an annualized rate of 150,000 oz. of gold equivalents per year management's goal of achieving this figure in 5 years seems to be a classic case of a management under-promising and over-delivering.
But the recent resource upgrade and the potential that it has to increase the company's productive capacity is just the beginning of the Midas story. Klondex's management thinks there is much more gold to be found. It has initiated an extremely aggressive exploration program at Midas for the next 18 months that will cost $26 million, and it has already located targets that can potentially expand this resource below the existing production zone.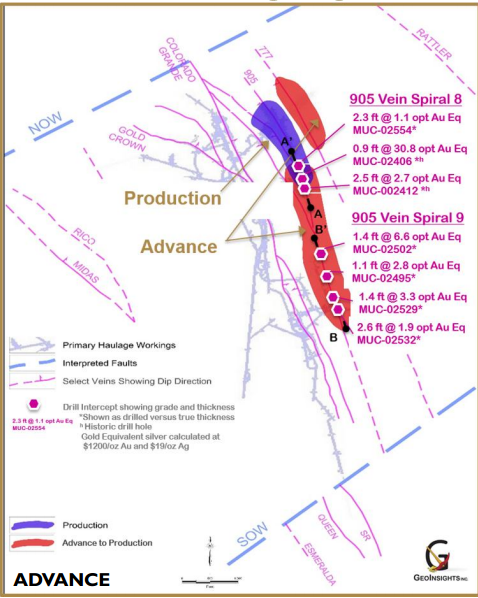 (Source: Klondex's Corporate Presentation)
The samples shown here indicate that this zone contains high grade ore that will be inexpensive to process. So there are signs that there is substantially more gold at the Midas deposit to the point where it is not unreasonable to assume that the Midas mine is at least as valuable, if not more valuable, than the Fire Creek Project which had been the driver of Klondex shares over the past couple of years.
Why I Like Klondex
I have been covering the company since last summer and I have been long the stock (I'm not at the moment), and this company never fails to impress me. True, it doesn't have the fully developed resource and lengthy mine plan that Guyana Goldfields has developed. But this is a company that has been devoted to generating cash-flow while keeping capital costs down. This puts it in a position in which it can grow organically.
It has done so, and yet the market doesn't seem to care. Shares trade at a measly 4-times the annualized cash-flow rate looking at Q3 numbers. Even with the gold price down in Q4 this multiple shouldn't increase substantially given Klondex's low costs. And considering that the company plans on growing production as it continues to find more high grade gold this should be a stock that trades at a premium multiple to its operating cash-flow. But even if it doesn't the stock has upside potential as investors realize that the 5 year mine plan is hardly representative of the company's large 1.5+ million ounce high grade resource that is growing.
Klondex easily meets the four criteria that I put forth above. This is a simple company with just two co-flagship projects that are very close to one another. There is no substantial political risk given that the company operates in Nevada, which has government policies aimed at supporting mining--one of the states most important industries. It has a near-term catalyst in its production growth going forward along with the potential for management to incorporate the newly discovered Midas resources into its mine plan. Finally it is a low-cost producer: in fact it is possibly the lowest cost current producer that I follow.
Given its low valuation and the unparalleled high quality of the company's assets I think this is going to be a winner in the next up-leg of the gold bull market.
3--Argonaut Gold
Argonaut Gold (OTCPK:ARNGF) has been one of the worst performing gold miners this year. Not only did the company have a rough year fundamentally but there were some market-related issues that have taken their toll on the stock. The stock was dropped from the Market Vectors Gold Miners ETF (NYSEARCA:GDX) and it is no longer the top holding in the Market Vectors Junior Gold Miners ETF (NYSEARCA:GDXJ), and as a result we have seen ~10 million shares come onto an already weak market.
However this has created a tremendous opportunity given that the fundamental issues are temporary, and recent production data is somewhat misleading. To quote my Q3 earnings update,
The company reported a net loss of $1.8 million as the company's gold sales fell slightly from 32,000 oz. to 30,000 oz. Furthermore cash costs rose from $680/oz. to $786/oz. However, investors should note that these figures are somewhat misleading. The company is actually growing production if you look at the amount of gold and silver loaded onto the leach pads during the quarter, which rose from 27,000 oz. to 41,000 oz. (looking at recoverable ounces). Considering that the cash costs reported are based on ounces sold, the company is actually becoming more efficient.
Let's look briefly at the company's projects to see their potential value going forward.
El Castillo
The El Castillo Project is located in Durango, Mexico.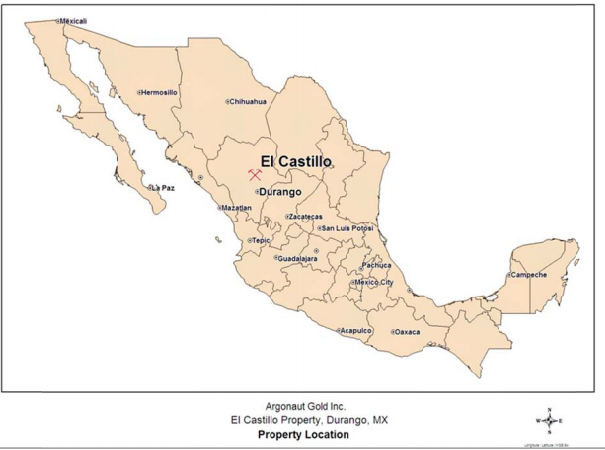 (Source: El Castillo 2010 Technical Report)
Unfortunately this project was the company's first problem of 2014. Investors had been expecting 115,000 oz. of annual production given the company's 2010 technical report but this figure has come down somewhat to ~100,000 oz. This was due to a lower recovery grade, not to fewer tonnes of ore being milled. It follows that total production costs would rise as well while gold production fell, increasing production costs on a per-ounce basis. While Q3 production costs were relatively high this is still going to be a relatively low cost mine with ~$900/oz. AISC.
The project has ~1.1 million ounces of gold reserves if we take the 2010 figures and subtract out the mine's production since then. This means that the project has ~11 years of production left given current estimates, and the mine has another 2 million ounces of gold resources that haven't been included in the mine plan, meaning that the project has the potential to produce for decades at the current rate assuming management doesn't expand the its productive capacity. Note that many of these additional ounces are contained in sulfide ore which is more expensive to extract.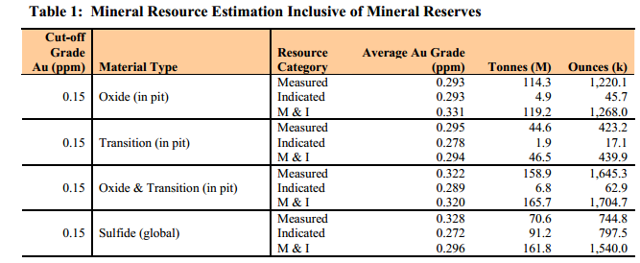 (Source: Ibid)
However even at 11 years of production at $900/oz. and a $1,200/oz. gold price the project has a post-tax NPV of $120 million using a 12% discount rate. Using such a steep discount rate we don't get much value if we assume an expanded mine life at the same gold price and production costs, however with the company's valuation at just $225 million and its NEV at ~$105 million the mine's post-tax cash-flow of nearly $20 million per year is sizable, and one could make the case for owning the stock just based on this project.
La Colorada
The La Colorada Project is located in Sonora Mexico.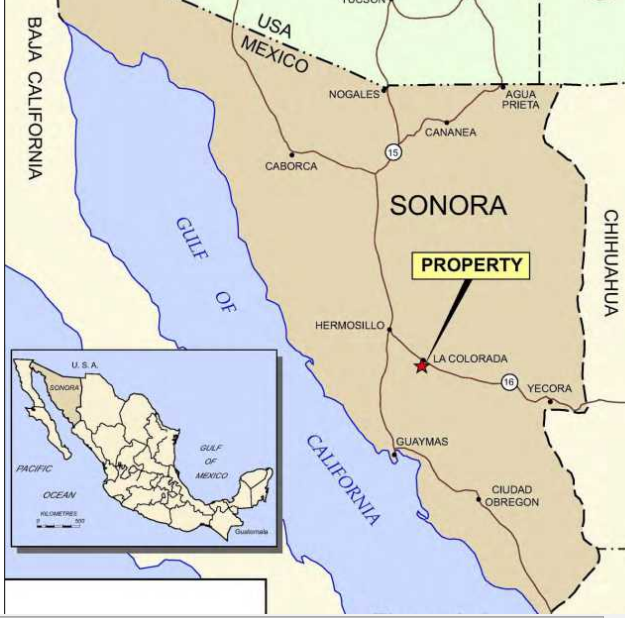 (Source: La Colorada PEA)
The project contains in excess of 1 million ounces of gold plus more than 12 million ounces of silver that will be used to offset the cost of mining gold. Note that the following figures are from 2011.

(Source: Ibid)
Given the silver offsets--which I should note are worth less than they were in 2011--the project has cash-cost estimates of just $600/oz. with limited additional costs. In February I estimated that AISC would be ~$650/oz. although given the production issues I mentioned above costs have been higher. Given investor concerns over higher costs and falling silver prices a figure of $700/oz. makes more sense, although with 35,000 oz. of annual production the company is still making $22 million per year before taxes and $14 million after taxes.
The PEA calls for a mine life of ~7 more years although clearly the project can produce more than this given the resource estimates. But even if the mine life cannot be extended the project has an NPV at current prices and at a 12% discount rate of $72 million.
Development Projects
The company's two producing projects have a combined value at $1,200/oz. gold of ~$192 million, which dwarfs its NEV of $105 million. So already this company has good value thanks to the horrendous price action we've seen thus far in 2014. Yet there is more to the story in that the company has an extensive pipeline of development projects. Since one of my goals in comprising this list was to emphasize companies that weren't overly complicated by a large project portfolio I include Argonaut here based on the company's production projects. However its three primary development projects have a lot of potential value and any significant move towards bringing any one of them towards production can drive shares higher, especially from the current depressed valuation.
the company's development projects include:
The San Antonio Project: This project in Mexico is going to be a low-cost producer with costs of just $600/oz. and production of ~70,000 oz. of gold per year. It will only cost Argonaut $85 million in order to bring it into production meaning that it has a high IRR while it can increase the company's overall production by ~50%. In April the company announced that it had failed to get the state's permission to develop it and this sent Argonaut shares on their second down-leg of the year. But this is a small project that will not have a devastating environmental impact, and even analysts who downgraded the stock in response to this news believe the mine will be built, and that it is a matter of "when" not "if." In May I calculated the post-tax value of this project using a 12% discount rate and a $1,200/oz. gold price to be $90 million even if production is delayed by a year (meaning it is discounted an extra 12%).
The Magino Project: This is the company's largest project with ~6 million ounces of gold. It is also its only major Canadian project being located in Ontario. Management expects to produce 185,000 oz. per year for the first 7 year and nearly 60,000 oz. of gold for the subsequent 6 years, although clearly the mine can produce for much longer than this at the higher production rate. AISC should be relatively low at $734/oz. for the life of the mine. While this is substantial the company is going to need over $350 million to bring the project into production, and this is going to be difficult for management to raise given its $130 million working capital position and $225 million market capitalization. Also given the large initial capex and the low gold price I calculate the post tax NPV at $1,200/oz. gold to be barely positive using a conservative 12% discount rate, meaning that its real value going forward is in its gold price optionality. Note that the company is going to have to get its mining permits and raise a substantial amount of capital, meaning that this is going to take a couple of years to get into production. But for those looking to bet on higher gold prices this is an ideal asset, especially given the fact that the company has assets that generate cash-flow at the current gold price and that can withstand a lower gold price.
San Agustin: This is a new project acquired from Silver Standard Resources late last year. It is a gold/silver project in Durango, Mexico that has 850,000 oz. o gold and 28 million ounces of silver. The company has yet to put out a PEA for this project but management expects to do so soon.
The Bottom Line
Argonaut Gold has nearly 13 million ounces of gold and 50 million ounces of silver resources while it is producing nearly 150,000 ounces of gold per year while using its silver production to offset the cost of mining gold. For a company with an NEV of just $105 million this is incredibly inexpensive. The reason it is inexpensive is that we've seen the company bombarded by bad news. First we saw the company's El Castillo Project's production decline. Then the company's San Antonio Project didn't get permitted. Then the company's production metrics declined in the third quarter. Finally the company lost its place in the Market Vectors Gold Miner ETF and its dominant position in the Market Vectors Junior Gold Miners ETF.
All of this has put enormous pressure on Argonaut shares. Yes, some of this is bad news that should have adversely impacted the stock I think much of it is overblown and temporary. Furthermore the fund selling is a temporary phenomenon that is increasing the supply of Argonaut shares on the market.
But the simple story here is that this is a well capitalized gold producer with low costs and growth. It further meets the criteria I put forth above. It is a small company with just 2 producing projects. It is more complex than the first two companies I discussed but it is hardly a major, and I think the extra analysis is worth the effort given the incredible value proposition being discussed. It avoids political risk as Mexico and Canada tend to be among the safest mining jurisdictions in the world. It has near term catalysts in that its Q4 production should be very strong given how much gold was loaded onto the leach pads in Q3--in effect the negative market reaction to weak Q3 production should reverse once this becomes clear and is reflected in tangible cash-flow. Finally this is a low-cost producer, with the company's most expensive project having $900/oz. production costs.
Conclusion
With literally thousands of gold miners out there I have inevitably missed some good ones. But the three I pick out here all have extremely compelling stories. They are companies that can perform very well with the gold price as low as it is, and they are all positioned to benefit tremendously should the gold price rise substantially. This is good for investors who want to invest in gold miners without having to worry about the gold price rising immediately. It is also crucial to point out that these companies don't have substantial risks that could impact their performances in spite of a risking gold price such as high geopolitical risks or high debt. Finally they all offer good value at current prices relative to the current gold price or even at lower gold prices.
I'm sure that investors who read my work will be wondering why several stocks didn't make the list or why I limited the list to just three when I think there are plenty more great ideas out there. This decision was based on my desire to put together a list of companies that I felt avoided the glaring risks in an industry that is extremely risky. I also think that for more aggressive investors some of these risks are worth taking in moderation. So I will be putting out another list shortly in which I name my favorite "high risk, high reward" gold stocks. But I must stress that given how difficult an industry this is that investors should consider names such as the three listed here before going out on the risk spectrum.
Disclosure: The author is long GUYFF.
The author wrote this article themselves, and it expresses their own opinions. The author is not receiving compensation for it (other than from Seeking Alpha). The author has no business relationship with any company whose stock is mentioned in this article.
Editor's Note: This article discusses one or more securities that do not trade on a major U.S. exchange. Please be aware of the risks associated with these stocks.