The solar industry has gone through a painful period of extensive maturations in the past decade. Worldwide solar adoption growth has been absolutely stunning during this period, growing approximately 50 fold from 2003 to 2013. There are few if any industries that have gone through such a drastic change in such a short period of time. Now that the solar industry is finally getting its sea legs after experiencing such a chaotic ride, many trends within the industry are beginning to crystallize.
A graphical representation of solar growth in the U.S.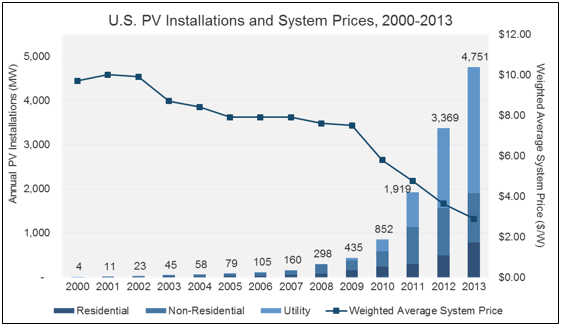 Source: GTM Research
The solar industry has divided itself into the upstream manufacturing segment and the downstream installation/financing segment. While upstream solar has been the historically dominant segment because of the proportionally smaller installation costs of solar, these costs are becoming a much bigger part of the total solar equation. This trend is largely due to the exponential cost reductions of solar panels, which have finally reached the stage where manufacturing and installation costs are roughly equivalent. While the emergence of downstream solar has given solar investors more options, closer examination is needed to determine which solar segment represents the superior investment choice.
The Case of Differing Margins
With the massive entrance of Chinese solar panel manufacturers, profit margins have been drastically cut down across the entire upstream manufacturing solar industry. A major contributing factor of this upstream margin squeeze has been the commoditization of solar panels. The Chinese companies have managed to produce panels much more cheaply (albeit with lower quality), which have forced other manufacturers to produce their own low efficiency/low margin commodity panels to compete. In fact, it was not uncommon to see panel efficiencies below 14% and margins below 10% during this tumultuous period. As Elon Musk, chairman of SolarCity (NASDAQ:SCTY) had once put it, "making standard efficiency solar panels is about as hard as making dry wall. It's really easy. In fact, I'd say dry wall's probably harder."
While the process of panel commoditization has slowed down, and even reversed with the introduction of international tariffs on Chinese panels, the Chinese manufacturers are still exerting a downward pressure on margins. Despite the powerful influence of Chinese solar manufacturers, the tariffs have provided U.S. companies like SunPower (NASDAQ:SPWR) just enough breathing room to focus more research on high technology/high margin panels. Many other companies have been following SunPower's lead by developing more efficient/high quality panels in order to move out of the low margins commodity market. In fact, even Chinese companies are starting to realize that the their method of manufacturing is unsustainable, and are starting to make the move to produce higher efficiency panels. While the current gross profit margins (averaging 10-20%) for the upstream businesses are certainly improving, solar manufacturing is still considered a somewhat low-margin business.
The downstream solar segment encompasses a wider range of products. Activities in the downstream segment include both installations and financing, with downstream companies usually involved in all aspects of this segment. So far, downstream companies like SolarCity or Vivint Solar (NYSE:VSLR) are enjoying extremely high gross margins. SolarCity, for instance, has enjoyed gross margins of around 50% for its lease/ppa products, and have enjoyed overall profit margins of between 30-40%.
Notice SolarCity's lease gross margin in quarter 3.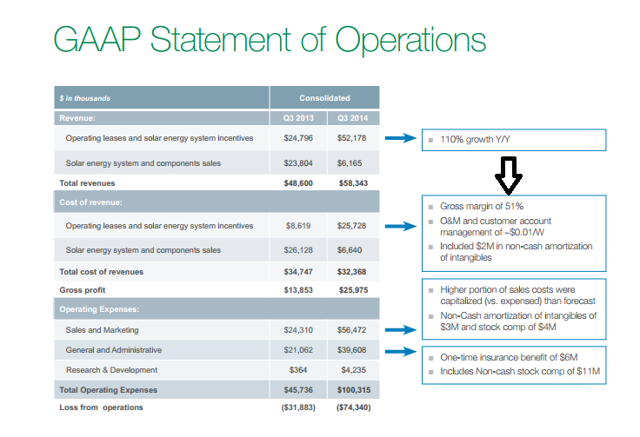 Source: SolarCity
There are several reasons that could explain this margin disparity between the downstream companies and the upstream companies. A major difference is that the downstream solar business is a service more than anything else. Whereas individuals may view different companies' panels as substitute products (panels are mainly used for functionality), brand name plays a huge role in the downstream markets of financing, leases/ppa, etc. This makes sense as a lot of downstream product services are long-term in nature. Brand matters much more to individuals when they know they will be stuck with one company for a 20-30 year period. Because of brand importance in the downstream segment, this acts as an economic moat for downstream solar companies.
Another reason for this margin disparity is the complexities of downstream solar. Whereas manufacturers only have to focus on manufacturing, downstream solar companies often have to integrate the headaches of financing with the intricacies of installations. In terms of financing, the larger, more established companies often have access to cheaper capital, which give large downstream companies a competitive advantage over smaller competitors, once again raising the barriers of entry in the downstream segment. In addition, while the installation side of downstream solar seems straightforward, there are a lot of moving parts associated with it, such as permitting, inspections, inverters, balance of systems components, crew labor, etc. Because of the surprisingly high barriers of entry in the downstream segment, it is only natural that margins are superior on the downstream side.
Long-Term Outlook
Although there is currently a disparity between the two segments, it is not clear how the future will play out. While downstream solar companies enjoy ridiculously high gross margins, the downstream industry is still extremely young, which means that future competition could potentially drive margins down. In addition, upstream solar companies are starting to emphasize more intently on the technology aspect of solar manufacturing, which implies that future gross margins for panel producers will likely rise.
While the difference of margins between these two solar sectors will likely decrease in the future, these sectors' margins are not likely to converge. It seems pretty clear that the downstream solar sector enjoys inherently higher barriers of entry. While the upstream solar sector has been subject to an admittedly unnatural depression of margins due to the entrance of Chinese manufacturers, solar manufacturing companies still do not possess the economic moats needed to have comparable margins with upstream solar companies.
Conclusion
Although a pattern of vertical integration across all solar segments is starting to occur, solar companies are still largely split between the upstream and downstream camps. Because solar investors are generally stuck between choosing either upstream or downstream companies, it seems more reasonable for them to invest in the downstream companies given their relative advantages. Despite the current segregation in the solar industry, large solar companies already are starting to integrate across the upstream and downstream segments. SolarCity (largest downstream solar company), for instance, is planning to produce the largest solar manufacturing plant by 2017, which will boast an annual production capacity of 1 GW.
For those unwilling to wait for the solar industry to go through further maturation via vertical integration, downstream power players like SolarCity or Vivint Solar are likely superior investment choices to solar manufacturers such as SunPower or First Solar (NASDAQ:FSLR). The stock valuation of downstream companies clearly do not fully account for the industries higher barriers of entry. This is not to say that solar manufacturers are a bad investment either, and diversification could certainly be achieved through investing in both sides of the solar industry.
Disclosure: The author is long SCTY.
The author wrote this article themselves, and it expresses their own opinions. The author is not receiving compensation for it (other than from Seeking Alpha). The author has no business relationship with any company whose stock is mentioned in this article.