For most dividend investors, high yield is much more important than capital growth. Yet last year many of the dividend strategies tracked by Stockopedia delivered rip-roaring gains - even before taking dividend yields into account. But this year markets have drifted sideways and that has put a great deal of pressure on a lot of the guru-inspired strategies we watch. Dividend strategies, however, have held up better than most and the average yields on offer now are better than last year.
Over the year, the aggregate performance of the dividend strategies was a negative return of -0.8% versus -2.5% for the FTSE 100. But individually, most of the screens handily outperformed the market.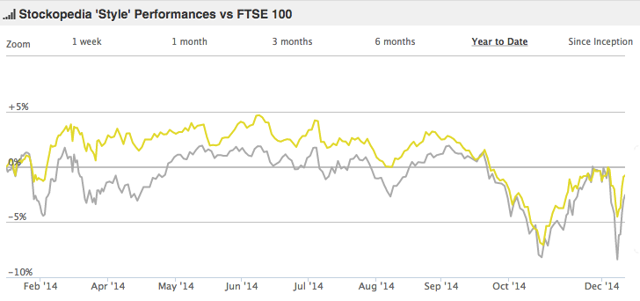 In terms of capital growth, the Best Dividends strategy took top spot over the year, with an 8.9% return. It's an approach that looks for companies with a track record of not only making dividend payments, but also growing them over time. One year ago, companies qualifying for the screen offered a rather miserly current median yield of 2.0%. Of the 22 stocks now on the list, that figure has risen to 2.7%. They range from FTSE 100 banking group Old Mutual (OTC:OLMUY), on a yield of 4.5%, to small-cap Indigo Vision (OTC:INDVF), on a yield of 3.3%.
High dividend yield strategies
In second place, with a return of 6.3%, is Forecast Dividend Dogs of the FTSE, which is arguably one of the simplest and most popular income strategies around. Forecast Dividend Dogs targets the 10 highest yielding stocks in the FTSE 100 (in this case, those with the highest forecast yields). Its sister screen, Dividend Dogs (which uses current yields) returned 5.8%. While both strategies offer median yields of around 6.3% (up from 5.3% last year), the differences among the current lists of qualifiers are telling. In particular, supermarkets J Sainsbury (OTCQX:JSAIY), Tesco (OTCPK:TSCDY) and Wm Morrison (OTCPK:MRWSY) all currently qualify for the Dividend Dogs. But recent dividend cuts at J Sainsbury and Tesco mean that neither make it onto the Forecast Dividend Dogs. With no quality filters, this is a reminder that Dividend Dogs stocks should be checked carefully to ensure they aren't dividend traps.
After a blistering 63% gain last year, the Winning Growth & Income strategy produced a modest 6.2% return in 2014. This is a strategy that focuses on good quality growth companies that also pay above-average yields. One year ago, the median forecast yield of the stocks on the list was 3.4%. That figure has now risen to a more attractive 4.7%. Current stocks range from FTSE 250 housebuilder Berkeley (OTCPK:BKLRF), on a forecast yield of 7.2%, to small-cap marketing business Cello, on a forecast yield of 2.8%.
Dividend growth also paid
Rounding off the top five performing income strategies this year is Dividend Achievers, which returned 6.0%. Dividend Achievers looks for companies that have grown their dividends for more than five consecutive years. They also need to have a history of earnings growth and strong cash reserves. While this strategy prioritises dividend growth over high yield, there are still some reasonable forecast yields around from companies like IG (4.5%), Domino Printing Sciences (OTCPK:DMIPY) (3.7%) and Bellway (OTCPK:BLWYY) (3.6%).
The worst-performing dividend strategy this year was Large Cap Dividend Attraction. The strategy looks for larger companies with a 5-year history of dividend growth combined with evidence of growing earnings and analyst upgrades. Its demanding rules slashed the number of companies making it onto the screen during the year. The poor performance was largely down to considerable losses on a position in oilfield services group Eurasia Drilling.

Dividends offered consistent outperformance
Dividend strategies in 2014 failed to reproduce the impressive capital growth seen in 2013. But the majority of them still offered a means of beating the market, which is impressive given the volatility seen during the latter part of the year. For many dividend investors, that underlying capital performance will be of little concern. Of more interest will be the signs that the average yields of stocks making it onto these strategies have edged ahead of where they were a year ago.
Editor's Note: This article covers one or more stocks trading at less than $1 per share and/or with less than a $100 million market cap. Please be aware of the risks associated with these stocks.