Shares in 3M (NYSE:MMM) have gone up by 19.0% year to date and are now trading at $166.96. This means the company has outperformed the S&P 500, which grew 12.6%, by a wide margin. I own a small number of shares in the mega cap company, and as the year comes to an end I find myself asking: Will 3M continue to outperform in 2015?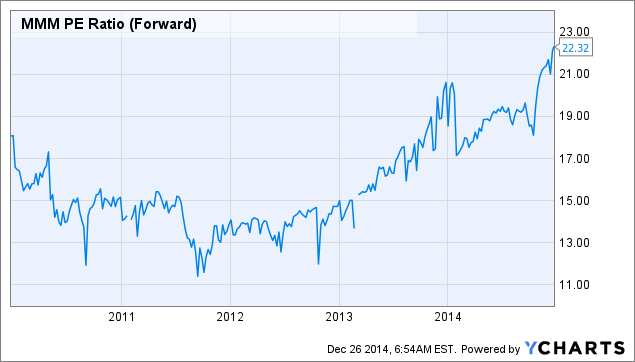 MMM PE Ratio (Forward) data by YCharts
On average, analysts estimate 3M will have earnings per share of $7.48 in the current fiscal year. This means the company has a forward P/E ratio of 22.3, which I think is quite high, considering the five-year average P/E is only 16.6. The graph above shows the forward P/E ratio for 3M over the past five years. As we can see, there have been a lot of opportunities in recent years to get 3M for a price of 13-17 times forward EPS. The forward P/E ratio of 22.3 just seems very high. Even if we take next year's expected earnings of $8.21 per share, the forward P/E is still at 20.3.
The price-to-sales ratio shows a similar picture, with a five-year average P/S ratio of 2.4. This year's revenue is expected to reach $31.92 billion. With a market cap that currently stands at $106.99 billion, the company is valued at 3.3 times expected sales.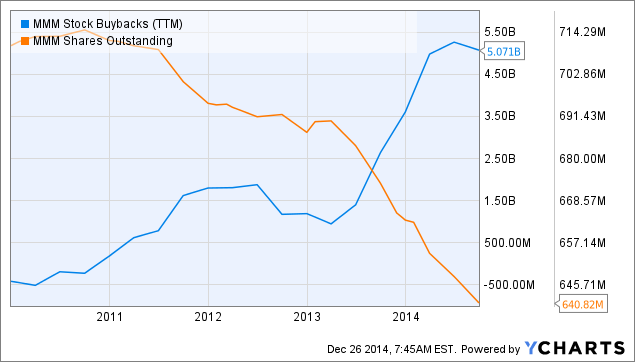 MMM Stock Buybacks ((NYSE:TTM)) data by YCharts
3M spends huge amounts of money on stock buybacks. Over the past four quarters alone, the company paid over $5 billion to repurchase its own stock. This is a great idea when shares are undervalued, but at these valuations, buying back shares destroys shareholder value. As we can see from the next graph, 3M is raising its long-term debt in an effort to continue to increase the EPS by buying back shares.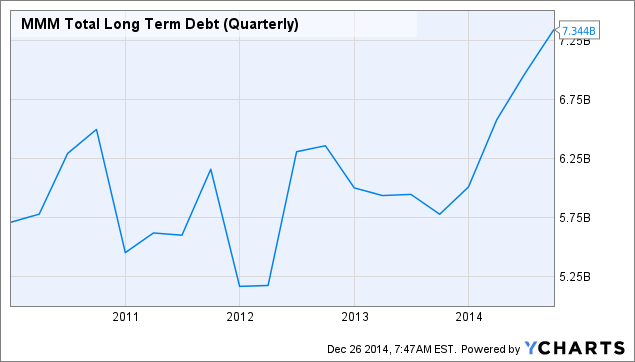 MMM Total Long-Term Debt (Quarterly) data by YCharts
The short-term financial health for 3M appears to be quite good, although both the quick ratio and the current ratio have been slowly but surely declining in recent years. As long as current assets continue to be larger than current liabilities, I don't see this as too much of a problem.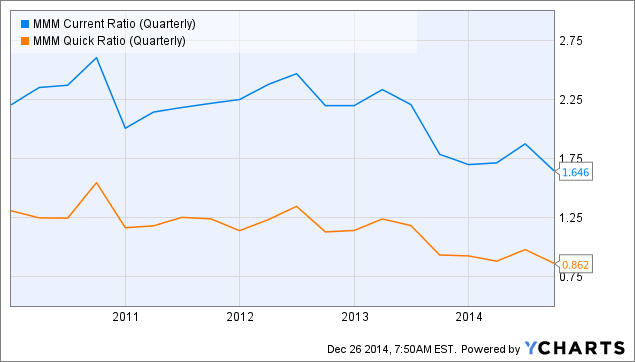 MMM Current Ratio (Quarterly) data by YCharts
The recent dividend increase to $1.025 per share each quarter was great news. However, the dividend yield of 2.46% isn't very impressive. Fortunately, my yield on cost is quite a bit higher. Still, I feel there might be better opportunities for investment available at this time. This is why I have decided to sell my shares in 3M.
I will keep my eyes open for a chance to buy back into this company at a lower price. I will once again be buying when the forward P/E ratio drops to a range of 16-18. With next year's EPS expected to reach $8.21, this means a price per share in the range of $131.36 to $147.78.
Disclosure: The author has no positions in any stocks mentioned, and no plans to initiate any positions within the next 72 hours.
The author wrote this article themselves, and it expresses their own opinions. The author is not receiving compensation for it (other than from Seeking Alpha). The author has no business relationship with any company whose stock is mentioned in this article.