Shares of American Science and Engineering (NASDAQ:ASEI) have unperformed the SP 500 by a wide margin in 2014, and it was, for that reason, that we initially decided to look at the company as a possible purchase candidate in 2015. After spending some time under the hood, though, we decided to take a pass. In our view, purchasing this stock would be a bad idea and we outline our reasons below.
Background On American Science and Engineering
The company is in the business of manufacturing and servicing X-Ray products used by governments to try to help combat terrorism, trade fraud, illegal immigration and the like. Their products are used in ports, airports and anywhere else where traditionally "high risk" activities flow through high traffic areas. Since governments are the primary customer, the company is subject to all of the problems that entails, including long and delayed sales cycles. In addition, the company's products might be in higher demand in geopolitical "hot spots," with all the risks associated with that.
During the company's most recent conference call (November 10, 2014), the CEO offered some insight into this phenomenon. On the call, an analysts asked what was causing the company's shipping and booking delays and the CEO said the following (note: "ZBV"=Z-Backscatter Van-a vehicle and cargo screening system that is quite good at detecting various threats):
As mentioned, situation in Libya has started to improve and we have begun shipping the product that was stranded in Q2 in the current quarter, and that was a significant quarter in ZBVs that has started to rectify itself already. Other regions and there were other kind of war zone areas that impacted orders, that we're seeing progress in, in the current quarter as well.

There are some markets and some large projects, that were tied to some political delays that we are still trying to navigate our way through, but some of these items have begun to rectify themselves in the current quarter, so we're encouraged by that.
Source: American Science and Engineering Investor Conference Call, November 10, 2014.
It seems that this volatility has been going on for some time, as evidenced by the following chart of their net income over the past decade. The earnings stream for this company over the past decade have been quite volatile.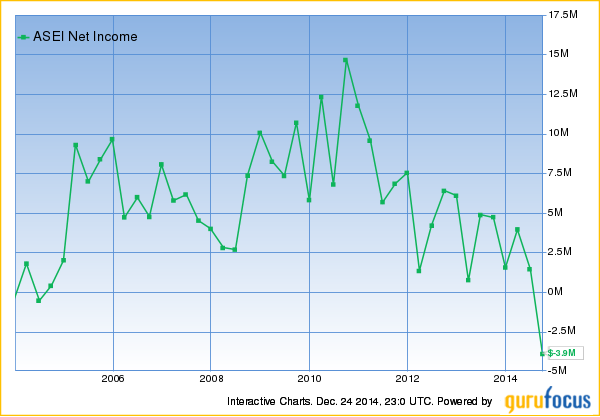 Source: Gurufocus
Over the past decade sample standard deviation of earnings has been quite high at 3.71. Forecasting such a business that relies on political and geopolitical winds is basically impossible (we believe that politicians are as predictable as spider monkeys), which makes it difficult for an investor to know what they are going to get at any point in time. This makes us cautious.
In addition to the inherently unstable nature of the business, we see the following results when we run our quantitative screen: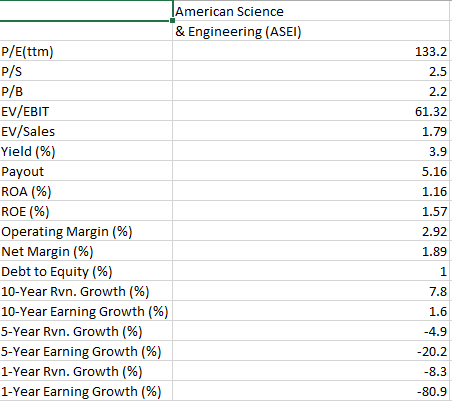 Source: Gurufocus and Author Compilation
In a world where so many other companies offer much higher returns on assets for much lower prices, it is hard to justify the purchase of a company like American Science and Engineering that makes an ROA of 1.16% and sports a PE of 133. The list of other problems are apparent from the table above, but to highlight some of the things we find most problematic: 5 year revenue and earnings growth are in decline, the yield looks attractive until you notice that the payout ratio is 516% and has been north of 50% for some time now.
It should be noted that the one positive thing that we've been able to identify is the fact that three directors and the President and CEO purchased 4595 shares between them on the 13th and 14th of December, 2014 (these purchases represented about 8% of daily volume in the stock).
That vote of confidence from the people who seem to know the company best is enough for us to track it, but we're too timid to purchase at this time. Our advice to investors at this time: give ASEI a miss for now.
Disclosure: The author has no positions in any stocks mentioned, and no plans to initiate any positions within the next 72 hours.
The author wrote this article themselves, and it expresses their own opinions. The author is not receiving compensation for it (other than from Seeking Alpha). The author has no business relationship with any company whose stock is mentioned in this article.