The predicament for NovaGold Resources (NYSEMKT:NG)? They own 50% of one of the largest open pit gold projects in the world, a project that will cost $6.7 billion to build but won't generate a strong return unless gold increases more in price. The company is basically sitting on a huge pile of high grade gold at its Donlin Gold project in Alaska contains almost 34 million ounces of gold in reserves at 2.1 g/t. It's a good predicament to be in.
The Elephant
There are very few large-scale gold projects in the world, and the ones that are available mostly suffer from low-grade ore. It would take $2,000 gold just to make putting these into production worthwhile. The average grade of an open-pit mine is now around 1.01 g/t, Donlin Gold is over twice that grade. International Tower Hills' (NYSEMKT:THM) large scale Livengood project is only at 0.69 g/t. Metates, owned by Chesapeake Gold (OTCQX:CHPGF), is only at 0.87 g/t on a gold equivalent basis (only gold reserves are listed below). Even Detour Lake and Canadian Malartic, two large scale open pit deposits in Canada that are currently in production, can't come close to the grade or resources that Donlin Gold has.
| | | |
| --- | --- | --- |
| | Reserve Grade | Gold Reserves |
| Donlin Gold | 2.10 g/t | 33.9 million ounces |
| Livengood | 0.69 g/t | 10 million ounces |
| Metates | 0.87 g/t | 18.5 million ounces |
| Detour Lake | 1.02 g/t | 15.5 million ounces |
| Canadian Malartic | 1.06 g/t | 9 million ounces |
When you combine that 2.1 g/t grade at Donlin, with the 33.9 million ounces of gold reserves, you get one of the best large-scale-unmined gold deposits in the world. That's why Barrick Gold (NYSE:ABX) tried to do a hostile take over bid for NovaGold back in 2006, which failed. Eventually the two companies went 50/50 on ownership and development of Donlin Gold.
Donlin Gold is expected to be a conventional truck-and-shovel, open-pit operation processing 53,500 tonnes per day. The mine life is estimated to be 27 years with the annual LOM gold production averaging 1.13 million ounces per year and 1.46 million ounces for the first five full years of production. Recovery is estimated to average 89.8% over the LOM.
| | |
| --- | --- |
| | Annual Gold Production |
| Year 1-5 | 1.46 million ounces |
| LOM (Year 1-27) | 1.13 million ounces |
Below is a break-down of the all-in sustaining costs. The first five years the AISC will average $532 per ounce, which would make Donlin Gold one of the lowest cost gold mines in production. That's is what 2.1 g/t can do for your cost structure. The LOM projected average cash cost is $735 per ounce, which would still be quite low and could generate big margins even in a $1,200 gold environment.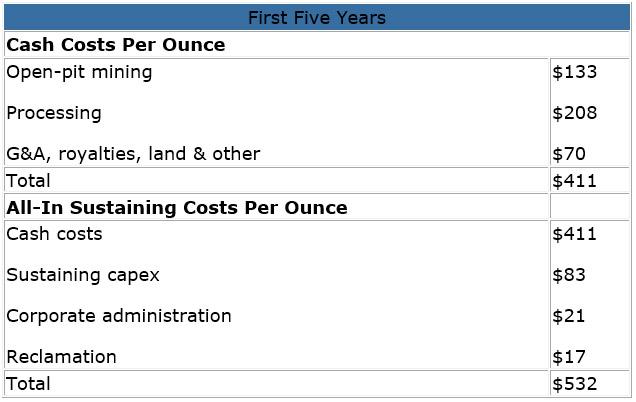 (Source: SomaBull)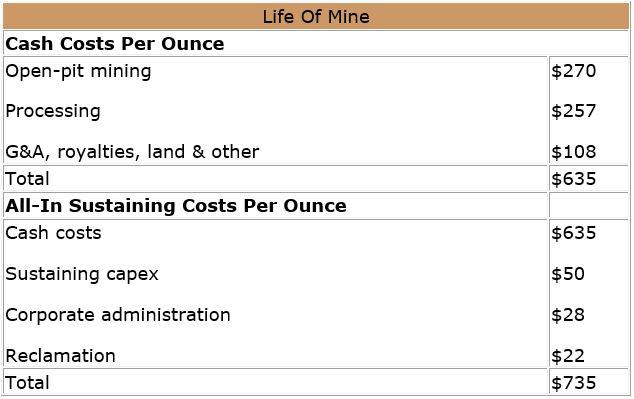 (Source: SomaBull)
The total estimated cost to construct the Donlin Gold project is $6.7 billion, including an owner-provided mining fleet and owner-performed pre-development. This includes a hefty $1 billion in contingencies built in as NovaGold wanted to be conservative with their costs assumptions given that many projects in the industry have faced a series of capital expenditure blowouts.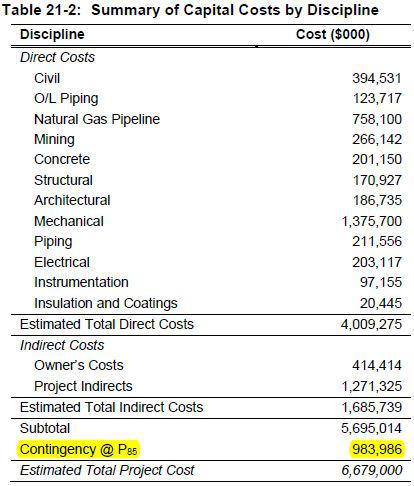 (Source: NovaGold)
The Leverage
As I mentioned in the first sentence of this article, Donlin wouldn't generate a strong return unless gold moved higher. I want to get into this more as a lot of investors that are bearish on NovaGold because of its valuation are overlooking the leverage that this project has.
NovaGold currently has a market cap of $882 million. At $1,200 gold, Donlin has an after-tax NPV(5%) of $547 million. Given that NovaGold only owns half of the project, that means that NovaGold's share is worth just $273.5 million. NovaGold does have another project which I will discuss later in this article, and they do have a strong balance sheet, but bears still argue that the stock should be much lower in price.
However, there is more to it than that. The tipping point for Donlin Gold, in terms of when this project really starts to generate a decent return, begins at about $1,300 gold. At that gold price, the NPV (5%) of NovaGold's share jumps to $732 million. In other words, gold going from $1,200 to $1,300 creates a significant increase in the value of Donlin Gold. If gold went to $1,400, then NovaGold share would be worth $1.2 billion.
It's unrealistic to expect NovaGold to trade at a $273.5 million valuation at $1,200 gold, and then jump 170% to a $732 million valuation at $1,300 gold. That's way too much volatility given such a small trading range for the precious metal. Does it make much sense that an 8% increase in the price of gold produces a 170% increase in NovaGold? Or an 8% decrease from $1,300 to $1,200 produces a 63% drop in NovaGold? No, it doesn't. Rather, the price of the shares are just going to have a premium built into them that smooths out the volatility.
Below you can see the leverage that the Donlin Gold project has to the price of gold. If gold increases by just $100-$200 an ounce from current levels, the project's NPV increases by $1-$2 billion.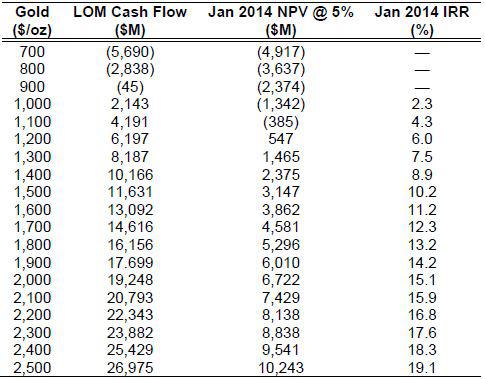 (Source: NovaGold)
Given this leverage, and also due to the fact that Donlin Gold is such a good project, you can start to understand why NovaGold is being valued where it is.
Some might argue that even with the leverage, the simply fact is NovaGold can't fund its portion of Donlin Gold without either raising a bunch of debt or diluting shares. But who says that NovaGold is going to do this? There are many options that the company has with Donlin. If NovaGold wants to co-develop it then they can just do a deal like New Gold did with Goldcorp (NYSE:GG) on the El Morro project. Goldcorp is fully funding the project, and New Gold is paying back their portion of construction costs (plus interest) through cash flow from the mine. New Gold won't have to take on debt or raise any capital. Barrick could make a similar deal with NovaGold.
But there are also several other financing options that wouldn't require NovaGold to amass a heavy debt load. Plus, the company might just be acquired by Barrick or possibly Goldcorp. When this is all said and done, Donlin Gold could be a 50/50 joint venture between Goldcorp and Barrick, or some other combination. NovaGold could already be snapped up by then. In other words, investors don't need to worry about NovaGold diluting shares or taking on billions of debt.
Possible Improvements And Upside
One of the reasons that investors think that Donlin Gold won't ever be put into production is because of the high initial cap-ex cost. While $6.7 billion is a lot of money, you have to keep it in context. Donlin Gold would be in the top 5 of the worlds largest producing gold mines once it enters production. It's position would fluctuate depending on that years output compared to other top producing mines in the sector. But it's possible that it could be #1, especially during the first five years when it will average 1.5 million ounces of gold production. In other words, you get what you pay for.
There is also room for improvements in the initial cap-ex. Costs are higher because of the location of Donlin Gold. Being located in Alaska is a double edged sword. On one hand, Alaska is one of the best jurisdictions in the world to build a gold mine, on the other hand, Donlin Gold is located in the middle of nowhere.
An article on the mine in 2012 summed it up best:
Donlin is about 12 miles up a remote valley from a 100-person speck of a village named Crooked Creek, which is itself about 120 miles upstream from Bethel, a community of less than 20,000 people considered an Alaska regional hub.

Crooked Creek has no infrastructure to support development. Bethel has little. Both communities are hundreds of air miles from Anchorage, the state's largest city, and there are no roads -- only wilderness. All of these things drive up the cost of development.
If it wasn't for the project's remote location, the capex would be lower. In fact, NovaGold and Barrick will have to construct a $1 billion, 500km long, 14 inch wide gas pipeline in order to power Donlin Gold.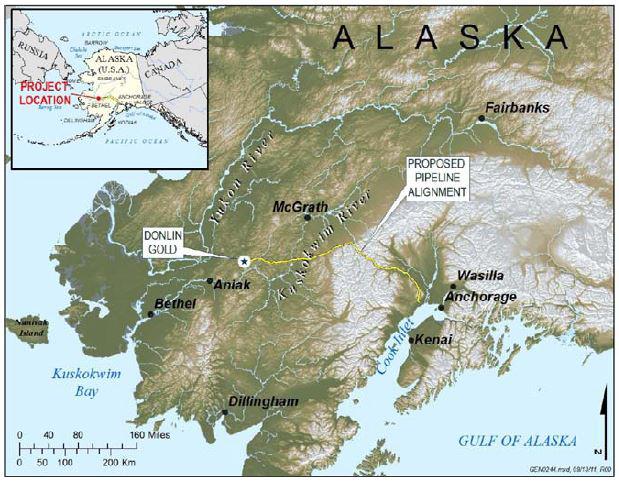 (Source: NovaGold)
However, there have been many opportunities identified that could reduce the total project cost by $1 billion. Those include leasing the mining equipment and having a third party build and operate the oxygen plant and gas pipeline. The operating costs would increase slightly with the use of third parties and leasing the equipment, but it would further reduce the risk associated with the project. And as I mentioned earlier, there is a very healthy contingency built into the cap-ex.
There is also substantial upside to the project itself, given the Donlin Gold property contains a number of deposits. Donlin is an 8 km district, and the current reserves and resources are contained within just 3 km of it. There are many exploration targets just north of the current resource that remain under-explored. Dome is one of the larger exploration targets and it could support a stand-alone operation.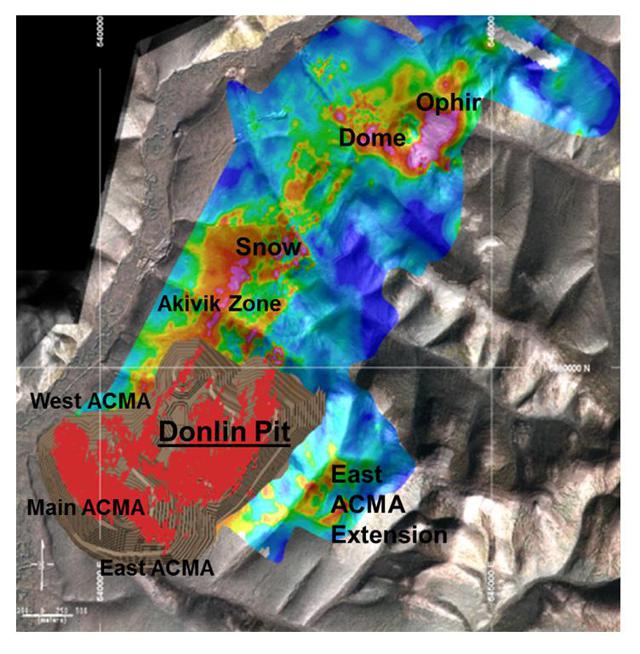 (Source: NovaGold)
Also, the inferred mineral resource at Donlin contains an estimated six million ounces of gold at 2.0 g/t. These inferred resources are within the resource pit shell. However, those resources are being treated as waste, since the degree of confidence in those ounces isn't high. But when those inferred ounces are mined, they will be available for conversion to a higher confidence category, which could mean several more million ounces of total gold production for Donlin, all within the existing pit shell.
Permitting
The good news about the current low gold price environment is its occurring when NovaGold is going through the long permitting process. This process started in 2012 and it will take 4 years to complete it, so they are past the halfway point.
Given that the large scale Pebble Project in Alaska was not approved due to environmental concerns, some might believe that Donlin Gold will suffer the same fate. However, Donlin isn't Pebble. Pebble is located in Bristal Bay, which contains a large salmon ecosystem. The EPA shot down the project due to concerns that it would cause damage to Bristal Bay's fisheries. Donlin isn't located near any major fisheries. Also, Donlin is much smaller in terms of mineral waste rock. In a report on the Pebble project in comparison to other large projects in Alaska, the following was said about Donlin:
The Donlin project is located near the Kuskokwim River....The Kuskokwim contains a fishery that supports both subsistence and commercial fishing, which is important because of mine's proximity to the river. However, the Kuskokwim's fishery is significantly smaller in scope, scale, use, and economic value compared to that of the Nushagak and Kvichak Rivers and the Bristol Bay fishery.

If permitted, the proposed Donlin gold mine, which would utilize two open pits, will be the largest mine in Alaska after the Pebble mine,. Donlin will process approximately 53,000 tons of ore per day, compared to Pebble's proposed 100,000 to 200,000 tons per day of ore. The Donlin mine is projected to operate for 25 years, while Pebble could operate for more than a century.
Even NovaGold believes the permitting process will go smoothly. The land that Donlin Gold resides on is privately owned and was originally selected for its mineral potential. The land was set aside under the Alaska Native Claims Settlement Act (ANCSA) for the development of its mineral base. Two Native corporations, Calista and The Kuskokwim Corporation, hold the surface and sub-surface rights of the proposed mine area. Donlin Gold has a strong partnership with these corporations, and these entities fully support the Donlin Gold project.
Will Barrick Or Won't Barrick?
In 2012, Barrick announced that Donlin Gold did not currently meet its investment criteria, primarily due to the project's large initial cap-ex cost. In that same press release, Barrick said that the capital cost for their Pascua-Lama project was estimated to be 50-60 percent higher from the top end of the previously announced estimate of $4.7-$5.0 billion.
Barrick just fired their CEO a month before, and the company decided to undergo a "disciplined capital allocation framework." Considering that Pascua-Lama was now $3 billion over budget, along with all of the other problems that Barrick was facing, bringing Donlin Gold online wasn't feasible at the time.
However, Barrick wasn't giving up on Donlin, as Barrick said the project did "represent valuable long-term opportunities for the company." For now, Barrick seems comfortable just letting the mine go through the long permitting process.
Donlin Gold is important to Barrick, but it's hard to say if they will be the one that constructs it as they could sell off their share if the market improves. Barrick needs to reduce the debt they have on the balance sheet, and monetizing Donlin Gold could be a way to do that. But given the team they have assembled at NovaGold, it would appear that Barrick is still very much committed to this project for the long-term. You don't assemble a team like this if you think Donlin Gold is never going to be developed:
Greg Lang - President & CEO
Formerly President of Barrick Gold North America and Managing Director of Barrick Gold Australia.
David Deisley - Executive Vice President and General Counsel
Formerly served as Executive Vice President, Corporate Affairs and General Counsel for Goldcorp Inc.
David Ottewell - Vice President and Chief Financial Officer
Prior to joining the Company, Dave served as Vice President and Controller for Newmont Mining Corporation.
Richard Williams- Vice President, Engineering & Development.
Richard spent over 30 years with Barrick Gold developing and operating major mines. The last seven years of his tenure being at Pueblo Viejo, the highly successful, multi-billion dollar gold mine jointly developed by Barrick and Goldcorp.
Galore Creek
I haven't talked about NovaGold's other main asset, that being Galore Creek, as I feel that this project isn't that high in terms of importance or monetary value at the moment. Galore Creek is a massive copper-gold-silver deposit that is located in northwestern British Columbia, Canada. The project is 50% owned by NovaGold, with Teck Resources (TCK) owning the remaining 50%.
On paper, Galore seems like a big winner, as the project is forecast to produce 6.2 billion pounds of copper, 4.0 million ounces of gold and 65.8 million ounces of silver over an approximate 18-year mine life. But there are many large scale copper-gold projects like Galore Creek. In fact, Teck Resources owns 75% of the adjacent Schaft Creek Project, with Copper Fox holding the remaining 25%.
Schaft Creek is also a large copper-gold project, Schaft though has many advantages. For starters, the cap-ex is much lower, coming in at $3.25 billion compared to $5.2 billion for Galore. Schaft Creek also does not require the construction of a tunnel like Galore does, and Schaft may have a lower amount of acid mine drainage.
Another big advantage is power. While the construction of the Northwest Transmission Line (a major power line project in British Columbia) is beneficial for both the Galore Creek and Schaft Creek Projects, Schaft Creek is closer to Highway 37 which the NTL runs parallel to.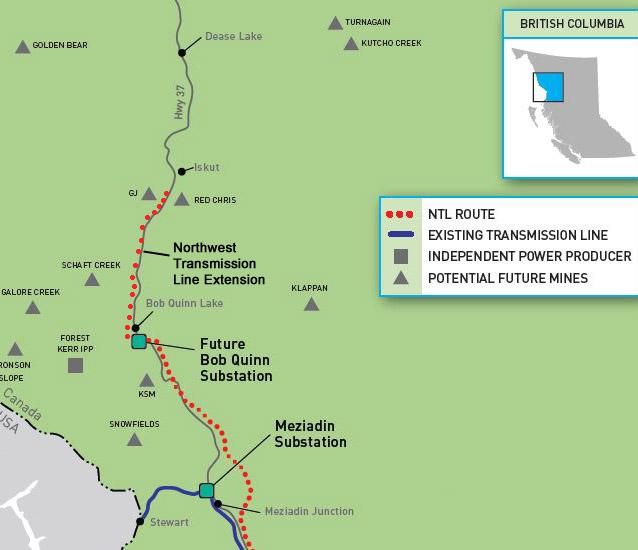 (Source: BC Hydro)
In other words, Teck may choose to invest in developing Schaft Creek over Galore Creek. Schaft is basically just as big, so it would make sense.
Given the high price tag for Galore, both NovaGold and Teck decided to suspend development on the project. They are still looking at ways to reduce cost, but NovaGold is ready to move on as they announced their intention to divest their 50% interest.
The problem is NovaGold has been trying to sell its share of Galore Creek for the last three years, and they haven't done a deal yet. Probably because there isn't a shortage of large-scale copper/gold projects in the world. Even Schaft doesn't seem to be getting much attention from Teck at the moment, as the company is focusing on other projects.
As I mentioned, Copper Fox owns 25% of Schaft. The company has a market cap of $61 million, so we can use its valuation to get a good idea of how much Galore Creek should be valued at right now. Galore Creek isn't worthless, it still has value to it as it's a substantial copper/gold deposit. But NovaGold's 50% share is probably only worth about $100 million in today's market.
On NovaGold's balance sheet, Galore Creek is still being valued pretty high. You can see the $299 million "Investment in affiliates" section. That's overstating its true value. But other than that, NovaGold has a very clean balance sheet. It has a net cash position of almost $100 million. So it's got plenty to continue through the permitting process. That cash position plus Galore Creek have a value of $200 million right now.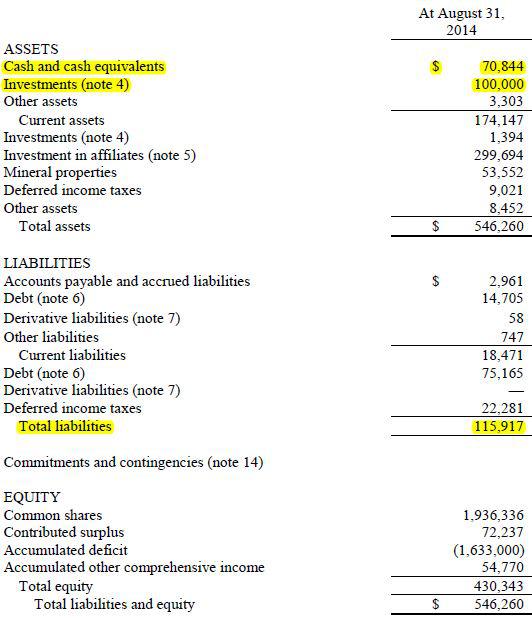 (Source: NovaGold)
A Lower Risk Gold Stock Play
NovaGold is a great way to play the gold sector. It provides a lot of upside leverage to the price of gold and will provide a better return than gold will, or any senior producer for that matter. Yet it doesn't have the same operational risk as other gold miners do as the company doesn't have a mine in production. Given that right now it's going through a 4 year permitting phase, the chances of negative news hitting are lower than other companies in the sector.
NovaGold is really a gold-in-the-ground play. Donlin Gold is still probably 6 years from entering production, and that would be the earliest it would come online. But those tens of millions of ounces of high grade gold just sitting there is a good way to play the sector. It's like a giant gold bank vault underground, all you have to do to monetize it is dig it up and separate the gold from the dirt. But you don't have to do that if you don't want, you can just let it remain undisturbed and wait for a more opportune time to bring it to the surface. Either way, it still has a lot of value to it.
Disclosure: The author has no positions in any stocks mentioned, and no plans to initiate any positions within the next 72 hours.
The author wrote this article themselves, and it expresses their own opinions. The author is not receiving compensation for it (other than from Seeking Alpha). The author has no business relationship with any company whose stock is mentioned in this article.
Editor's Note: This article covers one or more stocks trading at less than $1 per share and/or with less than a $100 million market cap. Please be aware of the risks associated with these stocks.