Seadrill (NYSE:SDRL) and group have been some of the harder hit oil services companies in this oil decline. In a series of unfortunate events, SDRL has watched its share price fall more than 70% from the high-$30s, and North Atlantic Drilling Ltd (NYSE:NADL)--a 70.4% SDRL owned subsidiary that focuses entirely on harsh environmental offshore drilling operations--more than 80% from around $10.
A big reason why SDRL and group experienced outsized declines is its high leverage. As an aggregate, in 2014Q3, Debt / Equity Book Value was an astounding 100%. In the past, investors had been largely forgiving as the high debt amounts helped finance some of the newest ships in the industry, which gave SDRL a valuable advantage. Now however, they doubt SDRL's ability to pay it back.
I have come across numerous articles and comments on SDRL recently, most of which seem to assume that SDRL will be unable to pay back its debt. Unable to find the source of such conviction, I was driven by my curiosity to take a closer look. In this article, I will present an in-depth timeline of SDRL's debt obligations and comparing it with a timeline of its revenues contract-by-contract. The idea is to make conservative assumptions and run the numbers to see if SDRL's cash flows are greater than its debt obligations each quarter; if so, we then have a wide margin of safety to conclude that SDRL is unlikely to default in the next few years.
Contract Revenues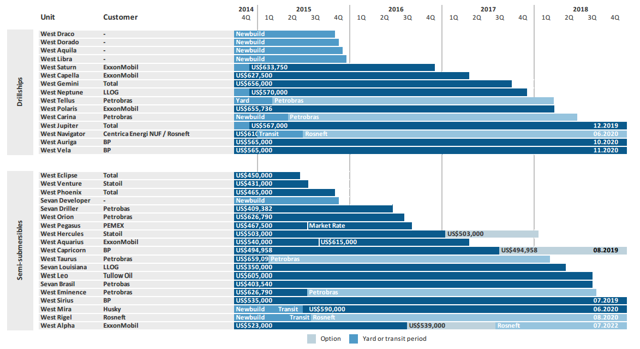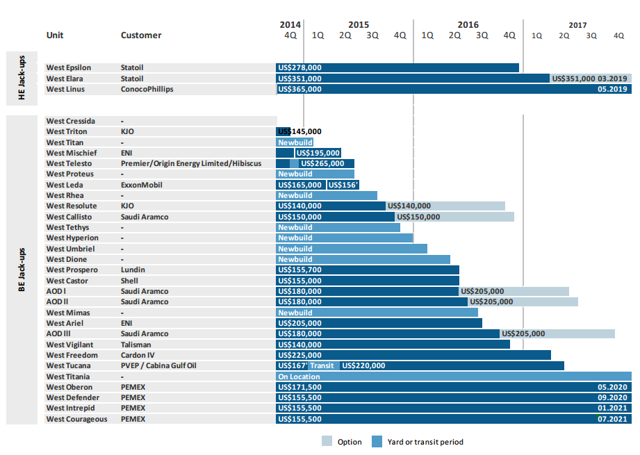 [Source: 2014Q3 Conference Call]
SDRL usually does a decent job of disclosing a list of its rig contracts in its quarterly filings. However, in its 2014 Q3 filing, SDRL removed the contracts chart almost as if it did not want investors to see. Instead, management just had the information displayed graphically (above) with quarters in which contracts start and end, but without specific months. Piecing together information from the graphic and from the contracts chart in the 2014Q2 filing, and estimating start/end months where necessary.
Link to chart of current SDRL contracts (Editor noted that the numbers in the embedded images were too small to read; I am linking to the images, so hopefully you can zoom in)
An interesting thing to note: in 2014Q3, SDRL secured 3-year contracts with Petrobras for the new-builds West Tellus and West Carina, and for extensions to West Taurus and West Eminence. Management chose not to disclose dayrates, only noting that the pair-wise former and latter contracts will contribute to a revenue backlog of $1.1B each. The implied dayrate there is $502,000 per ship. For the extensions, the implied rate is a drop from $659,090 and $626,790; and for the newbuilds-which are both squarely in the UDW category with their operating depth of 12,000ft-it represents a much lower rate than expected. This is a clear sign that the drop in oil prices as well as other macroeconomic factors are effecting a major pullback in offshore E&P, especially in ultra-deep water operations. With more than 25% of the global UDW fleet available in 2015, there is now some uncertainty over whether SDRL will be able to secure high rates, or any, for the remaining contract-less UDW vessels currently under construction (below).
| | | |
| --- | --- | --- |
| Vessel Name | Water Depth | Construction End |
| West Draco | 12,000ft | ~10/31/2015 |
| West Dorado | 12,000ft | ~11/15/2015 |
| West Aquila | 12,000ft | ~11/30/2015 |
| West Libra | 12,000ft | ~12/15/2015 |
Link to timeline of SDRL's contract revenues
In addition, several jack-ups are also coming online next year without contracts. Assuming an extreme case in which SDRL is unable to secure any more future contracts, no options for extension are exercised, and all future Rosneft contracts fall through, we see that SDRL's quarterly contract revenues in 2015 are all above current levels . In fact, SDRL is so well contracted out right now that even if it is unable to secure any contracts at any price, it will not see any substantial revenue decrease until well into 2016 (above and below).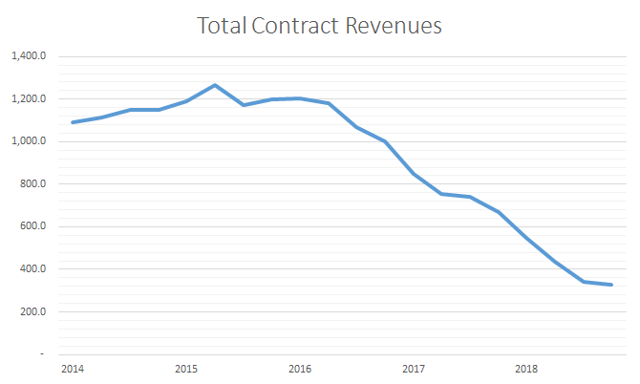 [Created by author]
Debt Obligations
For SDRL's debt obligations, I combed through SDRL's filings and was able to extract loan information for each debt source (above). As you can see, most of SDRL's debt is originally on a floating rate basis. However, SDRL has interest rate swap agreements for more than 85% of the outstanding principal on its floating rate debt, greatly reducing its credit risk (and making my modeling easier). Focusing on SDRL's own debt and looking at historicals to make assumptions where necessary:
Link to timeline of SDRL's debt payments
I am assuming that SDRL takes on no new debt from now onwards, which results in lower than actual interest and principal obligations in the future. Of course that is a ludicrous assumption. Funding for West Rigel and West Mira, set to complete in 2015, is still required, as is funding for West Draco, West Dorado, West Aquila, and West Libra (below). However, given the very conservative assumption that SDRL will not obtain any more contracts on top of its existing ones, I believe this debt assumption serves as a counterweight. Regardless, creating debt contracts out of thin air is hardly my forte.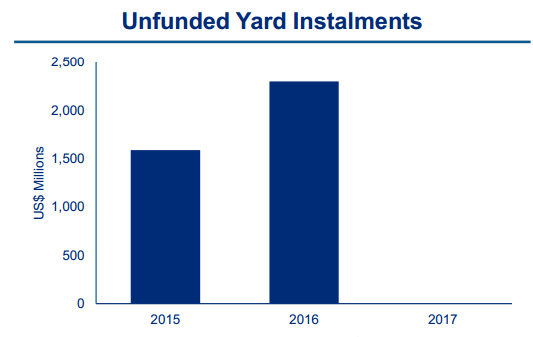 [Source: SDRL 2014Q3 Conference Call]
Plotting future contract revenues compares with interest and principal payment obligations, we see that SDRL seems to have adequate debt coverage well into 2016 (below); we will take out expenses and estimate actual cash from operations in the next section. The eventual decrease in contract revenues coupled with several large maturing balloon debt payments start pressuring SDRL around 2017 if SDRL is indeed unable to secure any more contracts going forward.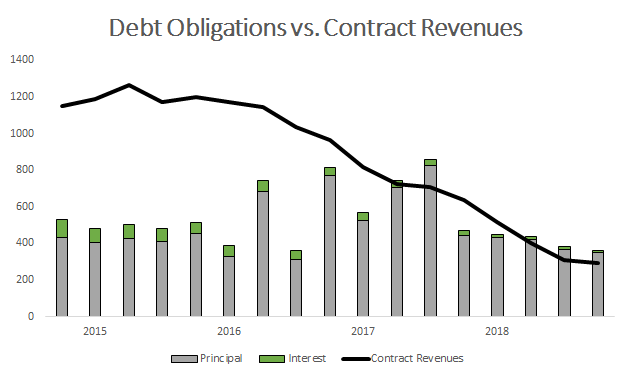 Cash Flows
Contract revenues do not necessary translate into cash flows, so we must build an income statement and cash flow statement. The meat of our analysis--the timeline for the debt schedule and contract revenues--is done however, so all I did was a rough calculation of free cash flows with some general assumptions. If our analysis conclude with a cash buffer for debt obligations, given our very conservative assumptions so far, these unprecise--but not necessary inaccurate--assumptions will not be the inputs that decide whether SDRL defaults on its debt obligations.
Other revenues expected to track total revenues at historical ratios
Vessel and Rig operating expenses expected to track contract revenues at historical ratios. At historical ratios because newer vessels requiring less cost to operate but there are now more such vessels to maintain
Reimbursement expenses expected to track total revenues at historical ratios
D&A expected to increase as newer equipment come online and start depreciating
G&A expenses expected to track total revenues at historical ratios
Tax rate of 15%, extrapolated from historical tax rates adjusted for extraordinary events
Cash dividends from associated companies of about $100M per quarter. This is lower than historicals, but because of the bleak offshore environment, a cut in dividends by associated companies is a conservative adjustments (especially since SDRL itself has cut its own dividends)
No adjustments such as for working capital because all changes are assumed to net to zero, which has historically been approximately true
No dividends or share repurchase
Link to SDRL's projected income statement and cash flows
Putting these all together (above), we see that excluding capex, SDRL has a buffer of around $200M - $250M each quarter from just operating cash flows, and the buffer is expected to last until around 2016 when it has to make several balloon payments (below). It seems small until we run through all the assumptions we made to reach this conclusion:
All revenues come from existing contracts, so no future contracts obtained for any vessel nor are any options for extensions exercised
No negotiations with shipyards to postpone rig delivery (has historically been done)
No refinancing of debt to spread out certain balloon payments in 2016 and 2017
No dropdowns to SDLP for cash to help service debt obligations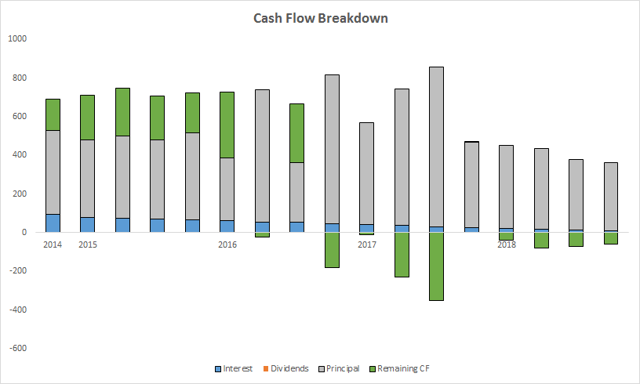 [Created by author]
The reason I chose to show the cash flow numbers net of capex is because SDRL usually does not finance its capex through operating cash flows, which is what we are looking at here. In the past, SDRL has done a good job of obtaining debt financing for newbuild deliveries, and it continues to do so. In 20143Q, it announced that it received commitments for a $950 credit facility to finance West Carina, a newbuild set for delivery in May 2015, and West Eclipse; it further disclosed that another credit facility to finance the five jack-ups for its SeaMex JV was 50% oversubscribed. With large capex commitments coming up in 2015 (below), a key risk is its inability to secure enough financing and at a low cost of debt, especially with current concerns about SDRL's leverage as well as general industry outlook. However, SDRL usually enters into secured loans with the financed vessel pledged as security, which will help.

[Source: company filings]
Conclusion
SDRL has a lot of debt on its balance sheets. In the past, this has greatly helped SDRL as it provided the financing for arguably the newest and most advanced fleet in the industry. However, as the price of oil declines now to five-year lows and offshore drilling activity slows, many express concern that SDRL will be unable to service its debt obligations.
From our analysis of the timeline of SDRL's contract revenues and debt obligations however, we see that SDRL can adequately service its debt well into 2016 from just the cash flows of its existing contracts; if SDRL secures any more contracts, at any price, it will more than adequately service its debt. Hence, SDRL will have no trouble with its debt obligations in the next year or two.
The key uncertainties come in 2016 and 2017. The large capex commitments in 2015 might get pushed back to 2016, and there are several balloon debt payments due then. If oil prices stay depressed and rig demand remain weak, SDRL will find that it is unable to service its debt with just operating cash flows. And if SDRL is also unable to refinance its credit facilities or negotiate with shipyards, then there will be a very real possibility of bankruptcy. However, I believe the oil will recover from current lows by then, and offshore activity will start to pick up. In addition, SDRL can always dispose assets or dropdown vessels to SDLP to free up cash.
With all these considerations in mind, there appears to be no grounds for claiming SDRL's inevitable bankruptcy. SDRL is near 100% contracted out for 2015 and can operate off existing contracts alone for the next year or so. After that, SDRL may face some trouble that it has in its power to mitigate; the outcome will nevertheless be decided by oil prices and offshore activity levels, both of which are difficult to predict. And so, as the quote goes, to those who speak of SDRL's demise exactly, all that can be inferred is that we are speaking to an inexact man.
Disclosure: The author has no positions in any stocks mentioned, and no plans to initiate any positions within the next 72 hours.
The author wrote this article themselves, and it expresses their own opinions. The author is not receiving compensation for it (other than from Seeking Alpha). The author has no business relationship with any company whose stock is mentioned in this article.