Continental Resources (NYSE:CLR), the leading oil producer in the Bakken shale, slashed its 2015 capex from $4.6 billion to just $2.7 billion. This represents a 41% cut in capital expenditure. Just last week I suspected that Continental's capex program would be cut because previous estimates had assumed $80 WTI oil, and that price seems to be getting further away by the day.
Continental's goal next year is no longer to maximize growth, but to reduce capital spending to equal operational capex. In other words, Continental is looking to "close the funding gap." This article looks at the new capital expenditure plan, its possible assumptions and what it could mean for the industry as a whole in 2015.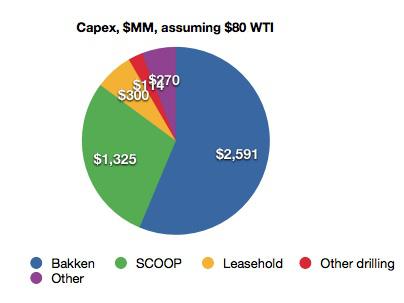 Old Capex plan. Data from Continental Resources Investor Relations.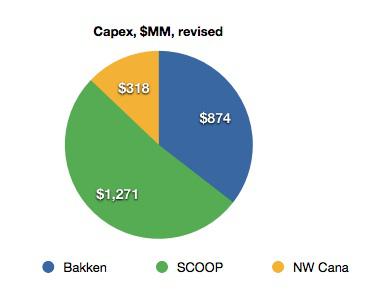 New Capex plan. Data from latest press release.
So here are the two new capex plans. The comparison is not quite apples-to-apples because we do not know exactly how much Continental will spend on leaseholds in 2015. And one other thing: The old capex plan estimated about 26% production growth. The new capex plan estimates 18% production growth. Continental is spending 41% less, but growth is only decreasing by 8%. How is that possible?
Notice that Continental has maintained spending in the SCOOP (a new shale play in Oklahoma), while spending in the Bakken has received the sharp axe. Why? Because Continental has delineated a very high-return, high-production, condensate-rich fairway within the SCOOP play and returns in that fairway are superior to those of the Bakken.
Therefore, it's fairly easy to see what is going on here. Continental continues to drill intensely in the very highest return areas, while chopping out capex on lower-return, lower-production areas.
Looking Under The Hood
Management's goal to be cash-flow neutral by mid 2015 is a very ambitious one and one that I am skeptical of at the moment. However, if Continental can achieve this goal with its new, drastically lower capex budget, it will be a testament to the resiliency and flexibility of shale producers.
Let's first take a look at 2014 to see what I mean. Over the last 12 months, Continental has earned $2.8 billion in operational cash flow. Remember, the capex plan for this year is $2.7 billion. Therefore, for Continental to be fully cash-flow neutral, the company will have to earn almost as much operational cash flow in 2015 as it did in 2014, when WTI was somewhere between $80 and $90.
But before writing off Continental's plan, consider a few things. Drilling costs and lease operating expenses are going to drop along with the price of oil. Things such as severance taxes will drop immediately and drilling expenses should be close behind as drilling activity drops all over the oil patch. Continental will also not develop its less-efficient acreage in 2015. And let's remember that even without this drop in price, technology improvements, pad drilling and down spacing (just to name two examples) have lead to higher ultimate recoveries and lower drilling costs. The end result of all these factors is a considerably more efficient operation.
The Big Picture
This year, Continental expects to produce 200,000 barrels equivalent. With the old capex budget, midpoint production expectations were 252,000 barrels equivalent in 2015. With the new budget, those production expectations have been brought down to 236,000 barrels.
In effect, Continental is "removing" 16,000 barrels per day of expected supply off the market. ConocoPhillips (NYSE:COP) cut its capex by 25% and should remove another 15,000 barrels per day of expected supply in 2015. Together, these are fairly small numbers, but the supply reduction could be substantial if other E&P names follow suit and slash capex. I expect other North American E&P companies to follow the lead of Continental and Conoco by reducing capex by some 25%-40% in 2015.
Parting Thoughts
If Continental can pull of cutting capex by 41% and only removing eight percentage points of output growth, and at the same time become cash-flow neutral by mid-year, it will be a testament to just how flexible and resilient the shale players can be. Then again, Continental might be somewhat unique: The company has made some tremendous progress by effectively delineating the high-return Springer Fairway within the SCOOP shale.
By taking a sharp axe to areas that are less efficient and pivoting to the Springer Fairway, Continental is looking to become cash flow neutral by mid-year 2015. Even still, remember that Continental now has very little cash flow protection in the form of hedges. Therefore, a continued drop in oil prices could throw a monkey wrench into even these very conservative capex plans.
Disclosure: The author is long COP.
The author wrote this article themselves, and it expresses their own opinions. The author is not receiving compensation for it (other than from Seeking Alpha). The author has no business relationship with any company whose stock is mentioned in this article.